Dear Diary... August 2006
Tuesday 29th August - South Pacific Birthdays
Well, the weekend went by so quickly I've hardly been able to stop for a few moments until now. First off, it was off to the Palace Theatre Saturday evening for a performance of South Pacific, done by a youth theatre group with a few of the adults cast as main parts to help everyone along. Having not seen the film or the original musical performance, I can't really judge on its accuracy but I did hear people outside afterwards say that the producers kept it pretty true to the spirit of the original, so that can't be bad. There must have been something in the region of 150 cast members and performers, all who could sing (more on that later) and who really gave enthusiasm, energy and verve to the whole thing. It worked really well and for someone who isn't that much into musicials, it was a good show all round.
With that done, it was fun and games Sunday as I had some relations over with their kids, and so it was time to dig out the Dreamcast and whack on both Sega GT and Daytona USA 2001. It's at times like this I am so thankful to have two controllers, not least because two player split screen on both of those games are immense fun, although Daytona can be a bit too arcade-y for my liking when you've got youngsters to entertain then you just simply have to be out there and doing what you can. Chu Chu Rocket is great too although really that's more for adults, even though the kids love it when the voice yells out "Mouse Mania!" and sheer mayhem ensues. Still, it kept everyone entertained, even little old me.
And last night it was out with a friend (and a few friends too) as it was his birthday - well, it's actually today, but it was just easier to get everyone out last night because of long working hours and overtime etc - and that was pretty nice as well. Went to the Bell House in Parrs Wood in the end, and the 2 for 1 actually didn't work out to be too expensive either for meals and such like. I thoroughly enjoyed the steak and ale pie, as you do, and the scampi my friend had looked rather impressive as well. I love fish normally and can tell when it's done fine, so that was good. Just a shame that in the dessert, despite me not asking for any chocolate ice cream in a banana split I'd ordered for one of us, that there was still a scoop there anyway, and only discovered at the far end of the split. By that time enough had been eaten so it wasn't really a case of complaining, but as such you'd think that staff would pay more attention to people's orders.
Mind you, headed for a drink in The Didsbury afterwards and supped on a very nice pint of Deuchars IPA - got a little addicted to the stuff when I was in Edinburgh last December as it's a mighty fine ale, and my friend enjoyed all his presents too, so that's most excellent. I ended up getting him the Alien Quadrilogy box set (on offer at Amazon and Play, so that was good) and the 2CD set of Gary Numan's Living Ornaments 80. So Chris, have a bloody good day today squire, and may you get even more that you wish for!
And it was back at work for me today, and back into the grind. I'd finished the memory upgrades for our admin staff and with the memory we'd taken out, there was enough to add some more in the student PCs in one of our labs that had enough memory slots left to take them, meaning an increase from 512MB to 768MB in one fell swoop for them - and that should help when we re-image the lab and run Vectorworks 12 on there - which if anything like 11, they'll end up using a heck of a lot.
Talking of singing though, as I was earlier, I was flicking channels Saturday evening before I headed to the theatre and noticed that X-Factor (or should that really be Z-Factor?) was on. I have to say that I haven't laughed so much in ages at some of the completely desparate sad wannabes who bring their whole family with them, with placards saying they're going to win, and then only for the person concerned to give such a lousy, out of tune performance of a song that you don't need the likes of Simon Cowell and Louis Walsh to state the obvious. They should just be ruthless and say "You're crap! Next!" and get security eject them from the audition room within around ten seconds - none of these parents coming in and pleading on their knees proclaiming "It means so much to her, she'll do anything, she just wants to be a pop star, and you're wrecking her dreams now. Please let her through!" How pathetic and sad is that?
I just wonder what colour of rose tinted spectacles some of these parents are giving their kids such false hope and false ambition. If 100,000 people have supposedly auditioned, and 1 is going to win, then that's a very very slim chance indeed isn't it? And that's increased ten fold if you can't sing in the first place. And to be brutally honest, I know my singing isn't the best either, but I know full well that there's plenty out there that appear on the telly that are so much worse than me. At least I don't pretend to have a good voice anymore - once my voice had broken, my once angelic school choir voice that I had degenerated rather quickly into a moshers' baritone of grunts and yells (probably down to the music I was into at the time) and that was it. And even if I can sing, I'm oh so quiet - but not as annoying as Björk, thankfully.
One final thought for the day: if you're really going to try out some new music, then you'd be surprised at how much what you have influences the now. I was thinking that when listening to some of my vinyl singles tonight and noticing some trends in some of the bands I liked in the early 1990s that have resurfaced in the modern day "indie" lot. Makes you wonder, doesn't it?
Saturday 26th August - Turning The Tables
Well, the week is over at work, and it ended up being quite busy. Not least because I continued at a pace with the planned PC memory upgrades for admin staff and indeed chucking on a new version of the Novell client while we were at it. It's been really good having someone else being able to help me out and a two person team effort paid dividends, to be honest. So much so I've only got a couple left to do on Tuesday and the job is therefore a good'un, so to speak. Then the fun really starts as it's roll out of the new student builds which my colleague has been furiously working on!
But enough of that (and indeed, a lengthy technical group meeting on Friday which was only supposed to last for half an hour or so but ended up being two hours, not exactly what you'd like at that time but nonetheless it's one of those things that you have to take seriously and indeed be part of.) I finally accomplished a little mission of mine and that was to get a replacement turntable to tide me over until I can afford the one I really want - the Project Debut Speedbox SE (which is £200 I basically don't have right now). The trusty ten year old Dual CS415-1 finally bit the dust as the tonearm just wasn't doing what it should have done, and indeed the needle also broke as well, and knowing how much the replacement is, it was time for me to find another. I wasn't that fussed about it being second hand either, to be honest, as long as it worked and was in good nick.
So, for the last few weeks I've been scanning ebay and car boot sales with no luck, and I even tried a couple of the local branches of Cash Generator but with no avail. Anyway, while I was out with my manager at lunch yesterday I mentioned my hunt and he indeed suggested Cash Generator, which made me think I might give them another go just in case they've actually got any stock left, you know how it is. I had to go into the centre of Manchester anyway this morning, so it was a case of have a quick check whilst I was there.
I went into HMV and picked up the new Morrissey single (both CDs, of course) and then decided to have a quick look in Vinyl Exchange to see if there was any CDs I was after. But then I remembered as I walked back along Oldham Street that I could go into Cash Generator and see what they had. After going past the knackered looking second hand DJ type decks I spotted a little mini turntable, and one quick check of it later and it was no less than the Bush MTT1 - for a mere £9.99. Even better, it was in black! Currently you can get this baby for around £45-50 new, but it's silver, and that just doesn't go with the hi-fi rig. Granted, it's not the best turntable in the world ever, but for the dosh even the likes of What Hi-Fi were pretty impressed, and they're usually not far wrong when it comes to stuff like this.
So I pondered for a moment, and double checked that the stylus was okay, which it was. And then five minutes later I was carrying the thing home. That was a bit of a good fluke, not that I'm complaining mind you. The only slight snag was that the encapsulated phono lead was a little bit short and it wouldn't reach my amplifier's phono input, but one little phono extension lead later from the local pound shop and that's all sorted. I then simply flicked the switch on the underside of the deck to not use the phono amp in the turntable (nice option for people who haven't got a phono input on their kit though) and hooked it all up, and did some test runs with some 7" and 12" singles and some vinyl albums too.
And so how is it? Not that bad at all. It's very listenable and the sound is good, and the lid design is such that when playing a 12" or LP, even though the edges of the vinyl stick out, there's little gaps in the lid for the vinyl to stick out of. Granted this means you have to return the vinyl to the sleeve once done, but I tend to do that anyway so it's no biggie for me. Right now I have the 12" trance mix of Nitzer Ebb's Getting Closer, a version which I absolutely adore, it's so dark and industrial and minimal all at the same time, and it rocks, it really does. Thankfully I've kept this single in excellent nick and so it just sounds so damn good. I think some of my Industrial stuff is going to get a good play today while I can crank up the volume a bit. And I'm dead chuffed, was expecting to pay around £30-40 for a second hand deck so being able to get one for under ten quid with the stylus intact and clean sounding? Bring it on!
Tuesday 22nd August - Retro Dreaming
Apart from the title of today's entry being a rather good tune by Vileevils (can't wait to see them on tour later in the year, it is after all most of the incredible PWEI) I was also thinking back to when life was a bit simpler and that you didn't have to have the most fancy PC or games console in the world to play everything you ever wanted. I think this was because I was looking at some of the older PCs we have at work and how long they've had to last members of staff, while at the same time also doing memory upgrades for some more admin beasties.
Dug out the Sega Dreamcast last night for a bit of a retro session, and that's probably what made me think on. Not least because Chu Chu Rocket in multiplayer is immensely fun and utterly bonkers (cat attack mode is just so horribly lethal when you've built up a big lead too) but also of the likes of Quake being almost the same as playing it on the PC (albeit minus Trent Reznor's superlative music, you get the sound effects though), and Sega GT is rather nice fun too, even if it reminds me a heck of a lot of Gran Turismo, no bad thing that. It's amazing really just how much fun I had, even with that.
Even more so because I managed to find an online compilation of pinball tables plus an emulator to play them on, which didn't just mean that I could play any old pinball table either - two of my all time favourites were there. Addams Family was rather good as a conversion, but as for the emulated Visual Pinball table of Star Trek: The Next Generation, all I can say is one big word. Wow! It's just the same as playing it in the arcade, I don't lose lots of money playing it and spending hours on it, and even better it has all the same sound effects, speech and music which made it so darned captivating in the first place. And needless to say it but I will anyway - it's addictive stuff. Firing the trigger at the centre target of the Borg ship and smashing it in for the super jackpot still has me punching the air in sheer delight at getting the big score and such like. In one game I even did all the missions and went for the Final Frontier - something I never managed in the arcades - and the score racked up big time because each target hit was the total of all the artefacts I'd grabbed, utterly amazing. I ended up with a high score that I previously only dreamed of. Look for yourselves!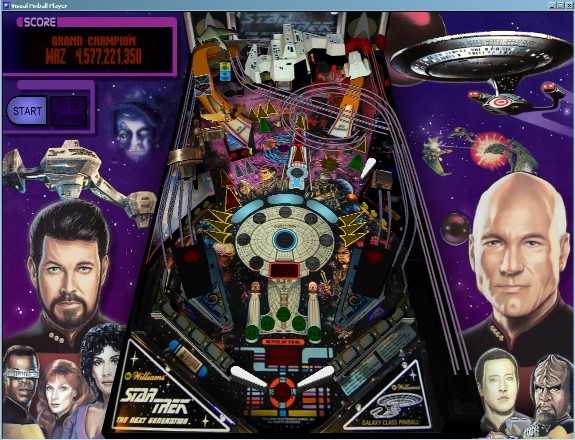 See that? I bloody rock, I do.
Monday 21st August - Well, The Hardest One's Out Of The Way..
And that's the only thing I can really say about Manchester City's performance against Chelsea yesterday to be honest. It wasn't pretty to watch and it really didn't say that much about one of our new siginings getting sent off in the second half either. I think though it is the toughest game we'll probably have all season and so it's kind of good to have that one done and dusted so it won't bite us in the proverbial later on.
Mind you, it didn't help that after the game I switched over to Sky Sports for the cricket, as you do, and guess what? There wasn't any on because of the now infamous alleged ball tampering incident. And as a consequence, a lot of frustrated and annoyed people, more so after it transpired that the umpires basically stood their ground and said "well if you're going to protest we'll have to cancel the game so ner ner ner.." There has been a bit of history between Pakistan and the umpire Darrell Hair, which didn't help matters either, and I think that bit of needle crept in where it shouldn't, not to mention the whole "tampering" was just handled wrongly. Why didn't they just say the ball was bent out of shape and so needed to be replaced by another ball (which does happen from time to time) and go from there? Everyone would have been happy rather than the whole thing descend into shambles. Wouldn't have happened with Dickie Bird or Steve Bucknor, that's for sure.
Anyway, we've had someone new join us in our office today, so welcome aboard! I'm sure she knows what she's let herself in for to be honest, and not only that, she's already been a big help to me today as we're putting memory upgrades in some of the PCs and some software bits, so I did all the software stuff and made sure she was okay putting the memory in. It worked really well plus it got her out to meet some of the staff too, so that was good. I did take the afternoon off though as I had some stuff to be getting on with, not to mention getting some keys cut for the new joiners (we're getting our replacement Help Desk person next month with a bit of luck so that'll be two new in all) for our office too. Luckily there's a shop near my house that does it, so I was just able to pop in there on the way home - and job well and truly sorted.
One other thing I noticed during this weekend, is it me or is Saturday night television getting worse by the week? I'm already sick of reality shows and it was a case of How Do You Solve A Problem Like Maria? on BBC1 and the dreaded return of Z Factor (well did you hear some of the contestants?) on ITV. I don't know what's worse. (Actually I do, Big Brother, but that's thankfully over now, less said about that the better.) It just makes me wonder why the powers that be can't put on quality entertainment on a Saturday for the masses to watch who can't always go out on the town every weekend. In the end I whacked on a DVD I'd borrowed of the Lion, the Witch and the Wardrobe - the Chronicles of Narnia thing that came out in the cinema late last year. It was actually quite faithful to the book (shock) and the little girl who played Lucy was just fantastic, I hope they keep her on for the rest of the films!
Mind you, I've been ordering birthday presents for a few friends this week as well so it was a case of getting the best deals online, and in one incident, almost tempting myself to get a DVD-Audio disc of the best of Jonathan Richman, with classics like Ice Cream Man on it. I resisted only instead to get the limited CD and DVD set of the recent Placebo album. Must admit I want to see the DVD though if only to see Brian Molko's duet with Robert Smith doing a Cure song, can it be possibly be as good as the time Placebo had the one and only Frank Black on stage with them doing the Pixies uber-classic Where Is My Mind? I live in hope.
Monday 14th August - Clearing Out My Clutter
The weekend went by me like a flash of lightning, it really did. Not that I didn't do much per se, but it just went by far too quickly and without that much really done. One important task I did manage to do though was to get into town and to get myself some new pillows for my bed. I've had the old ones for years and in truth they were starting to get a little on the pancake flat too, so some money paid to Argos later and I've got two packs of these rebounder ones which seem to be pretty decent. They even came with pillow protectors as well which is quite handy - saves a bit of hassle having to take them off the other set of pillows and therefore is all nice and clean. Add that to a change of bedding and I must admit I slept rather soundly on Saturday and Sunday night.
But it wasn't all about domesticated stuff though, oh no. I also had my uncle around who managed to build me a shelf for the office room where I type this missive to you. It fits snugly into where the PC and the desk is above, and is big enough for all the lever arch and box files I need to file away safely. This also means it makes the downstairs bookshelves look a heck of a lot tidier as well, and for that reason it just has to be a big plus point in my eyes. Plus it also means that if I wanted to, as the shelf was a big box that fitted in nicely, that I could have room for things on top as well, which might not be that bad an idea actually. I'll have to see how it goes but I know I've got some room for manouevre, which is nice too. The only snag was that I didn't leave that much clearance for the printer so it meant I had to pull out the tray extender at the top first and then put the printer in, which worked fine. My trusty HP Laserjet 1010 is amazingly still on it's first toner cartridge, eighteen months after I purchased it. And with no signs of running out it seems either.
With that all in mind, I really need to go out and purchase some more box files as well so it might be a trip down to Staples some time. Partially what I want to do is file away all the paperwork I accumulated when purchasing the house, which is all in a folder at the moment, so that would then fit snugly into the box file rather nicely. It also means that I can then use one of the little cupboars in my office room for other things, which might include stacking some DVD-ROM games and utilities I've accumulated over time. Could well be doable.
I came to the conclusion this morning that I have way too much clutter around the house and so need to get rid of some of it, not just to make money but also to really eliminate stuff I don't need much longer. So if you're after a VHS tape of something that might be deleted, or if you're after an old computer game or system, I might just have what you're after. Feel free to contact me and I'll see what I've got for you. Indeed, if you know anyone else, pass on this page to them and let them know too. For example on video there's definitely the following stuff:
some Beavis and Butt-Head VHS compilations (the original MTV releases)
big box video shop versions of Sleepy Hollow, Dogma and Little Voice
complete Series 1 and the first part of Series 2 box sets of This Life (for those of you who remember the classic TV series)
Manchester City season review videos, 1988-89, 1989-90, 1990-91, 1992-93, and the Golden Goals Collection - a fair few of these are long deleted so if you're a Blue you might be after these to complete your collection
and if you're a Commodore 64 gaming fan, I've definitely got plenty of stuff to get rid of, including some unopened Mastertronic multipack games compilations as well - they're in packs of three so might be worth getting hold of. There's also lots of other tape games which I need to catalogue. Some of them I'm probably going to donate to the C64 Tapes project, but others will be available if you'd like them. Contact me as per above and I'll see what I can do.
I just feel that I need to really get rid of plenty of things in the house to make it seem less disorganised and that the time to move them on to a nicer home is now.
Wednesday 9th August - Visa VIZ
So on Monday I was all set, time to get Autodesk VIZ 4 packaged and tested. Thankfully to do the main package itself was a fairly easy thing. The CD has a network install wizard which you go through, input the serial number etc, and it generates a Microsoft installer MSI with all the information in. Using Zenworks 7 I can then simply deploy that MSI as an installer, so for the main part it was quite an easy thing to do.
However, there's a fair few tweaks after that, even as our CD is VIZ 4 with Service Pack 2 network licence. There's one fix for Windows XP Service pack 2 users (that's us then) which means you don't get any errors when running scripts for camera angles etc, and another one which gives you back the default VIZ materials libraries. Although our students access these off one of our servers, it's always handy to have that set on the local PC so that everything is there as backup.
There's also an issue with local file rights on the workstation as well. As our students are limited users (as it should be in any education deployment these days) it means you have to slightly tweak the application so that everything works for them. From past experience, there's two files which are startup UI user interfaces which users need to be able to write to, and in addition to that I found after exhaustive testing that if you have MAXScript enabled, it creates a disk file called maxscrpt.dsk - if the user cannot write to that file, when you exit VIZ 4, you get an error message. That error message has been always displayed on exit for the last three years so once I found out the workaround, I tested everything as a student and - bingo! It worked.
So what I've done is do a separate application which copies down the materials libraries to the right place, copies the SP2 patch file I mentioned above, and also sorts out the file rights that the users need to run the application with no annoyances. Also, when the app is run, it also copies the 3dsviz.ini file so that every time a user runs the application, they get all the working defaults as it should be. And it works - really well. It took a fair amount of time but it was worth the perserverance in the end because I've got it tested, tweaked, and documented. And I also found time this week to do my documentation for Architectural Desktop 2004 as well, always important to keep up that side of things.
Got home last night and of course the cricket was all over (naturally I kept my beady eyes on the scoreboard all day as you'd imagine) but when I got home Sky were showing the extended highlights, which started just as I got through the door. Fantastic! So that was me glued to the telly for the next two hours or so while I saw the likes of Monty Panesar and Sajid Mahmood destroy the Pakistan innings with some excellent bowling. If I've seen a better delivery than the one Panesar bowled to get out Younis Khan, then I'd like to be reminded when because it was a complete peach. And if I've noticed a big improvement in the England team, it's fielding. Two important run outs in the second innings, not least one which took care of Mohammed Yousuf (superb work by Paul Collingwood there, I mean what were they thinking? He's our best fielder in terms of accuracy). That said we've now won that series with a game to spare and hopefully we can push on at the Oval and make it 3-0...
Sunday 6th August - On The Button!
Well I missed the live Hungarian Grand Prix as I had other things to be getting on with, but it's one occasion I really wish I'd set the Sky+ box in advance to record the thing to watch later. As it was, it was a fantastic race, big time. Not only did the rain separate the great from the good, but it also was perfect for a smooth driving style like Jenson Button has. He mastered the conditions, pulled off a superb overtaking manouevre on Michael Schumacher to boot, hassled Fernando Alonso for a long time and had the better of him until Alson retired, and generally kept his head when all around them were losing theirs.
The key moment for me was the second pit stop. Although the track was drying a bit, the times weren't quick enough to slicks and it was still a little hairy in some places. So the call was done and made correctly - stay on the same tyres but put a bit more fuel in. It worked perfectly - the tyres still had grip but were being scrubbed down with every lap, and when the time was right to change to slicks, it was a slick stop all round which kept him ahead. And even with James Allen doing his best to go over the top mental when Jenson crossed the line, it was just desserts for the Frome man. I was really chuffed because all the talk about him has been "when the hell will he win, if ever"? and now he can at least shut them up and show them that mesmerising performance in the Hungaroring. When you consider that Damon Hill and Fernando Alonso had their first wins there, it's not that bad a place to start you know.
Apart from that obvious excitement, it's been a case of me managing what I though was going to be tough - packaging up Autodesk Architectural Desktop 2004 with all the necessary tweaks that had been done over the years was a highlight as I mentioned, and I then moved on to VIZ Render that comes with it. All was going well in terms of the user running the application itself, but one file wouldn't copy down to the user's profile - which was a preferences file. This file sets all the paths for saving files etc where it should be and I spent a fair bit of Friday afternoon working out how.
And then it hit me. Zenworks for Desktops uses a slightly different convention when copying files to the user's profile. In Windows XP, if you type %USERPROFILE% in Windows Explorer at the address bar, it comes up with the location of the logged on user's profile (ie: C:\Documents and Settings\user name\). However in Zenworks any Windows variables such as above need to be set with an asterisk in, for example %*USERPROFILE%. This small asterisk makes all the difference so that when you are copying files from a server to the local PC and the local user's profile, it will go in the right place.
That done, it was plain sailing from here and VIZ Render was taken care of. On Monday I just need to look at Autodesk VIZ 4 and work out from there what needs doing. Again, it's an app with a certain number of tweaks so it's going to be fun and games, maybe. But it's the last major one that needs doing in terms of what the Faculty uses, so hopefully it'll mean that I can concentrate more on little jobs that need doing and so on and so forth.
Thursday 3rd August - Black Holes and Pitiful Revelations
I'm so glad it's going to be the weekend after work tomorrow. I've been slaving away doing more application packaging and I finally decided that it was time to bite the bullet and go for the really difficult one that is Autodesk Architecutral Desktop 2004 (or AutoCAD with Architecture bits for those not in the know). Unfortunately our old network install for the software was on a server that's now dead and won't be coming back, but this gave me the perfect opportunity to do the install and get it all done as we'd like to.
Surprisingly, it was easy as well. The network deployment software allows you to package up the application on a network server, and even allows you to add patches (so Service Pack 2 for ADT2004 went straight on there as you'd expect) and so I set the wheels in motion, answered all the necessary questions (which are then set in the transform file) and off it goes, reads the CDs, copies the files needed to the server and generates an MSI Windows Installer, complete with patches already built in. This had to be too good to be true, but I ran the install and there it all was, up and running. Then I just had to add all our customisations, which was actually quite easy as almost all of them are set in the current user registry, so we can pipe all that down when the application runs via Zenworks, and there's also a bunch of support files that our limited users need to see, so I created a batch file to copy them all down, make sure users can't mess with the whole folder etc, and so on.
The only black hole I hit in terms of doing everything was that you can supposedly call a script after the main application install to go and do the other things you need to do, but it only partially worked for me. Bah! So now I have one application object which calls the MSI and MST files to do the main install, and another which sets up all the extra files needed for our students to run things successfully. It seems to work so far too, so it's time to have fun and document the whole bloody lot tomorrow. Thankfully most of it seems to be fine anyway so it's just a case of translating what I've written into a simple easy to follow guide for us folks, and it's done. I might spend some time doing that to make the weekend come quicker (well that's the plan anyway).
I also have been testing out one of these USB freeview tuner things as well lately. Hooked up to the PC and with some aerial cable from one of the two main feeds connected to the little box, I was able to get all the channels (bonus) and watch them on the PC. It felt rather weird but also nice watching the gorgeous Tanya Byron on House of Tiny Tearaways on BBC Three seeing her work her magic with the families on there - and this week's repeat is rather nice as the three families were excellent - not least when Isabel found out that her eldest daughter was just playing off her with the sleep problem, that was such a revelation. Anyway, back to what I was saying. Knowing full well that occasionally BBC put exclusive interactive stuff on the red button, I tried to get to the interactive channel feed (it's normally 301-303 for Freeview users) and it worked!
So I hatched a little plan. As the interactive feed looped, and it happened to be a Muse special for Top of the Pops (now gone of course) with them playing five songs off their new album Black Holes and Revelations, which is supposed to be excellent (but I've never been a big fan, I'll freely admit). So I got ready with the freeview tuner thingy, caught the interactive loop at the start, and pressed record and waited to see what happened. About half an hour later the whole thing was captured nicely to the PC, and playing it back revealed just how nice it was quality wise. Just as an added test I chucked the file into Nero Vision Express, played with chapter settings and menus, and lo and behold a test DVD was made, and played back with stunning quality on the trusty Pioneer DV646 in the front room. Re-sult. Now only if ESPN Classic were to go on Freeview as well this could be a handy way for me to archive stuff...
Having played back the gig on the big widescreen beastie, I have to say that it was a very good show - apart from the audience who just seemed to be clapping to everything ad infinitum - even during the rather heavy progressive rock that is the album closer Knights of Cydonia. It would have been much better if proper fans of the band actually were there for the recording so that they'd be pogoing around or going mental or whatever so that it had a more live feel. Not that it stopped Muse nonetheless rocking the house though. Apparently, they're supposed to be superb live, and I think anyone who saw that feed would have thought "you know, these aren't half bad!". So there you are, commendation from me if nothing else.
As for the pitiful part of the diary entry, a friend of mine kindly alerted me to the fact that there's now a parody video on Youtube somewhere for Weird Al Yankovic's recent parody, which for legal reasons isn't going to be on his new album. That said, you should still be able to find the MP3 in plenty of places (check Weird Al's official site for links if you need to) and the track is absolutely fantastic - Weird Al at his best. If I told you the song title was called "You're Pitiful" then you would probably appreciate whom he is taking the michael out of, and in some style too. And yes folks, for the record, I really dislike James Blunt. His name should have been pronounced with a silent "c" to be brutally honest. So of course this effort from the master of all parody got my attention straight away.
Actually, it got me thinking just how pathetic some songs which the public deem to be "classics" really are. I mean, who the hell actually purchased Robbie Williams' Angels and still finds meaning and feeling in the bloody thing? He didn't even write that much of it, and let's be honest, it's dreary and just panders on emotions of peple. Never mind the fact that it's so darned popular that he doesn't even have to sing the words when live because the audience are that shallow they do all the work for him. I mean, come on, you've paid so much to see the man, you'd want some value for money by him actually making a bit of an effort rather than stand there in a smug grin and just watch everyone else do it. It also proves that it can be quite dangerous giving the public too much of a say in deciding what song is deemed to be a modern classic becuase there's just too many people out there who sheepishly only follow what is big and popular and don't look further than that for their music. And that really really disappoints me, it has to be said. If I said to someone that I liked the Canadian band Barenaked Ladies, a fair amount of people would either say "Who?" or "Oh, those idiots.." without taking the time to actually listen to their music, you know? And don't even get me started on if I said that I'd recently purchased the new Frank Black CD (which by the way is excellent and you should run out to the shops now and buy a copy - if you're in Manchester there's a big Pixies and Frank Black fan who works in Fopp - hope she serves you!! And if you're that certain shop employee reading this, then I'll say "hello" and "Yes I was that sad person enthusing about seeing the Pixies at G-Mex in '91..")
Right, it's rant mode off. I've said my piece, and it's the weekend soon, and even the weather has improved!
Tuesday 1st August - Watch Out Charlie Dimmock!
I decided this afternoon when I got home from work that today would be a good day to sort out all the weeds that have seem to have grown on the little front bit of the house. To explain further: some terraced houses have a little bit of a section where plants grow behind the front wall, and this is in between any front path and the house itself. Now normally this has generally been okay but for the last few weeks there's been a few too many weeds growing, so on the way home from work I picked up some very cheap gardening gloves from the pound shop (aren't they great for these little things) and set to work at pulling out all the weeds, taking care to make sure that they were pulled with the root out as well, to try and save any hassle later.
At some point I need to dig out all the old soil at the front bit, and then bag and bin it, and replace it with some fresh compost so that I can maybe plant a few nice little plants there. It'll be nothing special as such but I just thought that I'd rather have the front of the house looking nice and tidier than before, and it always helps when you're able to do that. I just thought about it at work today whilst having to repackage an application that I did about a month ago and realised that action was needed before it was too late. The likes of Charlie Dimmock are pretty safe in their jobs though, it was just a case of me blitzing everything tonight to make things nicer.
I've also realised that the window sills on the front of the house could do with a fresh lick of outdoor white paint. That might well be my next task, at least the living room one for a start would be good. I'll have to make sure I get some good weatherproof stuff that will last well, and again it'll just make things look nicer and more looked after. To be honest, it's not something I've had to do that often but I guess that while the weather's a bit cooler and I'm not going to sweat myself to death, it's now time to get all the jobs done outside that need doing rather than wait around.
I've even been back on the rowing machine this week as I continue to push on with the weight loss. I really want to get down to around 12 stone, and although I'm around half way there from what I was at the start of the year, realistically I need to carry on and push myself. I really want the weight off and I really want to keep it off once and for all, and while I have that motivation I am going to do what I can. Of course what I now would like is a good gig to go to so I can go mental, bounce around and really lose a few pounds in one fell swoop. I blame myself as well for not bothering to go so doolally in the last year or so at gigs, now's the time for me to really get back into the mode of bouncing around like a lunatic!
Bit odd that I'm feeling really positive about myself despite things out of my control going on at the moment - especially at work where the job evaluation is concerned. Still, onward and upward...