Dear Diary... January 2008
Thursday 31st January - A Flickr Of Fun
First things first, for those of you like me who enjoyed Henry's gig at Academy 1 last night, I would suggest having a peek at some of the pictures taken last night. (Many thanks for the Flickr person who uploaded those and gave me permission to link - please ask for the same permission if you wish to link it yourself.) It certainly captures Mr Rollins in tip top form and all the expressions that would have been given during it. Certainly made browsing the web a little bit more fun during the evening, that's for sure.
I also checked out some of the photos in the Flickr! Manchester group as well, some very intriguing pics there and there seems to be some very nice people around, which is a good thing. Sometimes it's very easy just to see who's viewed your images and that's nice when someone does that, but it's also good to see what others do and even leave a comment there as well at the same time - kind of makes things a bit less impersonal, so to speak. But also it goes to show that anyone with the same passion can always find like minded souls too, which is a majorly good thing in my eyes.
For me, taking pictures is never about what mega camera I may or may not have, or indeed if it has x or y features, it's about capturing the moment or the feel and look of something - and that certainly comes across on occasions for me. I like the inner beauty of a lot of places that stand out differently from the others, or maybe seeing things from a different angle is always a good thing too. In any case, it's certainly for me always been about the moments and my four year old Nikon 2200 does the job nicely. Okay so it's only 3 x optical zoom and 2 megapixels, and the night time flash doesn't really capture the moment that well, but on the plus side it's lasted me that long, some of the shots I've managed to take have been special, and that's what matters. To me, anyway.
It's the last day of the football transfer window today and I'm seriously hoping that we've landed Benjani from Portsmouth - he's proven himself this year to be a class striker (third highest scorer in the Premiership behind Cristiano Ronaldo of Man U and Emmanuel Adebayor of Arsenal) and that would be great if we could get him. We do need a striker, especially as we've let Rolando Bianchi go back to Italy, Georgios Samaras off to Celtic and Ishmael Miller signing for West Brom on a permanent basis - bet his best mate Micah Richards is gutted!
Anyway, just a quick last thing: if you've never heard of Jonathan Richman and the Modern Lovers, then where have you been man? I noticed today that their version of "Egyptian Reggae" is being used in the current Weetabix advert, which was quite nice to hear (and thus tune of the day for being such a good choice) - and as such vastly under rated. Richman's still a talented songwriter now and seeing him live a few years back was just wonderful fun, especially at the intimate settings of the Academy 3. How I love that venue, and I'll be there Sunday for Nick Harper. Hurrah!
Wednesday 30th January - Three Hours Of Pleasure
My friend and I headed over to the Academy 1 tonight for a gig that we'd both been looking forward to for months. And not any old gig either. Oh no. It was the latest leg of Henry Rollins' "Provoked" spoken word tour, and as I'd seen Henry the last four times he's played Manchester (three at Academy 1, once at Salford Lowry Centre) and got immense value for money every time as well as plenty of laughs and witty anecdotes, once the tickets had gone on sale I had to buy them very quickly. In fact, the two tickets we had were numbers 4 and 5, yes that's how eager we both were.
For those of you who have never seen his spoken word shows, a few words: get off your backside and go. Because when you do, you'll be thoroughly entertained by an intelligent, clever person who not only can provide witty anecdotes and story telling but do so in his own unique way that will make you laugh, smile and also think "right on" and sometimes all at the same time. It's those sort of qualities that make it what it is: it's not comedy and stand up per se, but a man who will have you enthralled by his thoughts, feelings and memories of the time he's spent and what he's done - it's rivetting stuff.
My friend and I noticed that the running board said that originally the curfew was at 11pm and it said that Henry would be on at 8.30pm. A few minutes later I then saw that the 11pm time had been written out and moved to 11.30pm, so that meant, knowing Henry, that it would be a 3 hour non stop talk show fest, and boy were we looking forward to it. We knew as well that he wouldn't stop so made sure that we had enough liquid to keep us going as well as making sure that if we needed the loo, we'd go before he came on so we wouldn't have to dash out mid-gig, which would never do.
Anyway, Henry came on and for three hours it was absolutely brilliant: if any gig tops this one in terms of entertainment, it's going to have to be bloody good. It'd possibly the best show out of the five I've seen him do, with him going from subjects such as his trip to Pakistan which coincided with the Benazhir Bhutto assassination, to Lebanon to meet someone and their family and then fly out to San Fransisco to see Nick Cave's "Grinderman" project play live, a lengthy skit about seeing Van Halen and how the first time he saw them they blew Ted Nugent off stage and years later when Rollins met David Lee Roth how Roth supposedly remembered everything about the whole gig, just abosutely delivered at immense pace and without pausing or stopping apart from the odd sip of water.
What was a real heart warming story though was when he got a call from the remaining members of influential band The Ruts (Babylon's Burning is an absolutely fantastic power punk classic- my tune of the day for sure) and asked Henry to do the singing duties. The one-off gig was for the guitarist Paul Fox who had incurable lung cancer (he died late last year) and he explained how big a fan of the band he was and what it meant to him, and when he met up with Paul how the two embraced and realised how special it was all going to be - not least when Paul looked at the amp, and saw how the other practicing guitarists had it on way too low and immediately cranked it up to the max and got rocking. The live gig that they did is being released on DVD soon - I might have to check that out as I can imagine that he'd be on top form.
It just went by so quick in all but there was so much he talked about that it would be almost impossible to try and cover it here to be honest, but nonetheless there were special moments throughout: as he referred to Bush's use of the web and called it "The Internets" and "The Googles" and referred to it all the way through in the same vain to take the mickey, along with the tale of the man who was bitten by a crocodile and whose arm came off when he was freed by the croc, the story of how he came to sing with Nick Cave at the Grinderman gig, and just lots more besides.
I got home around midnight a very happy man, and I can't wait till he tours again because it's always interesting stuff, good material and indeed just lots of fun. I'm so glad he still feels the young boy inside because while he has that much energy, passion and delivery it's hard not to enjoy it. Henry, you are still the man.
Tuesday 29th January - Rain, Rain, Begone!
Went to IKEA last night, mainly to get some ideas for the house but also to see how doable it was going in a weekday evening once I'd gone home and had food, rather than just go straight from work. Anyway, got there soon enough on the bus and had plenty of time to have a coffee and cake in the restaurant bit (and don't forget IKEA family card holders, tea or coffee is free Monday to Friday) - and after a few minutes taking it easy and having gone round most of the showroom, I'd got some potential ideas for the house noted down for future reference.
What always amazes me though is how many people spend hours and hours going round, looking at the same stuff over and over again, before making any form of decision. I know that decisions can be important to make sure that the ambience of the house is just right and that something you buy should enhance that, but you should hear some of the discussions that take place - bonkers. At least one couple had it right when they went to the warehouse bit at the end - they'd noted down all the aisles and locations and were stacking up two trollleys with all their stuff and making sure that they hadn't missed a thing - quite good to see organisation really taking effect and being able to help save some time.
Mind you, I was tempted by a couple of shelving units plus some bedding but decided against it for now and maybe reconsider once I get paid next month. The good thing though is that there's always something in there that I could consider getting, and I might rejuvenate the storage jars I have for the tea, coffee and sugar by getting some replacement ones - they're not that dear either and it might just freshen things up a bit as well. The large version of the same jar is perfect for pasta, and there's even a octagonal one which is great for a biscuit barrel. The journey on the bus back was pretty quick though and I think realistically that I know I could do this journey again if I needed to: can't always rely on someone taking me in the car so good to know how easy things can be.
Today was punctuated by rain, which was a bit of a nightmare as I wanted to get going to get a card for my sister's birthday on the way home and did feel a little drenched before I headed on the bus home. The odd thing was though that everyone seemed to want the same bus, more so than usual, then when I realised it was close to 5pm it was obviously peak chucking out time - must time these things better when having to do these little tasks. The shops near where I work are quite frankly rubbish for cards though and normally I have to head into the city centre to get something approaching half decent. I know what I want to say with a card and I don't want it to look like I've not been bothered really.
Went a bit retro tonight and played the first Fun Lovin' Criminals album "Come Find Yourself". It's still a veritable indie rock classic years after its release, and if there's one song that would get the whole crowd rocking nicely, it'd be there anthemic "Scooby Snacks". It's got snippets from Tarantino movies, Huey Morgan sounds incredibly laid back vocally and the band are just tight and spot on - and even now you can still hear this at indie nights up and down the country. And if your local indie DJ doesn't have this on his playlist, then he's not really a proper DJ is he? Tune of the day - easily.
Monday 28th January - Countdown To Artificial Day
Well, it's official. The countdown to the most artifically false day of the year has well and truly begun. Not least because of the amount of shops everywhere suddenly displaying cards with shocking amounts of red and a red envelope to go with them, and not just because your local florist has bunged up the price of any flowers arranged in a nice lovely bunch, and definitely not just because of the fact that radio stations have started already to play songs that Barry White would be proud of in the lurrrve department. Oh no. Much more than that.
I received an email today from one of the restuarants in central Manchester that I dine in (primarily because the food's delecious and it's not a rip off price) and because I'm on their mailing list for offers and the like, one came through today to remind me to book for February 14th now and indulge in their special three course menu for the amazing price of a mere £24.95 per person. True, what's on the menu and what you can choose from probably does quantify the amount, but it's the fact that I'm happily single right now, and to be honest, don't need reminding of such indulgences to take someone out to.
Honestly, the whole day is so darned artificial that even if I was in love with someone, I'd probably boycott the day on principle and instead show my love at all other times of the year, when it's much more natural and proper to do so. I'm not one of those people who get upset about not getting a card either. No big deal, it just is actually less hassle all round because I'm not thinking who's sent me one under any form of pretence or reality. I'd much rather be able to know that my feelings and thoughts for someone are appreciated at a time that they appreciate it, not just because you're told to just because it so happens to be the middle of February. Woo bloody hoo, that's what I say.
And before you say "oh well that's bah humbug" of me, well I'm sure there's plenty who agree with me. Being with someone isn't just about certain times of year, it's about all the times, being there when they're sad as well as happy, having big cuddles when you feel the need to, and most of all, actually enjoying the company of the person that you choose to be with and making the most of the time you have. And after all, you never know when that time's going to be taken away from you so it's definitely make the most of it.
Spent some time this evening watching the all time classic film that is Enter The Dragon, some of the fight sequences are so well done, especially when you consider in reality no one actually hits each other due to the excellent timing and choreography of the fight moves. You've got to love the nunchukas sequence (thankfully restored in the Uncut Special Edition that I have) and most of all, the theme tune, classic Lalo Schifrin at his best and definitely tune of the day for me - it's got everything 70s in it, even the "wacka wacka" guitar sounds as well as an Oriental feel and sampled Bruce Lee noises (possibly one of the first times samples were ever used on record - fact) so there you go - check it out. And remember, boards don't hit back!
Sunday 27th January - Where Was The Passion?
As I'm writing this I feel extremely angry, let down and most of all frustrated. Man City deservedly were beaten 2-1 at Sheffield United in the FA Cup and to be honest, we didn't deserve to get anything out of the game whatsoever. We were passionless, spineless and soulless, just like Sven used to be when managing England, and that's a big worry. It seemed that any team who get up and at us a bit we can't cope with, and we have no plan B whatsoever if Plan A goes wrong. I mean, I could lose count at the number of tackles that weren't attempted for, the number of shots on goal we could have had but spent too much time faffing around with it on the edge of the box, and as for players not caring, where do you want to start?
Well let's start with Elano. Right now he should be dropped to the bench because clearly he feels as if everything should go his own way and if he doesn't and gets rustled, he then just leaves a couple of nasty tackles going in. In truth he was lucky to stay on the field against Newcastle a few weeks back and in truth I think him being taken off at half time said a lot more than was realised. Martin Petrov had a real off day and normally his pace and powe do enough to get plenty of crosses in, but seemed almost anonymous by his absence of being. Gelson Fernandes looked about the opposite of the Swiss watch - no accuracy in the passes or the tackles, and that seemed to be the pattern for several other players who didn't look bothered. It's one thing losing 2-1 and having given your all, no one is upset then, but when you don't even look like trying, it hurts and it hurts badly.
Unfortunately it does stem from the fact that tactically Sven got it very wrong today. It was an ideal game to start with Daniel Sturridge, not from half time. It was an odd decision to take off Dietmarr Hamann when he at least was controlling the midfield a bit and getting stuck in, and replace him with Steven Ireland's lack of anything at the moment, and it just beggars belief to be honest that every other City fan could see at least Hamann was actually caring enough to be passionate, unlike a lot of the others. It just was awful though all round and I really know full well that those stupid balloons that were near the City goal which helped the first goal become reality is going to be the butt of jokes for the next few days.
Ah well, it just goes to show that you can't really have the good times without the bad, and in recognition of this fact I needed something a bit more morose to listen to tonight to get me in a much more mellow relaxed mood: so Portishead's first album went on (especially as they have a new one out at last later in the year and their tour has pretty much sold out already!) and from that, the excellent "Sour Times" just has to be tune of the day - it's beautifully sad, dark and moody and pretty much sums up the way I feel right now to be perfectly honest.
Saturday 26th January - In Sync
Well, the magic of the cup certainly was kept alive today, even if the results didn't quite show that. First off though it was off to one of the local PC retailers with my uncle and his son to pick up a laptop that they were after, and then it was to be left with me to configure it and get it all up and running nicely with the latest software. Ah, the fun you can have. As it turned out everything that they were after was in stock so it was a simple case of go in, get what was required and go, and after stopping off to get some small jewellers' screwdrivers (so I could open up the case and put some extra RAM in there) it was good to go.
I got back and started doing plenty of Windows updates and such like, and watched the Mansfield game against Middlesbrough. I have to say that Mansfield in the second half did play well and it was looking like they'd at least equalise to make it 1-1 against Boro. Sadly, it proved not to be. The storm was weathered, the subs came on and before you know it it became 2-0 to Middlesbrough and game over, but not before they'd gone through a few scares, near misses, and they also should have had Robert Huth sent off as well. But still, hopefully such a battling cup display will give Mansfield some hope - they are after all second from bottom in League Two and in danger of being relegated to the Conference. Just need to keep that form going in the league now.
And then, as I was finishing the laptop off, I kept my eye on Sky Sports News to see the scores going through for the FA Cup fourth round, and I can honestly say that I've never seen the usually calm Matt Le Tissier go as mental when Havant and Waterlooville actually scored at the Kop End and went 1-0 up against Liverpool - at Anfield! He was just so happy for them and to see the other pundit Phil Thompson's face (Phil was a legend of the late 70s Liverpool side of course) was a picture. And similarly, when Liverpool then went 2-1 down a bit later on, more of the same. I couldn't believe it but I was so pleased for them to really take the game to Liverpool and score there twice was a real show of spirit and determination.
As the afternoon went on, and Liverpool had equalised before scoring another three in the second half, the result still wasn't a bad one for those who'd travelled there from down South. Indeed, if anything, with Liverpool having to bring on Steven Gerrard for the last part of the game, it showed that in fact that they had to bring out their best players to really make sure that no shock was on the cards. The Liverpool fans did applaud Havant and Waterlooville for their efforts and rightly so, and it just showed that the magic of the cup was very still much on. In fact, none of the fourth round games today ended in draws and with just the three remaining ties for tomorrow (including Man City's game at Sheffield United, be glued to the telly for that one of course) it may even be that none of them need a replay. We shall see.
I went round to my uncle's place with the new laptop all sorted and spent a bit of time doing a backup and restore job of his son's iTunes library so it went from the tower PC to the laptop, and was then synchronised with the laptop happily without losing any tunes on the iPod itself. Thank heavens for the nice new backup feature in the new version of iTunes which allows you to do that, although in essence it would be nice if there was a proper "move all my music files to another computer" sort of thing. The way to do it without blank CDs and DVDs is so amazingly clunky that most people wouldn't even bother. And there's still the annoyance that whatever's on the iPod needs to be synched with the same files on the PC in iTunes, and if you delete a file off there, then it's bye bye on next synch... ah well. That's exactly why I don't use it.
Still, feel a bit more in sync with the world now and do feel a fair bit better, so hopefully a nice relaxing night in tonight should do the job - and with the rather lovely new Kristin Hersh song "Around Dusk" released to listen to (and that's tune of the day right there folks) all is good with me. For now.
Friday 25th January - The Movie's Nearly Over, But We're Still On Screen
I really felt back into the groove today as I had a technical meeting in the morning to attend to, which was rather busy as well as it seemed that everyone who was there pretty much was there, including one of our senior managers, who was talking about the proposed rollout of Office 2007. I have a feeling that in reality it would be nice if I was actually going to go on a course to become some sort of expert at it so when I get asked questions such as "where has this function gone?" or something similar, I'll be able to provide a worthwhile answer that'll be one that I know works. From a purely practical point of view, I think if people had a choice between the "classic" interface and the Office new "ribbon" one, that would have helped considerably, but that new ribbon is just horrid, and I have to say that I do dislike it. In fact, I'll use Open Office instead.
Still, with that done, and a couple of problems fixed in the afternoon including managing to salvage some data from a laptop hard drive, I felt that at least the couple of days that I had been in work had given me some productive hours, and I've resisted a fair bit of coughing and spluttering everywhere. I still feel a bit chesty but it's gradually going away from me, which is a relief, and I know by resting and recuperating this weekend I should be able to sort myself out and be right and ready. I did the food shopping on the way home and got all that sorted, made myself some food and then kicked back with some music, namely the Depeche Mode remixes album. You've got to love the 12" version of "Just Can't Get Enough" and so without further ado that's my tune of the day - it's nice having it on CD so I don't have to play the vinyl original I have any more, but it still is an example of just what a 12" extended mix should sound like - no distanced completely from the original with a few vocals stuck in kind of effort, but the proper extended mix, with the original and added features.
Headed to a friend's close by and watched School of Rock with them and with a warming coffee. It was great to see that film again of course and I think because Jack Black is insanely funny along with the kids who are the school, it just has one of those great feel good factors that you don't always get when you see a film these days. Best of all is the end credits bit where the band are doing an extended version of ACDC's seminal "It's A Long Way To The Top If You Wanna Rock and Roll" complete with individual parts but also bearing in mind that the end credits are rolling and that you have to go and leave the cinema now, surreal and yet amazingly funny. It certainly had my friend and I in stitches anyway.
Thursday 24th January - Back In The Groove
Got up this morning bright and early, had some breakfast and a fruit juice, made sure I dosed up enough, and felt tons better for it all, it has to be said. I felt refreshed and ready and taking the time off work had been the right thing to do to be perfectly honest. I could go in, do plenty of catching up, and get everything nicely sorted, and as it turned out, I managed to fix some weird updating problem that had happened a couple of days ago and make sure that missing files that had been deleted had been restored. One slight glitch with that plan: it meant that it somehow brought parts of the network down to a crawl and indeed slow logins, so had to partly abandon that plan for now, but know what I need to do to get everything up and running pretty much as intended, which is the way it needs to go.
I guess it was just a case of taking care of the outstanding jobs and plenty of emails too, which annoyingly had come straight to me instead of via the Help Desk, as is current protocol. I've politely put a reminder at the end of a couple of mails just to say that if it's an initial support call, please raise it through the proper channels, just because then it makes everything a bit easier all round and I can devote the time the right way to get things done. And my holiday leave card had been signed off so it meant that the weekend in February is all sorted: gives me something to look forward to now as well, and I'll be more than well enough for it as is the theory.
Spent some time tonight kicking back with Roy Harper's seminal 1975 album "HQ", where he went a bit more rock than his previous albums on EMI's Harvest label, but no less good for it. In fact Pink Floyd fans sit up and take notice: Dave Gilmour plays on this album. Yes, he does. But the best track of all on here is the last one, played with the Grimethorpe Colliery Brass Band, and the best song written about cricket. Like, ever. It has all the memories of an old English summer, seeing the local cricket side play, and also the lyrics hark back to when the Ashes weren't as intense as they are now, with the likes of Boycott et al doing battle. It's just one of those songs that doesn't leave you, so tune of the day "When An Old Cricketer Leaves The Crease" it certainly is.
Wednesday 23rd January - The Light At The Tunnel's End
Almost there, I can feel myself inside getting a fair bit better, much less bunged up and the hot liquids that I've been pouring down myself (along with some bio yoghurt as well, always good to maintain the healthy balance don't you think?) are doing their job a bit more now. I woke up around 9.15am and tried to have some porridge for breakfast and switching the television on, it thankfully went to Sky Sports News so that was background, and I resisted the temptation to watch some car crash Jeremy Kyle instead (which to be honest was a wise move) - and just have a fairly relaxed recuperation day, which did the job very well.
Spent some time mid afternoon watching Clerks II, which made me giggle inanely, not least Dante watching Becky doing the dance to the Jackson 5's ABC, with even Jay and Silent Bob getting in on the act, and then straight after, some episodes of Series 1 of the Henry Rollins Show, and one of them had an interview with Kevin Smith - and it was intriguing to see what had happened to Jason Mewes, who plays Jay, and how much that affected Kevin to see Jason come out of the other side of a drug addiction problem. I think in this day and age it's easy to pour scorn on doing wrong, but admitting that and managing to do right? That's not so easy.
Ended the day watching Everton against Chelski and the result wasn't in any doubt once it got to half time - it just looked like it was going to be 0-0 or a 1-0 Chelsea win, and that's how it turned out with a well taken goal from Joe Cole. Still, what it did prove was that sometimes the best teams can win ugly, and Chelsea didn't exactly set the world on fire, but what they did do was make sure they got the job professionally done. Interestingly, in terms of atmosphere, the Tottenham fans the previous night were much more behind the team all game whereas it was fits and starts for Everton, it has to be said. Ah well, off to bed for me then.
Tuesday 22nd January - Shiver Me Timbers
It's pretty cold everywhere this morning when I eventually sort of woke up but felt really tired, so I took the duvey down with me, curled up inside that, had the heat on and the hot drinks at the ready and did what I could to avoid daytime television as much as possible whilst dosing myself up as much as possible. So that meant watching the 2-disc set of Clerks the animated series, which was actually far funnier than I thought it was first time around - the humour just got me this time. What was nice about that was that Kevin Smith managed to get all the actors who played Dante, Randal etc in the original film to do the cartoon character voices too - so it made it much more realistic. And of course Jay and Silent Bob in their mansion introducing each episode, hilarious stuff that.
Switched discs and went on to something else I'd not seen for a bit either, namely Mallrats. You know, people forget how funny this is, but the many references, comic book heroes a plenty (including Stan Lee playing hmself) and add to that everything that's bad about those American shopping malls neatly brought into one package very well, and you're pretty much there to be honest. It passed the time before I snuggled back into bed for the afternoon all dosed up, woke up in the evening and had plenty of coffee whilst seeing Tottenham thrash Arsenal, and then back to bed for a better night's sleep (hopefully.)
Monday 21st January - One Flu Over The Cuckoo's Nest
Pardon the pun, but I really did feel rather poo this morning when I woke up. When I saw the time I was mortified: I knew that I may be late for work so I rang my colleague in advance to forewarn them and mentioned that I'd had a bad night's sleep. And I had: in fact I couldn't remember if I'd slept at all or not, such was my turning about in the bed. I just couldn't settle, and it was a bad one. And as I arrived in work my colleagues took one look and said that really I shouldn't be in because I looked like death warmed up, which wasn't to be honest far from the truth.
I ploughed on for as much as I could and got a few jobs done that were outstanding but had to admit defeat mid-morning, and what was nice was that my colleagues were supportive and said that I'd be better off recuperating at home. Well I would, I guess, as long as I avoided the curse of rubbish daytime television. Anyone who's had to stay at home during the day will tell you that you have to channel flick to avoid such trash as the Jeremy Kyle Show, Homes Under The Hammer, Wanted Down Under, Loose Women, and possibly worst of the lot, Cash In The Attic with that annoying cow Lorne Spicer. No wonder people who stay at home during the day turn into zombies if that's all they have to watch.
But that wasn't the life for me: it was get home, make sure that I had enough tea, coffee and other hot drinks to see me through the day, and then promptly crashed into bed, and slept through most of the day, only waking up in the evening to get a few hours awake before I tried to get back to sleep again and have a good lie down. As such, there's not going to be any music on or any loud distractions for the next few days, so no tune of the day whilst I recuperate. Sorry, but that's how it is, the sound of blissful silence is the way forward so that I can try and get some rest and hopefully be back up and running properly later in the week - good plan, no?
Sunday 20th January - Not Forever Blowing Bubbles In The Cold Air
Went with a friend today to see my beloved Manchester City take on West Ham, and I was a bit worried in the morning. Not because I thought City were going to lose their unbeaten home league record on today of all days, but I woke up feeling a bit snivelly and generally not the warmest I'd ever been. I decided that if I was going to make an effort to go then I needed to wrap up nice and warm, and for sure the fact that I had plenty of layers on would probably help, not least being the top tier of the East Stand. As it turned out, the weather wasn't that cold but it definitely got quite wet in places, I was sure glad that we were going to be under cover.
The game itself turned on two moments: firstly after West Ham had taken the lead with an excellent Carlton Cole finish, City's equaliser came a few minutes later, although I have to say that Darius Vassell did look slightly offside once the ball had initially come in from Martin Petrov. Mind you, the ref or linesman didn't see it, and as the ball bounded in the area off Rolando Bianchi, Vassell dinked it over the West Ham goalie Robert Green to make it 1-1. The second moment was when Luis Boa Morte, who had proven to be a dirty player for West Ham, clattered Vassell with both studs showing - clearly a red card offence, yet it wasn't given. Much needle and annoyances followed for the rest of the game.
Funny thing was that there was an incident before half time that City could have had a handball, but it wasn't given, and for the rest of the game the West Ham fans made songs up with handball mentioned, such "You only sing when it's handball.." and "Handball, you've only got handball" etc. It was pretty witty and funny of them it has to be said, full credit there. Mind you, had Joe Hart our goalie not been in such good form, we'd have lost today, that's for sure. My friend and I enjoyed the game at any rate and I know he appreciates these trips out - even if it's not his team that we're going to see. Snootch to the bootch, as Jay might say.
Got home, relaxed with a cup of tea, whacked on the Bonnie Prince Billy "The Letting Go" DVD-Audio disc, and on there was a track that summed up the whole day: "Cold and Wet" so that immediately was tune of the day for me so I could feel the day go by. Except it wasn't. I was starting to shiver, despite the house being warm and toasty. Even sitting closer to the fire with warm liquid didn't help one bit. I then decided that sleeping it off in bed might work except I was tossing and turning with my head now pounding most of the night. Wasn't pretty, I could only hope it was a minor bug and that I'd be able to be okay in the morning for work...
Saturday 19th January - Down By The Water
Little fish big fish swimming in the water, as PJ Harvey would sing. In fact as I knew I was going to be heading off to Hollingworth Lake today for a nice wintry walk out and taking in the scenery, I had to listen to some PJ before I left, and not least "Down By The Water" which is so mesmerisingly good, so tune of the day that one most certainly is. I love the video too where PJ's in a red dress and looking rather gothicly sexy, if you don't mind me saying. But nonetheless it set the scene for me to feel inspired enough to take the digital camera with me and head into the city centre and to Victoria train station.
I was soon on the train which heads to Leeds via Bradford, but stops at Smithy Bridge which is exactly where I wanted to be in terms of getting off for Hollingworth Lake. It's actually only two stops from Victoria normally as the first one is Rochdale, and soon I was walking up hill and towards the lake to walk in an anti-clockwise direction, starting what was at the former pub called Millers. That's changed since I was last up there: it's now called The Beach and has that very familiar yellow text on purple background that immediately makes me recognise it for what it is - yes, it's one of those two for one pubs where you get that on the meals. Might be handy for future reference if I'm heading out there with a friend or something.
I started to walk around and before not too long everyone walking along had to contend with a tipper truck heading towards us - I guess it had dropped something at the sailing club on the far side of the lake. What did surprise me was the number of people on horses and ponies trekking around and heading off into the hills - quite a nice sight to see, that. Of course the usual number of people with their dogs were around walking everywhere as you might expect, but no one else seemed to be, and so it was quite idyllic. As I headed to the centre of the lake where the small shop is open in Summer, it looked fairly muddy underfoot but I was able to get some nice views on the camera as I walked up past the nature reserve and back down Rakewood Road via The Wine Press pub.
I stopped off for a coffee in one of the cafés overlooking the lake, and ended up with a little cafitiere which had enough for three cups worth, which worked out quite nicely really. I was just able to drink the coffee and relax a bit after the quite fast paced walk that I'd undertaken, before walking back down to the train station and heading off back towards Victoria. It was quite busy on the train back which goes to show how many people come into Manchester on a Saturday to do some shopping. I headed back via Vinyl Exchange on Bridge Street and had a quick look in there before heading homeward, feeling rather relaxed and happy.
Friday 18th January - On The Ale Trail
Had a pretty good Friday really - managed to get a couple of fixes rolled out to PCs and also set up Windows XP with all the patches on the office Macbook so I can test it with some of the proposed new wireless settings for next week. However, I was glad that the time did go quick because I had something to look forward to tonight - the Winter Ales Festival held at New Century House in Central Manchester. Now this isn't any normal beer festival, its main focus is proper real ale either pumped by hand or served straight out of the cask itself - either way, how beer should be with none of that push button effort.
Did my food shopping and made myself something to eat and had a quick change and headed into the centre of Manchester and then off to New Century House - it's the big Co-op/CIS building near Victoria Station. Now, I expected it to be pretty busy but I didn't expect there to be a queue - and quite a sizeable one as well. Thankfully it didn't take too long to be processed and pay the £4 admission, and hang my coat in the cloakroom. I've been to record fairs here before and the big function rooms are normally boiling, so thought it best to do so. And a wise move that was - the sheer amount of people around meant that it was really warm. The way you would get the ale was a good idea - you paid £2 deposit for a glass, either a half pint tankard style glass or a pint glass, and you could either return the glass when you left to get the money back, or take the glass home with you. You'd then have the glass filled when you purchased the ale.
And that was another nice thing: when you purchased the ale, you either could have a pint, half pint or "nip" (basically a third of a pint). This meant that you could try lots of different ones in smaller amounts and not get overly drunk. I went for the half pint tankard and decided I could then pick the half pint or the nip accordingly and see which ones I'd like. First stop, the upstairs room with shedloads of ale, a tombola and indeed a place where you could buy beer mats of your favourite ale - they had all the St Austell Ales ones except Tribute. Aaargh. But still, off to the bar I headed and tried out the Wychwood JanuaryS Ale (work it out) which was very nice and warming, got me in the right mood straight away and tasted lovely. I recommended their Hobgoblin to a couple of people queuing for the bar, as that's excellent stuff.
Next half pint was the Copper Dragon Black Gold, a really nice dark ale that reminded me of the JW Lees Moonlight Oak Dark Mild that they used to stock in Ra!n Bar. It certainly went down rather nicely to say the least and had I gone for a full pint I wouldn't have been disappointed. I had one more choice to make in the upstairs room before heading down to the Champion Ales contenders that were entered for the competiton - and spotted the JW Lees Brewers Dark. Hmm.. cold this be the new incarnation of the Moonlight Oak? Well, it certainly looked as black when I had it, and it tasted absolutely spot on, just as a good mild should. Oh yes. Well I'll have to keep my eyes out for that being in stock locally now, just found a new favourite, I have.
So off downstairs to where the ales that were entered for various contests were at. The room seemed a little quieter too but nonetheless it was a hubbub of activity. Some of the serving staff had dressed up in short skirts and uniform (even the men, that was brave!) - and overall it was a very relaxed atmosphere, even more so than upstairs. The difficult decision was picking the next ale - and so I went for the third place in the Supreme Champion, and the winning Stout, Hop Back's Entire Stout. It was just as it should be: beautifully dark, full of body and tasted rather nice indeed without being overly filing as well. I would have had the Robinson's Old Tom which came second in the Supreme Champion, but as that brewery is local and plenty of places have it, I could have it any time (not to mention it's a whacking 8.5%!). Unsprisingly the winning Supreme Champion ale, the Wickwar Station Porter, had sold out (already) but there was still plenty for me to try, and so the last half pint I went for was the Spitting Feathers Farmhouse Ale, which was rather light and really tasted quite organic as well, quite hearty but also amber coloured with a nice afterkick in the taste. If I really wanted to go for another one, I'd have been tempted by the Abbeydale Last Rites, but that's absolutely lethal stuff (11% lethal to be exact, the name's pretty spot on don't you think!) and as the place was shortly to close for the evening it was time to beat the cloakroom queues and head homeward.
Got home and decided that what I needed was some mellow tunes before I headed to bed and so whacked on the DVD-Audio disc of the Koyaanisqatsi soundtrack by Philip Glass. Although in essence it's one lengthy film soundtrack, there's parts of it which I really adore: one of which is "Pruit Igoe" and so that's tune of the day - it was also used in a BMW advert some time ago (it's the one that says "a car is a car is a car") as well as heavily inspiring Rob Hubbard for part of the main ingame theme for the game Delta (in fact, parts of "Resource" from the same soundtrack also proved an inspiration. Anyway, here's that BMW ad:
Thursday 17th January - Hmmm.. Kate Bush...
I've had a bit of a surreal day today in many ways. Not only have I been around plenty of admin staff offices visiting their machines and chucking on some new fonts which they need as well as some template macros for Word which they now also need (it's a long story and probably one to tell in the distant future) I spent a fair bit of time installing some printers for a couple of members of staff. Nothing spectacular there maybe, but it was just in terms of timing that everything despite seeming chaotic actually worked out to be quite calm in the end which meant I could get on with some other things too and get it all sorted.
But the surreal moments started in the morning. You see, Travelodge decided to knock down plenty of their rooms to a mere £19 during next month, partially because of the half term break but also because they realised that it was a good way to fill some spaces. I had a thought in my head that if realistically I wasn't going to go to Cornwall this year for the summer, it'd be nice to go late winter/early spring for a couple of days and see how different it was out of season. That in mind, I checked it out this morning and found that not only was there one at St Austell with spaces free for that price, but then checking the trains down there, the fares were also nice and relatively cheap as well which meant that a short break Friday to Monday could well be possible - and why the hell not I thought to myself? So had it all booked a few minutes later, what am I like? But seriously, I'm looking forward to going there for a few days, using St Austell as a base and probably going to Mevagissey and Fowey cos I missed those out last time I was there. Hurrah!
Got home from work and after settling in with some food, I noticed that BBC Four had an old Top of the Pops from Christmas 1978 with Noel Edmonds presenting it - showing clips over the year from various artists and bands, and even the infamous dancers (who were then Legs and Co) and way too much Boney M. However, it was intriguing that the Beeb picked Noel, can you imagine the phone call now? "Noel, we want you to resurrect Top of the Pops for a Christmas special. Deal or no deal?"
Joking aside, almost thirty years ago and it's amazing to see how much music has changed and yet just how some of the old classics were being made back then. One such one (and it has to be tune of the day) is Kate Bush's superb "Wuthering Heights". It's just something completely different compared to the disco-fuelled pap that was around back then and showed off a talented songwriter who could also perform literally with the song, shown best by her performance of the song on Top of the Pops back in the day - mesmerising stuff, not least the video effects!
You get the idea. Add to that the hits of Showaddywaddy (yes, them who Hugh Dennis mentions in his Jimmy Saville impersonation on Mock The Week), Darts (what the hell?) and one hit wonders abound. One of them in fact brought back many happy memories too, the tribute song to LS Lowry, "Matchstalk Men and Matchstalk Cats and Dogs", which was a great little folk song which aptly described just how Lowry was inspired and indeed everything based on the way he drew as well. It actually won an Ivor Novello award for the best song written in that year, so there's something for you. Incidentally, there's a kids choir in the song too, and they'd later have hits in their own right as St Winifred's School Choir (true!). Anyway, here's the song in question:
Isn't it still classic? What do you mean, no? Some people...
Wednesday 16th January - He Comes From Italy, He Plays For Man City
Well after work was to be a busy evening. First off, round to see my sister and wish her Happy Birthday and hand over her present (basically she wanted Euros off everyone for her holidays). I clean forgot of course that my sister works at different times of the day to me and so wouldn't be home by the time I got round there. However, my Mum was there with my sister's daughter, so I had a good chat to them both and kept the little one entertained, and then spent time with my sister's husband having a good natter and making sure that the card and such was placed so my sister would see it, and then made my way homeward, and for a good reason..
Yes, Man City were at home against West Ham in the FA Cup and it was time for me to get there and cheer the lads on, the second time in four days and the third in a week or so that I'd be watching my team. I was taking my uncle's two sons as well, both dieheard blues, so the three of us would be able to get behind the lads and sing the hearts out. As it was, I'd managed to get the front row of the second tier of the South Stand - the view's good up there and indeed you get to be close enough to the singers singing along to join in without having to stand up all game, so there is a distinct advantage. Plus of course it meant I'd be sat with no one tall in front of me blocking the view, perfect really.
The three of us made our way to the ground and soon got through the turnstiles. As I'd not eaten I decided that now would be the time to have something so it was chicken balti pie without question - that warmed me up nicely and it was time to take in the atmosphere and see jus thow many would turn up. I said to the two with me that I reckoned it'd be around 28,000 or so because of the fact it was on telly and the weather had been a bit foul over the last few days as well - but see what happened. Sure enough the ground didn't look that full and a few minutes before kick off, a rather nice version of City's old song "The Boys In Blue" came over the tannoy, by the band 10Acre. I actually have this as a 1 track CD thanks to my friend, and it's a stonking rousing version of the great tune, so tune of the day was a very easy decision, let me tell you.
In the meantime, the game kicked off and the first half was very cagey - pretty much I think because of the fact that we insisted on playing Elano behind the back four, and Castillo a bit further forward but it wasn't working. The City fans were getting impatient and wanted Rolando Bianchi on and sung their song to the tune of the classic "Volare" a little something like this: "Bianchi, wooooooah, Bianchi, wooooah, he comes from Italy, he plays for Man City." You get the idea. And I'm sure that fate lent a hand as Castillo went down with a bad shoulder and it looked nasty, and so on went Bianchi.
Second half as a result was tons better: Elano was further forward, Martin Petrov was slaughtering the opposition down the left hand side and getting plenty of good crosses in and it altogether felt a bit more positive, and that was rewarded with the only goal of the game in the 73rd minute. Petrov legged it down the left and put a gorgeous cross in, Bianchi aimed it spot on but it came back off the post, and Elano bravely headed in to send the 27,801 City fans who were there into raptures. And despite a few late scares, we did enough to get through which pleased us all immensely and we're all tempted to go to Sheffield a week on Sunday if we can get tickets for the next round - Sheffield United away.
Tuesday 15th January - Blowing Up A Power Supply
Well I had fun and games this morning - a member of staff had reported to me that their PC had effectively "blown up". I wasn't quite sure that flames would have been coming out of the back or if the motherboard was in a million pieces, but still it'd be interesting to see what happened. When I got to the office the PC looked okay but there was a smell of sorts coming from what looked like to me to be the power supply. Straight away I concluded it was time to change the thing and having obtained a replacement, I did the swap out in pretty quick time and did some tests to make sure everything was working as intended. I was thankful it was just that and not the whole motherboard that had blown, or that would have been a much more tiresome replacement for someone to carry out.
I've been seeing as well the feasibility of possibly staying over in Liverpool on the Saturday night that I go to see Frankie Boyle in June, and quite frankly, it may as well be a non-starter. All the hotels in the city centre that I could see were either booked pretty full or indeed charging expensive prices. Whether that's because of it's European Capital of Culture status or not, I don't know, but it certainly at least seems to have had some knock on effect. As it turns out provided the timetable stays the same as it is now, the last train from Lime Street to Manchester leaves at 11.30pm on a Saturday night, which means that even if the gig over-runs a little, I should be okay to get back without any problems. Excellent.
In the meantime, it's the keynote speech at Apple today - and you know what that means, don't you? Yes, new stuff. And some new stuff too: the Macbook Air. It's a bit thin to say the least and because of its thinness, there's no CD drive in it whatsoever - the idea being that it's a wireless portable. You can have a standard 80gb hard drive in there or for lots more a 64 gig solid state drive instead. Still, for lightweight portability yet not so small as to be not readable, it's pretty neat from what I can see. I can imagine someone at work drooling right now and wanting one... and it's not even me!
But anyway, I digress. What I've been listening to today is the fairly new Kristin Hersh track that's been available via the CASH Music project, and "Torque" is a worthy follow up track to "Slippershell" released last year. It's a bit more edgy and emotional and there's a really nice distorted sounding guitar that dominates proceedings very nicely indeed - so tune of the day it most definitely is. I think there's something so haunting about it that if this is a taster of whatever the new album's going to be like, then bring it on. Now.
Monday 14th January - A Lack Of Green
I had a bit of a mixed bag day today - I got plenty done at work and managed to make some headway into one long term project that I was working on, which pleased me no end. I however managed to work out that for some reason Acrobat Professional's Word integration was completely mucking up any macros and templates that I was working on, despite me doing some updates, and in the end the only way to actually stop that was to disable completely the Office integration with Acrobat Professional - and then it all worked. To be honest, I'm laying the foundations for blame solely an squarely at Adobe here - at least if you're going to make a product, make it work properly.
That sorted, I decided to go and pay a visit to my Mum after work. Now normally the bus from work can take a little longer than my normal bus home because the traffic snarls up at one junction in particular, but today it was even worse and as soon as I approached a set of temporary traffic lights, I worked out why. Near the junction for St Mary's Hospital, the temporary lights were configured in such a way that outbound traffic (ie: the way I was going) had the lights on green for around 15 to 20 seconds before going to red and staying that way for a good four to five minutes. Therefore only a few vehicles could pass each time which meant traffic was tailing back and so got stuck at that junction for a good twenty minutes plus. The only good side was that the junction where traffic normally snarls was peacefully quiet, and so once I'd got through the temporary lights, got to Mum's in no time. It was good to see her and have a good chat about all sorts, and in a way it's nice just to sit down with a cup of tea and just be able to catch up - something which I do appreciate.
Ended up watching the last bits of the Mock The Week Too Hot For TV DVD as well, and there are some absolutely hilarious moments from the last series. I really hope that it's back on the telly soon (although at the moment a fair few of the comedians who are regulars on the show are all on tour - in fact I got a friend and I tickets for Frankie Boyle in June!) and that it can be just as funny as it normally is. It's hard to decide which one has me in stitches, but because I remember him from the days of the Mary Whitehouse Experience and later on Punt and Dennis, complete with his infamous "Milky Milky" sketch, Hugh Dennis just about shades it - not least his impersonation of Prince Philip - utter class.
Spent some time also playing some more of my DVD-Audio discs and testing them out on the rig to really immerse myself in the sound quality. I think generally speaking because I adore music like I do, I really do want to hear it on the best possible equipment I can and also with the right amount of tonal balance that suits me down to the ground. And so with that in mind, on went the Jonathan Richman compilation I have in that format, and indeed on went the absolutely seminal and wonderful "Ice Cream Man" a true work of genius if ever I heard it and tune of the day for me. With his work it's just a mix of the sublime and surreal that works on so many levels and having heard him to this song live, even more fun, especially in surround!
Sunday 13th January - A Walk In History
Well I decided today that as a rest day I'd be exploring one of my little hobbies - photography. Some of you may have viewed my Flickr! Gallery pages (link on the front page of the site) and seen that I like to have snapshots of places I've explored or been to, or that remind me of moments in my time. The nice thing is that I don't have to be on many of them (I really detest having my own picture taken incidentally) and so I can try and explore my passion for pictures without having to feature me in them. Hurrah to that, I say.
So a plan was hatched: walk around the centre and some outskirts of Manchester and note down any buildings that are either of historical or cultural interest, but not necessarily all the touristy places, and I knew what would work. So I started on Oxford Road near the Academy, walked past the Contact Theatre and the Holy Name Church (immortalised of course by The Smiths in Vicar in a Tutu) passing the University, the Aquatics Centre, Manchester Metropolitan University, and the BBC along the way before hitting the former Refuge Assurance Building, The Cornerhouse and the old Odeon Cinema - and they were all pretty much in a straight line run. As it was still around 10.30am, it meant that it wasn't full of traffic so that if I needed a good shot I could get one.
After that it was around the Bridgewater Hall, on through to Castlefield and past the Roman Fort. Incidentally, one of the buildings on Castle Street in Castlefield used to be the home of the former computer games software giant Ocean, until they got taken over by Infogrames and then eventually left the Manchester premises. For some time a chrome logo used to hang on one of the outside walls but it had been removed, but even now you can still see remnants of what it used to be like: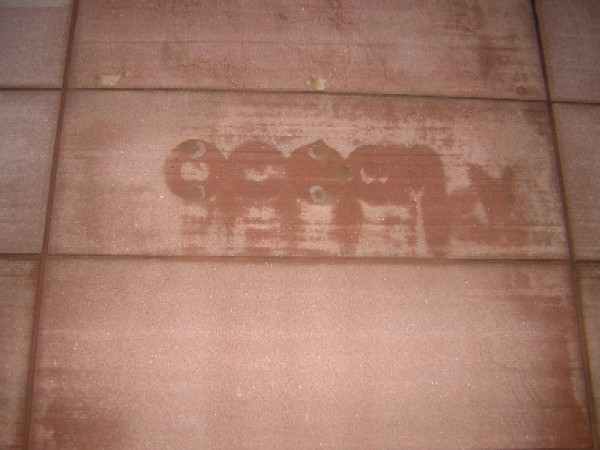 That was it. I wondered who removed the logo and where it's gone, I wouldn't have minded having that myself as a piece of computer gaming history to be perfectly honest. But still, you can tell what was there I hope.
After that it was walking back through the Roman Fort towards Liverpool Road and the monolith that is Beetham Tower was in front of me. I had to stand from pretty much where I'd come on to Liverpool Road to be able to take a shot with the whole tower in, so tall it is, and that was tricky to do because to get the shot right, I had to stand in the middle of the road. Now you see why I used Sunday morning to do the task - just meant I wasn't going to get hit by a car for my troubles!
I then went along Deansgate, along the banks of the Irwell and through to the Cathedral and the URBIS centre. I actually went in there (first time in ages) as I hadn't yet looked at the Hacienda exhibition and as I knew it was going to end next month I thought it best that I did so. As soon as I entered a rather familiar tune to me popped over the speakers: almost timed as if they knew I was coming and that I would appreciate it: Cabaret Voltaire's seminal "Yashar" - and the excellent John Robie mixed 12" version of the tune as well. I have it on vinyl, but nice to hear it in such an insallation and with proper sound coming forth nicely - so tune of the day without question. The exhibition itself was really intriguing to be honest, lots of old former posters and promotional stuff for the Hac, including the t-shirts as well which I'd often see around Manchester in my youthful years. And add to that the fact that there were several video clips of live gigs played there, three impressive black and white stills shots of Madonna's first ever live UK performance (hard to believe, eh?) along with plenty of other bits of Manchester music history intertwined with the whole thing. Rather impressive.
I then carried on walking past Albert Square, the Manchester Art Gallery and ended up in the Northern Quarter and had a quick look in Vinyl Exchange whilst I was there just to see if they had the Pink Floyd Super Audio CD that I was after - but no luck. By this time the rain was chucking it down and I knew that the light would play havoc with any possible good shots, so it was time to head home and relax for the afternoon with a couple of live games of football and later on, the world darts. Looking forward to that, I have to say.
Saturday 12th January - The Fight For Fourth
It was off over to Liverpool today on the train with a friend to see if my beloved Manchester City can do the business against Everton. Now, as my friend happens to be an Everton fan, the deal usually is that if we can get tickets, I'll go in the home end at Everton and they go in the home end at City - so we both have to endure the passion of each others' home support but also can then be together to enjoy the game. It normally works out pretty well and that way it's fair too. I don't mind either because it sometimes is interesting to see how the other team's fans perceive the game with a less biased opinion of your team than you might have.
Anyway, got into Lime Street station before heading off to have a nice lunch, which always sets you up in the right frame of mind. It also means that you can have a coffee and chat as well so that's always good to do so before you get too passionately into the game - which of course I had to keep on the back burner a little bit. But nonetheless though as we headed on the bus towards the ground, I felt it was going to be a tight game today and that City really needed to be on their toes to make sure that at least a draw would be gained, and that it would be pretty full in terms of attendance so that it'd be ramped up to maximum in terms of atmosphere.
In truth, as the game went on, it was a frustrating game for both sides. Everton had the best of the early chances and Tim Cahill missed a clear open goal to make it 1-0 but that was to count for nothing shortly afterwards as a low ball from Mikel Arteta was flicked into the net by Joleon Lescott, and it was 1-0 anyway. It had been coming, and you could tell that it was going to be an important goal. However the Everton fans were getting frustrated with them not winning balls in the midfield, and Didi Hamann and Vedran Corluka were doing their fair share of winning the ball. So 1-0 down at half time, I thought, wasn't too bad, especially as we'd not even turned up for the first 35 minutes or so.
Second half went on, but the more City pressed they couldn't score. It was heart in mouth stuff each time either side attacked and it was getting to be quite nervy (especially for my friend as their lot were hanging on a fair bit). But no matter what happened City couldn't score and probably wouldn't have scored all night, but in truth the only shot we had of note was a low one from Martin Petrov who brought a save out of Tim Howard in the Everton goal. But that was that and it was a 1-0 defeat, but it could have been worse, I suppose. And as the two of us headed on the bus back to Lime Street station, time to discuss how good or bad it was as well as find out all the other scores. Those scores meant that Everton, City, Liverpool and Aston Villa were now all on 39 points and only separated by goal difference, that's something of a fight for fourth then.
Had a relaxed evening in when I got home and inspired by some recent viewings of some classic Beavis and Butt-Head on the DVD collections that I have (and admittedly, I've got all three) one of the sets even had the video to a classic single, which I just then had to play on CD, as I have it as well so it's tune of the day. Some of you may remember them - Pantera, anyone? Yes, well, the classic single "I'm Broken" which I've gone mental to many a time in Rockworld back in the day. Although I wouldn't want to do what Phil Anselmo of the band does in the video though...
Friday 11th January - Leave Of My Senses
Another day and yet another meeting. I seem to be having a lot of these lately, but this one was one that I'm the local representative for, and as the meeting was in the building I work in, I couldn't really not go to be honest. In fact, knowing how long it can drag on for, I'd made sure that I'd ordered a working lunch in advance for us all - which never showed up and I had to ring our local catering department to find out what had happened - they'd forgotten. Aaargh. It turned up eventually but it was just frustrating really. It was on the other hand nice to see people and how they were getting back to normal following the Christmas break.
In essence it's been pretty tiring this week and I was pretty much glad to nip into Tesco on the way home and get my food shopping sorted. I managed quite well this time around and even found a nice surprise or two along the way, including the fact that the Quorn mushroom pies were back in stock, and I love those, so got some of those in to keep myself heartily fed. Funny thing was that I got home in pretty quick time and once I'd settled in for the evening, I caught up with some episodes of CSI on DVD and then later whacked on some DVD-Audio discs to really wind myself down nicely on the Friday night.
In a way, now that my system can play DVD-Audio and Super Audio CD discs due to a DVD player upgrade recently (now a Denon DVD1940, a rather nice bit of kit) it's now worth me checking out some Super Audio CD discs and seeing how they sound. I really do want Pink Floyd's 30th Anniversary Edition of "The Dark Side Of The Moon" (to give it its proper album title) because I can imagine that's been remastered to a high degree of quality to say the least. There are others too that I am sure would sound good, and it's nice to know that I've got a system capable of playing the lot and enjoying my musical passion a bit more.
But it was whilst listening to some DVD-Audio discs tonight that I really enjoyed REM's "New Adventures In Hi-Fi" in that format. I've always regarded that album as one of their best anyway, but to hear the lengthy and superlative "Leave" in advanced res 5.1 is just gorgeous, especially when the instruments kick in at the one minute mark and that police siren type noise just reverberates around the whole surround rig - it's just absolutely awesome to be honest. So that's tune of the day right there.
Thursday 10th January - Acrobat, Not So Professional
Had a bit of a strange issue at the work PC today. I've been working on modifying the default Word template, normal.dot, and had some macros and customisations to the menus that I wanted to save. The macros seemed to save okay, but if I did any menu customisations, they got thrown out. It was odd, and I tried all sorts, even disabling some of the add-ins, to see if that helped. Stumped, I thought that I'd best check out the Microsoft knowledgebase, and after a bit of trawling, I found the answer. It seems that certain versions of Adobe Acrobat Professional 7 didn't interact well with Word and actually prevented any template changes whatsoever. Er, yeah, thanks Adobe. Anyway, I patched it up to 7.0.5 to see if that would do it, and restarted the PC, and all seemed well. And the changes saved too. Something I've taken note of for reference, just in case.
Mind you, didn't stop for most of the day. Spent a fair bit of time sorting out some new hardware as well as being able to set up new accounts, fix some old ones, and in general be able to answer lots of questions in not that much time, which did help considerably. It did feel at one point though as if it was just one phone call after the other - it felt like a hotline to the world right there. Nonetheless, it was good to see the day fly by and be on the way homeward, and after munching some food it was time to settle back for the World Darts quarter finals - the proper World Darts that is, not the loud music and pay them shedloads attitude of the PDC...
And what a quarter final! Martin Adams against Robert Thornton will rightly go down as one of the best games of darts seen. It was absolutely epic, with both players knocking in the trebles at a regular pace, and after the first three sets went with the darts, eventually, the fourth one proved quite decisive. Thornton missed some chances to take the set and Adams didn't and went in at the interval 2-2 instead of 3-1 down. After the interval Adams then went 4-2 up but Thornton fought back really well, and a 160 finish to claw his way back into it was really excellent stuff under pressure, and the last set was all pressure but Adams held his nerve to win it 5-4, which was great stuff. If only that were the final, but still.. The women's second semi was also on later, and the very charming Anastasia Dobromyslova (try saying that when drunk) qualified for the final quite easily in the end, and she'll face Trina Gulliver, the mere seven times unbeaten champion. Should be a cracking match!
Had a bit of a dance music session at work for the last half hour as my colleague was chucking out some quality tunes from his iTunes library, just to pep us up a bit after a long day at the office. 808 State's seminal "In Yer Face" was one we all enjoy, and it reminded me of seeing them at Castlefield Arena back in 1996, a fantastic gig that was (read more if you like). Suffice to say that hearing it being played over some quality speakers and bringing it all back was quality, so tune of the day right there. Add to that a sprinkling of the Prodigy's "Get Up Get Off", played with plenty of bass in the drums, and the day is complete. Now, where's "Firestarter"?
Wednesday 9th January - To Be Honest..
It's been one of those sort of days today. A day where you do get lots of little things done and yet you still don't feel productive. And that's how it felt on the way home - despite the fact that there was a focus group meeting I attended in the morning, and knowing me and the way I speak like I think, I put across some interesting views forward on the subject matter. Can't say too much more about that just yet, but suffice to say it was good to feel a part of something, even if it might not end up being so productive. One point that did seem to come across though from several members of staff was the fact that you would need to feel as if you were valued for what you do, and with certain things going on in the last year or two, that hasn't been the case. Personally, being valued for your skills and attributes is a very important facet of enjoying the job to be honest, and that's crucial.
I was round at one of my relations tonight and we watched this documentary on ITV2 about a man who had been told that he had to lose weight quickly or face dire consequences, even death. And with his Everton cap on, he really tried and gave it lots of fight in order to lose the weight. The fact he went down from 40odd stone to a much healthier 16 stone, and along the way banished a few demons, was quite an inspirational thing to see. When he'd got enough weight off to fit into an Everton home kit, he made the pilgrimage to Goodison Park, was able to get through the turnstiles and enjoy the game, which for him was a defining moment. It also showed that with some determination and with the right support, weight loss can be done by anyone. He admitted that because of the loss and the fact that the skin is too much now, he'd need to have that sorted, but nonetheless losing so much weight and keeping it off is such a great achievement.
Ended up seeing most of this new drama Honest on ITV1, and to be honest (pardon the pun if you will) it wasn't that good. The basic weak plot seemed to be about a family of either criminals or dodgy characters and the mum of the family had had enough of it all and wanted them to go straight. Thing was, apart from the gorgeous Amanda Redman (I have to ask how she still looks good to this day) the rest of the acting was really really poor, and it just didn't gel as well as it should do. Thing is, if you're going to make a drama serial, at least concentrate on good plot and good parts so that people can shine, or else, just don't bother.
Still, it was chucking it on the way home, but I felt strangely comfortable in the rain. I don't know why, I think it was just that it wasn't heavy, and it seemed a rather still and peaceful evening and almost ghost-town like. Odd, really, but there you go. Mind you, once I got home I felt an urge to whack on the David Bowie "Stage" DVD-Audio disc, and you know what? It's rather excellent. I was reading the liner notes that had been written by Tony Visconti, and intriguingly they put back the original concert running order on the disc instead of what they'd done on the original vinyl release, which was chronological order. Nonetheless though, the live version of "Heroes" on there sounded bloody great, so it wins tune of the day. Oh, and the DVD-Audio is crippled at a mere 48Khz instead of 96Khz. Like, why?
Tuesday 8th January - Geotagging
I found out this afternoon that City could be on the telly in the cup twice, provided we do the business. The replay against West Ham is live on the 16th January, which is all very well but I'm most likely going anyway. This may though have an affect on the attendance, which is something I'm going to keep an eye on, but for the price, I'm well up for some of that. Also, if we do beat the Hammers, then the game against Sheffield United away has been moved to Sunday 27th January and is going to be a 4pm live kick off on Sky. Woohoo, I say to myself, that'll be exciting. And if I get a ticket, I'll be there, but if I don't, well at least I know it'll be on telly and so I can watch it, which has to be good news I suppose. I could get used to us being on the box if only for the fact I'd rather go, but still, exposure and all.
I managed to do a bit of geotagging today. What's that you may ask? Well, it's to do with my Flickr! image gallery. What you can do is basically find anywhere in the world where you took the pictures and put them on the map, so you can add where they were taken. I guess that's quite a good idea, and I thought it would be useful to tag them all to see just where in the country I've been trigger happy with the Nikon E2200 beastie. It also means for me that I've got a reference as to where I've been and where I'd like to go - handy for the holidays I suppose so I can see where I would like to be. Now once they're updated in the great Flickr! database in the sky, it'll be interesting to see who explores by map and who stumbles upon any images that I've taken - which may be well worth it.
Also, I found a rather nice Youtube channel - and the channel basically has virtually all the music videos that have appeared on Beavis and Butthead together with their commentary. Yes, you heard it right. That means I can reminisce about the days of late nights on Channel 4 on a Friday night getting my weekly fix of the dumbass two some, commenting on various music genres with their usual stinging critique. It's just a shame that Mike Judge won't revive them or indeed even comment on new music videos now, wouldn't that be cool? Anyway, check the channel out and see if your favourite from the 1990s is there. I guarantee you there'll be plenty of giggles along the way. And they even give credit to Rollins Band for rocking. Yes. Good for them!
And when going through that little lot, it reminded me of plenty of tunes that I still like even now, often sometimes it would be for me a bit of a compliment that they'd be on the show, especially if they were, in the words of Beavis and Butt-head, "Kick ass". And one definite contender for that is Devo's late 70s classic "Whip It". The video is bonkers but just the B&B commentary thrown in on top just makes it work on so many levels - so there it is then - tune of the day.
Monday 7th January - Back To Work I Go
And you know? After a full day back at work I really did feel like I'd been back there weeks, to be honest. There was lots to do and plenty to get sorted out, and indeed I was alerted by my colleague that we needed to order some supplies for most of the printers in there, so I got on with that and got it sorted, had a meeting with a couple of senior staff with regards to something up and coming, and indeed got some of the backlog of emails sorted out. I did feel quite productive at the end of the day and was rather pleased that I'd managed to at least make some progress and headway into things.
I'd watched the Newcastle v Stoke FA Cup game last night and I have to say that Newcastle were rather lucky to say the least - Stoke had a right go and if they believe, they could still get a result in the replay. A couple of chances were so close to being finished and indeed there looked a rather dodgy handball which could have been given as a penalty, but alas it wasn't. Mind you it was intriguing to see BBC pundit Garth Crooks, himself a former Stoke player before he went to Tottenham (and won the cup against Man City, bah!) really show his bias a little bit and say truthfully how well they'd played. Any chance of Lee Dixon in the Match of the Day studio the next time Man City are on there live?
Anyway, the cup draw was made and if we get past West Ham, there's a trip away to Bramall Lane to face Sheffield United. That won't be that easy, and I have a feeling that the replay is going to be quite tense. I still fancy it though, not least as the tickets are a mere £15 each, which is not that expensive really, and if there's a good atmosphere inside the ground, even better. I guess I'm getting back in to the football bug in a big way and that's one thing which really I've noticed as of late. Maybe it's because I tend to let myself go a bit at the game and get behind the lads?
I got home, watched two separate documentaries about the dangers of Internet grooming one after the other (one on BBC1 and one on ITV1, and both very insightful) and that to me said a lot about the fact that a lot of parents out there don't necessarily know who their kids are chatting to online. For us adults, who were brought up never to talk to strangers, it's hard to get it into a mindset that just because someone is online, it doesn't make them any less a stranger. Truth is, it's actually more so and I think that a lot of the blame has to be put down to social networking sites for not making their defaults secure enough (and yes, we're talking Myspace here). I could rant on about that but to be honest the simplest rule is that the family PC should be in a family room, and should be encouraged to be used by everyone. That way, parents can ask questions and if the child isn't honest, then they just aren't allowed on. Simple.
In the meantime I also went through some more classic tracks on that "Going Underground" compilation that I got yesterday. I was well pleased with it still, and it's so refreshing to hear some bona fide classic songs. In fact, Ian Dury and the Blockheads' "Reasons To Be Cheerful Part 3" was sampled by Orbital on their track "Oi!" - true, you know. But to my sheer delight, CD2 has a little gem of a tune, namely Dr. Feelgood's "Milk and Alcohol". You may not recognise the name but once you hear it, you'll know it. Tune of the day that most certainly is - and then some.
Sunday 6th January - Hurry Up, Harry!
I settled down this afternoon to watch the Burnley-Arsenal FA Cup game, and although in the end Arsenal did win 2-0, I have to say I was impressed by the way Burnley went about the game. There were around 20,000 fans in Turf Moor, the noise was ramped up quite a bit and when they hit the bar within the first five minutes you really thought that there could be another "cupset". It has to be said that once Arsenal had taken an early lead, they weren't always at full stretch but looked comfortable, but maybe also that was because Burnley gave them a game and were closing them down. One dodgy refereeing decision later and a sending off, and it was all uphill from there, but yet Burnley pushed on and still went for it. Kudos to them I say.
I went into the city centre this morning as I needed to pick up a couple of birthday cards (yes, I've got birthdays this month to see to!) - and whilst I was there I nipped into Fopp to see what they had in their clearout sale. There were lots of CDs that I was tempted by, particularly at £3 a throw, and if I'd had been a bit less frugal I could have bought ten or fifteen of them. However as this wasn't the primary reason for me shopping, I decided to just have the one for myself - namely the 2CD compilation "Going Underground" as well as buying a couple of little presents for others at the same time.
Ah, the days of a good compilation CD. Either one you make yourself, or someone does them for you, or you buy one, there's always something that makes it, and for me it's the quality of the tracks on there. I had checked the track listing of the "Going Underground" compilation before buying it and seeing which tracks I hadn't got that I wouldn't mind having so I could listen to them on my rig, instead of some nasty sounding download (I'm quite passionate about this as you know). Anyway, it's subtitled "Teenage Kicks 2" probably indicating that there was an earlier "Teenage Kicks" compilation (most likely with said Undertones track on there) and the track listing is pretty decent, it has to be said.
One track on CD1 though has to be the stand out for me, and unashamedly tune of the day. Sham 69's "Hurry Up Harry" is a perfect example of the three minute punk pop song, done to perfection, with Jimmy Pursey belting out the vocals and the singalong bit where everyone goes "We're going daahhhhhn the pub!" at full blast, which just has everyone in the right frame of mind. And if you've not heard the original, but only the re-done version for the 2006 World Cup, aka "Hurry Up England" then I urge you to listen to the oriignal. Interestingly, and in fact, that band appear twice on the two CDs, as do The Undertones. Hmm.. slight bias here or what?
Anyway, there's a great load of tracks to listen to on there, including X-Ray Spex's "Identity" with the magnificent Polly Styrene belting out her vocals, The Specials' classic "Ghost Town" which summed up its era and time so brilliantly (and Lenny Henry in his live set mentioning the "why must the youth fight against themselves?" line), Ina Dury and the Blockhead's "Reasons To Be Cheerful (part 3)", The Jags' one hit wonder "Back Of My Hand" (you'll know it when you hear it believe me) and tons more. Isn't it great when you discover stuff you've not heard for ages and remembered how good it was?
Saturday 5th January - Cupsets
Well, "cupsets" is the new word coined by BBC Sport, it seems, to describe games in the FA Cup where an upset has been caused, and my were there many of them today. It's so nice to see that the teams who actually take the competition with the seriousness and give it the respect that it deserves get their reward for a win. Watching Match of the Day last night, their pundit, former Arsenal legend and Manchester City fan Lee Dixon had a go at some of the Premiership teams who didn't field full strength squads and paid the penalty by being knocked out, but also said quite rightly that those teams weren't giving the right respect that the cup deserves. I was pretty in agreement.
But full credit to those who kept the tradition of the cup alive by not only performing above themselves, but also causing an upset along the way too. Coventry were perhaps for me the pick of the games, because no one expected them with their money problems et al to go to Blackburn and win. But they didn't just win. They hammered Blackburn 4-1 and it was safe to say that it could have been more. Blackburn made too many changes and paid the price for that. Also, Bolton did the same thing (rested players) and lost 1-0 at home to Sheffield United and again paid the price. Do these clubs not think of the fans who might want to see a good cup run and even perhaps a Wembley appearance? Huddersfield too also pulled off a big shock with their excellent 2-1 win at home against Birmingham.
One other major shock, was of course, the Oldham win at Everton. Now, you'd normally expect Everton to have won that one, especially considering their current form this season and all. However, what you didn't expect was the sucker punch, and that was Oldham's goal right before half time with an excellent shot that looped over Everton's reserve keeper Wessels. Now here's a thing: Everton did themselves rest a few regulars, and some were missing through suspension, but the longer the game went on the feeling was that they just weren't going to score, and so it proved. It just makes you wonder if the team selection meant that they didn't play as well as they could, and although admittedly Oldham were backs to the wall for the remainder of the game, they did their job admirably. Oddly enough the last time they met in the FA Cup, it went to a second replay (none of that now, kids!) and Oldham beat them back then - with ex-Everton legend Joe Royle in charge. Spooky, eh?
The only snag for my lot City is that I can see next Saturday's game at Goodison as being a right six pointer in terms of the league. It also will mean that they'll be seeking revenge for their cup defeat today (and let's hope that a chippy near the ground doesn't set fire this time) and of course my lot drew 0-0 at West Ham, so it means we now get to play them at home twice in the space of four days: the cup replay itself on the 16th January and then the league game on the 20th. Isn't it odd how these things work out?
Anyway, have you seen that new Eurostar advert which shows you all the nice new bits of St Pancras International and encourages you to take the new fast trains to France from there? I instantly recognised the music from the advert, because it was notably Philp Glass' orchestral reworking of the David Bowie classic "Heroes". I instantly had to play the whole track after seeing the ad just to remind myself how good that was, and so without question it is tune of the day.
Friday 4th January - Coincidences
Isn't it strange how things work out when you are just minding your own business and getting on with your life? I was thinking that to myself this afternoon after an eventful day. I'd gone over to the box office at the Manchester Academy to sort myself out with a couple of concert tickets - after all, going there directly means no booking fee and it's the first day that it was open after Christmas - and then the plan was to head to Tesco and do my food shopping. And the plan was going well, even if I had to take a different bus to Tesco because of the queue at the Academy box office and the fact that I needed to sort a couple of things out in terms of one of the gigs at the same time.
So there I am, walking round, getting my food supplies in and having a general look around, and who do I spot but my mum, looking through the clothes section! The very least I could do was give her a hand going round and getting her shopping as well, and I know she appreciated my bargain hunting on certain items that she was buying anyway, and so got to the till, and she very kindly said to me "Do you want to swipe your Clubcard for more points when I put my stuff through?". Do I ever? So that worked out well. Unfortunately my brother's car's battery had decided to not play ball too well, so we had to do a push start with the help of a passer by and my uncle who came along, and all was pretty much sorted then, thankfully.
I had started to take the decorations down last night and had finished them off this morning. I felt it better to do so now because I knew the weekend was going to be busy and I'd much rather be sure that they were down before the end of the twelfth night, just to not have any bad luck. I'm not that superstitious to be honest, but I'd rather make sure that things like that are followed just in case: it's more a tradition thing and I'm quite happy to see to that. In any case the house did feel a little bare without the decorations up, but after I safely packed them away for next Christmas (I've used my white tree for the last six Christmasses, therefore recycling it nicely) I realised that the tree and the table I put it on aren't in the way anymore and so I can get on with things again.
And that's what I did. For the last few days I've also been reading Richard Hammond's "On The Edge" book and felt pretty chuffed with myself as I finished it. In fact I've been reading it a bit at a time with some of my new CDs on, so I get to listen to them as well as read the book. It's been a really heart warming and intriguing read and I can highly recommend it - it's half the publishers' price in most book stores too, so go grab yourself a bargain. I think what touched me was the fact that when Richard, his wife Mindy, and the two kids Izzy and Willow went up to Scotland to escape for a break once he came out of hospital, how much it meant to them all and indeed how much an important part of Richard's recovery it became - really inspiring.
Anyway, reading the last few chapters I had the excellent Grinderman album on in the background, which was close to making my main list of albums of the year. Nick Cave is as excellent as ever vocally and the band with him do some good playing too, and it's just very edgy, captured perfectly by "No Pussy Blues" which swathes its way through the pile of musical crap out there and sounds refreshingly raw an edgy. And for that reason alone, no contest: tune of the day it is then.
Thursday 3rd January - I Got A Sale Bargain, For Once!
I know, I know. There's me thinking not much of the sales and actually today I stumbled upon a nice bargain. Well, as it turned out, two actually. I had got some M&S vouchers to spend, and as there happened to be an Outlet branch in the Lowry Outlet Mall in Salford Quays, my plan would be to head there first and then over to the M&S in the Trafford Centre if I didn't see anything there. Crafty, aren't I? And as they're both pretty much on the same bus route out of Manchester, that makes it even easier doesn't it?
So, headed into the city centre and then on the 250 bus towards the Trafford Centre. After it goes past Old Trafford and past Man U's ground, a couple of stops later you can get off, walk down Elevator Road past the big Hovis factory, turn right to face the Imperial War Museum, and walk past the side of that and then over the pedestrian footbridge, which gives you the Lowry Centre to your left and then the Lowry Outlet Mall to your right. It's a short walk really, and made a bit more wintry by the fact that there was snow falling. Yes, you heard correctly, snow! But not enough to be solid like some parts of the country, never mind.
I was therefore glad to be in the warm of the Lowry Outlet Mall, and it was relatively busy considering the time of the day. I think though it's because a fair number of people are still off work till Monday and so they're taking advantage of any time off to do what they need to do. I had a walk around the M&S Outlet, always starting with the clearance stuff at the back because that's often where they put the really cheap stuff. Nothing there took my fancy, so I moved to the normal section, where something did. And it was reduced from £29 to £8, which was this rather nice chocolate coloured shirt from their Autograph collection, with a nice satin-esque touch to it, so I thought that'd be quite nice as a going out type of shirt that I could wear and combine that with black to look dark and sophisticated. Go me, eh?
And I wasn't finished there. One hop over to the Trafford Centre branch and I actually found a pair of black jeans, in a different style to what I'd normally have, and in my size, and reduced from £35 to £12. I felt on a roll to be honest and it was actually nice, for once, to actually get some form of bargain that I was actually going to make use of, seemed the right thing to do to be honest. I wouldn't have minded a pair of those moleskin jeans in chocolate, but alas, they had none, nor the trousers in the same colour, but nonetheless though it did prove to be a successful day's shopping all round, and of course didn't actually cost me anything apart from time - now that's not to be sniffed at, is it?
Feeling rather flushed with the purchases and indeed wanting to keep warm out of the cold, I felt the need to put the fire on, play some tunes and just absolutely take it easy. And that's what I've been doing. I know that it's going to be busy as hell when I go back to work on the Monday morning, and so I've wanted to be in a really good frame of mind come then so I can focus on the task ahead. So I whacked on Fun Lovin' Criminals' excellent 1996 debut album "Come Find Yourself" and that certainly did the job. It's still a bona fide classic after all these years, not just because of the Tarantino dialogue-laden "Scooby Snacks" but also the album tracks like "Crime and Punishment" which has a really dirty analogue feel to it, and most of all the superbly laid back "I Can't Get With That" which nails the tune of the day for me. It's just luscious and perfect for the mood right now, so there.
Wednesday 2nd January - Can He Hear Us From His Cell?
Unfortunately nowhere was showing the Man City game live tonight, and it wasn't on any of the sports channels, so I had to make do with death by Sky Sports News instead, whereas each time they go to the game usually something's happening. That said, the only time I could hear their panelist Scott Minto raise his voice in any way was when City scored - and we ended up beating Newcastle 2-0 at their place, which was rather good. In fact, when they went to him, you could hear the City fans in the background a lot of the time with their chants. Best of all was the one about our ex-player and now their trouble Joey Barton, who'd landed himself in prison after a fight in Liverpool over Christmas. In response to that the City fans had a chant for the night and you could clearly hear it: "Joey Barton, Joey Barton, can you hear us from your cell?" - how I giggled.
Having then watched the highlights later on, it has to be said that City played pretty well, looked good on the break and were nice and tight defensively. Richard Dunne was again superb at the back, and with Didi Hamann mopping up superbly in midfield, it was a case of if our creative players could do something. Well, Stephen Ireland set up Elano for the opener, and the two subs Kelvin Etuhu and Gelson Fernandes combined with Gelson scoring his first City goal, so that pleased me no end. And of course it meant that with Liverpool only managing to draw with Wigan, it was fourth place back for us, very nice as it's the FA Cup this weekend and so that league position is going to be so for at least the next week and a half! Good, eh?
Also went in the morning over to the Palace Theatre box office as I was making my way into town to see if there were any returns for the Saturday night My Bloody Valentine gig at the Apollo in June, amongst other things. Whilst in there, I noticed a crafty ruse by Ticketmaster, who in effect run the tickets for the Apollo, Opera House and Palace Theatre. If you pay cash over the counter, then you're not subject to any booking fee whatsoever (rather handy if you can pop by there in the centre of town it has to be said). However, if you pay by card, there's automatically a 10% booking fee on any purchase. Crafty so and sos, eh?
Anyway, I had settled in for the evening and as I was just keeping an eye on things before the football kicked off, I decided that it would be sensible to play some nice new music that I'd got over the Christmas period so I could enjoy it a bit more. And what more than the DVD-Audio disc of David Bowie's "Stage"? There's some absolute Bowie classics in there for a start, and one of the best tracks that he's ever done is also there as a live version, so no contest: "Five Years" from that set is my tune of the day - it's just a great track even now.
Tuesday 1st January - New Year, New Hope?
So it's the New Year then, and I woke up around 10am at my friends' place, rather refreshed for a good night's sleep that I'd had on their airbed. It just was nice to be able to sleep well, as I'd not always been sleeping that well lately for some reason, and maybe that was the perfect thing to start the year with. In fact it was just good to know I could have a drink last night and be able to not worry about getting homeward or for that matter being able to be in control of my senses. And added to that it was also just very nice to be able to get up at leisure, too. I'd hate to be working in retail, especially today, as there's hardly any buses running with tons of engineering work on the trains..
That said, getting home for me was a doddle, and the same way I'd done last year. Basically from where my friend lives I take around a fifteen minute walk into Northenden, where there I can catch the 43 bus (one of only two Stagecoach ones that run today) into Piccadilly Gardens. I then walk to the train station to take the train home, as the trains run pretty okay New Year's Day. This time, it meant I had to get a rail replacement bus instead of the train, but that wasn't too bad whatsoever and I was soon back home and comfortable back at the Towers. And considering it was in pretty quick time, no complaints from me whatsoever to be honest.
In any case, as I walked into Northenden, I started to think about what the year would be holding in store for me and what I'd really want to do in terms of the next twelve months. I must admit that it would be nice to think about booking somewhere for next Summer's break away, and the Highlands of Scotland do seem very tempting, not least as I've found a couple of nice places in Inverness where I can base myself and have a wonderful time. I could consider flying there from Manchester, but the flight times on a Saturday are just hopelessly too early in the morning for coming back (going there's not too bad), plus because of the weight restrictions and the extra costs you have to pay for carrying your luggage (not to mention the extra if you happen to be over the weight limit.) When I considered the fact I'd needed to be at the airport two hours before flight time, then faff around there, get the flight, and then get a shuttle bus out of Inverness to the city centre, the time spent might as well have been spent on the train instead, and with only one change at Edinburgh Waverley, that could be doable, and cheaper too!
Part of me also wants to go to Paris as well for a few days, and with the fact that Eurostar now departs from St Pancras, that's also doable: quick train from Piccadilly to Euston, and a short walk from Euston to St Pancras, and then hop on the Eurostar and be in Paris by late afternoon. I'd like to do that as well, I think. My mode of thinking is that I work hard and I really do deserve to give myself some quality time, and if that time can be spent away from home, then so be it. I also had a cunning plan: maybe spend a couple of days in Paris around Easter time, then stop off back in London for the Kristin Hersh gig I'm going to on the way back. That could be very doable as well.
But most of all, I think the New Year has some exciting and difficult times ahead. I don't know what's going to happen with the ongoing centralisation at work, and the only thing that I can really do is to make myself as indispensable as possible and try to keep up the team spirit that we have within the team I work in, even if that does mean that we may have to split and go in different directions somewhere along the line. Also, in terms of my own personal challenges, I might try and aim to go to more gigs this year. I've already got a few planned of course, but I'm tempted to go and see Seasick Steve at the Birmingham Academy on 26th January - there's even a late enough train to get back, so that might well be doable I reckon. But I enjoyed the whole live music experience so much this year, and I'm keeping the 15th February free, for reasons which will become pretty clear as the next few months go on.
Anyway, as I'm watching the first football of the New Year, with nowhere showing Manchester City's game tomorrow night much to my annoyance (I really wanted to sing the new chant about Joey Barton, hehe) - it also made me realise that in fact my beloved Man City could yet just do something this year, as long as we can keep up the current form. Admittedly, that is a big ask but we have to believe and if we can start with a timely away win tomorrow night then that will set us up nicely for the remainder of the season I reckon. See what happens.
In the meantime as I've got home, the very first song I've listened to on the rig at home (and therefore it just has to be tune of the day is the rather good 50 Foot Wave Free Music EP. Naturally I'd downloaded it and donated money to Kristin and her lot when it was available via the web site, but it's actually nice to have it as a proper playable CD on my rig as well, just sounds a heck of a lot nicer. Therefore, the opening track, "Hot Pink, Distorted" is the weapon of choice as it just rocks on so many levels. There, that'll start me off rocking!