Dear Diary... June 2010
Wednesday 30th June - A Need To RTFM
It was a busy and warm day in the office as well, but did manage to get plenty of stuff done during the day. I managed to sort out some issues with a laptop as well as be able to update and test the academic sysprep image on a different machine and see if it worked correctly (which it did) and also be able to then work on getting one of our recent images down to another PC and updating it accordingly for some new software, mainly for one of our managers, so it felt good to be able to do some stuff.
I went to see my sister on the way home as it was my niece's birthday today, and she liked what I got her - namely Just Dance for the Wii, which she's loved playing at her friend's place. I'll have to see how good I am if I get to have a go, just for a laugh like. There were lots of presents that she got, including a little bicycle which she can ride well, and some Lego in a nice big tub so you can make plenty of stuff including a nice little house with windows et al. It reminded me of having Lego when I was little and being able to build little houses and follow the instructions.
Which is what I was doing later as myself and my brother-in-law put up this rather large gazebo/marquee for my niece's birthday party on Saturday. He'd got it from Wilkinsons and measured 6 x 3 metres when it was up, and the instructions, although a little basic, were pretty easy to follow, and we were able to soon work out what bits went where and build the initial roof frame first (that's what it tells you to do) and then from there you'd have to lift the whole thing up, get the first part of the vertical sections on, then the roof and then put the other standing sections on followed by the walls.
It took us some time, punctuated by a nice buffet that my sister put on for everyone so it meant that we were able to enjoy the food and get some energy back and finish off the gazebo later, which we did and had to get my Mum, auntie and sister to help us lift the whole thing to get the last standing sections on underneath, and once all the side panels were on it looked the business. The sides had a zip opening so you were able to get in and out there, but you could in fact place any of the side doors and windows wherever you want as all the panels were of the same width and height, so that made a lot of sense to us both.
I headed home later and got plenty of washing and ironing done and then decided to rock out a bit with the second disc of The Old Grey Whistle Test that arrived from Tesco DVD Rental. It was interesting to see the late 1970s and early 1980s performance from the likes of Talking Heads, Blondie, The Police, XTC, and even Meatloaf's controversial "Paradise By The Dashboard Light" as well. However, the best of the lot for me was the rather good performance of "Are Friends Electric" by Tubeway Army (at this point Gary Numan hadn't gone on his own yet) and with rather old school analogue synths, it sounded perfect for the time. Tune of the day definitely.
Tuesday 29th June - Bargain Central
I spent a fair chunk of today finishing off the academic staff image, and that all seemed to play ball rather nicely when all the software went on, along with all the checking of the user profile and making sure it all worked well. It's good too that I was able to spot a couple of things that I needed to make sure worked properly, and so testing the applications is always something I bear in mind when getting on with things. I finally got everything imaged and up and running nicely for later on, so that was good to go.
On the way home I decided to head to a larger Tesco to see what bargains I could get in the clothing section. I got a nice pair of jeans in my size a couple of months ago from another large one, and wanted to use my Clubcard vouchers to put towards another pair, thus getting a bargain. I'd gone to the same large one on Saturday and they had none so I thought "I'll try the other one and see what happens". And lo and behold, after some searching when I got there (and indeed with the hangers displaying the wrong sizes so I had to check the inside of the jeans themselves) I got the pair I was after, and in my waist and leg size, and it was £10.
Now, as I had £8 worth of Clubcard vouchers this of course meant that in reality they would only cost me £2 instead, which is much more like it, isn't it? I felt pretty pleased to be able to get a bargain and was pretty pleased as I left Tesco with my shopping. In fact it also comes with a belt as well which actually goes well together with it. I'd much rather it be not a fabric type one, but hey, not complaining, it was the jeans I wanted and anything else is a bit of a bonus. They look good on me and as I already have a pair, I know I'll feel good inside them too. And isn't that what shopping should be about.
I even spent a bit of time on Guitar Hero Metallica nailing some drums in medium. I did The Sword's "The Black River" and got five stars which pleased me because previously I'd got three. Must have helped that I now have the album it's from and so can listen to it and work out the subtleties of the drums in each part of the almost six minute epic. I really want to see this band live too, I'm sure they're something that most rock fans would enjoy. Tune of the day definitely!
Monday 28th June - The Morning After The Day Before
I headed to work this morning and pretty much like many football fans all around the country, it was a case of get to work and get on with things. As one of my colleagues said to me earlier, the country loses interest in the World Cup if England aren't in it, and that's a pretty valid point to be honest. It just felt really flat and we dissected between us what exactly went wrong, and pretty much what I ranted about in my Thoughts section came to the fore as well. It's a source of frustration and all the newspapers were all over the story like a bad nappy rash, but going more for the manager than the players, which to me at least seems a bit unfair.
I did at least manage to crack on with updating the academic staff image with all the most recent software and so on. What was good was that a few months back we updated it for one batch of machines and so I was able to use that and add what was needed, so a case of reading up on my notes and doing some more software installs. Of course what makes it a little difficult is that you have to do things one at a time and make sure everything is documented to make life easier for next time, and of course then see what Windows Updates also creep in at the same time. I'm getting there though.
I went through the city centre on the way home and stopped off at Poundland. The solar light that I got for the back garden for the little corner really did work ever so well, so I thought that getting another one would be a rather good idea to be honest. It certainly looked the business later tonight when both of them lit up, although when I did get home I noticed it was just about to start to rain, so out came the cover for the table and in perfect time too - it certainly stopped everything being rained on out there, so that was good.
I also got a new draught excluder cover for the postbox, which you fit on the inside of the front door. My old one had broken some time ago and I'd never got round to replacing it, and when I saw it in Poundland I thought "why not?" and got it. It didn't take me too long to fit it either so that felt pretty good, and it looked much more professional when it was done. It's always nice when you can do the little jobs and they don't cost that much money either - keeps things simple doesn't it?
Tune of the day is appropriately "Manic Monday" by The Bangles, as it felt like that today as everything was getting to be done and plenty of enquiries were coming in from staff and students too - oh, and the BBC even used it during their highlights of today's Wimbledon coverage. Can't be bad especially for in my view their best song (yes, miles better than the awfully soppy "Eternal Flame" and the like). Now to ponder why the hell Robinho looks so good for Brazil but played so badly for City last season...
Sunday 27th June - From Despair To Where?
I got up fairly early and had a bit of time in the morning to catch up on some things, as The Flowers In My Garden had to head out and do some family stuff in the morning before the England game later on in the afternoon. I of course was going to watch the game and indeed had some of my relatives coming over later to watch the game. I had a bit of a nice chilled out time in the back, reading a book and sipping a nice cool drink to really take in the sun a little before it got too hot.
It was then inside with a light lunch and to watch the F1 from Valencia. In the first of a sporting double header of England v Germany, it was quite cute of Timo Glock to give Martin Brundle a Germany shirt as a gift, not least as BBC presenter Jake Humphrey had pulled a stunt the night before to give Sebastian Vettel the England flag. Hehe. On the track though it was drama, as Lewis Hamilton and Vettel clashed at the second corner, Mark Webber went backwards through the field, changed for tyres and came up to overtake Heikki Kovalainen only to hit him, and for the car to go airborne and flip over. Amazingly Webber got out in one piece.
The safety car came out and various drivers pegged it in to do the tyre changes. However Lewis Hamilton had initially stayed out and was just behind the safety car at the line, which he then overtook. Ferrari protested and Hamilton got a drive through penalty which meant that he was way behind Vettel, but in front of Kamui Kobayashi and Jenson Button. Kobayashi eventually pitted with not long left but had done enough to charge through at the end and get a well earned seventh place. On the podium, Vettel won with Hamilton second and Button third, but several of the cars had gone a little too quickly behind the safety car, Button being one of them.
In the end the stewards decided on a five second penalty to the end of their races which meant Button kept third but Alonso moved from ninth to eighth. Not that he was happy mind you - he was also fuming on the radio about Hamilton (no love lost there then) and also didn't seem to happy throughout the race. I think he needs to get on with the job in hand instead of castigating Hamilton at every opportunity, and the fact that Hamilton and Button work together as team mates may suggest that Alonso's problem is a bit closer to home methinks.
With that over and my brother, uncle and brother in law round, it was time for BBC HD and the football. England v Germany. No incentive needed, so you'd think. Passion and pride should be there. Unfortunately it was anything but as lame defending meant that England were 2-0 down inside twenty five minutes. My brother had complained that no good crosses came in. The first time one good one came in, Matthew Upson headed home to make it 2-1.
And then controversy. The ball broke from Jermain Defoe to Frank Lampard who lobbed the German keeper. It hit the bar, dropped about two yards over the line, and then back up on the inside of the bar. It was clearly in but the referee amazingly didn't give it. Mark Lawrenson on BBC was furious, as was messrs Hansen and Shearer at half time. Would 2-2 make a difference instead of 2-1 at half time? Time would tell. But it just amazes me that the referee didn't see it at all and saw that it was clearly in. Time for video replays everyone counted, but I guess it's sort of payback for 1966.
The second half stated a little brighter with Lampard hitting the bar, but then as we tried to go forward, we forgot what defending was and I have to say that we were culpable of schoolboy errors at the back. Every time Germany went forward, they looked like scoring and twice on the break it went to Thomas Müller, and he made no mistake, showing our strikers how to finish. The game fizzled out and it just looked hopeless for England, it really did. I couldn't believe the ineptitude of what I was seeing and neither could anyone else. You could point to the goal not being allowed, but in truth that would gloss over an appalling display.
I'll rant about it separately methinks, because the defeat in a strange way might be a wake up call that English football needs, but to sum up: it was dire. Absolutely dire. And it pains me to say it but if I swore once today, I'd be swearing a thousand times. I need something to cheer me up. Oh well, at least England scraped past Australia by one wicket at Old Trafford in the cricket despite almost mucking it up, that's something I suppose. Tune of the day in the meantime is "No Surprises" by Radiohead - kind of sums up the mood at the moment. There were no surprises today, only disappointment.
Saturday 26th June - A Walk In The Sun
Spent some time this morning heading out and doing a little bit of shopping, first to Tesco and then to the city centre and heading to Poundland. I wanted to see if I could get some USB to Mini USB cables for work as well as get some bits for myself. Well, not only did I get the cables for a pound each (result, saves me having to raise an order, and for a mere £1 each, can't complain) but also managed to get a little solar light for the garden, which I'm going to try out and see if it's any good, and if it is, get another, as well as a magnetic posidrive screwdriver (handy when assembling PCs etc) and also some washing up liquid as well (which reminded the girl on the till that she needed some for home)
I then headed home, watered the plants in the back and made sure they were well fed, and then it was time to settle in and watch the F1 qualifying. It was a pretty good effort all round although Sebastian Vettel looked imperious in pole position to be honest, with a car that really did do the business. Not sure what Jenson Button can do from seventh in a track that's not so easy to overtake (Valencia, that is) and he might have fun and games tomorrow. At least he had the honesty to admit he mucked up on the final corner of his qualifying lap which cost him the positions, so that was nice to see.
Later on over came The Flowers In My Garden and we decided that heading out for a walk would be a good idea. We headed on the bus from mine to Fletcher Moss in Didsbury, and then had a walk around the park and along the paths, before taking a path at the far end of the park which would lead us to the River Mersey. We could either follow this path one of two ways: through to Northenden one way or to East Didsbury the other way. We decided to take the East Didsbury route, and soon as we walked along the side of the river, we noticed the M60 to the right and further along a farm which seemed sandwiched between the river and the motorway, bit surreal that.
We kept on walking and soon made it under the road and railway bridges at the far end of Kingsway, effectively the border between Manchester and Stockport. It was then a case of walking along the path, past the Waterside Hotel with its Galleon Leisure complex, and to the main road between Parrs Wood and Cheadle. We then walked along the road, over the M60 before dropping down into Cheadle, and headed into The Ashlea pub for a well earned cold drink. It was then off to Cheadle to get the bus home via Stockport.
I then made us some pork with apple sauce, potatoes and vegetables for tea and the weather was still rather warm so we sat out at the back and dined alfresco, so that was nice. We even played Scrabble outside too later on, although it was a bit scrappy with the way that the letters came out. My best move was WAFER (on triple word, double letter E) for 36, but did at least score a few consistent moves to keep the score ticking over nicely. We then went in and watched some of the music channels and one of them had a few football songs, notably Dario G's "Carnival de Paris", the official song of the 1998 World Cup. And it has a little musical nod to all the nations that were there (even Scottish bagpipes) so has to be tune of the day for me that one.
Friday 25th June - The Whispering Bob Harris
I got home from work and a rather nice surprise arrived from Tesco DVD Rental - the first of the two discs of the Old Grey Whistle Test Volume One. It was a fascinating insight, having just watched it, into the way that the programme was pioneering way before Later with Jools Holland. In fact, if it wasn't for the former, Later.. wouldn't have happened and worked so well as it does now. The importance of The Old Grey Whistle Test was that it showcased bands and artists from all over the world but also focussed quite a bit on singer songwriters, rock and tried to not necessarily show the mainstream all the time.
Certainly on this disc there was a great variety of stuff. The Wailers - pre Bob Marley joining them. John Martyn. Tim Buckley. Early Alice Cooper? Check. And add to that some rather excellent performances. I can't include Roxy Music's "Do The Strand" though, as much as I like the original song, because the DVD reveals that the performance was mimed due to the studio being too small for their expansive sound. What? They should have just cranked it up and allowed them to perform it live anyway. It's well worth noting though that almost everything else has a brilliant live and raw feel to it and that enhances things nicely.
Of course, there are standouts for me. One of them is Focus' instrumental "Sylvia", which, if you've heard it, you'll know it. It has a great catchy guitar hook and plenty of great parts throughout, especially the keyboards, the high pitched wail of the keyboard player to go along with it, and of course the lead guitar of Jan Akkerman which really does go for it. Damn it, why isn't this anywhere on a Guitar Hero game? It'd rock! Tune of the day it is. Incidentally, on this Whistle Test performance it segues into "Hocus Pocus" which is being used by Nike for their World Cup advert. So in a strange way, it's all kind of relevant.
On top of all that, there's Lynyrd Skynyrd. And not just any track of course. Freebird. And the live stadium type version which means a mere thirteen minutes of them doing their rocking out and the solo bits near the end are just absolutely mad and intense, but I wouldn't have had it any other way. I need to put on Guitar Hero Greatest Hits now and have a play along, although I'm not that great at it I have to admit. Disc Two will come with the next rental hopefully, and there looks to be plenty to be excited about there - including early REM too. Excellent. And Bob Harris is actually presenting a gig with Kristin Hersh which I am going to next month. Again, all kind of relevant really.
Thursday 24th June - Warm, Hè?
It's been rather warm the last few days and when the heat comes to Manchester it's also very very humid as well which makes conditions rather uncomfortable in our office (which at the best of times is like an oven anyway) and also it means that outside it's clammy and you feel all sticky, which is not that good when you want to try and at least enjoy the outside. I did at least when I get home sit at the back garden, and because the back is shaded in the evening, it made for much more pleasant relaxation.
Anyway, a few weeks ago I was stumbling around the web and found The V-Boys' "Koud Hè?" (it means cold, eh?) video online. The V-Boys included the Dutch sports presenter and comedian Harry Vermeegen, who coined the phrase in a TV series over there, where he'd go up to people and just shout it to them - with lots of non-Dutch people looking a tad confused. To tie in with this, the single was released in 1988, and a sample of Vermeegen's phrase was used by well known Commodore 64 musician Jeroen Tel in a song he made of the same name and had the sample feature prominently. In fact part of the reason for my research was to see if I could locate the sample that was used by Jeroen (in fact he's now replied stating exactly which "Koud Hè?" that it was!) so that was good to find out.
Fast forward to 2009, and although Harry had split up with long term comic partner Henk Spaan, he was approached by a Dutch environmental concern to see if he fancied re-recording the song and changing the words to instead be "Warm Hè" instead? (obviously, warm eh?). It's actually quite a clever re-write with mention of air conditioning units just adding to the global warming as well as keeping people cool, and also how you'd find plenty of other ways to keep cool that also contribute (electric fans) and so it just adds to the vicious circle. Of course, him being surrounded by three rather lovely ladies during the song's video might have helped to its appeal somehow. But hey. It's a good re-write, and tune of the day for me - although if you can't understand the language of the Netherlands even a little, you might struggle a bit.
I had a lovely visit from The Flowers In My Garden later on, and after us having a healthy tea of chicken, potatoes and vegetables (and the potatoes were boiled from fresh too - doing it properly me) it was then over to see my Mum for a bit and drop off the birthday present for my brother's girlfriend. It was also a good chance to have a catch up with Mum as well, so that was nice. And we even treated ourselves later to some strawberries and cream, even if play at Wimbledon had finished by this time! Well, they were nice and fresh.
Wednesday 23rd June - Playing With Pride
It was the big one today. England against Slovenia. A win was absolutely necessary to be sure of qualification to the second round of the World Cup. A draw might be enough but that would be relying on the other game. The only way to keep it in our own hands would be to win, and I'd booked the day off work so I could get myself all ready and psyched up for the match, and my friend was coming over to watch the game with me so we didn't have to watch it alone, so that was also good. I nipped out at lunchtime and got some soft drinks in as well as these really nice salmon pieces from Iceland too - have to try them out later in the week.
Before the game kicked off, the national anthems. Most of them apart from Wayne Rooney were belting the anthem out like they should, and it was good to see David James and Steven Gerrard really giving it some too. That's how it should be every game, lads, it means something to you. And that intent was clear from the kick off - a nervous few minutes at the start but once England settled in it only looked like one team was going to score. James Milner was impressive down the right, Matthew Upson came in and defended well and John Terry after his public rebuke post-press conference showed that when it came to football, he was ready.
Of course pressure counts for nothing if you don't score, and twenty three minutes in, a beauty of a cross from Milner resulted in Jermain Defoe meeting it and slotting it almost through the arms of the keeper and into the roof of the net to make it 1-0. We were both well pleased with that, and it showed that Defoe was the right choice to start in my view. We pressed onward before half time and we both thought a second would be nice, but I'd happily have right now taken 1-0 at the final whistle if it meant that we could qualify and be certain. As the teams went off, you could see the intention in their eyes and it felt like the pride was coming back.
In the start of the second half, we had chances to put the game away - Defoe was close just missing wide from a nipped in ball, and Rooney got on the end of a lovely through ball and the Slovenian keeper made a superb save. As the end of the game drew near, it was more and more tense and I was glad when Upson made a great tackle to prevent a shot on goal and the never say die attitude really did hit home nicely. And at the final whistle, joy and relief all around that we'd won 1-0. And then despair for us and Slovenia, as the USA scored in stoppage time to beat Algeria 1-0. This meant they won the group on goals scored but also Slovenia went out.
That might prove to be interesting later to see who we play next round, and in between the England final whistle and the start of Germany v Ghana, my friend and I had some tea and I also had a bit of rocking on Rock Band 2 - namely Squeeze's "Cool For Cats" (make that tune of the day) along with REM's "Losing My Religion" as well as a good attempt at Fleetwood Mac's "Go Your Own Way" which is harder than you think on vocals - certainly my friend thought so anyway!
We saw the Ghana Germany game and of course being biased, we were cheering Ghana on, as a win for them would potentially knock Germany out if the other game had a result. Australia obliged, beating Serbia 2-1 and that at least was good for them, but by that time Germany had taken the lead through Mehut Ozil and held on comfortably for a 1-0 win. This meant the game that we wanted to avoid this early on - England v Germany, Sunday, 3pm. I think I might have to be in front of the telly for that one, I can't think why!
Tuesday 22nd June - Exhibit Tuesday
Another day at the office and another day spent getting a new laptop image all done and dusted rather nicely. What is good is that I managed to get all the last bits of applications all sorted out as well, which worked well. I had managed to do customised installs of Adobe Creative Suite 5 Design Standard as well as Adobe Acrobat Professional 9, and those happily went on the image without too many issues of note. What was good was that I was also able to configure the applications just like I wanted them and again without hassle. I felt almost on a roll to be honest.
Later on it was a nice chance to meet up earlier than normal with The Milk In My Coffee, as we met at the Cornerhouse and then walked into the city centre. We both wanted to see an exhibition being held at the Noiselab in Market Street in Manchester, which was being organised by some of the architecture students. One of them we both knew for various reasons so it was nice to see their work on display and chatter to them for a bit too, and nice to do so as a couple too - that felt really good to do. It gives me that little buzz inside knowing that we are together. Aww.
We then headed via Debenhams to get a birthday present and on to Kro, where I was being very disciplined and had a lime and soda, despite the temptations of the real cask ale looking at me. I did pretty well not to have one, and on the way to The Milk's place we headed to Asda and I got some steam vegetables and rice which I could do as accompaniments to meals I'm planning, as well as these chilli and lime chargrilled chicken which might just go nicely with what I'd make, so all is well with the world there.
The Milk made me a very nice tea, with some chicken marinade in a barbecue type sauce, and some lovely fresh potatoes with skins on, and some steamed vegetables as well. I did feel healthy and filling afterwards and it was nice just to settle in and see the "New Life in the Country" programme on Channel 5, where it followed a couple's trials and tribulations as they made a home in the Shropshire countryside. It was pretty intense stuff and I'm sure that a lot of couples would have split up over the whole process, so it was resilience and a labour of love that got them through.
Tune of the day is another Frank Sidebottom one, in tribute to the great man - I've had quite a few emails from people informing me of his death and how sad it was for them too, which was nice. His "Football Medley" is one of great fun, and as performed at The Bull and Gate some time ago, you had "The Robins Aren't Bobbins" (his song about Altrincham FC) as well as "Nil Nil", "One Referee" and the classic chant of "You're Going Home On An Organised Football Coach" - classic stuff, it really is. You can't help but sing along!
Monday 21st June - The Longest Day, And A Sad Day
Of course this day is normally traditionally the longest day of the year (apparently) where the sun goes down the latest time and the solstice begins at Stonehenge. Well I wasn't up early enough to see that but I can well believe that it was pretty busy down there. Today at work though was a different thing - I wanted to package up Adobe Acrobat Reader 9 and Acrobat Professional 9, and thankfully the Adobe Customisation Wizard for both of them did the job nicely. It allowed swift and easy repackaging of the MSI installer along with its MST transform, and also meant that it was a simple process to get everything done (hurrah!) so that felt good.
It was pretty hot in the office and outside so I was glad to be able to head home later on and meet up with The Milk In My Coffee, who had been on an all day conference with work at a place not too far from where I work, so it was good to head out for a quick drink before heading back to mine for a while. I did reveal to her that I'm seriously considering that my weight is pretty rubbish and I need to get things sorted, and I know that she'll do what she can to help me out. It may be contentment that's making me just eat more, but I am semi-conscious of the fact it would be nice to drop some weight off and be able to be in a happier place.
We got home and she said her goodbyes after being with me all weekend. It was sad really, as I really do enjoy the time we spend together and it means a lot to me - more than you could imagine to be honest. I was even more sad to find out later that no less than Chris Sievey, the man who basically is Frank Sidebottom, passed away today. As himself, he'd had a minor hit with his band The Freshies with the brilliant "I'm In Love With The Girl On A Certain Manchester Megastore Checkout Desk" which has to be the longest titled chart hit in aeons, and then he introduced the alter ego Frank Sidebottom as the Freshies' greatest fan.
Of course, as Frank the career took off and as Frank it was the stuff of Northern England legend. He played the likes of Reading Festival to sell out crowds, and his slightly bizarre yet family natured clean humour won the hearts of little and big kids alike, who joined in his songs and generally laughed at the likes of the cardboard cutout that was Little Frank. He made me smile and laugh many a time at gigs with just a true Northern persona and a way with words that had everyone giggle and join in the fun. Ironically, I only found out about his recent gig at The Salutation too late, and that was one of his last ever shows (if not the last). I'd have loved to have been there to see him one final time.
As a small tribute to Frank, tune of the day has to be one of his songs, and perhaps the most popular in terms of audience participation, namely "Guess Who's Been On Match of the Day?" (to which of course you reply "You have, in your big shorts"). It epitomised the fun factor no end, and it's with great sadness that I watched my own recording of a gig at The Salutation with him doing it in fine fettle. The world feels a much less happier place without the humour of Frank - it's definitely bobbins. You know it is, it really is.
I guess that when I was going through some of the changes in my life over the years, there was always the fun and happiness that Frank's shows gave me. I remember going on the Magical Timperley Tour with my sister and having a great time, even seeing the famous two red post boxes in the centre of there. I also remember seeing him at Manchester University, The Salutation a few times, even The Palace in Levenshulme back in the day. Happy memories all of them to be honest. I even won a raffle once at a show in The Dancehouse Theatre in Manchester and got to be on stage with the great man. That made my year that did, let me tell you. The world has lost someone rather special to my heart.
Sunday 20th June - Anyone For Medieval Tennis?
It was a day outdoors today in weather much warmer than either myself or The Milk In My Coffee could imagine. We had decided to head out early morning and have a game of tennis, as it was Wimbledon tomorrow and we felt that a bit of outdoor exercise would do me good too. One of the local parks near to me has two tennis courts which are free to use for as long as you like, and instead of having a traditional net they have a barrier like those close to a pedestrian crossing. In essence, it's the same size and height though, so it just felt like playing a proper game of tennis.
We spent almost an hour and a half knocking it back and forward, and also had a couple of sets as well to really test the mettle. To be fair to The Milk, she's got a lethal backhand shot that can really have you scrambling and it was pretty good fun to be really giving myself some exercise and play together. Best shot I probably played was a forehand winner down the line and right in the corner, almost like Roger Federer (okay, well maybe not actually!) The heat was really warm though as the sun beat down and we were quite glad later to head back, freshen up and then head out later in the afternoon.
We had decided to head to Tatton Park, but the road approaching the park entrance was stuck in a jam, but I had a brainwave. We'd head back down the way we came, back on the A556, then down the A50 and straight into Knutsford. It worked well, and The Milk parked up in the centre of Knutsford, we walked to a nice sandwich shop and got a sandwich made there and then along with some water for lunch, and off we headed to the far entrance to Tatton Park instead - and therefore avoiding the £5 parking charge at the same time.
Of course, the distance meant we'd be a fair way away from the main house and hall, but it was just as lovely walking down the side of the Tatton Mere, and having the lunch overlooking that lake. It was still pretty warm indeed but it was at least with some breeze blowing, so it didn't feel too sticky thankfully. We then headed to the end of the mere and turned right and up towards the Old Hall, following signs for the Medieval Weekend that was on. We got to spot some old style tents with people and families in old age dress, really recreating that feel, and as we got towards the Old Hall we noticed it was £5.50 to get in. However, we didn't have to pay for what we were about to see, which was a battle re-enactment on the main field.
They certainly went at it full pelt on the field, and definitely I noticed that even though the weapons had been all blunted, it certainly wasn't any quarter less asked or given - in fact quite the opposite, they were going for it. The archers shooting arrows all over the battlefield, and in full armour and chainmail, everyone battled away in a great re-enactment. It was all good fun and you could tell just how much effort went into it. I was pretty impressed and as we left and walked back down the hill and towards Tatton Mere on the way back to Knutsford, we both agreed that we'd had a nice walk together.
The evening was spent taking it easy without the Caramel, but we had something nice for tea, we had a game of Scrabble alfresco in the back garden where I made two bingo moves in one game - namely TATTERS and GREIVES for 69, and then later on STROLLER (the T already in play, blank used as S) for 59. It worked out pretty well overall, and to sit outside was rather lovely indeed. We then saw some of the Brazil v Ivory Coast game and it was a bit of a silly sending off for Kaka, in fact he shouldn't have gone. Tune of the day though has to be "The Heat Is On" by Don Henley, as that's exactly what it felt like today. I need a lie down, it's rather humid...
Saturday 19th June - Burying The Market Trip
I fancied a bit of a change of scenery this afternoon, so after finishing off sorting out a PC that I'd worked on the other night and handing it back over all fixed and cleaned up, it was then time to head to Bury and have a look around the centre of the town. I hadn't been for a while and noticed the new leisure and cinema at The Rock at the far end of the town too. It looks decent enough and once it opens, the buses can then head round there, although the main bypass around the town now centre seems to veer straight towards the A58 and the motorway, so hopefully pulling people in from there.
Bury of course has, what it calls, a "world-famous" market which has plenty of coach loads of people from all over Europe making the trip over, notably a considerable number from Germany as well. The market itself was pretty busy, as you'd expect it to be on a good day like today where it was reasonably sunny, and everyone was looking around to see what they could get as either a last minute present for Father's Day, or to see if they could treat themselves to a new outfit for the summer at the cheap prices. It was rather busy and so was the shopping centre too, so good to see that the locals still use their local facilities in their droves.
Once around the market, it was then time to seek out the only indie record shop in the town now - Vibes. It used to sell quite a few CDs at cheap prices, and I remember house sitting at someone's place many years ago and making the trip up there by tram and getting some CDs cheap to play and keep myself amused. In fact, the stock was rather less than it was with many an album being knocked down and reduced in price, but it was also good that they at least categorised their stuff sensibly instead of spending ages finding what I wanted.
In fact, I did get a bargain on CD too - The Sword's second album "Gods of the Earth" - which I'd been after for ages but didn't want to pay £14 upwards for. So that cheered me up no end and when I got it home later, the two tracks that I'd played in Guitar Hero Metallica and Guitar Hero 5, namely "The Black River" (make that one tune of the day, the drums on it are intense fun) and "Maiden, Mother and Crone" which is also a good rocking tune. All well with the world there and as I headed on the tram back into Manchester it was a worthwhile trip, so that was good.
I'll have to try and stay up later and watch the US Open Golf at Pebble Beach, although with the time delays due to it being Californian time, it might mean a late stay up till 3am, and do I really want to do that? Maybe Sky Plus it and see it in the morning, but I had to give that course a go on Tiger Woods 09 and have a go at seeing how well I could do against the contenders at the moment. Couldn't play it for real though - I would inevitably hit it into the sea!
Friday 18th June - How Poor Can We Get?
After a long day at the office, where I was mainly working on a new Samsung R780 laptop and getting it all configured to work with everything we have, and indeed making sure that the function keys do all the necessary including the display driver changing to the multiple displays, it was time to head home via Tesco in preparation for tonight's England game against Algeria at the World Cup. I got some pizzas in and some other bits as well as the weekly shopping and then headed home to get the place cleaned up and ready for the arrival of four of the family, so there'd be five of us watching - me, my uncle and his son, my brother and brother-in law.
Everyone arrived and I put the pizzas in the oven so that they'd come out just as kick off started. I had faith in ITV HD (maybe blind?) and hope that they didn't muck up and miss the goal again. As we watched the national anthem, it always annoys me when some of the players don't sing their hearts out singing the anthem. It's always a sign of pride and passion, and whenever Beckham played for England he belted it out - he knew what it meant. We were all ready for kick off and the oven beeped at me to say food was all ready, so that was good too.
The first half was pretty dull, England seemed like they wanted to give the ball to the opposition at any opportunity. Rooney and Heskey up front weren't so hot, and Gareth Barry proved his worth to the squad by cutting out two crosses which could have resulted in Algerian goals. Up front and in midfield though we looked lifeless and passionless, and that didn't bode well. We chatted and cheered as much as we could but it was clear to me that maybe one goal might just be enough to win tonight's game, here was hoping anyway.
Well I wished I hadn't have bothered to watch the rest of the game. If the first half was bad, the second was even worse, it really was. No passion or pride seemed present and up front we seemed completely lost. Algeria grew in confidence and went forward with discipline and guile, showing us up a heck of a lot. In fact if they had scored I wouldn't have been surprised. I couldn't believe what I was seeing and neither did anyone else who was there either. As the game drew to a close, I'll freely admit I was cheering them on but also really giving them the nth degree, like "Come on slackers, get stuck in there" and other phrases with a tad more swearing to be perfectly honest.
The final whistle went and I booed them off the pitch like the fans who were there did. Some of these fans have saved up and spent thousands on getting to South Africa, getting tickets and transport sorted to watch the games, and to me I felt that they'd done what they could to get behind them during normal play. At the end, they showed their displeasure, and in my view rightly so. So it was a bit poor of Wayne Rooney to mouth off to the camera about how "loyal" the fans are by booing the team off the field. If anything, he was the worst player tonight and it was the sign of frustration maybe, but he should take a long hard look at himself and realise that no passion and pride is just not good enough.
It reminded me of what a difference that could make. Back in 1990 we were nowhere near the best team in the tournament, but Sir Bobby Robson knew that instilling the pride in wearing the shirt and having a never say die attitude was the way forward. In the group stage we weren't convincing although a 1-1 draw against the then European champions the Netherlands was no disgrace, we beat Egypt 1-0 in the last game (who'd also drawn against Netherlands) to win the group outright. Against Belgium it was backs to the wall sometimes to stay in it, but David Platt's end of extra time volley showed that never day die spirit once more. And after battling back to beat Cameroon 3-2 after extra time in the quarter finals, it was the semis against Germany.
One memory I always have of that game is the England equaliser, scored by Gary Lineker. His turn and shot found the net with minutes to go, and when you see him punch the air looking up to the sky with pure passion, like "YES!" and then Stuart Pearce bear hugging him to almost say "Get in there son!" you could see how much it meant to them. We lost on penalties, but we lost with pride, passion and attitude of "we will not be beaten" and it was something I always respected Sir Bobby for. It was England's second best ever World Cup performance and the best away from home. Apart from Lineker and Gascoigne, the rest of the team may not have been so world class, but they worked - as a team. Watch the below around 2:51 and see what I mean.
That's what I am talking about! Anyway, we decided to get the Wii on and get some rocking done on Guitar Hero 5, Band Hero and Guitar Hero Greatest Hits and take some band play on. It was great fun actually, and once my uncle and brother in law got the hang of the guitar and drums we had a four player band going. It worked out well once we nailed some songs too, so it was good to try out the likes of "Smoke On The Water" and "Message in a Bottle" on four player mode. At one stage during the latter my uncle held the mic near my mouth so I could do the drums and sing at the same time, which was pretty tricky but I managed nicely.
Tune of the day is one of the songs we did from the rocking session tonight in fact, because my nephew took up the vocal mantle with me on drums, my brother on lead and my brother in law on bass guitar - "Sex On Fire" by Kings of Leon. My nephew did some excellent vocals and I was really pleased (as everyone was) with the performance. That set me up nicely then to nail "Killing In The Name" on vocals as part of the band and really let go of all that frustration!
Thursday 17th June - Scorchio!
It's rather warm today isn't it? Far too nice to be in the office, that's for sure. I was spending some time today going through how you apply Group Policy settings with one of my colleagues so she was able to set up a different policy package for some users we've now inherited. It's actually worked pretty well as we've now been able to see how the settings affect those users, and how we'd tailor the needs accordingly. A lot of it made sense when you thought about applying those, so it was good to see that the likes of Autorun were turned off for a good reason - which is to prevent nasty viruses (take note, Manchester City Council!)
It was also a chance to have a look at one of the new laptops delivered and work on that. First thing was though that I needed to bring an image down, and it turned out that the laptop network drivers were too new for our existing PXE boot server to handle. So, I updated that and then it decided to play ball happily, which was a great relief, and the image came down rather nicely. When it restarted it did find most of the drivers that it needed and with an Intel Chipset driver reinstalled it was quite happy to be able to locate a suitable drive too.
I at least then managed to get that far before it was time to call it a day, and as I sat on the bus heading home I realised that I'd done a lot of demonstrating to our two new starters and my colleague and let them do it, so I felt confident that I was able to pass the knowledge and experience on in a good way to them. I think that's one of my strengths, when I learn I can pick up information and then disseminate it in a good way for people to be able to follow. (well, I hope so anyway).
Tune of the day is Katrina and the Waves' "Walking on Sunshine" as that's how I felt when leaving the office today. Not least because the weather was rather lovely and indeed that the song is unfeasibly hard on drums on Band Hero - and of couse because it's one of the songs used in the film version of High Fidelity where Jack Black's character decides that the Monday morning glumness needs cheering up a tad, not realising what's actually happened. One of those film moments...
Wednesday 16th June - Why Won't It Work For Me?
I had an interesting dilemma or two tonight as I was spending time looking at a PC for one of my work colleagues. It was running Windows Me, and so I had to remember how stuff worked on that operating system as well as remember too how much fun it is getting network and related stuff to work on it. They had recently got a BT Homehub, which it claimed would work on Me no problem. However, the PC itself wouldn't play ball with the onboard network card and the USB one they'd bought wasn't playing either, so obviously when plugged into the HomeHub, nothing was doing.
I soon worked out that the onboard network card wasn't enabled in the BIOS and so that was all sorted, but of course Me couldn't see the driver it wanted. And as I wasn't online to get the driver, bit of an issue. The USB one had the driver CD but it might have well have been a coaster to be honest - the CD had numerous folders, none of which seemed to be the actual driver in question. Not good at all to be honest. So as you can well imagine it was pretty tricky to try and get that to play. And once the driver installed, Windows Me said that there were issues with some system files missing.
At this point too it decided to go in a restart loop, so I made the decision of taking it back to my place so I could see what was up and also see if I could get it hooked up via my router to ensure networking was playing ball. It turned out that there were various system files missing (meh) so I managed to restore some of them and then Me played ball. Phew. I then managed to get the drivers online on my machine for the network cards - the internal one was a SIS 900 and the USB one a Dynamode DM9601. Turns out that the driver CD that came wit the USB card missed one file, so never installed the driver properly anyway. Bobbins!
With both of them up and running, I connected an ethernet cable to the router and it played ball. Yaay. I then of course realised that not all the software was going to play ball on Windows Me, so AVG for example was a no-go. However, I soon found that ClamWin AntiVirus Free worked on Windows Me, so I downloaded and installed that on it, and it worked rather nicely (and it updates too). Granted, it doesn't do on-access scanning, but it does at least mean you can clean the PC if need be. The other alternative would have been an older version of AVG but I'm not sure if updates are available.
It was then a case of snagging relevant versions of applications that'd run, so websites like OldApps.com come in handy for this. I managed to get Firefox 2.0.0.20, Flash Player 9, Shockwave Player 10, Adobe Acrobaty 7, Quick Time 6.5.2, Java SE 5 Update 22, and plenty of other stuff that would work. Most websites with all that did play ball with Firefox especially, so that was good. It did at least feel like a good machine to work on so that was pleasing. I'll do some final touches later in the week but it was good to flex the old brain muscles and work with an old environment.
Tune of the day in the meantime is the rather apt "Think For A Minute" as done by the Housemartins. Certainly at some points tonight I needed to stop and have a think about what I was up to and what I wanted to do, and it all worked rather nicely in the end in that the brain did function and I was able to resolve some problems. Sometimes it's just like that, and that's the way it is. Huuuh!
Tuesday 15th June - Tea For Two
It was very nice not to have to make anything for tea tonight, and it was also very lovely of The Solar Power In My Lights to offer to make us something lovely. I was also needing to do her a little favour too on the way to her place after work. Her cordless phone batteries were starting to go, and they weren't charging too well so you'd get around fifteen minutes of talk time before they ran out. Usually that's a sign of all drained out, so I did a bit of cost comparing in the likes of Superdrug, Boots, WH Smith etc and finally Tesco Metro on Market Street for the right size and cost, which was £5.99 for a pack of 4 Energizer AAA ones, much more like it I reckoned.
I got to The Solar Power's place and all seemed well and the food smelled lovely in the oven - it was a lasagne with extra mushrooms and indeed plenty of lovely hand grated cheese on top too - she's such a love. Whilst that was being made we replaced the batteries in the cordless phones. One of them didn't seem to detect the batteries till we realised that one of them wasn't quite sat right with the contacts, but it was a very tight fit to get it all in. It then charged pretty quickly and straight away we could tell the difference in terms of how efficient they were, not least when her sister called!
We then had tea and that was all very lovely, the lasagne was spot on and the garlic bread to go with it crispy and delicious, which was excellent. We had a nice blackberry and elderflower water to keep pretty cool, and once we'd had tea and chilled out in front of the telly for a small while, she then showed me some of the outfits that she's planning to take on her forthcoming family holiday. They all look lovely and I'm sure that they'll fit in the case without too many problems so she can have a lovely time. What was nice though was that I had some ideas for co-ordinating stuff too.
It was then a look at the Debenhams sale a day before the shops had theirs (well it was pay day don't you know?) and I spotted a couple of nice things I could be tempted by. We did see some nice dresses for The Solar Power for a forthcoming do she's got to go to, and one of them was pretty good for the price as well. It was good to leisurely browse without any annoying assistants asking you if you wanted their assistance every thirty seconds (they just dive on you don't they?) so all was well with the world there.
Tune of the day is "Battery" by Metallica, just purely because I felt the need to sing it in my head as I was walking around the city centre in the quest to get the rechargable batteries for a good price. It's also good fun to rock out to on Guitar Hero Metallica and Rock Band 2 which does at least mean that I can play it sort of well (note the sort of, it is pretty hard and I've not even got past medium drums on it either). It's also the first track on their classic "Master of Puppets" album and if that isn't enough to recommend it, I don't know what is.
Monday 14th June - Just Another Manic Monday
It was pretty busy at work today, but did manage to get a fair bit done in the morning. I managed to work out a couple of issues I'd been having with backups - mainly due to the time consuming nature of them and how it all works. In terms of it actually working, it was fine, but it was taking time to do it. I did work out a plan of action last week to do the full at weekends and differentials during the week, and that seemed to play ball quite nicely, and it actually does work rather well. It just also means that if the worst comes to the worst, I should be able to get anything back in quick time.
I spent most of the afternoon in a meeting and was able to contribute like I normally would be able to do. What is good is that I managed also to get a few things done at the same time, so that pleased me no end in terms of multitasking. I was left with a tricky little puzzle though: whenever you start GroupWise client on a Mac and log in, it remembers the login details for next time. Ideally I don't want it to do that. There must be a way around it. It looks like it sets a hidden file called gwuser.xml which is in a hidden folder, so I might have to unhide it, change the preference and then hide it back. Might give that a go tomorrow and see what happens.
I spent some time on the way home getting a new pair of shoes, mainly an everyday pair that I'd wear at work. My current ones are looking a bit worse for wear and didn't want to spend lots but wanted something comfortable as I'm normally on the go. Of all places, Clarks had a good pair and they were reduced by over hald price to a mere £25, much more like it and once I tried them on and found them comfortable, they were mine no problem. It's good when I'm able to sort out things like this and not pay the earth for them.
I then watched Italy against Paraguay later and to be honest I knew that it was going to be a close game. I didn't expect Paraguay to take the lead but they did, and a well aimed header too. The Italians came back in the second half and it was the substitutions that turned the game, most notably Camoranesi, who really did take the game to the Paraguayans. A corner came over, their keeper completely fluffed it, and de Rossi scored the equaliser, but try as they might, the Italians were stuck at 1-1 and so it was a pretty fair result in the end. It's notable though that a few of the fancied teams have started with a draw: maybe that's a good omen?
Tune of the day in the meantime is the excellent and vastly under-rated "Touched by the Hand of Cicciolina" by Pop Will Eat Itself, their unofficial anthem for the 1990 World Cup and one that got all the right moves. Italian inspired house piano? Check. Catchy beat? Check. Numerous commentators put together to sound like football having an orgasm? Check. Comments of "England very much in the groove?" Check. Add to that name checking an Italian adult movie star and politician, and you're on a winner.
Sunday 13th June - Summer Gala And Rain
It was an earlyish start to Sunday, as myself and The Cover On My Garden Table were heading off to a Summer Gala Weekend, where we'd be meeting up with her family, namely her two sisters and nieces, and her Mum and Dad. The summer gala is normally pretty good stuff, plenty of art and craft stalls and quite a few things to keep the little ones entertained as well, and even some acts performing as well if the weather permitted. Although it looked cloudy as we headed up the M61 to where the event was taking place, I was hoping that the weather would hold enough to make a day of it.
We got parked up and made our way into the gala, and bumped in to The Cover's sister and her niece first of all and we had a walk around some of the stalls and indeed I even had a go at this penalty shoot out fair type thing where you had to hit the ball into the small goal targets at least once to get a prize. I didn't quite make any of them but it was worth a good go, and the various tombolas and craft stalls were good to walk around. By this time The Cover's sister, niece, nephew, Mum and Dad had all turned up as well so it was good for us to take a good look around and also see what was going on in the "arena" middle section.
We didn't have long to wait as some belly dancers, who called themselves Eastern Promise, went on to the grass to perform some dances. Now I'm no expert on the subject but I can tell you this - some of the belly dancers were pretty okay, namely the two who seemed to be the leaders, one in all white and one in silver and black, and they were up for it. But there was one in peach Eastern trousers near the back of one group who didn't look at all interested and was going through the motions. It was almost like she'd been last pick on all the school teams and last pick here and clearly needed to cheer up and put some life into her performance. In fact, some of the performance was just a little over-theatrical and not enough emphasis on the emotion of the whole thing. I just thought that the outfit needed trimming by three or four people and have a group of six rather than a ten split into two lots of fives. Ho hum.
We did walk around and the two nieces decided that they fancied a go at spheres on water, sort of like zorbing but a bit trickier. In essence you got in, the sphere was inflated, your zorb went into a large pool of water surrounded by a large rubber outside, and you tried to walk around inside the zorb. Of course with water making waves everywhere keeping upright proved a bit tricky to say the least, as they proved by some constant falls into the water. Oops! It was all good fun though as you could see those who had a go were giggling as they were trying to master the technique, so all was good there.
The clouds looked menacing and so we headed off to a nearby pub for lunch, and as we got there the heavens started to open so that wasn't too good. I had a nice gammon steak for lunch and that was gorgeous as we scoffed it too. In fact everyone enjoyed their food and I even had a couple of games of pool against the nephew and won both times (you don't lose that hustler status overnight you know) - the table did seem a little sloped one way but I soon mastered it nicely. The rain hammered it down as we left later and headed back down the motorway and on to my place.
We had stopped at B&Q on the way and I'd got a suitable table cover for a tenner, and as it had rained in Manchester as well, once we got the excess water off and dried the table and chairs enough, I put the cover straight on and made sure it was nice and tight below. It was a good move too, because the heavens opened later as I saw Lewis Hamilton power to a great victory in the Canadian Grand Prix with Jenson Button an excellent second, a great 1-2 for McLaren, and I could see that the cover was doing its job excellently in keeping the rain off. Hurrah! Best make tune of the day "The Chain" by Fleetwood Mac - it is the F1 theme isn't it?
Saturday 12th June - ITV Is Bobbins
Myself and The Sunshine In My Day got up with the sun attempting to come out on us, which looked hopeful for a lovely warm day for us both. Indeed, once we were up and ready, I decided that it'd be lovely to have breakfast alfresco too, so I did some croissants, orange juice and indeed some coffee and sat outside with the sun starting to peek out nicely. I could admire the back and see how much fun I was having by being able to admire everything. I gave the plants a good watering as well as it had been dry the last couple of days and wanted to make sure everything was fine with them before I set out later in the day.
I also picked up the faulty solar light and went back to B&Q with it, and it was an easy no question asked swap. They had moved stuff around since the other day though so it took me a couple of minutes to find what I wanted and did the swap out. I checked it out when I got back home and it all seemed to work nicely. The Sunshine headed to see her folks for a bit, and left me in charge of plenty of football action. In fact I uploaded the pics of the garden, then watched most of South Korea's commanding victory against Greece and followed that up with BBC HD doing the business as Argentina won against Nigeria, although it should have been by way more than 1-0 to be honest.
I also saw the F1 qualifying and that was good - Lewis Hamilton got pole right at the end with a stunning lap and I know that it was an excellent effort all round to get that, the first non-Red Bull pole of the season too. By this time my Mum and brother had come over, and they admired the new back garden, and my uncle, nephew and brother in law were also there. My auntie came over shortly after, and the plan was that the ladies would head out to a pub not showing the football and have some tea there and a natter whilst the boys would have pizza and beer and watch the England game. Cunning plan, eh?
Well, it was a cunning plan, and I got myself psyched up by humming the original Baddiel, Skinner and Lightning Seeds' version of "Three Lions" (make that tune of the day) and I wanted so much to play World In Motion full blast too to get me pumped up even more. I was concerned that the game was on ITV though as their track record of football broadcasting is poor, as any Leeds fans will tell you from a few seasons ago and indeed Everton fans who missed a winning FA Cup goal when for some reason the transmission went to a commercial break.
Sadly all those concerns rang true as we watched the game on ITV HD. Four minutes in, England get a throw in. The coverage goes to some car advert for some reason, then the ident for ITV HD and then a black screen, and by the time we get the coverage back, Steven Gerrard has scored. Err. what the hell? That was appallingly bad. In fact, about half way through the first half, the game switched so standard definition as well and the rest of the game was in SD. Appalling. Yet no other HD broadcaster lost any signal or had problems, and indeed BBC HD during the day was perfect as well. So what does this all lead up to? Complete and utter incompetence from ITV. If you can't broadcast properly in HD, don't bother.
The most galling thing in all this is that there's been so much hype that anyone with a suitable receiver or telly could watch all the World Cup on HD and for free with Freeview HD around here. Even though I have Sky's HD system, BBC and ITV HD are on that and usually it's not a problem. Anyway, what it shows is that with all the hype, it had to be right to show people that you could carry the broadcast in HD. It didn't happen. ITV are a joke. When the Leeds fans at one game a few years ago sang "ITV is f***** s***" you could understand them. Even more so now. In my view, ITV should not be allowed to broadcast any more World Cups after this one - it's beyond a joke in my eyes. It's not the first time this has happened and it's reprehensible. Heads should roll.
And not just as ITV, but Robert Green as well. We went 1-0 up and all looked well, and then a shot comes in from Clint Dempsey hit not that hard. The ball goes in front of Robert Green, he fluffs getting it and instead palms the ball over his own line for the equaliser. What a comedy of errors that was. To be fair he did redeem himself with a good save in the second half that kept the score at 1-1, but to be honest psychologically the team's confidence was dented with that error earlier, and we couldn't break the USA down. The final score of 1-1 was a fair result and to be honest we need to improve drastically if we're going any further in the tournament. I just hope it's a blip to be honest.
We were all gutted and so later on it was time to take out the frustrations with a multi player Tiger Woods 09 on the Wii as the ladies arrived back, and I had some bottles of wine ready for them as they chatted away and saw us whack balls around Firestone with no errors. Much better than the game we've just seen, although at least on Friday we'll all be there again to see us hopefully improve against Algeria and go from there. I just wonder what will happen in the press tomorrow to be honest, I can see the headlines now to do with Robert Green and can't see the media being too kind to him...
Friday 11th June - Alfresco Dining In The Evening
After a long day at the office and indeed having a meeting to go to in the afternoon, I managed to head out of work and before long the bus arrived, and had a good chat to one of my colleagues on the way home as well, which was good. As it was, I was heading to Tesco as well as I felt it was easier to go straight from work to there and get all the shopping in. I needed to get some more stuff in for tomorrow night as I was inviting a few of the family around to watch the game on ITV HD, and so it meant the likes of more soft drinks, pizzas and snacks to ensure that it was all going to go well tomorrow.
I got home just as I received a message from The Sunshine In My Day to tell me that she was on her way to mine from work (she was on a late shift and so had parked her car at mine and then headed to work from there) and before I knew it, she was at my place and it was lovely to see her. I had emailed her late last night with some possible suggestions for a table for the garden along with some chairs, and she had told me that one of the ones I'd seen looked to fit the bill nicely - the chairs folded although the table didn't, but the price was also good and it looked to be good quality too.
After a chat and a coffee at mine, I thought it'd be nice to see if I could see the garden set in the flesh rather than online and then make a decision whether or not to get it. They didn't have it at my local Asda but a trip up to the large one at Eastlands proved to be pretty eventful. They did have it in stock and I could see it there. The wood looked good, there was a hole in the middle of the table for the parasol, and on top of that it was already pre-varnished so no hassle doing that either. And reduced too from £60 to £45. I did also see though one of the other tables with four metal and mesh seats and a parasol to go with it, and some of those had gone down from £50 to £30, but on reflection having thought about it a bit, I realised that actually the wood would go better with the decking, so I purchased that - and just about fitted it into The Sunshine's car!
We headed back to mine and it took a bit of time to set the table up, simply because the instructions weren't exactly 100% clear. Once we sussed it out and got the table up, it wasn't quite level on the decking floor, but I knew that the decking does have a very marginal slope towards the back gate anyway, so once I found a comfortable spot, the table sat nicely. In fact, so nicely, that we took two of the chairs outside with us (the chairs were already built, they fold up too, which was good) and it made for a nice dining table, so as the weather was still good, I did us some pasta and sauce and poured us both a glass of wine to have outside. And it looked rather lovely!
I felt so pleased with myself and it really did add one of the final touches to the garden. I did notice that one of the solar lights failed to come on later so I made a note that it might have to go back to be exchanged, but I felt happy that at least everything was in place and it was good to go. I also thought that getting a cover for the table might be happy to keep the likes of rain and stuff off, so thought getting one at weekend might be a good thing to do. If the weather gets really nice then a parasol and base could also be under consideration, but see what happens there.
Tune of the day is "Them Bones" by Alice In Chains. I'd not played Guitar Hero Greatest Hits for a while and put that on for a little bit just to have a practice at some of the songs and see how well I could do. Despite this song being pretty short I do like the structure of this one - the middle guitar solo and crunching riffs really make for a slightly heavier feel but it's got some great hook lines, and I've even tried it out on drums which is great fun too. And really does give me the opportunity to rock.
Thursday 10th June - Confessions Of A Mancunian Shopaholic
I had some time after work, and decided this morning that I'd head into the centre of Manchester and do some shopping. The good thing was that I still had some of my gift cards from my birthday, a month on, so some vouchers for Debenhams and some for Fopp were there for me to use. So in essence it meant I could do some shopping and not have to spend too much either. Result! Who needs to be Rebecca Bloomwood when you can get other people to treat you, eh?
During the day I'd also managed to work out a suitable configuration for Mozilla Firefox 3.6.3 to possibly include in this year's image. It's basically based on the tweaks I did for 3.0.10 but I needed to update them slightly to make sure that it played ball with the new version. One of them is so that the bookmarks always save to the user's home area - made a bit trickier with the "recently added" and "recent tags" in the bookmarks and the way that Firefox has gone to a sqlite type database - bit trickier to work around, but I've got there. And even better - I found out that the EndNote Web plugin needed updating at the same time as well, so I was able to test that and get it all working properly. Double result.
So it was off into the city centre and first stop was Fopp. I had brought the remants of my birthday list with me to help me decide, and that definitely influenced my decision. In the end, the £20 gift card got me four CDs - one new release and three more older CDs. The new release was Black Francis' "Nonstoperotik" which on first listen sounds quite intriguing. That was £10, and I also got Metallica's "Death Magnetic" for a fiver, and then two for £3 each - The Cure's 4:13 Dream and the CD and DVD set of "The Very Best of Ultravox" - admittedly, I mainly got it for the DVD although the songs are great as well of course.
After this it was then off to Debenhams where I managed to get the short sleeved shirt that I was after. I had seen it online although the right size kept getting out of stock (possibly meaning it was popular) and so I thought "may as well look in store for it". And to my sheer delightful timing, the only medium one left was mine. It's a red and grey striped number but looks pretty smart, and the shirt collar has buttons to keep that neat and tidy and in place too, so pretty nice all round. In case you happen to be curious, it's this one on the website. Not too bad eh? I had a £10 gift card so in essence that went a long way towards it meaning only £2 cash for me to pay. Result, methinks.
I knew that The Sunshine In My Day was on her late shift, so I arranged with her to meet up (well, she got my text after she'd got on the bus, so quickly had to head off and walk back down to meet me) and I took her into Kro in Piccadilly for a drink. It was nice to see her and we both admitted we were missing each other a bit, so with a pint of Landlord I chatted away and so did she - she had had a stressful day yesterday so it was good to chat to her about that and so get it out of the system as well as talk about other stuff. It made the day even lovelier and made me realise more than ever how lucky I am to have such a beautiful woman to love.
With the World Cup looming large and with the England 1990 replica shirt in Debenhams for a whopping fifty quid (ouch) complete with Gascoigne's number 19 on the back, tune of the day can't be anything else but New Order's "World In Motion" - the best song about footy ever. Ever. It's spot on and whenever I listen to it I always feel like I need to be ready to watch England play. Might have to give this a whirl on Saturday before kick off and get everyone in the mood for the big game. And of course John Barnes' rap. Classic.
Wednesday 9th June - Can You Hear Us Pumping On Your Stereo?
It was a nice evening despite the slight chill in the air, and myself and my friend were off to Manchester Academy to see Supergrass. The band decided to call it a day earlier this year after being together some seventeen years, and even though their album scheduled for this year doesn't look like it's ever going to see the light, there's still plenty of material for them to choose tonight for one of their last ever shows. We were both pretty excited about going, and not least because I'd heard a rumour that The Coral might be playing as support as well, which would be smart if that happened - sort of two for the price of one.
Actually, it was three for the price of one, but due to the Academy's scheduling, we missed half of the first band's set. The tickets clearly said doors at 7.30pm so we made sure we got there on time so my friend could get a good view. And what had happened? Doors at 7pm, first band on at 7.20. Meh. The only good thing was that the confirmed rumour was true - The Coral were supporting, and getting a forty minute slot too, so that was pretty good all round in that case.
What we did see of Charly Coombes and the New Breed? (myspace) Well we saw enough to form an opinion that they weren't too bad, and definitely leaning towards a more rock and roll feel, not too bad at all in my view. Definitely you could tell that they wanted to get everyone nicely warmed up for the fun later, and Charly himself being the brother of Gaz Coombes from Supergrass, really appreciated the chance to open up. In fact, I quite liked "Panic In Between The Sheets" which is their single, and definitely shows promise.
Next up were The Coral (official site) (myspace) and as it turns out, they've also got a new album out next month. It was good to hear some stuff from that and enjoy them rocking out - they're the second best band from The Wirral (number one, of course, is Half Man Half Biscuit) and they certainly knew their stuff, with a vibrant set of both the new and the old. So on the old school side, we got the likes of "Pass It On", "Dreaming Of You" (which as you can imagine went down pretty well) and "In The Rain". Bit surprised we didn't get "In The Morning" though. As they played well, we noticed that Gaz Coombes was stood behind us admiring The Coral doing their stuff, and he was literally right behind me. Rock! as they say.
Almost on time, on came Supergrass (official site) (myspace) and for the next two hours it was a complete cross section of the band's career. Rather sensibly, they decided to play their most recent stuff first, and then go back in reverse album order until they got to the first album "I Should Coco". This made a lot of sense, as their most popular hits are on the first three albums, guaranteeing a mighty singalong later. Some members of the audience didn't appreciate this and were clearly propping up the bar, but I personally thought it was a brave move to do - the diehards who love them will enjoy the new stuff and get them nicely warmed up for the classics. My friend did say that he thought it went better as it went on, which was possibly what others were thinking.
So what did get played then? Plenty, and I'm happy to report that singalong mode was very much in existence. The likes of "Movin'" and "Sun Hits The Sky" were delivered with a mighty aplomb, as was the often under-rated "Grace" (if you've played Lego Rock Band, you'll know it from there too) and "Mansize Rooster" definitely had plenty of the crowd singing at full pelt. I quite enjoyed "Richard III" as well as "Lenny", but for me the highlight of the night was a rocking hard version of "Pumping On Your Stereo" - the sort of moment that gives you goosebumps. Tune of the day for me without a doubt.
It was almost 11pm before the band headed off prior to an encore. Curfew at the Academy is supposed to be at 11, so I was a bit worried that they might not be able to come back on. As it was, they had space to fit in both "Alright" and a fast rocking version of "Caught By The Fuzz" which meant everyone left for home with a big smile on their faces, as we did. It's a shame that they've decided to call it a day, but at the same time I was glad to be there and to have a great night of it and see them for one last time.
Tuesday 8th June - Phase Three
After work, The Sunshine In My Day came over to see me (always lovely) and we were soon off and heading in the direction of B&Q Stockport (again) to get some more stuff for the back yard renovation and to give it some neat little touches. The only thing we'd need afterwards is a table and chairs, and I think The Sunshine has said she might have two folding chairs I could possibly have. With that in mind, and with the decking looking pretty clean, I thought that it might not be necessary just yet to put some decking cleaner down.
It was a difficult decision to decide on what plants though - mainly because I wanted a bit of colour to the place. Mum had suggested lavender, as had The Sunshine, but one small problem. I absolutely hate lavender and indeed the smell of it. However, after much searching, I'd got four little blue plant pots which were a nice shade of dark blue, and two larger terracotta round ones that looked the part. It was choosing the plants that proved a little more difficult than the actual pots though - I didn't fancy the little palm ones with leaves everywhere, didn't look right.
Much debate ensued before I got ones I was happy with - a nice fuchsia, and a little lemon smelling tree similar to a conifer but different, and a couple of others that had purple and white flowers in (can't remember the name!). I also got some more Cornish cobbles to fill the corner space rather nicely and that seemed to do the job rather well. We got back and I tipped the cobbles in the corner, and we added three of the little blue pots with the purple and white flowers in, and the two main terracotta pots in the main section along with another blue pot, so the fuchsia and conifer were all happy together.
One thing I did also decide to get were these neat solar lights that were disguised in the shape of a little rock, so perfect for a bit of detail and light. I put them on the back of the blue slate and noticed that they had already been solar charged to some degree (being in a shop with a massive light above obviously helped!) - and then the solar panel will charge the battery inside. Once it got dark later, the light came on and it looked rather fab as the two lights lit up the main feature. I was one happy little bunny, let me tell you.
Tune of the day, appropriately enough is "Here Comes The Summer" by The Undertones - which sums up my feelings now. Even if it is raining, it'll feel like Summer when I look outside and I feel pretty happy with what's been achieved, and it's mainly thanks to The Sunshine for making me look at it and do something about what was a slight mess out back and turn it into a rather nice place to be. Who knows, I might even have to buy a litle portable barbecue and place it up there yet, but I'll definitely have to scope out a table (or even a set of table and chairs) and go from there possibly. We shall see...
Monday 7th June - Cleaning Out My Decking
With the next phase of the development of the back yard done yesterday, I took a bit of a detour on the way home from work. I went to the local Asda and managed to get myself a large mop-style bucket, and three little gardening items for £2 - two sets of garden gloves, a fork and a little trowel. Armed with these I headed home and although I was considering heading to B&Q to get some decking cleaner, I decided to have another go at it with the tried and tested method of some hot water and a little bleach and washing up liquid. The idea is that you fill the bucket with the mixture, then dip a firm stiff sweeping brush into it and sweep away.
In essence, because it had rained most of the day, it was hard to tell if it had made any difference or not, but I could see that the surface below was definitely less mucky and although brushing did take a fair bit of time to do, and with the occasional bit of rain, I knew that realistically I'd only know how good it'd look would be once it dried off nicely and so made sure that I got as much as I could done before some more rain came in. I did rinse it down with some hot water alone and that seemed to look good - but it was now a case of seeing what would happen tomorrow.
I spent some time tonight catching up on some emails and also to see an old Manchester City documentary that someone had uploaded to Youtube. Called simply "CITY!" it looked at the 1980-81 season and the way that things changed at Maine Road, from the flamboyant style of Malcolm Allison where the players were clearly trying but not hard enough, to the board sacking him and bringing in John Bond, who was clearly straight away taking no nonsense, and had the last laugh as City beat Crystal Palace (then managed by Allison, ironically) 4-0 in a third round FA Cup tie which would see them on the way to Wembley. Palace later sacked Allison and the rest (sort of) is history. Bit weird why they kept playing Steve Winwood's "Spanish Dancer" though.
Tune of the day though is "Wish" by Nine Inch Nails. After a hard day at work and if you feel like you need to let go of any frustrations that might have happened, this is perfect. And it's going to appear in Guitar Hero: Warriors of Rock later this year, and rightly so. Of course being a bit of a NIN fan, as you can well imagine, knowing that'll be in there might just give me an incentive to buy this game. Oh, and "Chemical Warfare" by Slayer, "Bohemain Rhapsody" by Queen, "Self-Esteem" by The Offspring etc etc. Oh yes, it looks a completely killer track listing!
Sunday 6th June - Can't Slate The DIY Stores
So, with phase one of the back yard redevelopment too, it was time for stage two. Stage two was going to be the first part of the revamp of the former shed area, and I'd had a couple of ideas. What I was going to do was get some stones and place them where the shed was, and then get some pots and plants and put some nice little plants in there, which should brighten up the space nicely. For the little triangular section near the rear gate, then you could easily do something similar but on a smaller scale. So, before heading to B&Q, it was measuring time. The area left by the shed was approximately 1.85 by 1.25 metres, so that's around 2.3 square metres. The other smaller area is triangular, so it's 1.25 by 1.1 metres, divided by half, so 0.7 square metres or so there.
With that in hand, it was off to the rather large B&Q Warehouse near Stockport with ideas in mind. I liked the idea of having blue slate in the main area, as it looks quite pretty especially when wet, and it also meant that it'd serve as a foundation for the pots for the plants as well - so quite a good idea. The website stated a coverage area of 0.3 square metres each bag, so I knew how many bags I'd need. However, when I got to the bags themselves in the garden section, it was actually 0.5 metres per bag, so I needed five bags of the blue slate, and for the smaller area, I thought I'd try one bag of the Cornish cobbles and see how far I'd get with that.
It was then also a case of getting the pots, and there was a four for three offer on these really nice terracotta planters that went up from a smaller base to a square top and looked quite pretty. And as it happened there were exactly four pots left, so four for three it was then. We got some petunias and also another plant for the smaller area, and we worked out with that and a 20 litre bag of compost, which turned out just right to fill the pots with, then it was time to head to the checkout.
A word of advice: whatever you do, don't, and I mean it, don't use the self-serve checkouts in B&Q. They wanted items under a certain weight to be put on a weighing scale, which I can understand, but the scale is way too small and the bags of compost, plants and plant pots weren't all registering. At least it told us to keep the bags of slate and cobbles on the low load trolley, but even so. It was way too frustrating, and on top of that the chip and pin reader's numeric keypad wasn't working so well so it meant it took ages for me to put my card PIN in. Meh. Just a slower experience, and not that good.
With careful evenness of loading we got everything in The Sunshine In My Day's car and headed back to mine, and we put all the slate in the former shed area, poured a little water on to give them a clean, and it looked pretty good. I then put the Cornish cobbles in the triangular small area, and they seemed to look good, but I did think we were a little short, so it may be better later in the week getting another bag. In the meantime The Sunshine was sorting out the pot plants and that was working pretty well, the pots looked good and with the plants in it all seemed to be very nice. We made some room on the slate for three of them and in the Cornish cobbles for the other, and hey presto, it was all done. And very nice it looks too!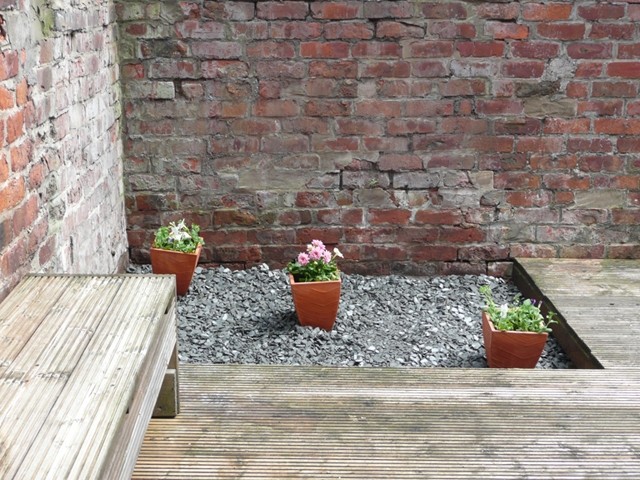 This is the main area where the shed was, and as you can see, we arranged the three plans in a diagonal fashion. We hadn't quite sat them straight in the slate as yet, because we were working out the angle of the slope underneath, but you get the idea. The corner area in the Cornish cobbles looked good too, and you can see the decking bench that my brother made for me years ago from spare decking that had been done, so it made good use and I've sat on that often over the years.
It was then time to relax in the afternoon and so watched England tonk Bangladesh in the cricket at Old Trafford whilst The Sunshine had a well deserved power nap. We then had an invite from Mum to head over for tea which meant we could return the spade, shovel and bucket that she had lent us, so that was good. Mum made us all a very lovely roast beef dinner with all the trimmings and after a hard day's work gardening (okay, sort of gardening, but you know) it was well worth it as the food was gorgeous and the time spent chatting was also very worthwhile. I do feel pleased and also showed Mum some of the pics of the revamp thus far, and it met with her approval.
Tune of the day in the meantime is something I'd play later in the day when I got back after tea at Mum's, namely "Eple" by Royksopp, primarily because it's one of the few ringtones I have on my phone, but also because it has a lovely kind of relaxing and mellow feel which would be perfect to listen to whilst being in the back yard now and taking it easy with a coffee. Which is just what I might do tomorrow evening actually - wait and see what the weather does!
Saturday 5th June - Shedloads Of Rubbish
It was going to be a really good and productive day, and it'd also be the first of two days where I get to grips with the back yard and make it a bit more homely. When I moved in almost eight years ago (that's quite long when I think about it) one of the things I had my brother do was put down a fair amount of decking in the back to neaten the yard, put flagstones near the door instead of the old concrete, and then it at least looked a lot tidier. Over the years the garden shed that was there before I moved in had started to decay a bit, and does lean a bit. The plan that The Sunshine In My Day and me had was to take the whole shed down to bits and rip it all apart, and then get rid of it and in its place put other stuff there to make it a little more homely.
First though it was off into the city centre to get my hair cut, and it turned out to be a wise move as one of the women who work there is off to Canada for a well earned holiday, so it gave me the chance to chatter a bit as well as them to their usual wonderful job in getting the hair chopped. I felt rejuvenated and as I walked down Oldham Street I noticed that there was a record fair on, so of course being me I had to go and have a nosey. It turned out that it was one of the VIP record fairs now, so at least it replaces the old Transpennine ones that used to take place at New Century Hall.
In essence though it was a little disappointing. There wasn't that many individual stalls, some of them were still selling only bootleg CDs (not so hot) but plenty of them were clearing out old vinyl singles and albums, and bargains could be had. At the collectable end of the scale the prices were set accordingly but most of the sellers there at least were true about the condition of their records, which was very good to see. I wouldn't have begrudged paying one of them £20-30 for an original Jethro Tull issue album simply because you could tell it'd been so well looked after. I did end up paying £1 each for two bits of vinyl, namely New Order's True Faith 12" single and AC/DC's "Let There Be Rock" album. In fact tonight I played bits of that and it sounded excellent, especially "Whole Lotta Rosie" so make that one tune of the day.
The Sunshine In My Day came over a little later, and although I'd now got a new stiff brush and plenty of heavy duty bin liners etc, we did need a spade, a shovel and a big bucket. Thankfully Mum had all those so a quick nip over to hers did the job and we got that all in preparation. First off was the big lot of soil in an old old style bin that had some plants and weeds inside it - it had to go. Took us a bit of time to take the soil out but got there, and bagged all that along with the weeds as garden waste. It was then one of around five trips to the local rubbish and recycling tip in The Sunshine's car. The good thing about my local tip is that they actively encourage recycling, so there's sections for wood, metal, garden waste, rubble etc. It was nice to get rid of all the garden waste and other assembled crap first.
It was then a case of getting in to the shed and emptying out all of the stuff in there, and most of it was stuff we could bin, and other bits were basically old bits of kitchen that at one point I was going to have before I got it all done, so that all went in the wood recycling in the second visit to the tip. Of course, in the meantime, it was then a case of getting the shed demolished. I pulled it from the roof towards me and eventually the angle of slope it was on was enough for it to crash and fall. We then stamped on everything, undid some screws and basically pulled the whole lot to bits, and three more trips to the tip followed (one by The Sunshine on her own, as the long bits of wood had to go where I'd have sat in the seat!) and bit by bit the shed was cleared.
We also discovered that the floor of the shed was a wood base with bricks underneath resting on the concrete floor, so we took all the bricks as well and had them for recycling of rubble, and the base itself though was too big to fit into the car, and also it wasn't that easy to demolish. I'll have to ask the council to take it away if possible or see if anyone I know wants any wood for any reason. It was good to get rid of all that though, and after sweeping the remnants of the brickwork where the shed was, and indeed the concrete area where the old soil bin was, the whole place looked a heck of a lot better.
It was then a case of setting to work doing an initial clean on the decking, and hot soapy water was at least the start of that as we swept up and made sure that it at least looked pretty clean. Realistically decking cleaner will be the way forward, but initially we wanted to make sure at least that we had a cleanish surface to work from when we commenced phase two tomorrow. All that shifting had taken most of the afternoon to do but already you could see the benefits as the place looked a heck of a lot better. And that has to be good doesn't it? It feels pretty good even at this stage to see the whole thing cleared up.
After a while we then relaxed and had some tea. I'd got some lovely gammon steaks and did them with some really nice chips and peas and made it almost like a pub meal in the evening, as The Sunshine had some wine and I had some Jennings Cumberland Ale. Oh yes, very delicious indeed may I say, so that felt good. We saw the lottery show and realised that none of us had won anything (bah, not good that methinks) and then we decided to reminisce with some 1980s hits on one of the music channels whilst having a game of Scrabble for a while, so we could wind down nicely in the evening. That worked ever so well, and I even played JINX too with the J on a triple letter, scoring 34, so that was a good move.
We were both pretty tired by the end of the evening with all that shifting done, but as you can well imagine, it feels good to have given the back yard the first bit of the makeover and it'd be ready for a trip to a certain DIY establishment tomorrow to try and get the next stage of it mapped out. I have some ideas, as has The Sunshine, and getting rid of that shed is at least the sort of start that I've been waiting to get done for some time, let me tell you.
Friday 4th June - Clearing Out The Back
I had a productive day in the office, with first a meeting with my manager where we had a good chat about the future direction for me, and which way that I need to go. I was pleased with that and then it was in to our technical group meeting, which I was able to contribute quite a bit to and also see just how it's going to work when we start to move over to Active Directory. It's quite an intriguing way of doing things, but of course it's also the future and as scary as that sounds, we have to be ready for it. It's all change and something else that we need to take on and be aware of.
After all that I headed home to see the cricket from Old Trafford as England were facing Bangladesh. The players went off for bad light at around 5.40pm with England poised on 275 for 5, a decent score by any stretch of the imagination. The Sky commentators and pundits were criticising the umpires for taking the players off, even though someone had emailed Michael Atherton to say that rain was down the road in Urmston. Indeed, what happened was that ten minutes later the ground had rain coming, and not long after that, the rain hit my part of Manchester. Thankfully I was at home and so waited for the rain to die down before heading to Tesco do to the food shopping.
Once I got home I had a good look around in the back yard and also in the alleyway outside. I've suspected that a possible reason for the drain in the back getting blocked a little at the moment is that the drain in the alleyway is clogged up, and my hunch was right. I found out that there were plenty of horrible growing weeds - sort of tangled ones, around there, and once I cleared that and also for good measure chucked some drain unblocker down the back drain of the house, things looked tons better. I do need to try and see though if we can get the alleyway cleared of any weeds - it doesn't look that great at times and I think if enough people mucked in, it could be done easily.
Tune of the day is actually available for free (woohoo) and it's the first outing for How To Destroy Angels, the new band formed by Trent Reznor post Nine Inch Nails and features his wife as part of the band. The opening track of their six track EP, "The Space In Between" is really brooding and minimal, and it's the sort of stuff Trent might have done as part of NIN anyway. If the CD gets released over here as an EP, it'll be well worth the purchase to hear it blasting out on the speakers. Nice one!
Thursday 3rd June - It's The Milky Bar Kid!
I spent a fair bit of time today at work sorting out some problems, but I was more concerned about the working environment we're in at the moment. The building we're in faces a quad, with other parts of the building surrounding it. In that quad there was an extractor placed some months ago. Just recently the extractor has been belting out all day and indeed creating plenty of noise and plenty of heat at the same time. This means amongst other things that the office has become unfeasibly warm, and if we do open the windows to let some air in, all we're doing is getting a ton of noise. What to do?
After all that work, it was time to head home and spend some time getting some fresh air and relaxing a little before getting the tea on for myself and The Love In My Heart who was coming over a little later. It was good to be able to cook us both a nice pasta bake complete with chorizo (it just works really well) and then be able to have a chat about work and all sorts. The nice thing is that there's a couple of things falling into place and that made me feel better too.
Once we'd had tea, I put the DVD player on and we settled in to watch the Dara O'Briain DVD "Live at the Theatre Royal" that I'd rented from Tesco DVD Rental. It was good fun and I was pleased that I'd rented it, not least as it mentioned about claims to fame on the tour, and one night in Newport someone had claimed that they were once the Milky Bar Kid. What the audience in London didn't know was that Dara had actually tracked down someone who really was the Milky Bar Kid, and had him there ready to go to for a chat and ask him his claim to fame. In fact one of the extras on the DVD itself is an interview with him from Dara, which is fab.
Tune of the day in the meantime is the rather good "Me and My Woman" by Roy Harper, the perfect end to one of the best albums ever made (in my humble little opinion anyway). It's an epic thirteen minutes long and goes through five distinct parts throughout, with a range of feelings and emotions in between. And there's a string arrangement and everything. It's a man at the height of his work and it shows just how when you hit your peak, you can reach genius level as per here.
Wednesday 2nd June - Sickening And Sombre And Numb
I got home from work and did some research into the actor who is playing Robbie in Coronation Street. The Radio Times website had a cast list, and from that I worked out it was the actor James Fleet. His two most notable roles were of Hugo in The Vicar of Dibley and Tom in the rather successful (to my disgust) film Four Weddings And A Funeral. I informed Mum and she was like "so that's where I've seen him before!" so it was nice to make her day and make the connection for her.
I did notice that ITV had pulled tonight's episode of Coronation Street and - as it turned out, for a pretty good reason. There's been constant news coverage all day of a man who has gone on the rampage in Cumbria, starting off in Whitehaven and heading along the coast and then the countryside, killing twelve people and injuring many more before shooting himself. It did make me wonder just why people end up taking those sort of measures and why did it all feel so sickening and random at the same time. It would be wrong to cast any form of aspersion, but it does worry me that someone would just head out there with a gun and just shoot anyone in a completely random act of violence. Words fail me in moments like this to be honest. I can't believe that it's happened.
In view of this, it was a more sombre me as I sat down after tea tonight and thought about things in general. It's also made me realise how lucky I am really. I know that I've got a good job, and that I work with pretty nice people overall, and that on top of that because I've worked hard I've got myself a nice place, some good friends whom I socialise with, and a woman who adores me as much as I adore her. When I look at it like that, life isn't that bad really and as much as I might drone on and complain about things in general, when you look at the bigger picture and see that tonight there'll be people without someone to come home to, it's a wake up call of a perspective, that's for sure.
Maybe it's also a reminder to us all that as much as we may pride ourselves as people for not being violent and not necessarily resorting to such, there may be some others out there who don't agree and who will use any manner of force possible to get their own way. It makes me feel somewhat aghast as well Tune of the day therefore sums up my feelings: "Numb" by Portishead. It just makes me feel that way. I don't really need to add any more than that.
Tuesday 1st June - Drama And Queens
I really didn't want to head back to the office today, but it was another day that I'd be spending and getting on with things. I did manage to resolve an issue that was bugging me though and that felt good. It was a bit touch and go with the weather as I headed to the Academy box office, as I wanted to get some tickets for the Eels for me and my friend. Unbelieveably, the Academy had sold out of their allocation. Drama! And so I headed off home at first a little disappointed but thought it might be best checking the Ticketline website to see if they had any. And they did, although this did mean paying a booking fee instead. But nonetheless that did mean that the tickets were sorted and so me and my friend can look forward to that now.
I got home and cleaned up as well as start to work on uploading the pictures from the day out at Castle Howard, and had the lovely company of The Love In My Heart for the evening. I'd made us something for tea, namely chicken wrapped in bacon with some vegetables, and that turned out nicely, especially as I let the bacon cook for a bit longer giving it a nice taste contrasted with the chicken. It was good to chat and have tea together and we soon settled down to see a bit of telly before spending some time on the PC checking out a few things, including a bit of online shopping. In fact this worked out pretty well for her, as she's now got some new places to head to shop online and save money at the same time.
We did see Coronation Street at her request, and it did look a little tense in the making. Of course the bad boy Tony Gordon is back, and that means one thing: drama! Of course the fact it's on at 9pm says one thing, that it's for an adult audience more than the kids, and of course once the episode unfolded we realised that it was the start of the siege that's been building up for a while. It was drama all the way and I'm sure that the writers must have known that it was going to be tense, hence the late night viewing. Mum did ring me afterwards and asked me that the bloke who played Robbie she'd seen in somewhere else, but where? I didn't have a clue at the time but thought that I'd do some research tomorrow and see what I could come up with.
We had a game of Scrabble later and I played Roy Harper's "Valentine" album on vinyl, which I think The Love didn't mind too much, especially as there's some nice acoustic songs on there, notably "Twelve Hours of Sunset" and my favourite "Forever" which is tune of the day. In fact I ended up playing QUAD to get a triple word and later on The Love had played QUEEN using the Q herself, a nifty little move all round. I also played the "One of Those Days In England" 7" single as well, and love the B-side and album track "Watford Gap" for obvious reasons, as it slags off the rubbish service station. Before we knew it, it was 11pm and time to sleep.