Dear Diary... June 2016
Thursday 30th June - The House Is Sold
So today, my old house in Manchester is sold - and all completed. In fact I had an inkling it was going to happen when I got home last night as the solicitor had emailed me a draft of the breakdown of costs and what I was going to get after everything was all paid off. I did email to ask when the completion was likely to be due, and their reply this morning was most likely today, which was a massive surprise. Nonetheless though, I can't really argue, and later in the afternoon I had confirmation that all was good to go.
It's been a lengthy mission to sell the place, primarily as it's in a good position close to the main A6 running through the part of Manchester that it's in, but also because of the fact that it's close means that it does have limited on street parking available during the day, which may have put some people off. I also realistically know that there's a few things that may have put people off, such as the kitchen being small (as lovely as it is) but on the positive, having double glazing throghout, an uber-secure front door which got replaced a while back and a nicely decked back yard is all good.
I went through two different buyers having made offers I accepted, but one of them decided to try and knock the price down by several thousand a few days before exchange, which I wasn't willing to do. The second one despite best efforts was refused a mortgage due to bad credit history, so no go there. Thankfully this time round it was a cash buyer and an investor, which meant effectively that not only was it a good offer that I had accepted, but with a view to completing as quickly as possible once all the legal side was done in terms of searches etc. In fact, looking back, it took just over three weeks from offer accepted to completing.
Naturally I am going to miss the area of Manchester I called home for many years, and in fact I owned the house for a total of dead on fourteen years before it was sold. I've had some happy memories in there, not least having a Christmas do the first Christmas I moved in and had lots of the family round all together, and many years later having everyone round for my 40th birthday do on the Saturday evening after my birthday. I also know that there'll always be memories of my father in there - he built all the CD shelving units that fitted into the recesses, and also with my uncle and brother in law did the bathroom too.
I have been emotionally detached from the house for some time, primarily due to the move down to Croydon for the new job and all that, but I think too that it's always good to remember that living there in the house was a big part of you, and it certainly was for me - the many bus journeys to work shared with colleagues, the lovely meals The Love In My Heart shared together along with games of Scrabble listening to Swing Out Sister et al, and also having my good retro gaming friends over for the Manc Weekenders as we called them - the last of which was a double header weekend with a trip to Brighton to see a retro gig that'll live long in the memory.
So it'll also mean from the start of next month less of a financial strain having to keep two places going at the same time - so I've rang the gas and electric supplier and cancelled all that (The Love In My Heart thankfully sorted the meter readings out for us, thanks darling) - as well as the buildings insurance also being cancelled as well. Just to be on the absolute safe side, I've also cancelled the mortgage direct debit as that isn't needed now it's been paid off on completion, and any money owed to me has been transferred.
I have to say also that the lovely lady at Ovo Energy was really good - despite the fact I was effectively leaving them with a final meter reading and informing them that I would probably need a refund after the final bill, they were their friendly and helpful selves. In fact I may look at checking with my current landlord of the block of flats I'm in if contractually I can move provider to them early next year once the 12 month deal with who they obliged you to go with is up.
Tune of the day today is quite apt, and a link between the old and the new - "Movin' On Up" by M People. Naturally they're from Manchester (indeed Mike Pickering is still a massive Manchester City fan) and that distinctive voice of Heather Small certainly gives you that groove, so it does. The words of the chorus are pretty good too - "Time to break free, nothing can stop me.." and in a way having now sold the place it's how I feel - and I have moved on up (well to the 7th floor!) but also in a nicer place. Granted I am renting it, but this is London - buying is just out of the question.
Wednesday 29th June - Pop and Pub
After work I headed on the 68 bus, but not to Euston. Oh no. Somewhere different. Russell Square to be precise. I was meeting up with Mark (MJ) Hibbett and his mate Steve later on as we were going to be doing some filming to help complete the "20 Things To Do Before You're 30" video (in fact make that song tune of the day as it is darn catchy when you listen to it a fair bit.) It was easier to head there from work rather than faff around and go home, then rush back out again to get to Russell Square before 6.30pm. Notably of course it was good to see that the tube station still has its original frontage, a little like the abandoned old entrance to Euston that's opposite the Ibis there.
Anyway, I'd got there early so thought I'd mooch around the shops that form the square in the Brunswick close by, and that proved to be worthwhile. I ended up having food and drink for tea for the combined cost of 50p - beat that, bargain savers. In fact it was due to Boots' generous rule of knocking down all their sandwiches with a sell by date of the same day down to that price around 4pm, and so a chicken and bacon number was mine. Add to that the fact that the shopping centre has a Waitrose, so that's one free coffee (latte at that) for me please. Yes, I officially rock at bargain hunting.
With that consumed and having mooched around the shops I waited at the entrance to Russell Square station - and Mark came bounding along with Steve just a few minutes behind, so all seemed well. Part of the reason for this was that down the road in Marchmont Street is a proper old school launderette, and as one of the lines of the song refers to just that, all good. We set it up across the road, I had a carrier bag and did the walk across to the launderette, and all done - in one take. Ooh yes, no mucking around for us lot.
In fact there was a very nice pub The Lord John Russell close by, and this meant we could do some of the lines of the song that mention either pubs, or being drunk, or stuff like that (Steve in fact did a great impersonation of someone hallucinating after supposedly drinking a little too much, hoho). The ale selection was decent, so I had the Caledonian Kick Off ale (which was 4-1, I mean 4.1%) and then later on the Brains Best, which was in good form also. It was nice to effectively sit inside and natter for a fair bit.
Time did actually speed by quite a bit and having got all the bits done we needed to do, a good chance to talk about important stuff like football, jobs and work, and the current absolutely mental political situation at the moment. It was really nice just to have a relaxing time anyway and before we knew it, ale had been consumed and Steve headed off to Kings Cross, whilst Mark and I were back at Russell Square and said our goodbyes when he got to Holborn for the Central Line back to Stratford, where I stayed on and changed at Earls Court for the District Line to that Wimbledon (full of people coming back from the tennis too) and then the tram onwards to Croydon and home.
All was good, and I'm sure in the next week or two there'll be the video for the song so you can all giggle at my lack of acting skills (well sort of) and sing along to the song too. It's actually been nice to help out, and having good company and good ale is good times all round. Even better, it just was really good to be able to have a different night out and with the tennis action being limited due to the rain, it was a good excuse to head out and have beer!
Tuesday 28th June - Moving On
So the first thing to mention today: I've made a decision. I will no longer be supporting the England men's football team for the considerable future. I've had enough of their prima donna attitude of the players, the lack of team spirit being fostered and the lack of management skills needed to try and gel the team together. In fact I just don't feel the same watching them that I should either. They all have their headphones on, so away from reality, that they don't seem to get what it means to play for their country. Change is needed but the only way to do that will be over time, and it may be painful.
However, I will of course be supporting the Lionesses though. The women's team are still developing as a good unit, but crucially they have a manager who knows what he is doing, commands the respect of the players, they have a natural leader in captain Steph Houghton, and the players all pull together as one. I can remember back in 2005 when England hosted the Women's Euros and I went to see them play at the Etihad. They won 3-2 and Karen Carney (yes, that Karen Carney!) scored the winner in stoppage time. I've always kept an eye on them since and the World Cup last year really was a culmination of years of hard work, and it's continuing now.
I had a good day at work too, finally getting the last of the Intel AMT documentation done, and actually working out that the newer versions of the Intel vPro Powershell modules allow you to do more. For example, in AMT 8.0 and higher, you can actually set multiple alarm clocks, and have each one set with a different name, so you could for example have a machine wake at 8am on a Monday, 3am on a Tuesday (for updates) and so on, and that would work well with different alarms set for each.
In fact, if you don't give the alarm a name using the scripting, it'll use the one called DefaultAlarm. And in another security nice feature, it won't let you overwrite the existing alarm you've set without removing it first and then adding a new one, so that is actually good - you can always do a get-AMTAlarmClock to look at what the alarm is set to. Because we're also using AD authentication, and only certain high level accounts can actually run the module, we run the Powershell modules as the admin account with rights, and no credentials needed to be stored. Result all round.
It's also a little bit muggy as well as the weather has changed to constant rain, and that's meant everything bar Centre Court at Wimbledon is suspended. I did spot on BBC2 lots of people being able to get their tickets that had been exchanged at the booth and getting in for a bit of Centre Court action (they have been in the Queue for Ground Admission, so a nice bonus for them). Earlier, Andy Murray won so all was well there, and sure enough the classic Wimbledon theme "Light and Tuneful" by Keith Mansfield introducing the shows just means it's that time of year, so tune of the day there.
Monday 27th June - Pathetic
Words fail me after seeing the England men's football team come up with one of the worst performances I've ever seen them play. It's made me angry, upset and downright miserable and also leads to many questions about just how the supposed greatness of the Premier League is damaging the national team more than the likes of Richard Scudamore and Sky could ever tell you. Let's spell it out. England lost 2-1 to Iceland, to be fair, the scoreline could have been far worse to say the least.
I had got home from work and was all ready to go, and indeed at kick off I was hoping for a win to see England play France in the quarter finals of Euro 2016. The Allianz Riviera stadium in Nice all looked good, and the players seemed ready. And within a few minutes, Raheem Sterling had made a run, was cropped by the defender (although it was soft) and a penalty was given, which Wayne Rooney smashed home in the bottom corner to take a 1-0 lead.
And that was about as good as it got. Less than a minute and a half later, Iceland had a throw in, and the long throw wasn't picked up by any of the England defence, and it was left for a simple strike into the net for the equaliser. We'd held on for less than a minute after the game had restarted, and had clearly switched off. The team seemed to lack a leader and had no idea what to do with the ball, and the manager Roy Hodgson didn't seem to have an idea either.
Sure enough, Iceland attacked, a low shot went in and the ball somehow squirmed under Joe Hart and in. Iceland 2-1 up. Not good. In fact I'd say the Manchester City keeper has had a nightmare tournament with several howlers and him not seeming right somehow. England huffed and puffed till half time but didn't look good, and the second half wasn't much better - no tactics, no awareness, just rush and rush and nothing doing. Absolutely shocking, as a certain Alan Hansen would have said.
In fact, it took the late substitution of Marcus Rashford to shame the rest of the team into showing them how it was done, taking on players, creating chances and being the best England player by far - in just a five minute spell. In fact I felt sorry for him as he'd played with no fear and at least tried, and he should definitely not be included in the hall of shame of appalling performances from the so-called "team" of England. Roy Hodgson resigned before he was sacked, and it was a case of an absolutely pathetic performance to say the least.
All the usual names have been bandied around for replacements, but none fills me with hope. There's a blanket feeling someone with experience is needed rather than someone injecting fresh ideas, who can actually get tactics right and play a team with those tactics. The players need to have a long hard look at themselves and realise what an honour playing for their country is, and what it should mean in terms of pride, passion and determination.
In fact, a year ago today, the England women (the Lionesses) were beating Canada 2-1, in Canada, in the World Cup quarter finals. They have a manager Mark Sampson who has got the team playing with pride, passion, and they know their tactics and game plan and carry it out. They beat Germany for third place (another important milestone) and the team spirit matches that of what Iceland showed last night. And it makes me wonder just why no one has mentioned Mark for the men's managerial job? He takes no rubbish, and makes the right calls, and knows how to build a team. Tune of the day in the meantime is "Wolves Without Teeth" by the Icelandic band Of Monsters and Men. Kind of sums up the England men's team really...
Sunday 26th June - Sky Dive? No Dive
It was a reasonably early start for The Love In My Heart and myself as The Love's nice was making a second attempt to do her sky dive for charity just outside Lancaster at the Black Knights facility. The first time round the weather had meant that a dive wasn't possible, and the niece, her boyfriend and The Love's sister (her mum) had already set off for there, and we were going ourselves too. It was set reasonably fair albeit a bit windy as we set off, with the two cats Jô and Brian all fed and spoilt with Dreamies (well they deserve them really.)
The weather looked okay albeit a little cloudy as The Love headed along to the M61 motorway, then all the way to the M6, and along the M6 past the turn off for Blackpool and to junction 33 for the A6 to Lancaster. From there I'd worked out the directions and so took the little road off towards the village of Cockerham, and followed the B5272 to the A588 and then through the village, past a petrol station and then on the left turn to Hillam Lane, following this right down to the end where the car park was.
We saw the path up some stairs and down to the open field, and there was seating outside and inside, where the facility had a café so you could eat and drink whilst you waited. The Love and I had a bacon barm each which was decent and a coffee which was okay, and we all chatted whilst waiting to see if the cloud would clear and that the jump was going ahead or not. The weather looked like it might clear but went cloudy again, and at around 2pm a decision was made to cancel for the whole day, and so The Love's niece booked for a date in the middle of July to make a third attempt at it. The Love and I can't make it that time, but I know it'll happen for her niece hopefully!
We all headed off and The Love and I thought a nice lunch was in order, so we headed off the M61 just before Chorley and followed the A674 for a little bit to the Malthouse Farm pub, which looked quite nice in its location overlooking a canal and having a nice charm about the place. In fact they had Dizzy Blonde ale on cask, so that was me sorted, and the Sunday roasts we both had (The Love had the turkey, me the pork) was also very good. It was good too as we had a seat close to the windows overlooking the canal too.
We headed back homewards to The Love's place and stayed there for a bit with a coffee before we headed off to the train station for her to drop me off. I did feel a massive dose of sadness as I know it'll be a week on Friday before I see her again, but I know too that we've both got plenty to be getting on with, so there's something I suppose. I did head into Waitrose close to Piccadilly Station for my coffee, but noticed that the pastries were all reduced, so got a pain au raisin for a mere 25p at the same time. A perfect little combination for the train journey home that.
The journey home was all good too - train on time, tube all good, and as I headed on to the 2028 from Victoria to Horsham (and platform 12 too, so all good there) it was relatively quiet and relaxed, so definitely one journey that was peaceful. I got home and put on some relatively chilled out music, so on went some Swing Out Sister and the classic "Butterfly" from their Beautiful Mess album (definitely tune of the day that) as it was a nice way to wind down before sleep, and work...
Saturday 25th June - Repair, Refresh, Repeat
It was an early start for me as I was heading on the 0840 train from London Euston to Manchester to see The Love In My Heart, and as you can imagine, that meant an early start leaving East Croydon to get to Victoria and then onwards on the tube to Euston. Thankfully at that time of morning travel is pretty bearable all round - the tube is quiet, the trains were even quieter, and despite there being a reserved seat next to mine on the 0840 departure, no one was sat next to me, so felt pretty pleased and relaxed all round.
The rain was getting a little more intense as the train headed to Wilmslow and by the time it arrived at Manchester Piccadilly it was hammering it down. The Love thankfully came to collect me and after a quick couple of attempts at getting the little ticket to be recognised by the short stay machine, we were out and facing an absolute downpour as we set off for The Love's place. That ended up being a little short shower that sod's law were that we were caught in, and got back with the two cats Jô and Brian all in the dry and quite content with their little selves.
The weather did clear up a bit so Brian headed off out to play on the decking with his little harness on, and then we headed off to The Love's father's place. He mentioned whilst he was there that he thought his PC wasn't going online, and when I checked, it seemed that the Internet Explorer icon had gone, but also he had created folders within folders within folders for his favourites and desktop etc, and also a lot of the start menu icons appeared wrongly.
In fact, more than that - the start menu appeared broken, and even with some nifty little Powershell scripting, there was no easy way of repairing it, so I ended up after some testing and checking, having to do a Windows reset. It did keep all the account settings but meant that effectively it was a repaired installation of Windows 10 Home, and actually worked pretty well all round. It kept all the bits as needed and made sure all the system files were back and in working order, so the start menu and apps were right, the printer showed connected, the folders were all the right place, and the favourites in Internet Explorer 11 worked spot on too. Thank heavens for that!
We'd also headed to Lidl during the repair phase and managed to get some decent real ale for not much dosh, in fact the Ace Ale (a little strawberry and vanilla in that) was 99p, and several ales from Robinsons of Stockport were £1.29 a bottle - Dizzy Blonde and Unicorn Black. And they also had the Skinners' Betty Stogs ale for £1.49. I call that a result all round really, and that was me sorted for later on too. I had also been able to keep one eye on the Wales v Northern Ireland game too, and in the end Wales had edged it 1-0.
At The Love's place later we had some tea, and it was rather nice - she had done the Asda Finest Dine in For Two for £10 deal, and this included some lovely chicken with mushrooms in a sauce, some roast potatoes (she did some vegetables on the side too) and a nice little mousse for dessert. I had ale, she had wine, we snuggled up and saw the lottery draw and watched Gogglesprogs on All 4, which was rather hilarious all round - and all good there.
To finish off the evening we watched the Paul Weller video "Highlights and Hang-Ups" which was a fascinating insight into his career during The Jam and Style Council era, and how going solo was a real test for him back then. It did feature a plethora of his early songs though too, including for me the still ace "Into Tomorrow" and so that's tune of the day all round. The two cats had already snuggled up on The Love's bed, and I did feel a bit mean moving them on as I headed to bed!!
Friday 24th June - The Morning After The Night Before
I woke up, turned on the telly, saw that the EU referendum result was sealed, took a deep breath, and thought "well, it's done." And it was. In a decision which may have shocked some but not others, the electorate of the UK decided on the whole that leaving the EU was better than remaining in. Granted, it was around 4% difference overall, but that's around a million plus votes majority. Notably as well as Scotland, Manchester also had voted to stay in, and pretty much most London boroughs (including Croydon where I am.)
But it was the swathe of leave across most of England, from Cornwall and Devon in the South West to the normally Labour lead heartlands of the North West and North East, that was perhaps significantly telling. Not all the areas concerned are worse off than others, and yet there seemed to be a mood not only of defiance, but one of wanting a change and seizing the opportunity. It wasn't a surprise later as I arrived in the office (delayed due to flooded train tracks and Thameslink reverting to being awful) that David Cameron had resigned as Prime Minister. I think it's notable too how many people have taken to socia media to spout unhappiness generally, but sometimes it's a case of the silent majority just speaking without saying anything by voting.
For me, I'm not one to panic and to be all doom and gloom either. It's happened. We can't change what's happened in the past, but we can change what happens in the future. If that means we have to work harder, show our determination and really pull together to do so, then we should. What I don't want to see is an open platform for racism and hatred to become reality. We're all better than that - and indeed there are intelligent people out there who did vote leave after weighing up their options carefully and would most likely be sensible enough to distance themselves from any xenophobia stirred up by the likes of the Daily Mail.
It's with that in mind that tune of the day is perhaps more relevant because of this concern - "Ich Bin Ein Auslander" by Pop Will Eat Itself. When the band wrote it back in 1994, there were many far right concerns all over Europe and talking of "ethnic cleansing" and racism was becoming a huge problem even then. The song had it nailed, the band played a tour with other bands feeling the same as them, and had the Anti Nazi League backing them to promote fairness and tolerance amongst society. The lyrics say it all - "Freedom of expression doesn't make it alright, trampled underfoot by the rise of the right.."
One of the promo 12" singles that I have has the not too often heard "Drone Ranger Mix" which has a lengthier instrumental beginning, with some kicking bass in the background underpinning the start and having that sense of unease before it rocks in. The band live used to use the instrumental "C.P.I #2" and then blend into this and bound on to the stage with everyone else pogoing and go for it. The energy this channeled amongst people was just ace, and even now when it is played, everyone jumps together, no matter their colour, religion or anyhing like that - they all like the band and stand together. It's a powerful thing. If you're going to see them at Indie Daze in October you are in for a massive treat let me tell you.
Thursday 23rd June - A Flood Of Voting
There had been heavy rain overnight all across the South East of England, and by all accounts thunder storms, although I hadn't heard any of that myself as I tend to sleep pretty well in my nice comfortable bed these days - so all good there. What I had spotted though was that the overnight rain had fell heavily in some parts of the capital and beyond, meaning that getting to work might be a tad trickier than normal, as well as for others who may have flooded tracks to contend with.
First of all though for me was to head to the polling station for 7am sharp to cast my vote in the EU Referendum. I've long believed that if you don't vote, than you can't really complain about what happens politically as you didn't make your vote count and therefore your voice heard. I walked the short distance from the flat to the polling station and had arrived a few minutes early. As it turned out before it got to 7am a fair few people had also arrived too, and it was noticeable that they had braved the torrential rain like I had in order to ensure their vote was cast in good time.
I had all the polling card etc all ready, so the staff checked I was on the list and that they gave me a ballot paper. I put the cross in my vote, folded it all neatly and dropped it into the ballot box. In fact I was the very first voter in the polling station to do so. I am sure that I may have also been one of the very first voters in the country to have my say, but thought that with the weather forecast later for heavy rain, best to do it now than possibly queue outside in the pouring rain later on. That at least did make sense.
I arrived in work to find that I wasn't going to be allowed in parts of the building due to potential flooding issues. As it transpired, I went up with one of the Facilities staff and they checked the floor I work in with me and gave me the okay. However, by all accounts the 14th floor had had a massive leak and so was cordoned off, and one or two of the side blocks weren't in great shape and really did need to have some work done as an emergency, so it was definitely a case of being in but being aware. In fact, we did have an offer to head home earlier than planned due to forecast weather storms later so that was at least something.
The journey home later was eventful with a fair few cancellations and not looking too good. I did at least manage to get the train to Streatham and from there took the 60 bus which drops me off near the flat, and that did mean at least being sat in the dry on the bus for a while as I saw the rain absolutely lash it down everywhere along the way. In fact as I am typing this now it is still hammering it down, and consider myself a lot better off than most for getting home at a reasonable hour having made it home.
So tonight then is when it all happens. But I'm not watching any of it. I've cast my vote, and as the final result should be due around 7am tomorrow morning, I'll wake up and see what happens. Whatever is decided, whether to remain or to leave, I know I've taken part in the democratic process and cast my vote, which is important. In the meantime, tune of the day is the classic "Stairway To Heaven" by Led Zeppelin, particularly in the light of the court case which was won by the band today..
Wednesday 22nd June - OneDrive and One Goal
And so to another day, but one that ended up being pretty busy. I'd been working on sorting a few things but for some reason it seemed to transpire that there was a difficult issue with the way that the retail consumer version for OneDrive had been manually installed by some people on machines, thus meaning that it interferes with the correct OneDrive for Business version that is installed with Office 2013 Pro Plus. Normally the correct way of sorting that is to effectively remove the retail one drive, and then do a minor repair of Office with just the OneDrive for Business component reinstated safe and sound.
I had a machine to test on where this had happened, and for some reason the current Zenworks bundle for uninstallation had failed - but when I looked at the PC in question, I worked out why. Not only had it been updated recently to a new release, just one digit different in version numbering from the Business proper one, but it also meant that the uninstallation had added a new switch, and without the switch and the version number of the clicktorun executable to perform the removal, it wouldn't happen.
A tad annoying, and it was only after I'd been outside of the building due to a fire alarm for a good half hour and then back in again that I had actually managed to get to the bottom of it. What it did mean though is that the switch concerned (scenariosubtype=uninstall) needed to be there, and once I'd updated the bundle and ran it on said machine, it did exactly what I wanted it to do and effectively remove the offending version leaving the clean one intact.
As I stayed a fair bit later than planned I headed on the first train out of work and instead off to Beckenham Junction. There was some method in the madness though, as this meant I was able to head into the Waitrose by the station, get some birthday cards for forthcoming birthdays as well as a gift card, and also be able to pick up the free coffee along the way (a nice little perk with the MyWaitrose card) so that was a good move before heading on to the tram and back to Croydon.
Some game of football tonight too between Ireland and Italy. Ireland needed to win to go through and Italy had already won the group and knew they were playing Spain next round. Belgium also needed to beat Sweden to ensure qualfication, and with eight minutes left, Belgium scored. I quickly flicked back to ITV1 for the Ireland game and in good time to see Robbie Brady head home a massively deserved winner for the Irish, meaning a 1-0 win and through as the second best third placed team (behind Slovakia) and thus getting themselves a game against France in the next round. Iceland's last minute winner against Austria also meant England will be facing them instead of Portugal, so thank you for that Iceland. Tune of the day in the meantime is "Those Were The Days" by Mary Hopkin, adopted by the Irish fans as "Come on you boys in green" (repeat ad infinitum very loudly indeed..)
Tuesday 21st June - Breaking The Strike
So it was yet another strike on Southern Railway today. Although I don't always have to get one of their services to work, as they're part of the Govia Thameslink Railway group, other trains that go my way such as Thameslink ones would be absolutely rammed, therefore I wasn't even going to take the risk of attempting to get on a reduced service at East Croydon. Thankfully I do have an alternative and indeed it's right by the flat too - the 468 bus which drops me off virtually outside work.
And the driver this morning was taking no prisoners en route either, pegging it up the likes of South Norwood Hill and Beulah Hill towards Crown Point, down to West Norwood and then through Tulse Hill and Herne Hill pretty quickly (no temporary traffic lights helps lots I suspect) and soon on the way through Camberwell and to work. And amazingly early - in fact I was at my desk at 7.30am which wasn't too bad. That allowed me to look at starting work on Autodesk Building Design Suite 2017.
In fact that worked pretty well, due to the fact that it wasn't all the components that required to be installed, and I'd consulted with staff accordingly. Instead it was just doing to be AutoCAD, AutoCAD Architecture, Revit, Showcase, Recap. We'd add on 3ds Max from Entertainment Creation Suite, and another piece of software required (AutoCAD Map 3D) was downloaded as a standalone installation anyway, so all good there. It was then a case of making sure I documented the process as I went through an ensured that all was good.
I also spent some time with my colleagues going through the WDS setup and looking at a way of improving the Windows 7 driver support by using the DriverGroup001 variable to ensure that you were selecting drivers by the folders of the OS, version and the model, and then populating those model folders with the relevant drivers. This was made considerably easier by the fact that the laptop manufacturer had made such a set of drivers available via their FTP site, to make things a lot easier.
I headed home later on and that took some time primarily due to the fact I'd stayed behind late a bit anyway, but also then due to the fact that the tube and the buses were busier than normal due to the strike, and so got home a little later than planned. I did however note the daily performance statistics that Southern do publish for yesterday - and they're shocking reading. As these are replaced on a daily basis, I thought it would be interesting for you dear reader to see the shocking unreliability for yourself: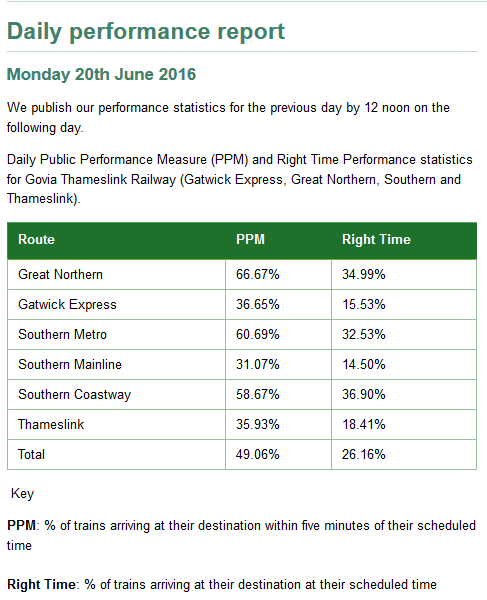 Shocking, I know. And in my view completely unacceptable. It makes me wonder just why the Government aren't placing the whole GTR franchise into emergency measures and making them be managed by someone else - or even better, take it into public ownership and be more fully accountable for their measures. Tune of the day is "Don't Give A ****" by Suicidal Tendencies, primarily because it rocks, secondly as my friend likes the band massively (and I do too) and also because it somehow is how the Governement and the management of GTR like to treat their customers - not giving two hoots..
Monday 20th June - Raining No Goals
So back to work, and a horrible rainy start to the day all round too. It was pretty much chucking it down for most of the day and a grey murky mist descended over the view that we have from the 12th floor office, albeit not much of a view happening there today. In fact the Shard was almost invisible in the distance with the driving rain and low cloud, and the drainage in the Elephant and Castle island seemed to be almost non-existant as a massive puddle meant a diversion for those attempting to cross over all the interchange there.
In terms of the work stuff, I got on with some additional testing and documentation for the Intel AMT solution. In essence it meant that I was able to finalise any presentations to the technical design authority for the meeting later in the week, but also ensure that all the documentation that I needed to create was done, and so be able to demonstrate the Intel SCS Console as well as the way that the provisioning was going to happen. I must admit I do feel pretty chuffed to have got this far, and even more so once I can get over the procedural stuff.
It was off home later on and to watch the England v Slovakia game, with us virtually guaranteed of qualification for the next round. Winning the group would though mean an easier game in the next round, so I was a tad surprised when I saw that it was effectively six changes that were made in terms of who was playing. I for one wasn't so sure that was the right move to make, but hoped that England would make the most of the opportunity. And Jamie Vardy was at least starting which was something.
I must admit that the next hour and a half was an exercise in frustration somewhat. We had basically done most of the midfield work, dominated most of the possession but just couldn't deliver to the final ball, primarily due to the fact that Slovakia, led by the Liverpool defender Martin Skrtel, were defending for their lives, and also because of some poor final decisions for the final ball into the box. As the game wore on, and we put the likes of Wayne Rooney on for some more attacking fire, but still nothing. It was going to be one of those nights.
When Slovakia celebrated at the final whistle, you suspected that they had already planned to play for a 0-0 draw and take it, and with other teams most likely not to be scoring 4 points for third place, qualification was assured I reckoned. Also with Wales demolishing Russia 3-0 with a brilliant performance, they were top of the group and so face an easier route. We will be playing second in Group B (one of Portugal, Iceland, Austria or Hungary) but getting past that may mean a quarter final against France in Paris... Tune of the day in the meantime is "Born of Frustration" by James. Seemed appropriate somehow.
Sunday 19th June - Streatham Stroll
The Love In My Heart and I got up and had a nice cooked breakfast together, which was really nice to do for us both. I'd got The Love some plum tomatoes as well to go with her breakfast, and also did some sausages, mushrooms, egg and bacon and toast too, so felt good to do all that. We had some orange juice and thought about what to do, and I suggested a nice walk around Streatham Common and the Rookery, with the proviso that it wasn't that far to be able to get the train, and indeed a bit of greenery is always welcome.
So it was a walk to East Croydon station and to get the local train which stops at Selhurst, Thornton Heath and Norbury before then going to Streatham Common station where we'd get off and follow Greyhound Road uphill to the Common itself, crossing the busy A23 first. We followed the Capital Ring path I'd walked down a few weeks back and walked up the hill towards the top, and had a sit down and rest at the Rookery Café with a cold drink together. In fact lots of bowls of water were out for all the dog walkers and owners, and the dogs were all well behaved on leads and having a nice drink to relax. Very civilised in fact.
The Rookery gardens were all lovely too. It reminded me a little bit of the rockery in Fletcher Moss Gardens in Didsbury, Manchester (one of my little favourite places) and it was nice to walk downhill, explore all the little gardens such as the white garden, the walled garden and see the pond plus the former well that brought up the water from the ground too. It certainly was a place that we both enjoyed a lot, and after that we then walked out of the Rookery and along the path, crossing the council border into Croydon and to Norwood Grove, admiring the view of the house and the gardens below and the view down to Croydon itself.
We walked back down the path through the trees after that and back to Streatham Common, and followed the hill back down and to the train station. We thankfully didn't have to wait long for a train to West Croydon, but at Selhurst the announcement was made that the train was being prematurely terminated there due to a lack of train crew (I assumed as the depot is round the corner, the driver to take over the train hadn't turned up - typical Southern railway unfortunately.) Thankfully a train to East Croydon was a few minutes behind so we got on that and we were all back without too long a delay.
We'd arrived back and decided to leave for Euston a bit earlier, and took the train and tube and headed to Warren Street tube to avoid the escalator madness at Euston, and got to the Crown and Anchor, where a nice drink and some lunch was awaiting us as ever. The Love had the fish and chips which looked spot on, especially the presentation with the mock newspaper style. I had the chicken and ham hock pie, and my was that bloody excellent, lots of chicken and a proper pie, none of this pastry case lid in a dish rubbish (the staff share my view on proper pies, so always good to see!)
It was a massive hug and kiss at Euston for The Love as she headed on the train home, and for me it was a little sadness that I headed home on the tube and train, and watched the F1 race from Baku later, which was pretty decent despite a Nico Rosberg dominating win - Sergio Pérez did a superb drive to get third, including a great overtake on Kimi Raikkonen later on. I also was a bit gutted that Jenson Button didn't get points, his drive deserved a lot better than 11th in my view. The circuit was a winner though especially with the old castle and old town in full view, and "The Chain" by Fleetwood Mac (tune of the day) belting out with it all just sounded so good...
Saturday 18th June - Mission Actually Possible
It was a nice morning to spend sorting out the flat and getting everything all lovely and tidy (not that it needed that much to do, but always good to get it uber clean anyway.) As part of that I did all the insides of the window and both sides of the juliette balcony door (as it can open inwards and I can get to do both sides.) Of course doing the outsides of the windows concerned is nigh on impossible unless I risk life and limb attempting to do so, and felt better to be safe than sorry. But at least I'd got the insides sorted so that was at least something. And on top of that I managed to change the bedding, head out for a candle lighter and air freshener, and all was good.
The Love In My Heart was coming down to see me for the weekend, and so was on her way from Manchester to London Euston and then across on the tube and train to East Croydon. She messaged me once at Victoria so I knew to walk over to meet her at the station. Of course it was lovely to see her as ever, and we headed back to my place, made sure she was all unpacked and freshened up, and decided to have a walk around the Croydon Heritage Day stalls in the North End, and maybe do a little bit of shopping as well.
But first, lunch, and so off to the Spread Eagle pub round the corner. I had a very nice smoked salmon granary sandwich, and The Love had the hot steak one which also looked good too, and a drink by the window was also nice just to chat and catch up - and from there it was a short walk to the North End and to peruse the stalls which had many different angles on the local heritage. The folks from Shirley Windmill were there and I observed that they should have brought their home made cakes along to tempt people (and indeed, visit them, as their cakes are fab!) but it was good to see also that the stage had local dance acts which could have easily gone on Britain's Got Talent - the two we watched together as an act looked decent.
I then went into HMV and still had some gift cards from my relations, and so was able to see what was on offer there. In fact they had three Blu-ray discs for £20, so I had a good look as it was a good idea to possibly top up the film collection for free. In the end, I went for Mission Impossible: Rogue Nation, The Prestige and Steve Jobs, so plenty for us to watch in the weekends when The Love is along if we fancy some chill out time. I also picked up Jeff Beck's seminal "Blow By Blow" album including the awesome track "Scatterbrain" (make that tune of the day) for a mere three quid as well, and had enough on the gift cards to to cover the lot, so all good there I reckon.
We headed back to mine and I watched the F1 qualifying from Baku, and it was pretty exciting, with Lewis Hamilton hitting the barrier and not managing that well in the end, and Nico Rosberg on pole. I later on indulged The Love with the likes of Escape to the Country whilst I made the tea, so we had tomato and basil soup to start with a sesame baguette, then a beef bourbignon main complete with green vegetables too. I'd also got a bottle of prosecco and so was able to have that together, thought it was nice to do so.
We later watched Mission Impossible: Rogue Nation, and naturally as a fan The Love was more than happy with Tom Cruise (she loves him so can't argue there.) The film was enjoyable and with the surround system on full blast it was even more good fun as the explosions really sounded good throughout. It was a good two hour romp and Simon Pegg was pretty ace as Benji, and plenty more this time round including Alec Baldwin as the CIA person (and being Alec Baldwin throughout), plus an excellent British spy female lead that was by the Swedish actress Rebecca Ferguson too. It was all good and it was nice to chill out together and enjoy that.
Friday 17th June - Chucking Out The Proverbial Chintz
It was a nice little trip out to IKEA after work tonight. Part of the reason was of course that the sale was on, and I wanted to see if there were a few little bargains that I could possibly pick up. I had the email from them earlier in the week and the most interesting thing of all was the Fargrik plates. Granted, it's dark lilac, but if it's 40p for a plate and another 10% off that with an IKEA Family Card (got one of them of course) and I also thought that I might need some glasses too.
No surprise then when I got to the dining section that all the main large plates had gone. Granted I could get the side plates and the bowls etc, but to be honest, I wanted to get the whole lot in one go, so was a little gutted. I did however get the little tealight holders as well as some tealights, and also managed to get these rather good little champagne / prosecco glasses for £2.50 for six, so all good there. In fact I was half tempted just to try and get two or three, but the whole box was better value, and of course meant it'd be less likely to break on the way home too.
I managed to head back to the tram station and get the tram back towards home, and it was a relatively easy walk to get back too. I had a phone call later from the Sainsburys delivery driver, claiming that he couldn't locate the address, and had in fact gone to another road of the same name a few miles away. He did at least get to the right road eventually, and the sat nav it seemed was out of date as it didn't seem to understand the post code (despite the fact I've been here over six months and that the other deliveries I've had all seem to have managed okay!)
Anyway that done I settled into seeing the Spain v Turkey game tonight on ITV. And wow, that really was men against boys wasn't it? Spain looked commanding and they were passing at will, with Manchester City's own Merlin in David Silva orchestrating things nicely in the midfield too. It was a good 3-0 win for them and should cement their qualification from their group. I must say I was surprised to find out a week into the tournament it was the first time that any team had scored three goals in a game and we're half way over the group stage now.
With some irony tune of the day is the epic "It's Grim Up North" by The Justified Ancients of Mu Mu (aka the KLF.) I say irony as it's hammering it down here in Croydon and much less than it is doing in Manchester at the moment, which does say something I think. I remember the classic video which looked like the likes of Bill Drummond was up on the moors of the M62, but so well staged nonetheless. Ah, the days when you had these sort of singles on 12" as well..
Thursday 16th June - Croydon Comedy Calling
I got to the bottom of the Firefox issue with accessing the Intel AMT web pages. Both my hunches were correct, so yes you needed to bring in the Certificate Authorities, and I simply exported the .cer files out from Internet Explorer, imported them into Firefox and they were visible. This also allowed me to then save out the file cert8.db which is the certificate store that it uses, and so be able to use that elsewhere. And then one simple Firefox setting I had to change which was to do with the TLS fallback. The default was 3, which is TLS 1.2. Set this setting to 1 (ie: TLS 1.0) and it all worked. So I've started to document a guide on that.
Once I got home later I had some tea, watched Northern Ireland do the business against Ukraine and got ready to face the rain. I had managed to at least keep an eye on a big screen in the office which was attempting to show some of the England game earlier, and I had noted that Joe Hart should have stopped Gareth Bale's free kick. However, it was also notable that the England substitutes made for a difference and the fact that both Jamie Vardy and Daniel Sturridge scored showed it was the right decision, and hopefully we'll be favourites now to qualify from the group.
Nice though tonight to head out and take one bus to a gig - namely a venue called The Gold Coast which was not far from Norwood Junction station, but very easy to get to overall. I mainly was going to see MJ Hibbett play of course, but I wanted to see the others on the bill too, so I got there, located Mark and Steve, and lots of conversation with them, Tim Eveleigh and Gavin Osborne about the football and stuff, before we headed upstairs to the little function room where all the action was happening as part of the Croydon Comedy Festival.
First up was Jenny Lockyer, who always makes me giggle with her songs, especially as it's delivered in her own little quirky way. I must admit that for me "Mummy Can't Drive" was really good, and she went into this mode of being a Scandinavian type therapist playing a song, which certainly was different. She did also include "Chocolate Cake" which also is really funny, especially by the end of the song when the cake is being devoured in a most lustful fashion!
MJ Hibbett was on next, and eight songs of quality tonight. I must admit though I was really pleased to hear the classic "It Only Works Because You're Here" (make that tune of the day) as it just has a lovely feel to it, and the whole crowd sang along to the chorus, which was a rather beautiful thing. He played stuff from the new album "Still Valid" including the likes of "That Guy", "In The North Stand", "Can We Be Friends?" and my current favourite from said album "(You Make Me Feel) Soft Rock" and yes, people were indeed punching the air along to the chorus too. It simply had to be done I reckoned.
Grace Petrie was supposed to be on last but she had a train to catch later so she was on next instead. And she was very good indeed. Plenty of songs with a real passion and feel including "Ivy", her niece, born the day that she was making her way back from Glastonbury early to be able to be there for the birth, and the one that got the audience going the most was "They Shall Not Pass" with them singing along to the chorus and yelling the "Save Tomorrow!" part rather well. I also liked her song about how it works living with a partner who is a vegan when you're not and how through gritted teeth you'll accept the taste of Alpro soya milk!
It was getting a little late, but Gavin Osborn still did a quality set. This included "Closing Montage" which effectively is a spoof of all the closing parts of US TV series and how they all look ever so cheesy (which they do) and for the encore, "Albert Went Out To See Rock Bands" which really had the audience have a big grtin on their face even at around 11.15pm (as I said, late finish!). I also quite liked the one about sharing a bath with someone and how it can go rather horribly wrong.
I said my goodbyes to everyone, and it was really nice to see Jenny again especially as her quirky little songs really do resonate nicely with me. I thankfully didn't have far to go for the bus stop, and 1 minute for the bus. And the irony - a 197 home. I say that because when I went to gigs at Manchester Academy, the 197 was the bus I'd be getting home back to the old house, so almost full circle in a way there. Surreal I know but it's just how it works out sometimes!
Wednesday 15th June - CA Plus TLS Equals Success
I had a long morning spent with one of our senior Windows Systems Team and an external person, whom they had brought in to sort out issues with the Certificate Authority that my work place has. In effect this allows certificates to be issued to web pages, desktop clients etc and thus with some correct configuration it means that you can accept them with no issue too. However, the key thing is that the certificate chain mustn't be broken or else that can cause problems, notably as it turned out with the likes of Intel AMT TLS provisioning, which is what I wanted to do.
My colleagues had spent a fair chunk of time getting things sorted on the authority front, and wanted to see if we could now provision an AMT machine complete with the relevant TLS settings so that when you access a web page of Intel AMT, you can see if it is secured. The provisioning wasn't working, with the error seemingly still thinking of an error somewhere. Then we worked it out - even though the CA has a web address in there for the certificate revocation list (CRL) if that isn't allowed to be seen in the certificate (it needs to ensure that it is, there's a tick box you have to do for this) it can't resolve the chain and therefore fails!
Once we got to the bottom of that I did some testing with a test machine, and not only showed that we could provision just the TLS security part on its own, but we also tried to then do the whole hog - complete provisioning with the TLS security, and it worked! So what this means is that we can effectively access the web interface of the AMT enabled PC via a secure port, the certificate shows that it is issued correctly, and all works as I want to. Woohoo.
Well, almost. I still need to where possible need to get Mozilla Firefox to play with it, but I think I have two good reasons why. First of all, it looks like from what I can see is that the CA certificates are understood and approved by Internet Explorer (most likely due to some Group Policy setting to understand the CA) but also because IE allows TLS 1.0. Firefox should too but later versions also seem to not want to view TLS 1.0 automatically and will always attempt TLS 1.2 where possible, so I could work around that I reckon.
It was good to therefore relax with the football later and indeed listen to some classic 80s songs as well including the whole of Ultravox's classic album "Rage In Eden". For me it's always one of their most underrated pieces of work, not least the second track, the superb "We Stand Alone". When my friend and I saw this live a few years back, we were like "oh yes, they're playing album tracks, get in!" - and it's a cracker too. Tune of the day an easy decision therefore.
Tuesday 14th June - Autodesk Again
There was another session of packaging today, namely this time Autodesk AutoCAD Map 3D 2017. This particular product isn't covered in the standard Autodesk Building Design Suite - it is part of the Infrastructure Design Suite but where possible I wanted to try and keep away from adding more suites if need be. As it transpired I needed also to go through the process of acquiring a serial number for a new product, registering for a network licence with its serial number with the MAC address of the licence server, and then from that being able to then add the licence file accordingly.
That did work pretty well and on the whole it also meant that I was able to document that, as well as the way to retrieve serial numbers already obtained, and then as I was going through AutoCAD Map 3D, getting all of that sorted out as well. For me at least it was a real positive feeling to be able to get that sorted, and then try to deploy that. I also wanted to make sure that was done two ways: firstly with AutoCAD already installed to make sure that Map 3D could live with it without issues, and then which I'll do tomorrow a standalone install of that only.
In fact I set off to reimage two of the virtual machines with Windows 7 in question and have put on our Windows 7 new image on both, to make sure that everything is working correctly with the whole process, and all appears to be working very well indeed. It then means that I can then try out more installs, have a snapshot on hand to roll back to so I've got the current build on hand whenever I need it, and then all should be good there. Sometimes preparation means less perspiration.
I got home later on and saw most of the Hungary v Austria game, and I have to say that Hungary were good value for their win - they went for it, and when Austria went down to 10 men, they still kept pressing as much and then got the second goal late on. It goes to show that maybe some of the less fancied teams are being given a chance to apply themselves and it's when they do this that it's a really good positive. Also seeing Vincent Kompany, the injured Manchester City captain, do some punditry tonight for the Portugal v Iceland game was a nice treat too - he knows his stuff.
In fact talking of Iceland I was reminsicing about how they used to sell that infamous prawn ring by the bucket loads, and how in the 1990s one of the most underrated bands of the time, Bennet, brought out a great single called "Mum's Gone To Iceland" all about the consumerism of the time with a rather catchy riff all round. It's amazingly still pretty relevant now, and I can remember my friend and I seeing them the night that they hit number 34 with this. Classic is the word and tune of the day.
Monday 13th June - A Lidl Difference
It was good to get into the swing of things at work today, and the first thing I spotted was to get some of the Autodesk 2017 products up and packaged. I had already obtained the necessary licence for Building Design Suite 2017, and as part of that meant we could package AutoCAD individually, and the suite serial number plus network licence would work just as well with that. I had already downloaded the installer and so needed to go through the guides to create a network deployment, something that I had done before on many occasions using their tool.
I was also documenting as I go which made perfect sense as I could get various screen grabs along the way and make sure that what I was writing corresponded accordingly. For me it's definitely a case of meaning that I haven't forgotten how to write quality documentation and also meant that in terms of being able to have that for other members of the team to pick up as well, so all good too. I also made sure I tested the installation thoroughly on a Windows 7, Windows 8.1 and Windows 10 virtual machine, and ran the software afterwards as a limited user to ensure there were no issues. All good. Happy me.
I was even happier later as I'd got the train to Mitcham Junction, changed there for the tram and got off at Reeves Corner and walked down Church Street in the centre of Croydon. And it looked like ahead of schedule the revamped Lidl had opened, so well worth a mooch in there I reckoned. And actually, it was all good. Very good in fact. Not only is it a lot neater and tidier all round, but the bakery at the back with lots of freshly baked bread and cakes, the fruit and veg at a very reasonable price, plus in addition the offers all looked good.
Even better for me was that their real ale offers were spot on, with some guest ales being 99p a bottle, and some of their more regulars such as the Sambrook's Junction being £1.29, again a decent price. Best of all though for me as a fan of all things Cornish was the Skinners Brewery Betty Stogs Ale, at £1.49 a bottle. Well for that price I simply had to get myself two bottles. Items like the milk were at a good price too, and although a fair bit of the other stuff (sauces, tinned items etc) are some unknown branded stuff, the meat looked good and fresh too, so it may be a place I get bits of shopping from - especially the beer side!
I headed home later on and then watched the Euro 2016 football, seeing the Republic of Ireland go 1-0 up with a well taken Wes Hoolahan goal against Sweden, and only an own goal stopped them getting a win. Later on perhaps the result of the tournament so far as Italy countered superbly to not only take the lead with a well taken Giaccherini goal against Belgium but then settle it with a sublime Graziano Pellé strike in stoppage time. The Italian anthem is tune of the day as it certainly stirred the emotion and passion of the players and fans alike, and showed perhaps that you have to be not just a good team, but a well drilled team for tournaments.
Sunday 12th June - Beef and Pudding
The Love In My Heart had a relaxing morning, although the two cats were doing their best to wake us up. In fact Jô had scratched me yesterday after I had attempted to stroke him, he did his annoyed "meow" noise, and another stroke caused him to lash out. He then did the same to The Love this morning, which I didn't expect as he's normally as placcid as anything with her. I must admit though Brian loves a stroke and a cuddle, and he's always one to appreciate lots of gentleness and kindness to him, so I know now if Jô gives out his annoyed noise, stay away till he calms down.
We got ourselves showered and changed after breakfast and headed off to the city centre, and it was still raining a little although not as intensely as around an hour before, where hail stones were bouncing off The Love's decking at the front. We were going to meet our friends at The Bank first for a drink before heading off for some food, and indeed we arrived at The Bank with the Nicholson's Pale Ale on some fine form, which was always good for me to enjoy that, especially as it's proper Cornish ale from the St Austell Brewery. Oh yes indeedy.
We walked over to Beef and Pudding, and I'd never been in before, although The Love told me great things about it when she and our friends went in last time around. Their Sunday menu looked good too, two courses for £14.95 or all three for £16.95. One look at the desserts convinced me that in fact all three was very doable. We also had a very nice booth table as well which allowed us to have a good natter and catch up and be able to relax in some lovely surroundings. Later on in fact we had a pianist play at one end of the restaurant playing some classic songs, although he didn't do a good job of Metallica's "Nothing Else Matters" it has to be said...
Anyway, so to the food. The Love had the paté which looked gorgeous, and I plumped for the smoked salmon and fresh bread, and that was stunningly nice. In fact I placed some of the salmon on the bread in small bite sized chunks to almost give it a little bellini look and it was really lovely, spot on stuff. That bode well for the main and that did not disappoint whatsoever, the top side of beef was cooked through rather lovely with some gorgeous gravy, roasties, Yorkshire puddings and a selection of vegetables. The Love had that too and also really enjoyed it a lot too.
I was the only one to go for all three courses and have a dessert, and the sticky toffee pudding sundae was very different, it was effectively a warmed sticky toffee pudding and cream but inside an ice cream sundae glass. It was lovely though and I really did enjoy that a lot to be honest. It was all good as they had Dizzy Blonde ale too, so that went nicely with the meal, and lots of chatter and catching up ensued, and we went back to The Bank too later on for a drink before then saying our farewells.
I headed off to Piccadilly with The Love In My Heart, and we had several hugs and kisses before I headed to get my train. It was such a nice weekend that went too quickly, but on the plus side it was so good to catch up with all sorts of people, and the journey to London Euston even arrived twelve minutes early, making it a 2 hour 1 minute trip, possibly the quickest ever on record! Tune of the day in fact is "Full Throttle" by The Prodigy, which played on the iPod and summed up the train trip too somehow.
Saturday 11th June - Rain, Shows and Equalisers
It was hammering it down with rain in Manchester. And I do mean hammering it down. It had been a case of knowing it was going to be bad, but it just didn't want to stop for most of the day. We originally were going to be heading off to Lancaster to see the sky dive from The Love In My Heart's niece, but we'd had notification that the weather was going to be really bad where the dive was and so it had been postponed until the 25th June. Luckily I am up that weekend and so we'll still be able to go and cheer her on.
Instead we thought that rather than attempt to rush round tomorrow, we'd head over and see the MMU School of Art degree show this afternoon, and so The Love and I headed in her car and off to the University of Manchester car park, as it's close by and also a mere £2 all day to park, which we didn't mind paying to be honest. The Love had a big brolly so we took shelter under that as we headed across past the Northern College of Music and on to the Benzie building for the main bulk of the shows.
Overall, we were both impressed. I quite like seeing the Foundation Art and Design lot first anyway as it gives you a good indication of where they're going to go afterwards and how their initial work is their first shows too - and some good fashion design pieces particularly in there; as was the case of the fashion designs being shown off in the main 4th floor gallery in Benzie as well, with lots of really innovative and individual costumes looking the part there - and quite andrognyous in parts too.
The master of architecture took up the 3rd floor, some really good stuff there, but The Love and I always adore the illustration with animation shows on the 2nd floor, as some of the illustrated books, notably some stories for children, are really well done. In fact The Love picked up a few cards as she might be seeing if there are copies available for her workplace (makes sense!) - and it was just really beautifully illustrated on the whole. Graphic Design here was good too, as was 3D Design on the first floor especially with the jewellery, but also the upholstered cushions and chairs made to have a Mancunian illustrated design on one. I wanted one of the chairs a heck of a lot but I can only imagine the price tag..
The Love always adores her textiles so a lot of the textiles in practice on the ground floor were good too, the wallpaper, the scarves (she is a scarfista after all) and the lovely flowing shapes of some of the other garments were good too. I adored the photography over in the Holden Gallery though, most notably of all perhaps the football inspired ones, and the gallery there did seem a perfect home for their work rather than being shoved into a side gallery somewhere, so good stuff.
We had a coffee and cake in the Art School Café before heading off too, The Love had a really nice Victoria Sandwich which looked light and lovely, and I had a blueberry cream sponge, also gorgeous too. It was then braving the rain again, a quick stop via the house to make sure no post was there etc, and then back off to The Love's place, where we had some lovely tea including a chicken en croute which was from the new butcher's place inside the revamped Asda.
My friend and his wife came over to see us at The Love's place later, and it was really nice to see them both. The England game was on at 8pm so a perfect way to get everyone together anyway, and much chatter ensued as well as me and my friend cheering on England, so much better than the idiots off the pitch who seemed to want to cause trouble if possible (although it also has to be said that those idiots are probably not genuine football fans either) and on the pitch at least, the team looked half decent.
During the second half in fact England got a free kick and Eric Dier smashed it home brilliantly. I think our cheering may have scared the cats Jô and Brian a bit, but it was a great goal. At five minutes to go I said to my friend "would we take 1-0?" and he agreed that it'd be good. Alas though in stoppage time a corner was cleared but the ball wasn't attacked, allowing a Russian cross to get to a head and loop in the corner for 1-1. Absolute sickener and not the result we were hoping for really.
However, it was all good catching up with the two of them anyway, and lots to chatter about including the possible sale of my house in Manchester, how things are with City and how he managed to keep the same price for the season ticket for next season (so all good there) and lots of other stuff. The time went by far too quickly and before we knew it, it was 11pm and I was saying my goodbyes as my friends headed home. It was a good time all round though and today's tune of the day reflects that: "Today Is A Good Day" by MC Solaar, a perfect upbeat song despite the rubbish weather.
Friday 10th June - Manchester, Here I Come
The end of another week and one I must admit did feel like a long one - primarily because it's been almost two weeks since I've seen The Love In My Heart and I do miss her a lot. I knew though that we had a good weekend planned and a Sunday lunch with some friends too, so it would be good catch up times also. I wanted to take in the MMU School of Art degree show, as we've been the last few years and it's always been good (plus it'll be nice to go back not as a member of staff but as the public visiting the show and seeing it more first hand too).
So it was off to Euston, and as per usual, it always really annoys me on the tube stations just how everyone appears to be in a rush and forgets their basic manners, so much "me first" going on. In fact on the tube I decided to get off at Warren Street instead, and that meant a nicer walk over to the Crown and Anchor where a very nice pint of a Orkney ale, a dark one at that, was waiting for me. In fact the humidity was horrid outside so having some lovely aircon inside was the place to be, that was all rather nice too.
After a nice drink in there it was off to have a mooch in Calumet. I have decided that if I do sell the house I am going to treat myself to a new camera, namely a full frame Nikon, and I know either those or LCE have some Nikon D610s in. Granted it's not the most expensive full frame ever, but to be honest it's had some cracking reviews over its time and my AF-S f/1.8 50mm lens and my 28-80mm lens I mainly use for the Nikon F80 film camera are both full frame, so I wouldn't have to initially outlay on any lenses either, which is obviously a good thing.
It was on the 1820 to Manchester Piccadilly then and on with the iPod to listen to some cracking tunes, including Dream Theater's "As I Am" (make that tune of the day) and speeding through the countryside passing through Rugby, Nuneaton, Tamworth and Lichfield on the way to Stoke on Trent, and from there a quick stop at Stockport followed by a nice run into Manchester Piccadilly and it was still light as I arrived a couple of minutes early from my 2028 intended arrival, woohoo!
The Love In My Heart was waiting at the short stay car park and we sped off to hers in good time for a coffee and a watch of Gogglebox together, the last one of the current series at that. We both had a giggle at some of the things that the young daughter Ava from the Moffatt family said, and also wondered what their comments would be on the Cameron v Farage EU debate. It was funny as a lot of their sentiments matched the public, and how many people see Boris Johnson attempting to be posturing for Prime Minister (something said in a later debate in fact.)
The Last Leg was also on (hurrah!) and in fact they had Jeremy Corbyn on, so fair play to him for going on there. Actually he was very dry and some people may not have got that and thought he was miserable a tad (The Love for one) but in fact he calmly explained his reasons for wanting to remain in the EU despite some reservations. It was professional, calm and polite and a massive chasm away from the circus of shouting (most notably from Eddie Izzard) over on Question Time, so kudos to Jeremy there. And they had Russell Crowe back on, always a good thing in my book.
Thursday 9th June - Changes
So, another day at work and another CAB meeting - to be honest, I'm having to process that many changes at the moment that it's virtually a weekly occurrence in the calendar and one I've pretty much got as a fixed appointment. I did however have a very good reason to go and that was down to the fact I was proposing a Group Policy change to the main desktop group policy, which looks to our current Windows Server Update Services (WSUS) server for Windows Updates for desktop clients.
In effect we'd built a new Windows 2012 R2 server, and as this had better support for Windows 10 clients and optional updates such as the language packs (so for example you can have UK English and therefore proper Cortana and all that it made perfect sense after some extensive testing to get the policy to talk to the new server and accept updates from that. In fact I had already prepared the server to match the same OS systems and category types as per previous, so all should be seamless (here was hoping anyway)
So it was a productive CAB meeting and pretty much everyone backed up what I had planned, and with the fact I had written a very good proposal including back out plan and indeed the benefits of doing said change, it got passed without a problem. That effectively meant I could switch the policy over, and soon found out that once that happened and the PCs were being switched on and refreshing their policies, it meant that soon the new server was seeing those clients in the locations they were previously in terms of computer folders, and by the end of the day that was around 1000 clients or so, already. Happy little me I think.
I did also spend some time tonight transferring some of the new albums I have to the iPod, so I have them on there for travelling on the train and such like. Of course this meant the useful CopyTrans Manager to do it, so no faffing around with iTunes - and as a result so much easier overall (primarily as you can add/remove as you like and not need to have a library synched with iTunes all the time whch is a pain in the backside - plus iTunes is notoriously poor in Windows performance, it slows your system down) - and of course it is also much lighter, so all good.
In fact I listened to Robberie's album "Beneath Your City; As You Dream" as I was transferring stuff over, including that album, and it was particularly lovely to hear "Seven Hills" which is the song that they wrote about returning to your home town (in this case Sheffield) and how seeing certain landmarks and places really makes you feel like you are coming home. I must admit for me when I am on the approach to Manchester, I do get those feelings too so tune of the day is an easy choice. I know that it was my move and a good career move to come down here, and I do at least have a lovely place to live, but there are parts of the home city I wish I could have brought with me...
Wednesday 8th June - A Cut Above
The thunder and lightning that had been happening yesterday afternoon had meant some torrential downpours, and had in fact flooded the road under Wallington railway station half way between Croydon and Sutton. It was more noticeable this afternoon at work at just how close the thunder clap came after the lightning strike, and it was definitely visible as I looked out of the window in the office. It was also today the last day at my current desk due to a decision to change people around desks in order for us to work closer together.
As it happened, and with two desks designated as working space for testing etc, what it meant was that once people had moved around, I was then moving to the new desk space, so taking the PC and two monitors, the phone and all that sort of stuff. I guess it'll be a case of getting settled to the different surroundings and seeing how that works. What I was able to do though was to least be able to test out a few things and make sure connectivity was all good, and I could work from there.
I did however manage to get a nice little thing working on the planned new Windows Update server. The old one had a scheduled task which ran a Powershell script which did the Windows Update cleanup and sent an email to tell you it had been done with what had been done. I changed the paramaters as needed for the new one, all good there, and then realised that due to it being Windows Server 2012 R2, you needed to add a full stop after powershell.exe and before the path to the script on the network. Once that was done, sorted, all worked as expected and one happy bunny.
In any case, I decided that my hair needed cutting particularly before I come up and see The Love In My Heart this weekend, and so I headed on the train from work to Wimbledon and then a short hop on the tube to Wimbledon Park, where James Barbers is located next to the tube station. In fact it was a good move all round, the bloke who did the hair cut was a proper mod styled bloke, who was really cool. He got it all nicely sorted and charged the same price as another hairdresser I've used down South. I did feel much more happier in here though it has to be said, and certainly felt tons better thereafter.
It was then back home on the tube and tram, and spent some time tonight sorting out pictures from last night's cycling but also helping my Mum out with some planned activities she wants to do when her friends are there. Realistically some of the things she had in mind might be too far for public transport and all that, but what I did spot was that there may be some opportunities for the train to be used to save time and indeed have a good time that way. We shall see how that pans out for her.
In the meantime I was spending time also tonight watching the highlights of the Pearl Izumi Tour Series from Croydon last night (I am pretty sure I spotted myself on telly during the women's race at some point!) and then seeing some more cycling as watching the Criterium du Dauphiné as well, which usually is a good warm up event before they take on the Tour de France next month. It reminded me of Kraftwerk and the British team at the Velodrome with said "Tour de France (étape 3)" on - make that tune of the day and them pegging it round in time. Ah, happy memories...
Tuesday 7th June - Croydon Centre Cycling
I made sure I left work on time today as I wanted to be sure I could get home, have something to eat for tea and then head out the mere 80 metres or so to the main road close to my flat in order to watch the cycling events that were happening in the centre of Croydon tonight. Back in the 1980s I remember the likes of the Kellogg's City Centre Cycling Series being massive things, and I can remember me and my brother heading off to Albert Square in Manchester to watch one such event many years ago, and that was properly rammed to say the least.
Not so much mega packed tonight in Croydon apart from close to the finish, where Jason Bradbury (he of The Gagdet Show fame) was helping to keep the crowds entertained (and host for ITV4 as it turned out) and the course was effectively a loop along High Street, around the back of Croydon Town Hall, down and up the flyover sliproads with a curve underneath, then around to Masons Avenue and back on to High Street. I had got a spot close to me for the start of the women's race and all was good to go.
In fact the women's race (as part of the Matrix Fitness Grand Prix Series) was very good - the speed and cadence was excellent and with the track still a little damp in parts due to the thundery rain earlier, it was noticeable how well they rode some of the corners. The bunch sprints were also good, and the pure speed generated shows how much breeze you got when the bunches sauntered past you at pace. I walked up the flyover and got some shots there and also along High Street and in a good spot for the last few laps and the finish too.
The race was won well by Grace Garner with a last corner lunge to the front and sprinting on from there to take a well earned win. The local mayor gave her some bubbly and an old school picture framed advertising Croydon as a destination, which did look pretty smart actually. Nikki Juniper finished third and that was enough for her to maintain the overall leaders jersey, and Drops Cycling Team won the team event, with plenty of their riders in the lead bunch (and all very happy smiley faces on the podium too, a delight to see after some lengthy tiring cycling they had done!)
The men's race started at 8pm and I had a bit more of a wander around, starting at close to the corner near Katharine Street, going along the back of the town hall, down the flyover, up the other side and also along Eldridge Road and got some good shots of them taking the corner from there as well. As there were plenty of breakaways happening and with the race over an hour long, it certainly was one to savour and enjoy for lots of different reasons.
I got close to the finish line with a few laps to go, and the pace certainly was increasing a fair bit too. In the end it was going to a sprint finish, and it was another win for the JLT Condor rider Jon Mould who was superb. Madison Genesis took the team award and that was noticeable as they'd bunched up together a lot of the time to organise breaks. I have to say though that Team Wiggins were a massive disappointment, they had the fancy trucks and car etc but the riders didn't deliver on the night. Tune of the day by the way is "Aerodynamik" by Kraftwerk - I had it in my head during the day!
Monday 6th June - The Heat Is On
And on the street, too. It's very warm today and I think certainly after the heat of yesterday, it's retained itself a massive amount as well. Of course being in an office where there isn't much air conditioning and indeed only a small breeze blowing through the sashed windows of the 12th floor is something, and I decided to make some plans today and crack on with a few things. That on the whole went pretty well, and I think for me too it meant that I was able to get some ideas moving forward.
It was also noticeable that when I did head on the train home later that it was an old train that they'd put on the service from Blackfriars to East Croydon, and as a result it was stifling in there, even with the windows open. Clearly it makes me appreciate when a train has aircon a lot more, or even if it's a more modern train - some of the old rolling stock that Thameslink seem to have are in my view not fit for purpose whatsoever. It was a relief to actually get off the train and make my way homewards to be honest.
I also spent some time tonight sorting out pictures from my walk yesterday from Crystal Palace to Streatham Common. It was very good to be able to do that walk and get some fresh air in the heat, but I was most pleased with one of the pictures of Streatham Common with the green grass, yellow buttercups and the blue sky giving the scene a nice piece of contrast. It certainly for me showed that sometimes you have to be in the right place at the right time to take the picture that you would like.
I must admit too that I have been missing The Love In My Heart a heck of a lot to be honest. She has really been my strength in all of this move too because she has made me feel that believing in myself is the way forward, and that we've managed pretty well despite the distance. In fact for me what is noticeable is that we're probably spending more time together at weekends, in a more concentrated span than we would have done before. Whilst it's not ideal with the distance, we know what our love is and how that also means we definitely definitely make the most of the time we do have.
As the cycling is taking place in Croydon tomorrow (literally at the top of my road!) I reminisced about the old Channel 4 theme for their Tour de France coverage, which really ITV4 should have also used. It's actually Pete Shelley from the Buzzcocks' excellent "Give It To Me" but remade for the series and also based on a remix he did when he was in the band Zip. Tune of the day definitely, and reminds me of watching the race with the likes of Bernard Hinault, Greg LeMond and Laurent Fignon. A bit like this!
Sunday 5th June - Sunny Sunday Afternoon
It was all set to be a lovely hot day, and so thought that it would be rather lovely to be out in the sunny weather and making the most of it. And I had at least one thing planned - a visit to a local windmill. I had some breakfast and a coffee, and watched some morning telly in my pyjamas and chilled out for a bit, and could see that gradually the weather was getting nicer, which had to be a good thing. I headed out later on and walked to the top of the road to the main road to the bus stop, and was soon on the 466 bus.
The bus took me through the centre of Croydon and then along eastwards before climbing Upper Shirley Road, where I alighted for the very short walk to Postmill Close where the Shirley Windmill is situated. The first tour was at 1pm and I got there a few minutes beforehand, and the Friends of Shirley Windmill greeted me and explained that once they had enough people, they would start the tour. It was nice to sit in the little green by the windmill and admire the view, and be able to look up to the windmill itself.
The tour was very informative, showing us around the outside and explaining why the loading door was on the first floor - this was due to Victorian era carts having massive wheels and as such meaning that the carts were virtually at that level. We then made our way to the top up some very steep and narrow stairs (hence the advice to come down backwards, facing the stairs) and at the top all the parts were well explained, including the brake wheel and why the cogs were wooden instead of metal on that wheel.
As we went down each floor, there were interactive bits, such as the model which simulated the wind and how the fantail would keep the windmill's sails facing the way it needed to, and the model of the windmill here was made in Meccano, and still working rather well. You also saw two of the millstones and how the grinding process worked, as well as the dressing machine and the way that the sacks were loaded with flour in a gravity fed process, and even the sacks were weighed for consistency and accuracy.
The tour was excellent and afterwards I perused in the little visitors' centre, and all reasonably priced merchandise too (for example, a mug for £4.) Even more reasonable was the drinks and cakes, so it was coffee for £1 and a lemon drizzle cake slice (and a big slice at that) for £1 too. It was the very least I could do, and sat there by the windmill enjoying both of them - all very nice and very good stuff. Needless to say, if you get time on the first Sunday of the next few months and you're around the area, do go and visit, it's really good.
I took the 130 bus from there to Norwood Junction, and then the 410 bus to Crystal Palace, and decided as the weather was still nice to take on another section of the Capital Ring walk. This time it was section 4, Crystal Palace to Streatham Common station, and so headed uphill along Belvedere Road to Weston Park, down through the park and across to Upper Norwood Recreation Ground, and once across there took the hill up to Beulah Hill, and then down through past the allotments towards Biggin Wood.
Once through there and walking along another road, it was then a right turn into Norwood Grove. As I headed up the hill, the rather fabulous house and the fountain in front came into view, and that really did look gorgeous with its gardens and views over to Croydon from the top. Exiting here, it was along a tree lined path and through a forest, and into Streatham Common, where the Rookery Gardens looked like that they had the remnants of a wedding party heading back to their cars!
I stopped off at the Rookery Café for a bottle of water, and then headed downhill through Streatham Common, admiring the greenery, before then passing the War Memorial and down the road to take me back to where I'd started the fifth section yesterday - at Streatham Common station. Even better was that the next train to West Croydon was two minutes away, so I soon was heading home on the train after another lovely afternoon out, getting some exercise and seeing even more sights, which was a positive thing in my view.
All was good today and the nice weather also helped too, so definitely for me a positive day, even if I still am missing The Love In My Heart a heck of a lot. Tune of the day in the meantime is the rather good "Journeyman" by the band Robberie, which is the opening track of their album. I enjoyed it lots on Thursday and it reminded me of one of Pete Green's songs I adore, "The Ballad of Phil Jevons" - both of which are about journeyman footballers and what happens to them. Cracking stuff.
Saturday 4th June - Capital Ring, Section 5
Today, with the weekend being all mine and not spending time with The Love In My Heart (boo!) I decided not to stay in and be miserable, and to make the most of the decent weather, albeit it did look a little humid and muggy. I was to take on another section of the Capital Ring walk, this time section 5 which starts close to Streatham Common railway station and ends at Wimbledon Park tube station. It had the added advantage of ot being so far to travel to and from either way, and so I set off for East Croydon station, picked up a coffee at Waitrose on the way, and was soon leaving East Croydon for the local train to Streatham Common.
Once out of the station, a walk along the railway line soon took me to the official start of the five and a half mile walk, and followed a path under the railway and along some quiet streets past Streatham Methodist Church and to Tooting Bec Common. The lido was to the right but I wasn't heading for there, but following a path through the common, diverting to admire the pond (although it is full of algae so not exactly safe if you fall in there) and then back along the path, across to the Tooting Triangle section of the common, and then heading off a maze of suburban streets and off towards Balham.
I stopped to admire the very art deco look of Du Cane Court, apparently even now the largest single managed block of apartments in Europe (there's over 600 apparently) and the local church close by, then followed Balham Park Road and off to Wandsworth Common. It was along the small part and then by the railway station, crossing over close to the Hope pub and then following the path to the right, close to the railway and also by the lake, and then heading towards the likes of the Skylark café with the bowling green and tennis court not far away. I then walked past the cricket pitches (and there was a game on too) and past Wandsworth Prison.
After that it was the long and straight road that was Magdalen Road, which took me past Wandsworth Cemetery and down to Earlsfield, and from there it was a walk through some streets across the River Wandle, and then off to Durnsford Road Recreation Ground, and did a circular walk in there before heading past Wimbledon Park Mosque and up the hill to Wimbledon Park station, and some five and a half miles or so was all completed. I did think it maybe wasn't the most interesting section in all, but the commons and the nice scenery in there helped a fair bit.
I then walked into Wimbledon Park as I seemed to remember that there was a crazy golf course in there, and so there was! I had to have a go, even if it was £5.30. The woman at the kiosk did tell me that some of the carpeting in some of the holes wasn't fully repaired, so if I liked I could go round twice instead. That was good, and on the first hole I got a hole in one, didn't see that coming! Most of them were pretty decent set ups to be fair, and the last one where it's almost a spiral into the centre was pretty ace too.
I walked back to Wimbledon Park station afterwards and took the tube and then the tram back home, and spent a bit more time listening to the new MJ Hibbett and the Validators album "Still Valid". Another track I really like from there is the rather fun "(You Make Me Feel) Soft Rock" which is mightily uplifting too, and describes how it's like to love when you're older and how it makes you feel, with optional punching the air in time to the chorus too, so tune of the day for me.
Friday 3rd June - End of the Week
So a nice Friday to end the week at work, and made some progress in some things, and less progress in others. One thing to check out was to look at the 32 and 64 bit versions of the Java 8 Update 92 client for installation. Interestingly, although the MSI is hidden inside the installer (and if you know where it ends up before you click the Install button, you can get the MSI out) it isn't the enterprise MSI version. However, it looks like there was already some useful Java properties on the Windows clients set so that the updates were hidden in the control panel, and so no auto updates would happen. So should be easier.
It was a case of having a little quality time out at lunch too, so the Wetherspoons not far from the office was the port of call. I really wanted the hot dog for a change, but that was out of stock for some reason, so the fish and chips were mine instead, which was pretty spot on anyway. I also then spent some time this afternoon working on some of the Intel AMT stuff, which I now have to revisit because there's now a request for having TLS secure authentication to access the web interface of any AMT client, and that's causing some issues to try and sort out. I might have some ideas though.
It was a pretty good journey home for once, the tube to Balham was busy but got a seat, and the train to Caterham which calls at East Croydon actually was a minute or two delayed but made up the time a little bit too, so stopped off at Tesco on the way back, got some milk for next week, and also used one of my Tesco discount vouchers and got some Mach 3 blades along the way, so I can be all clean shaven and looking cool for the next few weeks. All then appears to be good with the world there.
I got some housework done, and then listened to the MJ Hibbett and the Validators new album "Still Valid" with a view to reviewing it in full soonish. Actually, listening to it as a more studio version made sense (instead of whistling solos when played acoustic) - especially with "In The North Stand" with its rather lovely trumpet middle part, so tune of the day for me there. It's growing on me with each listen, and that certainly allowed me to power through the ironing too.
It was of course BBC Music Day today too, so I did tune into The One Show, primarily as it was filmed from the Eden Project and had Nile Rodgers and Duran Duran on from there, as well as having a clip earlier of Ruby Turner inside New Street station in Birmingham. Best of all though was something The Love In My Heart told me about on North West Tonight, where Peter Hook went back to the famous bridge in Hulme where Kevin Cummins took perhaps his most iconic set of pictures of Joy Division - ace stuff really.
Thursday 2nd June - Totally Acoustic
It was nice to head out after work and head to a gig, and so once I'd got plenty done that I needed to do, I set off for central London around 5pm, taking the 453 bus as it's pretty much close to the office and heads through Lambeth North towards Westminster Bridge, then along to Trafalgar Square and down Regent Street to Oxford Circus before then getting to Great Portland Street, where I got off near the tube station. The good reason for that also is that there's a Pizza Express there, and for me with my O2 Priority it was a £5 main course to be had, so one La Reine pizza later and that was me all sorted food wise, hurrah!
I headed back down Cleveland Street and to the King and Queen, and lots of nice cask ale on, including the Ringwood Best Bitter, so had a pint of that and headed upstairs to the venue, and already Mark (MJ) Hibbett and Steve were there, and good to natter with them both (and indeed Mark's girlfriend Charlotte) beforehand, and all was good. In fact it seemed a lot easier to head straight out from work, have something to eat, and then go the gig and get myself a comfortable spot before all the action started tonight. Must remember that for future months when I head there actually.
So on first of all were Paul and Cathy Tornbohm. They were pretty good, and had a nice divide between the happier songs (earlier on) and the more slightly less happy songs later in the set. I really enjoyed "Dreamers Bureau" which summed up my mode a little bit in terms of how my first novel is coming along (or isn't, it's on pause!) - and very different from the jazz vibe of how they originally recorded it. They ended with a cover of a Elvis Costello song, and that was quite laid back too. All good there then.
On then came MJ Hibbett, playing the whole of the new MJ Hibbett and the Validators' album "Still Valid" in full, acoustic, and in track order. That was a brave move, and certainly having heard a few of those acoustic at previous gigs, it all went nicely. For me, "In The North Stand" still carries that wistfulness of remembering going to football as a kid, and "That Guy" has some intriguing paradoxes. Perhaps best of all though was during "(You Make Me Feel) Soft Rock" where Steve demonstrated the punching the air participation bit during the chorus, and pretty much everyone joined in at the right time. Joyous and fun all round, hurrah for that!
Another lovely highlight for me was also the excellent "The 1980s How It Was" which contrasted what people wanted you to remember about the 80s, but actually what really did happen instead. As a teenager of the 1980s that of course resonated too. The album was concluded with the rather good "We Did It Anyway" and that really did uplift the whole room nicely, and on the whole that was all enjoyable. Of course I picked up a copy of the album (not out till July, but I checked and there were copies available at the gig!) - so will have a good listen to that over the weekend.
A quick break ensued, and then on came Robberie. And they were rather ace, actually. Having a myriad of instruments between them for songs including glockenspiel, Stylophone, guitars, melodica and a tambourine, they had some lovely pop moments. For me though "Everyone's a Geek" was an obvious highlight, and really did show that back then when you were at computer club or playing on the Atari 2600 you were considered a geek, but now everyone has a gadget not just a few of us, and maybe we're all considered geeks now? Definitely tune of the day for me.
They also had some excellent other songs too, such as "Seven Hills" about Sheffield (where the band are from) and "Tomorrow" which was a more insightful song about leaving someone, but yet had some joyous gusto at the same time. I also adored "The Greatest Song of All" which was about how the songs of the birds sounds so lovely compared to listening to normal music, and the little glockenspiel intro yet sounded perfectly lovely to go with it. Hurrah for gorgeous indie pop, and I suspect this album is going to get ordered soonish (I could have picked one up but stupidly didn't!)
With all the goodbyes said, and seeing how lovely everyone was as usual, that took some time, and so it was off to the 88 bus to head via Westminster down to Vauxhall, and the train from there to Clapham Junction, where one of the trains to East Croydon (and on to Hastings) was cancelled, meaning some angry passengers who wanted to get back to Hastings - another example why Southern Railway and the whole GTR company need their franchises revoked. I eventually got home a little tired but rather happy all round really.
Wednesday 1st June - Bath White
I had a very nice item delivered to me in the post yesterday - all the way from America via the US Postal Service too. When I saw who the sender was, the smile on the face grew just that little bit wider, as I had a feeling I knew what it was going to be inside. And so it proved - the new EP from one of Kristin Hersh's projects, 50 Foot Wave. And even better, no having to send off for it from the USA and pay a shed load of postage, or wait for someone in the UK to get hold of it and then have to pay shed loads in import costs.
It's all thanks due to Kristin's idea a fair few years ago that to help raise cash for her to keep making music and indeed to ensure that she could produce and create albums either solo acoustic, with Throwing Muses, or indeed with the more power punk trio as 50 Foot Wave, she effectively formed Cash Music, with the idea being that the cash would fund the music and those who subscribed would be rewarded with the new releases automatically. That is effectively the privelege I'm at, which is commonly known as Strange Angels (or Strangels for short) - named after Kristin's second solo album in case you wondered. It's always made The Love In My Heart giggle at the fact I am a Strange Angel too.
Granted, it is US $30 per quarter, but you do get a fair bit of course back. I haven't as yet used it, but I could also get guest list passes for a gig of hers, plus an additional ticket at face value as well, which is like 2 for 1. In the past this has also meant backstage occasionally too. I am a fan of all her of music, possibly more attached to the solo stuff because some of the acoustic songs are just to beautifully moving (and indeed in some cases, heartbreaking), and for me it's a really good connection I have with it all.
Tonight was the first time to be able to listen to the EP in full, and I have to say it does grow on you somewhat. The title track "Bath White" is the longest on the EP, and anyone who dares to title a track "God's Not A Dick" must have some proverbial balls, right? My favourite currently is the swirling guitars that dominate in "Ratted Out" and therefore tune of the day as it gives plenty of warmth and flow to the whole thing. Kristin's raspy voice is in bloody fine form too, and that really does give the whole thing that sense of being on edge throughout. So all in all, a rather nice surprise.
I had another nice surprise too today as well - I had to have a phone call with one of our Microsoft contacts following the Boot X Ray stuff I'd taken part in last week, and it had been reiterated that not only had I picked up some stuff quickly, but also that there were some lessons learned which they were going to take back on board with them as well, which definitely for me made it somewhat a plus. I think it hopefully shows that I know what I am doing - and with my six month review around the corner, that could yet be pretty well timed overall. It's another milestone to get past and hopefully before the end of the year I'll get past the one year probation period and feel that bit more content.