Dear Diary... May 2015
Sunday 31st May - Triathlon Triumph
I must admit it was nice to have a lie in and sleep for quite a bit at The Love In My Heart's place this morning. I must have finally been feeling the effects of a hard week and also having a comfortable bed with the two cats curled up at the end of the bed probably also helped quite a bit. It was nice too that they seemed to be really content and chilled out, most likely because The Love had already woken up and given them some food earlier in the morning.
However, it was nice just to be up and around, and The Love had already started to watch the DVD version of the 2005 Pride and Prejudice film once I'd got showered and dressed. I didn't mind seeing it for comparison's sake, and The Love despite having watched it several times still massively enjoys it. I hadn't seen it pretty much since it came out, but immediately recognised the likes of Brenda Blethyn as Mrs Bennet, and also Rosamund Pike as Jane Bennet (who would later do such a really good role in Gone Girl too) - and naturally Dame Judi Dench as Lady Catherine.
We had a nice breakfast together and snuggled up to watch the rest of the film, which to be fair was a fairly nic way to spend that time. The Love got herself ready and I was watching the athletics from Eugene, Oregon later on with Mo Farah winning the 10000 metres but as yet being unhappy about the time he had set. With everything packed The Love dropped me off at home, and we chatted at my home for a while before having a massive hug as she set off back for home. We'd had such a lovely time and it was pleasing to have spent that together.
I settled in to watch the latest leg of the World Triathlon series, which was live on BBC2 from Hyde Park. It was the shorter sprint version this time around, so 750 metre swim, 20km bike ride and 5km run. From the start it looked pretty good for the Brownlee brothers but as they went in transition from swim to bike, Jonathan Brownlee's bike had a puncture, and he had to spend a lot of time changing the wheel, which effectively cost him any chance of winning the race.
Alistair Brownlee on the other hand though was on top form and in the leading group on the run. Some of the other runners were attempting to set a hard pace, but as they did the u-turn at one end of the run circuit, that's when he set off, and from there, no one was going to catch him, and he extended his lead over the two laps. So much so of course that he got a Yorkshire flag from the crowd and had it draped around him as he headed over the finish line for a much deserved win. And naturally Gwen Jorgensen dominated the women's race (10 out of her last 10 entries) to win that too.
In the meantime, tune of the day is something that neither winning triathlete today would do, "Implode". And the band responsible? Slayer. It must have been a difficult decision to carry on after the death of Jeff Hannemann, but when you listen to this as a precursor to their new album "Repentless" you'll be pleased to know it is classic Slayer - relentless, fast, angry and with Tom Araya on top notch form especially. Mightily looking forward to this which will be their first album in six years too.
Saturday 30th May - Seventh Heaven
Today was going to be a rather special day, as it marks the seventh anniversary since The Love In My Heart and I met. And I have to say it's been the best seven years of my life really, lots of happiness, lots of smiles, and above all else having the company of a woman who is beautiful, intelligent and inspiring all in one. I felt a really happy buzz as I left my house this morning and headed off to Piccadilly station to meet her, where we'd planned a hopefully rather lovely day all round.
We went and got a nice coffee from Costa, and headed to the 1020 departure for Sheffield. On the way, I had a brainwave that in fact we could go to Meadowhall later that morning as there apparently wasn't a branch of Zara in Sheffield, and I know The Love had some gift cards for her birthday. She thought that was sensible too so once at Sheffield station, I used one of the ticket machines and got two returns from Sheffield to Meadowhall with railcard discount (of course) which worked out well. We didn't have to wait too long and we were soon at Meadowhall, heading over the long bridge to the centre itself.
We located Debenhams as I still had my gift cards but nothing as such took my fancy apart from one nice green check short sleeved shirt which had Patrick Grant from Sewing Bee's name on it, which was quite summer inspired. We did however locate Zara, and it was much less mental then when she'd been to the Trafford Centre branch a while back, and she even managed to get two nice items, a really lovely top which had an illiusrtated figure on, very French inspired, and some nice sandal type shoes mainly for the beach, so all good there.
We were soon on the train back into Sheffield and took the walk past the Cutting Edge sculpture and uphill, and stopped off at The Graduate pub for a light lunch - I had a barbecue chicken panini and The Love had a chicken club sandwich, and a drink each. We actually got a little off the cost when we showed our tickets for what we were going to see later, so that was good. It was also still reasonably nice outside so we sat outside in the courtyard part and watched the world go by as we had lunch together.
It was then short walk to Tudor Square, and not only had we seen earlier a dance class doing a routine from the musical Chicago, complete with top hats and all, but now an Asian inspired dance with everyone in costume. We also noted two table tennis tables there, and people were playing on them (we'd also seen two by the train station as well) and it was a nice sunny day also, so all good too. We were making the walk across to the Crucible Theatre, as we were going to see a production of Pride and Prejudice there. It's one of her all time favourite books and indeed the 2005 film version with Matthew McFadyen and Keira Knightley she loves to bits, so made perfect sense.
Naturally I had to take a minute or so to acclimatise without there being any snooker involved, but we'd ordered the interval drinks, made our way down to the front row seats, and the view of all the stage was rather good, actually. I was hoping that it was a good show and that it'd really make a good effort of the book. The Love was naturally excited and I know that she had been looking forward to it since I'd managed to get the tickets a few weeks ago.
We were not to be disappointed. It was a quality show throughout and lots of really good acting, as well as a real sense of passion, warmth and humour throughout. The Love told me it did more than justice to both the book and the film so if it was good enough for her, it was good enough for me too. I have to admit I enjoyed it much more than I thought I would, primarily because I do enjoy a theatre performance, much more difficult to act out right and always shows a really good actor or actress off at their best when they convey themselves with so much emotion and passion.
If I could single out two members for particular praise, then Michele Austin as Mrs Bennet was superb - very buxom, very driven by hot passion but also with a real sense of giddyness at the same time. She really did give a powerful performance. In a different way, with controlled emotion and sense of presence, Isabella Laughland as Elizabeth Bennet did just that, her timing particularly was excellent in delivering her key moments, with a beautiful sense of using her lovely eyes to full potential to charm Darcy too. (in case you were thinking that she looked familiar, she was in the final three Harry Potter films!) But everything was really good, and if you get chance to see the production before it closes next Saturday evening I can highly recommend it.
After the show we headed towards The Moor and I went into the Debenhams branch there, and noticing that some of the shirts were in fact 20% off, this meant I was able to get the Hammond and Co Patrick Grant green check number I saw earlier, and indeed that meant it was £28, so used some of my gift cards towards that nicely. It also meant we'd both got some new clothes for free effectively and had used some of our birthday presents to good use for when we go away.
We were going to head to Ego close to the Winter Gardens for tea, but that was fully booked for ages, so instead we walked through the Winter Gardens and headed to Piccolino, and got a table for two on the terrace. This was rather nice, as we could see a wedding party go past and get some pictures in Millennium Square and towards the Winter Gardens, as well as people watch some of the other wedding guests whilst having a really lovely meal together. In fact the salmon farfalle I had was rather gorgeous, plenty of salmon in there, and even had a raspberry and almond frangipane tart for dessert too - it wasn't as good as what The Love makes, but still rather lovely all round.
We then headed back down the hill towards the station and had a drink in the Sheffield Tap, with some nice comfortable seating overlooking the station, and chatted about all sorts, before then heading through the station and getting the 2032 train back to Manchester, which was delayed approaching both Stockport and Manchester, possibly due to either a signal failure or crowded platforms in Manchester itself. It was a quick tram ride back to The Love's place, and we just were both really happy albeit a little tired after such a lovely day together.
It would be remiss of me not to have one of her favourite songs ever as tune of the day today, so it's going to be "Lola's Theme" by the Shapeshifters. It's a bit of a dance tune I grant you, but the words are what makes the song really good for her (and me) as it gives you a great uplifting feeling too - "I'm a different person, turned my world around" and that kind of applies for me since I've met her too. Plus she also has it as the ring tone on her phone too, so had to be done!
Friday 29th May - Vinyl Conundrum
I had a busy day at work, not least because I had to do the note taking for the team meeting - and in a different place too, because the space that we normally use wasn't available (some filming was going on) and so relocated accordingly. It proved to be decent though as I was then able to upload the presentation to the shared OneNote file we had, and that then showed nicely on one of the big screens we had. It did work pretty well and I think that hopefully it'll have answered some questions nicely.
I also was doing a bit of testing of the packaged Autodesk Building Design Suite Ultimate task sequence via SCCM. Strangely it got to AutoCAD 2016 and came up with an MSI error 1620, basically claiming that the MSI file was invalid. Yet, here's the odd thing: if you call the whole installer via the shortcut or command line in the root of the deployment image folder, it all installs, it all runs and the licencing also all works correctly. I've fed that back to Autodesk but am also checking and validating the distribution point content just in case.. If I do have to start again as I may have to do, that's going to be rather frustrating and annoying all round, so am hoping I can find a way to sort things without issues.
I headed home later on and got a few things sorted around the house, and a shed load of ironing at that, before my brother came over for a while. He'd just come back from seeing my other brother in Japan for a couple of weeks and had an interesting conundrum for me to check out - he thought he'd got a rare Jimi Hendrix vinyl album and had brought it round with him to see if I could use my Record Collector Price Guide plus any intutive searching to get on top of it.
We had of course spotted that the record itself seemed to be a semi-official release on the Pantonic label, with three lengthy improvised jam type sessions on there. The original all seemed to look at a photo sleeve, instead of the plain white rubber stamped sleeve my brother had. Something didn't seem right to me, and every single copy we saw online of the Pantonic one had the same sleeve. The price for that was also not much more than my brother had paid for it in Japan, so he hadn't bought anything dud by the sound of it.
I then saw the other artists names who were on the rubber stamp and decided to do a reverse lookup type search with them on it too, and found that the sleeve was actually part of an unoffical various artists compilation release on the Munia label, and the same description of what the sleeve was. So I suspect what had happened was that in fact he'd got a combination of two albums: the sleeve from one and the vinyl from another. Ouch indeed, and not even similar enough to have been called a mispress either. Ah well.
Tune of the day in the meantime has to be Pop Will Eat Itself's "Reclaim The Game (Funk FIFA)" especially due to the fact that despite all the goings on with corruption and scandal, the FIFA leadership election still went ahead and Sepp Blatter got enough votes to keep the position, despite most European countries voting for the other candidate, Prince Ali bin al-Hussein. It sickens me really, so much so when so many football federations can't see the corruption that Blatter has resided over..
Thursday 28th May - Wedded on the Pitch
So another busy day and a day where I spent most of the day getting together a few things - and the one I managed to do pretty well as a presentation which we could use in the team meetings to explain a bit more about Skype for Business and the way we're going to deploy it to our pilot group. I felt that it was a good idea to get the information out there but also get something professionally done, and it certainly felt good to have that all sorted.
I did also work on some presence testing and found a possible issue which we may need to look at resolving in some way. Because all the accounts are on one Office 365 tenancy, it means that anyone can theoretically contact someone and indeed message someone without any need to add them as a contact. I suspect that there's a way that it can be sorted via the Office 365 admin console internally, but that's definitely something we need to look at and get sorted for definite.
Anyway, The Love In My Heart came over for tea later, and I made us some penne pasta with meatballs in a nice sauce, which did the job rather nicely all round. In fact whilst having tea Top of the Pops from 1980 was on BBC Four in the background, and what a quality episode it was too. It had The Human League pre-Joanne and Susan Ann with "Rock 'n' Roll" - glam style mixed with electronica, Michael Jackson's vastly under-rated "She's Out of My Life" and best of all, Jona Lewie's classic "You'll Always Find Me In The Kitchen At Parties" complete with Kirsty MacColl on backing vocals. Ace. Tune of the day without a doubt.
In fact the good music continued, later on was Orchestral Manouevres in the Dark with "Messages", which actually is an under-rated song of theirs, and the album it's from I do have on vinyl - just sounds good on that. Before the dodgy dad-dancing of Andy McCluskey as well. And "My Perfect Cousin" by The Undertones too - great Fergal Sharkey vocal on that and mentions Subbuteo in the lyrics - always a good move. To finish then, number one was "Geno" by Dexy's Midnight Runners, also a pretty decent tune. For all the supposed de-meriting of the stuff in the 1980s it actually showed how good an era it was!
Later on The Love insisted on Don't Tell The Bride on BBC Three, despite me not particularly liking it. However this episode was at least a bit more football themed: the groom was a diehard Stoke City fan and was basically trying his hardest to look like either Noel Gallagher or Paul Weller most of the time, and after some persuasion worked out that he could get married at half time on the pitch with his unsuspecting bride. She may not have been a big fan of the idea but her father, an ex-army bloke, just so happened to be a Stoke City fan, so that made his day just a tad as well.
Wednesday 27th May - Reclaim The Game
So I woke up this morning and headed to work with the news that there have been a number of arrests with regards to ongoing investigations around corruption at FIFA, the governing body of football. Whilst, sadly, no one is actually surprised at this whatsoever, what is a surprise is how much that the American authorities are taking it seriously, with widespread evidence of racketeering, fraud and money laundering, all in a bid to ensure that certain countries were awarded the World Cup.
To me it only proves what many of us already knew: that the governing body is a corrupt organisation, and corrupt from the top level and on the inside. It doesn't surprise me one bit either to learn that the head of FIFA, Sepp Blatter, seems not to have been implicated in all this. I somehow wonder how that appears to be, and certainly with a leadership election coming on Friday of this week, you would think that it'd be a perfect time to postpone it until the investigations are completed and those who are guilty are charged, right? Wrong. Press on regardless, apparently.
It makes me wonder just how other organisations would survive in this day and age if investigation upon investigation (including one by the BBC's Panorama programme which supposedly scuppered our chances of hosting the World Cup) proved that there was corruption and it existed. Funny how all of these independent investigations are once again being proved right, and how FIFA seems oblivious to all this isn't it? And of course there's only one choice for tune of the day here, "Reclaim The Game (Funk FIFA)" by Pop Will Eat Itself.
There's a very good reason for that: check the lyrics in the second verse: "Sepp Blatter doesn't matter getting richer and fatter, his idle chatter batters the beautiful game. They stole it. Trolls control it, guard it like jewels from fools like us, like you, like me." Quite. Considering that the song was released a year ago around the time of the World Cup in Brazil, the fact that it still is more apt than ever proves that the band were, like the epic "Ich Bin Ein Auslander" ahead of their time.
It was a pretty busy day all round really but I managed to get a fair bit of documentation done I needed to do, and spent most of the afternoon with an engineer looking at one of the wide format printers. Ideally it'd have been fixed but it looks like that we need several parts to get it up and working correctly, and so they have been requested. Sadly it's not ideal as I'd rather these things be fixed, but it looks like to me a definite issue in terms of something going wrong somewhere.
Tuesday 26th May - Projectile
It was a good day or so to spend a bit of time on some project work, and it was therefore good to be able to contribute to the project group meeting this morning and have some positive discussion going forward about what the next plans are. To a degree, documenting stuff has been really useful, and the next thing I need to test is presence and how that can or can't work depending on what you set. As we don't have any Lync on-premise servers, we only have to think about Skype for Business online servers, and they can be controlled a little via the Office 365 admin console.
Effectively though you can have a good level of control though: you can of course block the use of Instant Messaging from anyone outside your domains in the tenancy, and also decide which domains to allow if you only wanted to allow selected ones through - so for example if you work in the field of architecture, and wanted to add other architecture partners in other companies, you simply allow those domain to see your visibility and contact status, and job is pretty much a good'un all round really.
Anyway, I will look at this a bit more tomorrow, but initial ideas look promising. The only tricky bit is that students and staff are in the same tenancy so how the presence will work there might be good to note. I am looking at writing some more documentation, and also putting together a useful presentation which might be useful in terms of giving an overview of how it all works from a more technical perspective, and how that'll look in a few months time as well.
I think on the whole it's actually been a productive day for that, on top of sorting out many other things along the way, so it was an even nicer surprise when The Love In My Heart was parked up close to work and suggested we head out for a drink, and so we ended up having a good chat in Sandbar and me with a good pint of Amarillo to have as well. It was really nice to catch up on our respective days, and that cheered me up no end, let me tell you.
I also found out that Never Mind The Buzzcocks has been cancelled. In truth I think the series went downhill quite a while ago, and probably ran for a bit too long before becoming somewhat stale - moving from an actual music quiz with good natured humour to ending up taking the mickey out of the contestants that were on there with the quiz coming second. Undoubtedly for me the best era was the early series with Mark Lamarr as host, and Phill Jupitus and Sean Hughes as team captains.
Watching back some early episodes tonight proves that, and my all time favourite is still Series 1 Episode 6, where Sean's team had Bob Mills and Tony Wright from Terrorvision, who always was very entertaining on it. They had to guess the lyrics to Roxy Music's "Virginia Plain" (make that tune of the day) and they all thought for a laugh it was a song about tea, with them going on about how they'd show Robert de Niro the tea, "Mean Streets, you lookin' at tea!" asked Bob. "It's Yorkshire tea, with Yorkshire water actually!" replied Tony. Bob even got a bonus point for impersonating Bryan Ferry's donkey.. classic that was.
Monday 25th May - Bank Holiday Chilled Out Day
I spent a fair bit of time this morning doing some catch up on telly I'd recorded this weekend - mainly the final episode of CSI Las Vegas, and the final regular episode at that from Season 15. In the USA, CBS have announced there'll be one more special two hour episode with Grissom and Catherine back (yaay) but then that will be that. I for one am gutted but I can see that after so long it may be time for it to end, and indeed Ted Danson who has played DB Russell so well in the last four series is going over to CSI:Cyber and will team up with Patricia Arquette, which should work out pretty well.
I won't spoil it for those of you who haven't watched the last episode as yet, but it's a really good one and even has a couple of really intense moments in throughout. I for one was particularly pleased to see how the San Diego connection made in a previous episode worked out in their favour this time around, and it also brought Nick closer to deciding if he was or not going to join their crime lab (you'll have to watch it to find out.) Also I have to say that Elisabeth Harnois was particularly brilliant as Morgan in this episode too - she's grown on many of the CSI fans a lot over these last series.
The Love In My Heart came over at around lunchtime and she herself had been sorting stuff around the house, and indeed fussing over the two cats (it'd have been rude not to, to be honest.) We decided to head out to the large Sainsburys in Cheadle, because as part of the deal I got which saw me switch broadband providers, there was a £60 Sainsburys gift card. I thought it might be a good idea to get some clothes for the forthcoming holiday with it, and as it turned out, there was also 25% off their clothing range.
Of course as ever in these sort of shops, the men's section is sadly never as good as the women's one appears to be, or as large in selection. That said I did manage to get a nice new pair of black jeans and in my size, and a pair of more casual shorts too. The total cost with the 25% off was just under £20, which meant I still had around £40 left on the gift card to use whenever. Interestingly also, the person in front of me in the queue didn't have a Nectar card, asked me if I did, and they allowed me to swipe and get their points. Ace!
Anyway, with that done, we decided to head to one of the pubs not too far away for a late lunch, and we had a nice little panini with some chips and a drink - just enough but not too much. In fact the Mary Jane ale was on top form so it was nice to be able to chat and relax and catch up a bit, which we did more at home whilst we played Monopoly - on my telly! I had downloaded it from my Samsung Smart Hub the other day and gave it a go today, and it worked really well. The only downside is that the board is based on the US version with the streets all from Atlantic City, New Jersey. It'd have been nice to give you a choice so you could have played the London streets instead but still works out pretty well.
The Love headed home later on, but it was really nice to see her, and I decided later on to kick back with some music, and after my friend had picked up tickets for us both to see Gary Numan in October this year, I decided to play his Jagged album, which for me still stands up pretty well from 2006. It's testament that several of the tracks from this are still played on his recent tours including the title track and the rather epic "Haunted" which always gets a good reaction from me - so tune of the day that is. Just haunting and moody all at the same time - what more do you need?
Sunday 24th May - Lamparding
So it was the final game of the Premier League season, and my friend and I were off to the Etihad Stadium to see Manchester City against Southampton. The Saints had something to play for too: win and they could well be in the top six if other results went their way, meaning a Europa League qualifying spot. If they lost, they'd be seventh and would have to hope on Arsenal winning the FA Cup against Aston Villa (Arsenal have qualified for the Champions League, and the runners up don't get a Europa League spot)
It was a little windy but at least dry after the rain that had come down in the morning. We were both hoping for a sixth win on the bounce, but also knew it was Frank Lampard's final game for City before heading off to play for New York City in the MLS in the USA. Indeed we also suspected it was the final game for some other players including James Milner, a player who gives his all for us and someone that really we don't want to lose, but it seems that he is going to leave. We were also wondering who else would be leaving over time.
Anyway, with cup of tea had, and predictions made by my friend, it was then ready to sit down and see the game unfold. Southampton had brought a full allocation of fans, and also Frank Lampard was made captain for the day, which was a nice touch. City pressed onwards in the first half and Sergio Agüero forced a number of saves from Kelvin Davies in the Southampton goal. I suspected though that a goal would come before half time, and in the other games, Stoke and Arsenal were giving their opposition a panning.
The goal came and somehow it was a really lovely moment. The ball went to David Silva, who laid it wide to James Milner. His low cross found Frank Lampard perfectly and Super Frank did what he always does from there - bury it. To be fair even some of the Southampton fans applauded which was a lovely touch from them as well. And with a few more chances, it was 1-0 at half time, and a deserved lead. I knew that the other end of the table was tight with both games 0-0 so the first goal in either of those was going to be absolutely crucial.
Southampton came out all guns blazing for the equaliser and hit the post twice. This mattered too because four goalkeepers were in contention for the Golden Glove for the most clean sheets: Joe Hart of City was one of them, Lukasz Fabianski of Swansea was another, so cheer went up from us when Crystal Palace scored against Swansea. The Liverpool goalkeeper Simon Mignolet was another, but Liverpool were getting hammered 5-0 by Stoke City, so that was the end of that, and Southampton's regular keeper Fraser Forster wasn't playing, so as it stood only Joe Hart could go one better.
And despite some hairy moments, it stayed at 1-0. Frank Lampard came off to a massive reception from all sides of the ground, a really nice moment that, and on came Vincent Kompany back from injury too. Right near the end a corner was headed towards goal by Eliaquim Mangala, and Sergio Agüero scored his 26th goal of the season which also sealed the golden boot for him for top scorer too. And 2-0 it stayed, Hart won the golden glove, and as the tannoy blasted out the Manchester City classic "The Boys In Blue" (make it tune of the day) we knew it was a great send off to the season, and best of luck to Frank Lampard - you've certainly shown you still have that sheer class everyone knew when you were at West Ham and Chelsea.
Saturday 23rd May - Homewards to a Car Share
It was a nice comfortable nights' sleep in Ibis Leicester, so I woke up, got myself showered and changed and it was generally just good to relax, watch a bit of BBC Breakfast and be able to just take my time in my room, and had a coffee in there before checking out around 9am. It was then the relatively short walk to the train station, where the 0930 departure to Sheffield was waiting for me on Platform 4 - and one of East Midlands Trains' nice comfortable new modern stock too - very lovely.
I arrived at Sheffield on time and made my way over to Platform 6 for the 1111 departure to Manchester Piccadilly. And Transpennine Express were, sadly, up to their usual not so good standard, with two old Turbostars back to back, and pretty busy all round. Not to mention for no reason at all it was delayed leaving Sheffield, only just about ahead of the local stopping service, and then arriving in Manchester Piccadilly some twelve minutes late. Not good really, especially when both CrossCountry and East Midlands Trains were all on time for me these last few days.
After arriving home, I headed off back out to the local market, and that proved to be quite a nice little visit. I did pick up a couple of nice items and there were also two separate stalls selling CDs and vinyl, so had a good look through them as well. I didn't find anything that I was particularly after, but had I not already owned several albums I'd have been tempted to spend at either of the stalls - their selection was very good indeed. It was also nice just to have a walk around too.
Later on I settled in to watch the qualifying from the Monaco Grand Prix. I did notice some empty seats (maybe because of the pricing?) but also it was getting exciting a bit later on as the weather took a turn for the worst, and even though it was only spitting a little bit, the change of conditions meant that a few people went off at Sainte Devote and had to be careful not to collide with the barriers there. I was pleased that Lewis Hamilton got pole though and he did really well even in those manic last few minutes.
The Love In My Heart had come over by this time so I set about making some rather nice chicken bacon and leek in a filo pastry pie together with some broccoli, carrots and cheddar mash potato, which was actually pretty nice on the whole. I also had the very nice Ringwood Brewery Old Thumper to go with that which went down a treat, and once that was done we noted quickly the United Kingdom's abysmal entry for the Eurovision Song Contest. And believe me, it was abysmal. Who picked it I wonder?
Anyway, we decided instead to watch the final two episodes of the Peter Kay's Car Share series that we'd both been enjoying a lot. The last two episodes were shown on Wednesday and Friday but we were both out for those, so it was nice to see them back to back now. In fact one of the episodes had them driving around a couple of places that we both recognised, and the humour was definitely intact in both cases. I did think maybe at the end of the series that the two main characters might have got together, but maybe leaving the door open for another series?
In any case, one of the highlights has been the imaginary radio station Forever FM which is always playing in the car as they drive to and from work, playing mainly classics from the 1980s and 1990s. In episode five we had the likes of "New Sensation" by INXS, "Drive" by The Cars and "A Thing Called Love" by Johnny Cash, and in the final episode, a real mixed bag: "You're The Voice" by John Farnham, "Ebony and Ivory" by Paul McCartney and Stevie Wonder, and the classic "I Love Rock and Roll" by Joan Jett and the Blackhearts.
However, it was "Rush Hour" by Jane Wiedlin, complete with dream sequence section in the final episode, that was pretty ace, so it was tune of the day. I had to explain to The Love that she used to be in The Go-Gos with Belinda Carlisle, and they both went solo after the band had split up. In fact that song was her highest charting UK single (number 12) and it hit the top ten in the USA as well. I remember it pretty well, more so for the Irish indie band Joy Rider also covering it in the 1990s as well.
Friday 22nd May - Sweating at the Soundhouse
It was nice to be off work today - and with good reason. Pop Will Eat Itself were playing the Soundhouse in Leicester, and that's where I was heading. At the time of announcing that tour date only that and the Gigantic indie all-dayer were confirmed, so booked that, booked a hotel and booked the trains. It also meant after a tough week at work that I was able to start the Spring Bank Holiday weekend the right way, seeing one of my favourite bands of all time kicking backside and generally playing ace, that was the theory of course.
I headed off to Manchester Piccadilly station and just made it in time for the 1127 train to Birmingham, no thanks to the bus driver deciding that reading the paper for a combined total of over ten minutes at various stops was an acceptable thing to do. The train was fairly busy but I had a reserved seat, and when I asked someone to kindly move, they were a bit annoyed and went "it's like musical chairs isn't it?" Well, two things here: a) that person should read the screens which would tell him which seats were available, b) book in advance to ensure a seat yourself. Anyway, that sorted CrossCountry sped through the countryside and soon headed to Birmingham New Street.
I headed over from Platform 3 all the way over to Platform 12a to get the 1322 departure to Stansted Airport, which stopped at Leicester along the way. Again the train was very busy so I was very pleased to get a reserved seat - although you wonder with whether CrossCountry should put more carriages on instead of a 2 carriage Turbostar service. I soon passed Coleshill Parkway and then Nuneaton and then on to Leicester, which arrived a few minutes delayed but nothing major. I then left the station and followed the ring road round to the Ibis, a short walk, and nice and friendly staff there as all Ibis hotels seem to have.
I checked into my room and then went for a wander around the city centre. The market is still thankfully a focal point and was pretty busy, with lots of good stalls, and the main shopping parts are now mostly pedestrianised too, so it did feel rather nice walking around. I spotted the statue of their football, cricket and rugby union players which is in one of the main squares, and generally as the weather got a little nicer it was just good to be walking around for a while.
I went back to the hotel, had my welcome drink (a nice Peroni which went down nice as I sat comfortable watching from the window - and a perk because I'm a Le Club Accorhotels Silver member now - woohoo!) and then back to the room where I watched Pointless and then got myself ready and changed - and my grey long sleeved Pop Will Eat Itself t-shirt made the journey with me, so that was me sorted. I suspected I'd see lots of people in old school t-shirt designs of theirs over the years later on.
I found a pub which was doing a decent meal deal, and a nice pint of the Lymestone Brewery's "Stone Cutter" ale, so that was me sorted nicely. It was then a short walk to the Soundhouse, which was actually a smaller venue than I thought it'd be. My name was on the door (so didn't need to show my printed e-ticket after all!) and inside they even had real ale at the bar, so an Everards Tiger had my name on it. The first act was just some bloke with a noise machine making all sorts of weird noise, not everyone's cup of tea and minimal engagement with the audience as well.
However I'd spotted by the mixing desk the running order - it looked like Graham Crabb from Pop Will Eat Itself was going to do a few songs from his Je Suis Crabbi solo project, and so it was. He did "Bonophobic" first, about U2's tie-in with Apple, and the key chorus of "U2" Get off my ***ing phone" really did come across the right side of ranting. He followed that up with "Pouring Perfume on a Pig" all about the distinct lack of talent from reality TV contestants too. "Uptalk" with the "Up, up and away" line really did get into those University professors who just sit on their reputation and backsides. Oooh, political indeed. But good.
Then on came the support act The Vanishing Point. As a twosome with drums and guitar plus vocals they were actually playing pretty well. The one really epic and great track I liked the most was "Hooked on a Signal" with some gorgeously dirty guitars, but all the songs were decent. They were tight and going for it properly. I only wish a couple of their fans who were filming the gig weren't getting in everyone's way and somewhat spoiling my enjoyment of them mind you.
It got to around 10pm and on came Pop Will Eat Itself, and ended up playing an hour and a half in all. And my, what a show it was as well. It was very warm and sweaty in the Soundhouse, due to the low ceiling and the very tight spaces everyone were in - it was crammed. Add to that a mass of pogoing around to numerous great songs and you can soon see how much warmer it was going to get. In fact one of the security guards opened up the side door to get some air in - good on him for that.
So, starting off with "Preaching to the Perverted", getting everyone bouncing to that and "Dance of the Mad B******s", and if then that wasn't enough, my favourite PWEI song ever, "Wise Up! Sucker" which sounded really tight, and everyone was going for it. In fact afterwards Graham said "See that Kasabian are using a megaphone now aren't they?" (Kasabian are from Leicester, hence the statement) which had a few smiles from around the audience.
It was great too to hear the original mix version of "92 Degrees" as well, done with the killer bassline that it had, and "Watch The Bitch Blow" sounded decidedly evil also. Then it was into the new album territory even more so with "They Can't Take (What You Won't Let Them Have)" and a really good version of "Director's Cut" with the chilled out and rocking bits giving people time to rest in between pogoing. We also got the likes of "Digital Meltdown" as well which sounded excellent.
I was getting very warm as was everyone else, but we were going to keep going, and how, with a killer trio of "Can U Dig It?" (where Mary Byker got the audience to help him out with the second verse), "Everything's Cool?" with the whole crowd doing the "whooo! whooo!" bit (make that tune of the day - it was a great moment) and then "Ich Bin Ein Auslander" which was getting mightily intense down the front, lots of bumping around going on to say the least. A bloody great tune that still is though.
Ending the main list with my favourite track from the new album "21st Century Civil War" which rocked out in the right places, it'd have been easy to stop there at around 11.10pm. Oh no. An encore, and then some. "Def Con One" was a classic to start with (even if Mary kept wanting to start the final verse too early!) and then "Get The Girl! Kill The Baddies!" with some more pogoing everywhere, and even more so as we all then bounded around to "Their Law" at full pelt. It was simply brilliant, and possibly the finest PWEI Mk2 gig I've been to.
It was a short walk back to the hotel but I took my time in the night air to cool down a little before taking a well earned shower and flopping into bed around midnight. It was really good, and I have to say that it was a special moment to see them in such a small venue and where lots of real diehards with many different old school PWEI t-shirts were there like me to make it so good. I can only hope that those who are going to see them in the next week or two enjoy it and then order the new album online - because it was just ace.
Thursday 21st May - Roll Out
Spent a bit of time this morning rolling out two replacement desktops for a couple of staff in one of the buildings. Actually it was all good because the people who were in the office had informed me that they weren't going to be in for the next few days, and so they mentioned I could get the key from reception and do what I needed to do. It's actually sometimes easier that way primarily because of the fact that if you're having to disconnect cables and then move stuff left right and centre, you can do it without distraction. And that has to be a good thing.
I spent a fair chunk of the rest of the day working on the final parts of setting up the application packaging for the Autodesk 2016 suites. On a positive note it looks like you can have one deployment folder for the network and standalone licence version, with the command line text files for SCCM having different references to MST transforms for each (these have the different licencing methods as well) as well as if you wanted to call the full install with a single command line, that does the same too. Pretty good that actually.
Of course because of the size of the packages (some 40GB for Building Design Suite Ultimate 2016) it does mean that you have to carefully plan distribution of the package to the distribution points, and so I've arranged with a couple of our systems team folks to have started off the sending of the content to the distribution points as of now. As you can well imagine, copying a mass of data like that, especially when each file has to be verified, has to be handled pretty carefully.
I arrived home later on and blasted out some PWEI, ready for tomorrow night's gig. I must admit I'd be tempted to see them at more than Leicester, but the timing's not that good for me to get some time off work, or else thee would be more in the offing for me for sure. I have to admit as well that choosing which of these four t-shirts for tomorrow night is difficult, part of me thinks the classic grey skateboarder number would be cracking, although there's also a thought that the more modern one would also be ace too. Here's the four to choose from!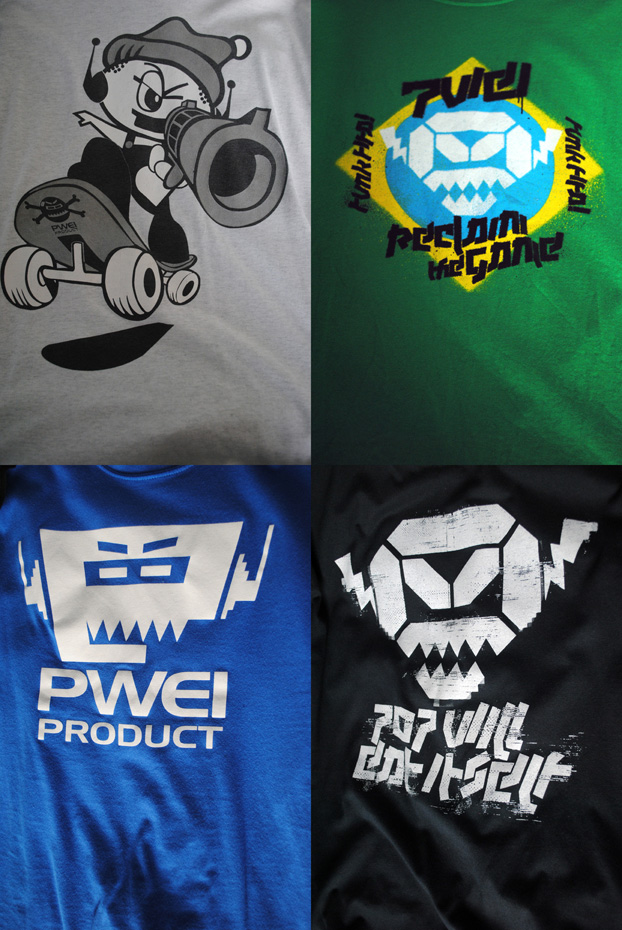 Difficult decision I know, but certainly a good one to make. My most recent one is the black angry robot t-shirt which I picked up recently, but the grey skateboarder is by far the oldest one I have, shows my diehard fan-ness I guess. Either way I'm going to enjoy myself tomorrow and make this weekend a really good one, and after the week I've had I think I need it. In the meantime tune of the day is "Dance of the Mad B*******s" by said band - primarily because it is great to bound around to.
Wednesday 20th May - Fashionistas
It was nice to do something different after work tonight, and so got home from work on time, put something in the oven for tea and then had that whilst watching Pointless (and I should add getting some Pointless answers along the way as well.) Once that was done, it was time to get myself showered and ready. I wanted to look cool and sharp so on went my new shirt I picked up the other day, and matched that with my new canvas trainers as well, looked pretty good actually.
The Love In My Heart came over later, and off we went - and she looked gorgeous in her Warehouse top I got her for her birthday. We were going to the Fashion Show for the Manchester School of Art - their main chance to showcase all the stuff that they've been making in the run up to the degree show. And a dress rehearsal before they head off to Graduate Fashion Week next month as well, so a good barometer for the whole show too.
Naturally I know all the good car parks close by, and the one we normally at is a mere £2 for 4pm through to midnight, so all good there. It wasn't far for us to walk to the Students Union building, where the ground floor main hall was the right size for what was needed. There was also some sparkling wine for people to sip and chatter to as well, whilst waiting for the doors to open. The Love bumped into someone she used to know from a previous job, and the course leader for Fashion recognised me and we had a chat about how the first showing at 5.30pm had gone (we had the second one at 7.30pm)
I have to say it was well laid out - we had two chairs with a decent view, and the cat walk wasn't actually just for one, it was wide enough for up to five models to walk up and down with their wares on. Also the way that it was laid out allowed them to enter from one side of a big screen, and exit the other, so they could swap and rotate clothes in between the ones from each designer. And there were thirty four designers in all, so plenty of different ones to choose from as well.
Each designer had their own choice of soundtrack playing as the models showed their stuff, and it worked out really well this way. Kudos to whoever chose David Bowie's "Queen Bitch" as the models walked down in quite androgynous outfits (perfect match) so tune of the day to that one. Granted, some designs were more out there than others, but I think that added to the sense of being a more grand occasion. And some were just a bit more funky, with some more Summer-type funkiness in the music department added to that. It was all very nicely done indeed.
The time flew by and after a closing speech from one of the departmental heads, which was actually pretty light and with humour, it was time to head off, so we headed close by to the Salutation pub where a very nice pint of ale was waiting for me. In fact we got a nice comfy seat so we were able to chatter for a while and just chill out for a bit. We noted also that some of the models were also in there having a well earned drink after their efforts, and I'm sure the exposure they had as models tonight also did them some good too - so everyone benefits everyone else. I kind of like that actually.
Tuesday 19th May - Well Done Noise Pollution
On a massive positive note today, I wanted to say a massive well done to The Love In My Heart for her hard work and ensuring that one of the nurseries that she is a senior manager over got a good in their Ofsted inspection. I know how much she has worked hard on getting things right and I must admit after not the best day ever for myself, for her to be able to tell me that news was a really wonderful thing. It makes me proud of her hugely and also in a way inspires me to do a lot better too.
I decided also tonight that I needed to start blasting lots of the Pop Will Eat Itself back catalogue over my rig in preparation for the gig I'm at in Leicester on Friday. Of course the new album Anti-Nasty League has had some regular play since I was able to download it after purchasing the physical product (which will be delivered soon ny all accounts). Naturally there are already some favourites on there, but because I went for the deluxe edition order, I got the extra track "Smash It" which isn't on the regular release. And that's a shame because this track kicks backside, so tune of the day it most certainly is.
I went then back to 1990 (almost twenty five years since its release) and The Pop Will Eat Itself Cure for Sanity. This album was bought by me on its release date, which was the same night I also saw the band for the first time at the no longer there International 2, so for obvious reasons, quite a few good memories. I only just about had enough time to play the album twice through, and even then there were several tracks which I knew would be some favourites of mine for many years to come afterwards.
Naturally, as it had come out as a single just before it, "Dance of the Mad B*******s" (obviously shortened to "Dance of the Mad" for single release) was one that sprung to mind. It had a real sense of getting on top of all that rave culture, blowing it out into the water whilst still making a rather good track to either dance or mosh to, depending on your preference. And naturally, even a bit of sample lifting from their own back catalogue: the guitar riff throughout the chorus is from their earlier single "Can U Dig It?" as well.
I still wish I had my Cure for Sanity tour t-shirt (print sadly long faded) but I do with pride have my long sleeved PWEI skateboarder grey number from 1993 - and along with the other t-shirts I have, the difficult decision I now have is which one to wear on Friday night for the gig. It simply has to be done, and at least two of them will be coming on holiday with me (possibly the Reclaim the Game - Funk FIFA one most of all due to its Brazilian colours) so all should be good there.
Monday 18th May - Collecting Memories
It was a pretty busy day at work today, made even more so by the fact that several of the servers were down over the weekend due to some hardware failures. Gradually everything was being brought back up in the morning but for some reason one of the systems we use failed, so I had to carefully co-ordinate a few things, log a call with the engineer who deals with it, and also made sure that they were able to look in locally and see what was going on. With their assistance we thankfully managed to resolve the issue.
After work I had a few things to do, but one of them was to head into Debenhams in the city centre and pick up an item I'd ordered over the weekend via their Click and Collect service. I'd actually been after this really nice Fred Perry shirt and had even put it on my birthday list for The Love In My Heart to get me. Unfortunately at the time it was out of stock in my size, but as I got some Debenhams gift cards, I then noted that some came back in stock, so one order (of course going via Top Cashback to get cash back, natch) later, all was good. And I'd had an email to say it was ready for collection.
It was then up to the third floor where the collection point was, and the staff in there were really lovely - friendly, helpful and efficient, and with a smile. Why can't it always be like this, I wondered to myself. In any case, all was good, and after a quick walk around in Fopp and thinking about what other new albums were out, and what I could use my gift card for (possibly the album by The Staves as that sounds pretty good from what I've heard of it) it was then a case of avoiding the rain as much as I could on the way home.
So, I put the telly on, and excellent, School of Rock on Film 4. I must admit I really enjoyed this film when it came out in the cinema, partially because Jack Black was brilliant (and in some way a continuation of what he'd already started when the first Tenacious D album came out in 2001 - I bought it on US import!) and also because of the feel good factor of the kids playing brilliantly too and showing they can rock out. Joan Cusack is a hoot as the headmistress too who sings (a little tipsy) to Stevie Nicks as well. Just ace.
Talking of rock, it is also thirty five years ago today that Ian Curtis of Joy Division died. I felt the right thing to do tonight was play one of my favourite albums of all time, "Unknown Pleasures". As debuts go, it's really hard to beat, with its brooding mood throughout, well written songs and a sense of feeling that you rarely get in music full stop. If there's one song above all else that really sums up that feeling, it's the epic "New Dawn Fades" so that's tune of the day by a long way. It just has so much in there that you find it hard to believe it was written all those years ago.
I was only eight when Ian Curtis died, but as I grew up, and as I understood more about music, and having bought Love Will Tear Us Apart on 7", I realised over time just how much of an impact he and the band had had on the music scene in Manchester, and how just for those fleeting few years they were regarded highly - and with each passing year, the two studio albums grow in levels of greatness are are often a "must listen to" for people getting an understanding of the music history of this fair city.
Sunday 17th May - Lazy(ish) Sunday Afternoon
I got up this morning and made The Love In My Heart and I some breakfast, and The Love then had to head back home for a while to make sure that the two cats Jô and Brian were okay - they seemed to be but she was a bit worried about them. I had offered to go with her but she was fine, and as I switched over the channels there was a delayed as live coverage of the final race of the Winton V8 Supercars round from Australia, so that was me nicely sorted for a while.
The Love headed back, and I was in the midst of watching one of the episodes of Look Around You Series 2 (the DVD came yesterday in the midst of all the other things that went on) which was quite good - the computers episode. I remember when it was shown back in the day the mock computer game Diarrhea Dan, coded by Rob Manuel of B3ta. In fact checking the BBC's website it looked like you could still play it online, so here it is for you delectation!
The Love and I headed out later on and met up with our friends in The Ashlea in Cheadle for Sunday lunch. It was good to be able to be nicely relaxed and with a Pride of Cheadle ale as well, which went down a treat. Again another nice meal (need to make more of a habit of this I think) as I had the stilton and peppercorn mushrooms to start, followed by the Sunday roast topside of beef for the main, which was gorgreous. And then to finish a really good sticky toffee roulade, which is nicely warm with a sticky toffee sauce and some nice cream to go with it. My friend had the apple pie, his favourite massively!
In fact he and his wife had very kindly got me some nice presents for my birthday too - a gift card for Fopp, the Obituary album "Inked In Blood" (the deluxe edition at that) and also both Monsters University and Planes on Blu-ray - the 3D versions at that! To be honest, either of those would have been more than enough so I did feel pretty spoilt actually. I'll have to see if I can earn the Movie rewards points on both of those (plus the Toy Story that Time Forgot DVD) and see if that's then enough to get me something else. Woohoo!
I headed back homewards later with The Love, and we had a game of Scrabble which was pretty good - she ended up playing QUOTE across the bottom of the board for 42 points on triple word, and my best move was a straddling of the triple letter both ways with an X, making OX, XI and LI for 52 points - can't argue with that I guess. The Love headed home later on but it was really nice to be together and have some quality time over the weekend, and I always enjoy that really.
Later on I blasted on the new Obituary album, and understandably it's pretty heavy stuff, but all the better for it. It was crowd funded through Kickstarter but in a way maybe that made them up the game a tad - and it really seems tight. The stand out track at first listen is "Visions In My Head" which although a lot slower than some of the much faster stuff they're known for actually is both evil and melodic at the same time, so definitely tune of the day for me without a doubt.
Saturday 16th May - Walking With and Without Stars
I decided that a good Saturday morning with a clear sky, albeit not necessarily too sunny, was just the perfect sort of weather to take a decent walk, and so with my stronger walking shoes on, together with being wrapped up well, and having the camera with me just in case I fancied taking some shots along the way, I had a route pretty much worked out - it would take me from Marple Bridge via Mellor and then down to New Mills, a route of some 4.3 miles (just under 7km) in all. Naturally as there were some hills in there it would mean that I'd have to use a fair bit of energy, at least that was the theory anyway.
So from mine it was on a bus to Stockport and then on the 383 bus to Marple Bridge, passing through Marple along the way. I started outside the Midland at Marple Bridge pub and followed the main street in the centre of Marple Bridge, leaving it behind as I started the steady climb up Longhurst Lane, passing a couple of pubs along the way, as I headed further uphill and towards Mellor. Seeing the bus turning circle there and then the Devonshire Arms made me realise I had climbed up this way a little before, although I normally had turned around here.
So it was on and up the hill as the road narrowed heading towards Moor End, and a brief respite of a downhill section with a nice pub on the left only resulted in a pretty steep climb out of there, and passing a few more houses with rather lovely views before then taking in one final hill, passing an elderly care home and a farm, and then reaching the Derbyshire border. I made a slight detour here and turned left down Shiloh Road and where the 375 bus from Stockport ends in a turning circle, and the nearest you'd be able to get to the village of Rowarth before the road becomes too narrow for buses to go.
Back on to the road and into Derbyshire, and then it was downhill for a while, seeing little farms perched on the hillsides, and indeed some horses as well. As I carried on downhill several fields had sheep and little lambs resting happily in the dry weather, passing the Pack Horse Inn on the descent down. As I reached the outskirts of New Mills, the road ended and I turned right on to another main road, which would take me along Spring Bank, past the Arts Centre there and then down into the town centre. I had pretty much made it and had good time to have a little look around the shops before catching the 358 bus back to Stockport.
My Mum came over for a coffee later on so it was good to see her and have a catch up. She had brought around a cake as well which was nice. I think she really appreciated a bit of company in any case, and we were able to have a chat for a while before she headed off back home, after visiting the local market which was on today. Interestingly she hadn't noticed the telly (despite the fact I've had it nearly a year) before, but said that she liked it and it seemed really clear - granted I did have BBC One HD on at the time.
The Love In My Heart arrived later and we got ourselves ready and changed as we were off into the city centre tonight for a nice night out. In fact we'd decided to take the train in instead of the bus, and that worked out well because we could use our Two Together Railcard to get a third off (and so it worked out pretty cheap actually). We got off at Oxford Road and we saw that the Palace Hotel and the Palace Theatre had crowds outside. When we got closer we could see why - it was the National Soap Awards, and so plenty of soap stars were making their way from the drinks reception to the theatre for the ceremony.
Of course The Love being a soap fan had to stop and look around, and spotted many people who play characters in Emmerdale, including Rachel, Jai, Rishi, Val, Eric, David, Ross and Laila. We even saw some people from Coronation Street who play the likes of Carla, Michelle and so on. The Love was pretty chuffed and I did have to give her a nudge to make sure we were on time for where we were going for the evening - but a nice added bonus for her.
And so to Jamie's Italian, where I'd booked a table - and would have done for last weekend had my Mum not very kindly offered to cook for us. It was still within the window of having a birthday treat, so it was a bottle of prosecco on the house to share (nice) and a little dessert for me too, so all good there. I had the mushrooms and they were spot on in the little pot with the crispy bread underneath, and The Love's bruschetta looked pretty good too it has to be said.
The mains were also really nice, The Love had the turkey milanese with a side dish of some potatoes to go with it, and I had the wild sausage papardelle which was rather beautifully cooked it has to be said. It was very busy in there and we were glad to be upstairs and away from some of the noise, and the waiter we had was excellent, really did look after us nicely, so was pleased there to say the least. The Love had a really nice blue dress on from Monsoon and she looked absolutely gorgeous, complete with royal blue nails to match - very classy actually.
We got back on the train to mine and stayed up and ended up watching The Break-Up together which was funny if a little awkward at times. Naturally of course I was cynical, typical chick flick and all that, but it did redeem itself when Vince Vaughn was playing an American football game on the Playstation, and in the background came to the theme tune to Superstars (known by the Americans as the theme tune to Monday Night Football) - "Heavy Action" by Johnny Pearson. Naturally tune of the day as you'd expect.
Friday 15th May - Claudia's Campaign
Another week, and another team meeting, this time with one of our senior managers in attendance. There actually was quite a lot to go through and that meant that things did over-run a little, but nonetheless it was good to be able to put some good views forward. I spent a chunk of time during the day with one of the Office Macs, and indeed installing AutoCAD 2015 for Mac, with our Academic Resource Centre licence. In fact, it turned out that some Macs crashed on launch of AutoCAD, so after the main download (which included 2015 SP1) it needed to be then service packed to SP2. Handy to note in case that happens to be you installing it I think.
Later on I caught up with last night's Watchdog on BBC1, and I had been alerted from the BBC News on Wednesday night that it would feature Claudia Winkleman, but with good reason. Back in October last year she was doing the normal Halloween family thing with her children, and were out - and her daughter Matilda had a fancy dress costume on. That costume caught a candle flicker, and within seconds was burning very badly - and the events clearly were something life-changing for Claudia and her family.
On Watchdog she recalled the events of the evening to Chris Hollins, and you could tell she was still visibly upset about it still and really you could feel the lump in the throat. I wouldn't be alone in thinking that every parent wouldn't have wanted to go through what she did and indeed many of us would have just loved to give her a hug after that interview. It did also show one similar fancy dress costume being burned, and it was scary just how quick the flames would go, and that was in a controlled fire brigade environment.
One thing is for sure - her campaigning along with Watchdog to have the safety regulations changed is a proper and just cause. Currently fancy dress costumes are classed as toys, which means that they are not subject to the much more strict safety rules that there are on children's clothing, notably children's nightwear, where they have to be fire retardent to a level that you can safely remove the item of clothing without it burning the child. A similar level of safety for the costumes would of course make perfect sense to me.
I also went round to see my auntie and uncle as it was her birthday and she liked the presents that I had got for her, so that was good. We also chatted about changing broadband providers (they'd also changed recently) and how things were in general, so good to catch up and with a coffee too, so definitely was a nice thing to do that. In fact my cousin and his girlfriend were also there so had a good natter also, and that too was good to see. Isn't it nice when you just have some quality time like that?
After my Tesco delivery and me making a very nice little chicken korma for myself for tea, I settled in for some quality tunes from The Prodigy, from several of their albums, and starting with the likes of "Break and Enter" and "Their Law" followed by some tracks from their recent release, namely "Destroy" which does sound like it has the start of it taken directly from a Commodore 64 no less. Definitely tune of the day in my eyes with its killer hook lines and fast pace!
Thursday 14th May - Forever FM
It was nice to be able to get a lot done in a lot less time than normal at work today, so I did feel pretty productive. On the whole it was also good to note that I had had some good responses after warning people that a number of packages in SCCM were to be removed becuase they weren't used anymore. I had planned therefore to remove them from the distribution points, let them gradually remove the content over the weekend and then just delete the packages on Monday. I carefully had planned things and I think people respected that.
I headed off to one of the shops close to work to pick up a birthday present for one of my relations. They have a Kindle and so I thought an Amazon gift card would make sense, so they could then top up their balance and get whatever books they liked on it. I also spotted a nice card and to complete it off, a nice bottle of white wine too which meant they could relax and chill out, have a drink and a read of the latest novel. Sometimes, it's the nice things that work well isn't it?
The Love In My Heart came over, and her final birthday present to me had arrived, as it transpired it had been shipped from the USA hence the delay. It was the Blu-ray of the classic 1966 film "Grand Prix" which is notable for having many on-board camera shots of motor racing back in the day, including iconic tracks such as Monaco, which of course of me is rather good. I should also note that her sister had also very kindly got me the latest Toy Story DVD, "Toy Story That Time Forgot" which I had watched before The Love came round - still brilliant from when I watched it first time around.
After making some spaghetti with meatballs for tea, we settled in to watch the fourth episode of Peter Kay's Car Share on BBC iPlayer. One thing that's been good since I changed broadband provider is I can now watch the stuff on iPlayer in HD, which is rather nice to say the least. This episode was also good because as ever the music selection was pretty good, thanks to the imaginary radio station Forever FM that seems to blast out lots of 1980s and 1990s songs, this time around including the classic Tears For Fears song "Everybody Wants To Rule The World" so make that one tune of the day as you can imagine.
It's also as a local good to spot the many places that they've featured - the now dodgy car park on Oxford Road where the old BBC Manchester building used to be, the Co-Op and the roundabout at Irlams o'th Height in Salford close to the East Lancashire Road, parts of Bolton that The Love's sister knows pretty well, and The Fort shopping and retail park in Cheetham Hill, which is where the imaginary supermarket that they work at is based. It's all good fun it has to be said!
Wednesday 13th May - Remembering Bradford
I had seen a programme on BBC iPlayer which I really wanted to watch tonight - and it looked like it might have only been shown in certain regions, so maybe didn't get to see it when it was broadcast the night before. It told the story of the Bradford City fire disaster in 1985, when a wooden stand literally burnt to the ground and 56 football fans died as a result, and how there were several opportunities to have possibly avoided the disaster occuring, but also how much it still affected those who were there, and survived.
It's very easy to think nowadays in the age of mainly all seater stadia with much better standards of comfort, view and indeed behaviour just how much has changed, but it would be remiss to forget just what the normal football fan was up against back then. They were against the darkest days of hooliganism, leading to the Heysel Stadium tragedy a few weeks later and ensuring a five year ban from Europe for English clubs. It was also against an 1980s backdrop of the country having high levels of unemployment and a real sense of urban deprivation, where often a lot of football grounds existed, and hadn't been updated since they were built.
It was this lack of updating and attention to safety that was alarming - across all football ground. The seating in the Platt Lane end at Maine Road, my club Manchester City's former ground, were wooden, and anything lighting those could have been pretty fiery. In Bradford's case the old main stand was built onto the hillside, with entrances and exits at the back, and a two tiered arrangement with standing at the front and two walls, one between the standing and seats, and one between the standing and the pitch - which ended up delaying fans escaping on to the pitch.
Underneath the stand rubbish had built as the flooring had gaps it would drop through, and indeed the smoking ban wasn't like it is now either. One stray cigarette accidentally dropped was all it took, and within four minutes the whole stand was one large inferno. The sheer ferocity of the fire and the poor design of the stand is still used as an educational video by the Fire Brigades today to show just how quickly a fire can spread and what lessons can be learned (and thankfully they were.)
It was clear from those whom were interviewed who had been affected by just about escaping or indeed losing their loved ones that the pain was still there, and it still hurt even today. For me it put it into perspective having seen Manchester City gain promotion at Maine Road earlier in the day and then coming home to see what had happened elsewhere. My celebrating stopped and I was immediately thinking of those who were much less happy, who had gone to see their team lift the old Division Three (now League One) title, and never came back on that day.
Watching the documentary showed how much care had been taken, and indeed the stories from the heart really did fill me with a sense of being humble overall. I think of my own moments at football and none of which were ever as desperate as this. At the time Gerry Marsden put together a group called "The Crowd" and they recorded a version of "You'll Never Walk Alone" which raised money for the burns unit and the disaster fund, and thirty years on, this week, a new version was released. It is this which fittingly is tune of the day as football fans are a family, and they never walk alone with other fans' support at times like this.
Tuesday 12th May - Scripting Superstars
Another pretty productive day at least, as I'd managed to finish off the Autodesk Building Design Suite uploading its 35GB to the SCCM server (I still have to ensure it's copied to a distribution point but plan to do that out of hours due to its huge size). So therefore I was then able to look at Autodesk Entertainment Creation Suite 2016 instead. Again, same useful deployment tool to create the deployment you want, and a little smaller in all (I think it works out around 16GB, mainly due to 3ds Max and Maya taking up a chunk of that space) so hopefully shouldn't be too bad.
I did also have a look at the very handy SMS/SCCM script text file that the deployment creates for Autodesk Building Design Suite 2016, and er.. wow. With the options selected I count a mammoth 96 command lines that you would have to do in order for the installation to be a success. Err.. not that easy. Part of the reason for those is that the pre-install requisites are varied, but also because with such a big package, you don't want to be downloading 35GB from your SCCM distribution point to the PC, and then seeing how long the install would take (as the default is in SCCM 2012) - you'd need to run from the distribution point directly. The only way to do that is if everything is on the command line. Aaargh indeed.
It was therefore good to be able to instead spend some time doing something else, and so when I got home from work later I decided to kick back and watch a DVD I'd not seen for a while - The Superstars - The Best of the Best. Although pretty much condensed into several different chapters with a brief history of the said sporting TV show along with appearances from some of the competitors from back then, it does have the late great David Vine reminiscing, and worth it for that alone to be brutally honest.
Of course, the one thing that the programme had above all else is that it had the best theme tune on telly at the time, the sublime "Heavy Action" by Johnny Pearson. The Americans still use it for their "Monday Night Football" American football live match, but for us, it's associated purely with the likes of Kevin Keegan falling off his bike, Keith Fielding saying "it's a damn bloody shame" after losing to Ties Kruize in European Superstars, and Brian Jacks smashing the gym tests records. Tune of the day for this classic theme tune - obviously.
The Love In My Heart came over later and I made some nice pork belly with a crispy crackling skin, in some apple and cider jus, complete with mini roast potatoes and carrots. Went down pretty well all round, and I even opened the box of craft ales my sister got me for my birthday and tried one out - it was more of a craft lager but wasn't too bad, and the bottle size actually fitted the chalice glass that came with it well too. Two of the ales only have one bottle each, and for good reason: they're pretty strong stuff!
Monday 11th May - Look Around You
It was a productive day of sorts today. I actually spent a fair amount of time putting together a report which detailed some of the wide format printing outages last week and what we managed to do to resolve the issues, and also show that the week in general was far busier than previous weeks in terms of statistics, which meant nice easy to show graphs along the way. I think it was also good that I was able to write that whilst the events of the previous week were fresh in the mind, and so get through it quicker.
I also had a couple of meetings on: firstly a weekly meeting I'm part of, where we discovered that there was going to be a new process for a couple of things: one of which several of us called into question due to the lack of staffing and availability in terms of how processes might be changed and handled. I think in certain situations the key thing is to point out a potential issue but yet be constructive about it at the same time - so that it's not just a case of thinking that I'd be whinging for the sake of it (I'll leave that to other people).
I also started the mammoth task of packaging some of the Autodesk larger suites for 2016, and started off today with Autodesk Building Design Suite 2016, which includes the likes of AutoCAD, Revit, Inventor, 3ds Max etc. As a general rule, their own packaging tools are pretty good, and allow you to be able to be flexible as to what you'd like installing whilst getting some form of control of creating your network deployment. It works very well actually and the only issue really is the size of the install - which is big to say the least.
Once I got home, I spent some time watching one of the DVDs I got yesterday - the first series of Look Around You no less. It reminds you of course of the old former "programmes for schools and colleges" that the TV channels would show in the morning, a far cry from stuff like Homes Under The Hammer now. And the individual modules with references to a science textbook, problems and tasks that have illogical solutions, and the way that the episodes really have some key constants (such as labelling everything with an old Dymo letraset label maker) really do make you giggle.
Of course none of this would be any good if it wasn't cleverly written, which it is. Notable of course is the module on music, which not only has the supposed boîte diabolique and a forbidden scale of notes that cause ears to bleed whenever they are played (hence the narrator insisting the volume on the television be automatically turned down now) but also the machine that can help you write songs with the help of some key answers, such as being in the key of "S", being played quite fast and having a catchy title based on what's hanging around the machine at the time.
That of course is "Little Mouse" performed by Robert Popper as his character for the programme, Jack Morgan (BSc) - and indeed it's pretty clever, with Peter Serafinowicz being part of his band "Canterbury" in the video (which is an extra on the DVD). It's massively catchy actually and shows plenty of intelligence not only in the way it was written, but also performed too - and according to the Music episode, an imaginary number 1 in the charts for 28 weeks (!) - so definitely tune of the day for a number of comedy related reasons.
Sunday 10th May - Forty Three
So today is the day I now turn forty three and it's my birthday. I must admit that as the years go by I've decided more and more that I will grow old disgracefully, primarily because I think that I could get old and more miserable, but yet there are so many more years of mine to enjoy. And that's the key word: enjoyment. I think for me that I realised a good few years back that you have to take the moment, seize the opportunities and go out there and do things for yourself, and not regret what you may not have done in life. And I can't really complain too much about that.
The Love In My Heart had insisted that I open my presents when I got up, so I opened some from friends and family first: one of my friends had got me the Weird Al Yankovic album Mandatory Fun, and Look Around You Series 1 on DVD. My Mum and brother had got me gift cards for Debenhams so I could get some holiday stuff, as had one of The Love's sisters. The Love's father had got me the Steve Davis autobiography Interesting, and also the film Champions on DVD, which I'd been after for a fair while.
The Love got me some lovely presents - a really nice retro styled F1 t-shirt with Jenson Button's helmet design from his 2009 title winning season (namely this t-shirt) and it looked smart. I'll have to wear that in the Summer. And in addition, she got me a really nice pair of Fred Perry vintage tennis canvas trainers in royal blue, that go nicely with the privet green ones I have, and again perfect for holiday too that. They're also really comfy as well, so looking smart and comfortable? I'll have that thank you very much.
Later on I headed to the Etihad Stadium with my friend as Manchester City were at home against Queens Park Rangers, and a win for us would relegate them to the Championship. I had suspected that we may play well with any pressure off us and knowing we'd be pretty much guaranteed Champions League football next season - only decision now would be to see where we'd end up. We arrived at the ground, had a nice cuppa inside and were then ready to see what would happen.
Four minutes in and Sergio Agüero goes on a run, we thought he'd lost the ball but chased it down and clipped it past Robert Green in the QPR goal for 1-0. Later in the half a special free kick from Aleksandar Kolarov (his trademark in these situations) made it 2-0 and a crushing blow. In fact it could have been 4-0 at least by half time but for some good saves from Green and some last ditch defending. I did feel good though and that City were going to give me a nice present all of their own.
And so it continued. David Silva released Agüero who had outrun the defenders, and slotted it low past Green for 3-0, and after Silva was fouled later on, Sergio stepped up and completed not only his hat trick but his 25th league goal of the season - which now put him five ahead of Harry Kane in the race for the Golden Boot (or whatever it is these days. It wasn't done there either - from a corner Wilfried Bony headed across for Agüero who slotted it into the path of James Milner, and a backheel from Bony saw David Silva tuck in number six late on!
All was excellent there, and when I got home later on my auntie had dropped off a card with some money in, and a Manchester City book with happenings around the club on each day. My sister came over later and had a nice little present in the form of the Paddington Bear complete series DVD (which I'd been after since I saw the film and indeed reminded me of watching it as a child) - and my other sister and family came over, and I got this really nice box of craft ales complete with two glasses to have them in - excellent!
So it's been a lovely day all round really, and I have to admit that it went rather nicely - even having time to catch up and watch the F1 from Spain, see the Bafta TV awards (bit gutted Claudia Winkleman didn't win in her caterogry though) and generally relax with some Weird Al Yankovic blasting out. I have to say that it's not a Weird Al album without a polka medley, and he didn't disappoint with the ace "Now That's What I Call Polka" on the album - so tune of the day there. Only bad part - back to work tomorrow!
Saturday 9th May - Formula E and Lamb
It was time to head up and out and about, but first of all time to sort out the house, including doing a fair bit of cleaning and ironing, which was good to get out of the way now instead of letting it wait. In fact I had followed a bit of a household tip from Mum and managed to get the bathroom looking even more clean than normal, so that was good. I knew too that although I wanted to go to the city centre, I didn't want to try and spend too much or on too much because there may be a chance I might get something tomorrow for my birthday.
Anyway, before all that I had to nip round to the local delivery office and pick up a parcel from there, and my friend had very kindly sent a package and by special delivery at that - so signed for that, dropped it off at home and all was good there. I popped by the local market near to me and picked up some rather nice macaroons for The Love In My Heart to surprise her with later on, and then once that was done, on the bus to the city centre and have my hair chopped neatly by the lovely people in The Northern Cutter once more - felt much better for that afterwards.
It was then a mission to try and get some new work shoes. I had been using a pair I got from Tesco in December for a while but it was clear that they were now breaking up in parts, and I wasn't going to get much more use out of them, so binned them off and looked around several shoe shops. I didn't want to spend lots, but just wanted a pair to be comfortable and look good in. After much trawling and thinking "the price of those are a bit dear aren't they?" I managed get a proper black leather pair of shoes in Deichmann of all places, and the price had been reduced by a third. In a word - result.
I headed home later and tuned in to the Formula E race in Monaco. It brought back memories of me being there for the F1 in 2012, and interestingly the race was free admission, which would have been ace to go to had I known that. They didn't have the full circuit in use, but instead turning a sharper right at Sainte Devote, going down JFK Avenue and doing a full u-turn at the harbour (making the chicane there a hairpin) and then following the F1 track round the likes of Tabac and La Rascasse.
It was carnage on the first lap as the road narrowed and one car went over the other, so not really good. The safety car was out, the marshals did their usual ace job in Monaco, and it was racing at full pelt again. The race was won from start to finish by Sebastien Buemi, with Lucas de Grassi second and Nelson Piquet Jr third. The rivalry was ramped up between the latter two with some close racing, and it made me think a trip to London to see the race at Battersea Park might have to be doable. Had to blast Fleetwood Mac's "The Chain" (tune of the day) to get me in the mood for the F1 qualifying not long after.
The Love In My Heart came over later on, and once we'd got changed it was off in a taxi to my Mum's, as she was cooking a meal for ourselves and my brother and his girlfriend. My brother had brought back some Cornish ale from their recent jaunt to St Ives, and I had the St Ives Brewery Boilers ale, happy bunny I was with that! The lamb and all the trimmings was really nicely done by Mum, and it was a really nice meal all round. It was also nice just to sit and chat for ages, and before we knew it, the time had vanished and it was gone 11.30pm! How quick time does fly.
Friday 8th May - Majority Rules
I woke up a little earlier than normal and put BBC One on the telly. My, it had been an eventful night. From what one academic that the BBC had had on correctly had worked out, the Conservative Party would have enough seats to actually go into a majority government on their own, no coalition needed. As the morning progressed and indeed as I headed to work, it still wasn't definitely reached in terms of numbers due to some high counts, but once the seats had come in, the magic number of 326 was reached and that was enough - in the end, once the St Ives constituency was declared last (helicopters from the Isles of Scilly dropping off ballot boxes on the mainland) it was a number of 331, so enough for them.
Looking around the regions though was a different story to say the least. The SNP pretty much had every seat in Scotland apart from three of them, a pretty sweeping hammer blow delivered by Nicola Sturgeon leading from the front. A lot of the major cities such as Manchester, Liverpool, Newcastle and Birmingham were swathing seas of red and the countryside massive swathes of blue. And the Liberal Democrats. Ouch. They were the biggest losers, not only losing seats to Labour (such as Manchester Withington not that far away from me) but also the Conservatives (such as St Austell and Newquay in Cornwall) so a definite shift.
What I didn't expect was three resignations either - Ed Milliband I'd pretty much guessed would go if he lost and it was worse than he feared, which it was, and as Nigel Farage of UKIP had also not won the seat he went for, that was a death knell for him. Nick Clegg though really did come across the right way despite his obvious upset at being absolutely battered at the polls. The tuition fee pledge in their 2010 campaign which they broke was their own hammer blow long before this election even took place.
Of course for Manchester there were council elections as well. Labour took all of them (each year each ward has one of the three seats up for grabs) and in a fair number of cases increased their majorities as well. I guess that it followed the parliamentary pattern locally, but still notable. There were till a little while back Liberal Democrat councillors, but they have effectively been wiped off the map a couple of years back. It kind of brings it all back to the question of trust for a lot of people.
In any case I brought in some cakes, biscuits and chocolates for work today as I thought that'd be nice to do (not to mention birthday coming soonish). In fact it was a productive day for me as I'd managed to work on quite a few things and managed to package up the network installers for both Autodesk AutoCAD 2016 and Autodesk Maya 2016, so all good there. It was hammering it down with rain though so that wasn't good at all, and I really wanted to get home and relax and avoid all the bad wet weather really. Maybe quite apt considering.
Oh, and my new broadband service is up and running. I had already pre-configured the router to have the same wireless network name and key, and changed the router admin password along the way too. That helped massively, and so once I had the notification it was all good to go, I plugged in the new router, tested all the devices, and badabing! All good. I had to re-add the wireless network name manually on my Samsung Smart TV, only because previously the old router allowed joint WPA/WPA2 passwords with the same key, but the new one needed WPA2 with AES encryption. Re-adding the name manually allowed me to select, and all good. Naturally the other option was also to use wired which would also work too.
I feel pretty pleased actually, things work well, downloads and uploads are quicker, and it's about the same price as my previous provider was charging me once my transfer and limited offer as a migration from O2 Broadband came to an end, so win win really. And on top of all that, it just looks smarter. So much so that I did some tests in watching BBC iPlayer in HD, and yes, that was rather nice. I played back the first episode of Peter Kay's Car Share with the imaginary Forever FM playing some classics from the early 1990s, looked and sounded good.
However for tune of the day as well as the excellent new Pop Will Eat Itself album "Anti-Nasty League" (please do order it now if you can) I played the formerly unreleased album "A Lick of the Old Cassette Box" (which finally got a release with the 2CD reissue of "Dos Dedos Mis Amigos"). The opening track somehow has the feelings right now, "No Contest" with Clint Mansell in fine vocal form belting out the simple chorus line "No contest - you lose" which could apply to any of the political parties who didn't do so well yesterday..
Thursday 7th May - Votes and Car Shares
It was an early start for me this morning as once I'd got myself dressed and ready to go, I made a detour into work via the local polling station for the General Election (and indeed the council elections in Manchester also). It wasn't that far to walk, and there was no one else voting in the polling station when I entered. I handed over the polling card I had, but despite this still had to then announce my name and address as well to the three clerks there (which I am sure I have never had to do before) - and then of course handed one ballot paper for each of the elections.
Vote done, it was off to work knowing that I'd done my bit for democracy. The Love In My Heart votes by post, so she had already sent hers off a couple of weeks back as well, and that was all good to go. It was of course going to be intriguing to see what would happen although most of that wouldn't be clear until the early morning, so not worth staying up the whole night for in my view unless you're really really into it. In any case I had a busy day at work due to lots of printing, lots of testing and even more testing.
Some of that was to do with Autodesk products and liaising with a couple of our folks in our central team to ensure that our Network licence server was set up. I had done the hard work of getting all the network licences, using the DNS name and MAC address of the server, and then making sure the network licence files were combined into one master one. This then meant that when creating a network deployment that you could refer to the actual server and ensure that the licence file location was present and correct at all times - works really well actually.
I arrived home later and sorted a few things around the house before The Love In My Heart came over. I made us some spaghetti carbonara whilst she was happily watching Emmerdale, and then in between I had on Top of the Pops from 1980 on BBC Four. Really good to see The Cure's "A Forest" on there with a much cropped Robert Smith haircut as well. I still adore that song now to be honest so it's tune of the day for me there. In fact they also had on Blondie's "Call Me" at number one due to an appearance in a film starring Richard Gere back in the day.
We also saw Episode 3 of Peter Kay's Car Share on BBC iPlayer, which was a hoot. Not least due to one of the work colleagues who works on the fish counter joining them impromptu for a lift, arguing and stinking the car out of the smell of fish. Also of course the imaginary Forever FM station plays some cooler stuff from back in the day including this week The Mock Turtles' "Can You Dig It?" (not to be confused with the Pop Will Eat Itself classic song "Can U Dig It?" of course!) and later on The Smiths' "Please Please Please Let Me Get What I Want" too. What more could I ask for eh?
Being a Mancunian though it's always good to spot the obvious continuity errors. One minute they're heading down Oxford Road in the centre of Manchester, the next arriving at work (which of course is the Manchester Fort shopping park in Cheetham Hill in case you wondered) - and plenty of driving up and down Bolton Road around Irlams o'th Height (the Co-Op on the road is a total giveaway here) as well. It's been thoroughly entertaining though and we've both enjoted it thus far.
Wednesday 6th May - Testing Times
I had a mixed bag of a day today. I did spend a fair amount of time testing out the Skype for Business client, especially more so now that the KB2889923 update (which is effectively what turns Lync 2013 into Skype for Business 2015) is a download you can install if you have your updates blocked via the Windows Software Update Services server (which we've done as we want to be sure it's right before deployment as you can imagine). So did that and it was the full release on there, a pretty nice move all round really.
Anyway, there were a few things noticeable on testing and one of which was a slight annoyance. When you first run Skype for Business it asks you to view a tutorial (which you can disable via a registry key so we know that's doable). However it then asks you if you wish to take part in the Customer Experience Improvement Programme. Our Office 2013 Group Policy settings have any taking part in that or even a prompt to opt-in disabled, so that it doesn't annoy users. And after all as Skype for Business is effectively part of Office 2013 Pro Plus, you'd have expected it to bow to those Group Policy settings. Except, well it doesn't.
A few screenshots might help a little here explain what the situation is. So, Group Policy for Office 2013 is set a little something like this:

You'd expect those options to be disabled when you view them in the Skype for Business client, and indeed they are as you can see (note they're greyed out):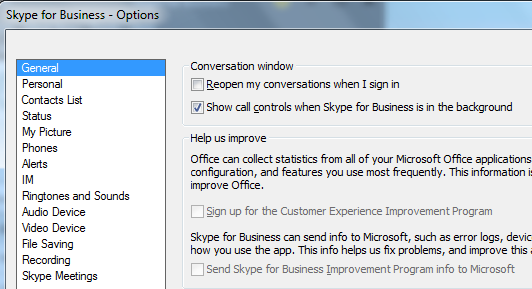 So you can imagine it's a little unnerving to the end user when they would run Skype for Business and get this: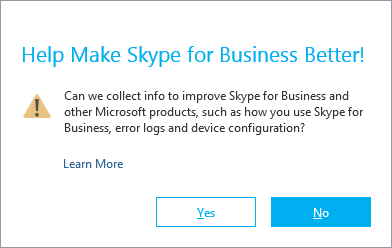 Obviously, you'd want to say no to this but it'd be a lot better if you don't see this prompt at all, which the Group Policy settings for Office 2013 would want you to have. Hopefully I'll be able to locate the answer to this - whether it's a setting you have to disable on your Office 365 online instance (in our case.) There is a setting for Lync server (now Skype for Business Server) but I think that was deprecated for Lync 2013 because of the Group Policy setting for Office.
However, one useful thing I did find out for myself was that by default the menu bar doesn't show. Now for some users that might prove to be a bit unnerving, but you can easily deliver a registry setting via Group Policy that would do the job for you (don't forget Skype for Business would be normally delivered via a Windows Update, so on next start up and log on you'd get that setting delivered and then see the menu bar. To save you looking for it and spending time like I did, it goes a little something like this:
[HKEY_CURRENT_USER\Software\Microsoft\Office\15.0\Lync]
"AlwaysShowMenu"=hex:01
Nifty I know. But it does work. Note carefully too that the registry keys still refer to Lync as opposed to Skype for Business. This may aid transition somewhat if using the Lync 2013 client previously, but useful in any case to spot that now so that you can plan ahead. Ideally it'd be nice if there ended up being a Group Policy template ADMX file from Microsoft to assist you with this, as it'd be much better to inject these into our Office 2013 Group Policy and have those settings applied correctly and consistently, but we shall see.
I did manage also to look at the licencing server software for the Autodesk 2016 suites, and it seems pretty simple. In fact the new version has an option to append the domain name, quite handy if you've actually applied for the licence file with the host name as its full name including domain. So that's a task for tomorrow, get that installed and tested and see how it all works out nicely. I can hope, and with The Prodigy's "Nasty" blasting out therefore tune of the day, time to get some more writing done!
Tuesday 5th May - Coaching and Car Share
It was a busy day for me in work but for a number of reasons. First of all I spent some time with a couple of my colleagues going through the SCCM admin console and what would work well for them in terms of collections, packages, task sequences and actually explaining the steps of our main task sequence to deploy an operating system in terms of what happens, what goes where and what to do when things go wrong. I ended up showing some good stuff built in such as the resource explorer (saved me many a trip to a machine that has) as well as the right click tools as well.
In the afternoon it was mainly heading to and from one building to another and sorting out some of the wide format printing issues which were good to get on top of. I had managed to get a colleague to raise a support call for one of them and was able also to keep an eye on other stuff as well at the same time - so multitasking was on. Not least of course because I was also able to make sure that I had got together some useful statistics for the project manager as well, so all good there.
It was getting a bit wet and windy out there, and I must admit that the bad weather really did want me to get home as quick as I could (which I did) and when I got home there was a package waiting for me - the new router for when my replacement broadband service goes live soon. With that in mind I connected it via a wired connection to the TV, and using the web browser I accessed the router's network address and changed the wireless network name and password to something other than the default (and in fact should mean I shouldn't have to reconfigure any of my devices either, epic win!)
The Love In My Heart came over later, and after nipping out to Tesco to get something for tea, I popped a rather nice Pizza Express pepperoni pizza in the oven, and we had that to share and natter with whilst indulging The Love with added Don't Tell The Bride - even though it was one we'd seen before I think. It ended up with the wedding reception in Caerphilly Castle, which actually looks pretty nice and a good place to visit (that's another place on my visit list..)
We then put on the first two episodes of Peter Kay's Car Share on BBC iPlayer, which actually was funnier than we both thought it would be. The concept - simple but yet works. And the humour came across nicely too. Not just about Peter though - his sidekick (played by Sian Gibson) actually works really well, she has a real sense of being a chatterbox but also a quirky character. Even better, the random radio station Forever FM playing hits from the early 1990s including They Might Be Giants' classic "Birdhouse In Your Soul" so tune of the day for me that one.
Monday 4th May - Biddulph Grange and Bingham Glory
It was nice to spend some time out in the warm weather, and The Love In My Heart and I had decided that as we'd not been there for a considerable while, it'd be nice to head back to Biddulph Grange Gardens, as we'd enjoyed it a couple of years back. We also thought that we weren't sure how nice the weather was going to be over the next few days, so good to have the time to have some time off together. Once I'd made some nice breakfast and we got ourselves ready, it was off in The Love's car and out of Manchester.
The journey there was pretty nice actually, you head on the A34 bypassing Wilmslow and Alderley Edge, and from there on in it's a normal road as you pass through nice little villages with their country pubs and fields of yellow before you get towards Congleton, and then turn off along the A54 towards the town centre and then the A527, past Congleton train station and then onwards under a former railway bridge and towards Biddulph, where the gardens are before you get to the centre of the town.
Once The Love had managed to park up, we headed via the house and into the gardens, and as usual the rather nice pond greeted us, and we walked around and along the path around the edge of the gardens and to the Cheshire Cottage, which still guides a way through to other parts of the garden. We took the woodland walk to the very far end and went back along the straight path with trees lined either side, a rather nice view. We then took another path close to the watch tower and via there you would arrive at the lookout post and then the rather beautiful China Garden, complete with temple and little bridge.
We also spent some time along the Dahlia Walk admiring the many different tulips and back to the Shelter House to admire the view from there over the walk and indeed lovely views of the house itself (a fair amount of it still private so you can't go in it). It was really nice too to sit by the tennis lawn in the sunshine and just relax and chatter together, and really both felt a lot better for being able to take it relatively easy all things considered. The time sped past and before we knew it, it was time to head off.
We stopped off at the pub on the way home and had an afternoon lunch: The Love had some rather nice fish and chips which looked gorgeous, and I had some pulled pork nachos, which I have to say were rather good, especially the pulled pork with a nice barbecue taste to it, and lashings of sour cream and salsa to go with it too, so no complaints from me there really. We had a game of Scrabble later to relax a bit more and The Love headed off home to see to the two cats and left me to the snooker.
And wow, what a final that was, and the final session was massive. The players came out with Adamski's "Killer" pumping out (make that tune of the day) and Stuart Bingham had dominated the afternoon session 6-2 to go 14-11 up, and from the recording I saw, it looked like he was on it. And indeed even when Shaun Murphy pulled it back to 14-12, Bingham won with a century in the next so 15-12. Murphy fought back and won the next two before the break so 15-14 at the interval, which prompted Stephen Hendry to say that he though that there was only one winner (Murphy) from here on in.
The first frame after the interval was also won by Murphy so it was 15-15, and the next frame was going to be crucial. And it was. It was a tactical battle and a half, and some really good shots played by both players. It had got down to the colours with around forty minutes or so gone, and Bingham instead of attempting a tricky pot on the yellow snuck the cue ball behind the black with the yellow safe, and not right on the cushion. Murphy missed on several occasions and that meant Bingham was in the lead, and needed to keep his cool with the colours, which he did and that for me was huge in the context of the match.
Bingham won the next one so two up with three to play, and then Murphy just went all out to go for every shot, missed, and with the reds split nicely Bingham made a break of 88 and near the end he knew he was safe and really enjoyed the last few pots before missing a red which could have led to another century at the Crucible. However he'd done more than enough to be a deserved World Champion, and it made me smile when Rob Walker the MC was announcing the prize money and Stuart covered his wife Michelle's ears so she wasn't aware of how much he'd won - a lovely moment which made everyone smile.
Sunday 3rd May - Shopping and Snooker
So it was up early and cleaning lots of the house, as I didn't have time to do so yesterday with me otherwise being engaged at the snooker of course. It would be lovely to see The Love In My Heart as I'd missed her for most of the week due to her and my work commitments, and I think we both thought it would be good to have some quality time together and to be able to do our own thing for a time. I had of course factored in the snooker as well as it was the World Championship final today and tomorow.
The Love arrived and wanted to head off to the Trafford Centre - she had some gift cards from her birthday and wanted to treat herself to some clothes and accessories, and I thought it made perfect sense. We didn't realise that everyone else had the same idea to actually go to the Trafford Centre though, and the car park was massively rammed. The Love found a space okay, but it was a fair walk to even get to John Lewis at that entrance, so I'm sure the fair bit of walking was going to keep us on our toes.
She did manage to find a nice little accessory in John Lewis which was just above the value of her gift card for there, and so that was good. In fact what she got suited her down to the ground and she looked really lovely with it on when she tried it on later. We did also venture into Zara, and that was pretty busy. She did find a few items and so had to spend a fair few minutes queueing for the changing rooms, and sod's law was that one size was a little too small and the other a little too big. Boo indeed. We did have some other ideas for what she could get but the queues for the tills as well as the changing rooms were just far too long.
Compare that to Warehouse which was a rather quiet and peaceful place to shop actually. So much so that you were able to find what you wanted, use the changing rooms and make a decision. She found a really nice pair of trousers which she could combine with a top to look all cool especially on holiday, and they were 25% off, so with her gift card she didn't have to put that much to either, so a great result all round there really. I must admit though we were both pleased to leave the Trafford Centre, only reminded me why I loathe the place so much.
We stopped off in the city centre and headed to Dukes 92, and managed to get a nice seat on the balcony to watch the world go by with a drink. The weather was decent too and so you can imagine it was busy. I wouldn't want to be working in the bar though, it was really warm down there and I must admit the fresh air on the balcony was more than welcome. It was good to just relax a bit before heading home, where I made the tea (some nice beef in chianti with some vegetables and mash) and then settled in for the evening.
Most of the snooker was pretty dramatic stuff, and at 8-4 down I thought Stuart Bingham needed to come back. And he did, making a century that was the 84th of the tournament and smashing the all time Crucible centuries record, and so to 8-7 - and with the frames shared it was then 9-8 to Shaun Murphy going in to tomrorow. The atmosphere was brilliant and I have to say that the final is proving a lot of people wrong and showing what good players they both are (I knew that anyway but..)
Lastly for the day The Love and I watched the drama The C Word on BBC One, based on the true story of writer and blogger Lisa Lynch, who created her blog so she could get things off her chest about the cancer that she had, how she thought it had gone, and how it came back to eventually (and unfortunately) mean that she passed away in 2013. It was a real heartbreaker, more so if you know the true story of her as well or have read the book (which unsurprisingly sold lots of copies after the programme was broadcast).
Sheridan Smith was superb playing Lisa, really going through a gamut of emotions and bringing real warmth and humanity to the role - argubaly her finest role yet even more than her Cilla Black portrayal last year. Paul Nicholls was her husband Peter, and he too showed the kind of warmth support and kindness that I can only imagine that a loving husband would be able to do in those sort of situations. It felt real, and a lot of it was down to those two. And a really nice use of "Powder Blue" by Elbow at the end, so tune of the day there.
Saturday 2nd May - Snooker Loopy, Part 5
So the final visit to Sheffield and the Crucible Theatre for the snooker, but not the final visit to either place as I am seeing some theatre there later in the year. Got to Sheffield early thanks to East Midlands Trains being their usual brilliant selves, and saw Joe Johnson before he entered the Eurosport commentary box, and Stuart Bingham. John the bank manager (he normally sits in the front row with glasses on, and a big Man City fan also) was getting a t-shirt signed by Stuart and had a pic taken with him. Stuart noticed John's Man City phone case and said "if I'd have seen that earlier it'd have been no picture!" with a massive smile on his face. Good to see. Judd Trump came in with his brother (imagine Judd but a fair bit taller) and it was all set for the morning session.
And what a session it was. The session was rather tense and a real atmosphere in the Crucible for this one. When it went 9-9 I thought Judd might pull away but no, Stuart was on it and played some good stuff and 11-9 at the mid-session was a very fair reflection of the play thus far. Stuart played well tactically and extended his lead to 13-9 and at that point you thought Judd had to win the next two frames. Indeed there were several people behind me who had came clearly expecting Ronnie O'Sullivan to be playing and were annoyingly shouting out "Come on Ronnie" on occasion - massively disrespectful to be honest.
The 23rd frame (second to last of the session) was possibly a real game changer. Not only did it take a fair amount of time, but Judd had got Stuart snookered, and after the fourth miss it was a free ball. Judd put Stuart in all sorts of trouble and Stuart eventually escaped on the fifth attempt (in fact had he missed he would have been in the snookers required stage) - and needed all of the colours to win. He got up to the blue, ran out of position, snookered Judd, got the five points and still needed the colours to win. He knocked the blue in, and the pink jawed and then went over the pocket which Judd gratefully accepted. I didn't expect an 87-79 scoreline in the frame but it was a real tactical battle but also not that slow really - a cracking effort. Judd took the final one to come out of that session 4-4 and he must have been pretty pleased.
There wasn't much time between sessions so grabbed a sandwich and headed almost back in. It was then watching the rest of the Barry Hawkins - Shaun Murphy semi final. Barry made a century and everyone cheered him on, and I should have put a quid or two with Betfred outside as they offered 7-1 for a century in the opening frame of the session. Barry had a big smile on his face throughout, great to see. Shaun then did more than enough after Barry broke down on 44 to win the frame and match. There was also a woman sat next to me and when the referee Jan Verhaas came out she frantically waved to get his attention, and the MC Rob Walker said "you'd better get your coat, Jan!" or something similar. She then decided to text her way through the actual snooker itself which to me seemed daft - why pay all that money and then not watch what you've come to see?
A few minutes later Shaun came back out and was doing various poses by the tables with all sorts of mirrors, lights etc. I think this might be a piece for BBC2 for the final's TV coverage for either tomorow or Monday and made sense for him to do it now instead of coming back to the Crucible later or even tomorrow morning. He seemed pretty chilled out and was co-operating happily. I also reckon it was good for him to be able to get all of that out of the way now too.
The exhibition (after 8 repeats of the full three minute version of the Big Break theme tune - so tune of the day as it didn't leave my head for long after that) was indeed an episode of Big Break, chaired by John Virgo, with three people from the audience picked out by Rob. Dennis Taylor, Steve Davis and Ken Doherty were paired with these members, and in the first potting reds challenge, Ken scored 7, Dennis 5 and Steve 6, so Dennis was out. The second round saw Ken narrowly beat Steve in the points scoring before then having 80 seconds to pot red,colour and all the colours to win the prizes for the contestant, which he did brilliantly (even did the Dennis Taylor 1985 celebration!)
There was finally a Q&A session and that was good as the players were asked lots of questions about the game and telling some funny stories (a fair few at Stephen Hendry's expense!) - they also were really good sports generally and the winner of the Big Break got tickets to the first sessions of next year's tournament as part of the prize - can't argue with that. I think if I'd have known that beforehand I might have been tempted to volunteer to be honest.
So that was it then, and after having a drink and natter with a fellow fan, and it was lovely to see them too, it was time to head back down the hill and to Sheffield station, where the train I was getting had been cancelled. Typical Transpennine Express to be honest, it makes me wonder just if they need to have this franchise taken off them for constant unreliability (I'm not the only one who thinks this) so it was a quick half in the Sheffield Tap (even Cornish ale, woohoo!) before taking the later East Midlands Trains train home, and got back to watch the remainder of the semi final with Stuart Bingham winning 17-16 over Judd Trump. Epic stuff.
Friday 1st May - Friday Packaging
So the Friday before the May Bank Holiday, and actually a lot to do to be honest. The team meeting had been brought forward to yesterday so none of that, but instead plenty of attempts to be able to try and catch up with the outstanding stuff needed to be done. In fact I had spent some time this morning with a colleague going through the Adobe Creative Cloud packager, and how in the terms of teams it's a lot different in the way that you package it. We were able to see that the device licence had been obtained, so it was just a case of getting it packaged and how that would work correctly.
I also spent some time in the afternoon looking at the various 2016 Autodesk suites, and namely how I was going to look into the way that the larger suites would be done. Ideally it'd most likely be preferable to do the whole suite as one package but then use their SCCM scripts to do the remainder. It's actually quite good because then you can run the installs separately as a command line based install, but also means you can run the whole lot from the distribution point directly (there's a very good reason for this - copying all 38GB of install to the machine first would take ages before the install ran)
It was good though that the day passed well and I was soon on my way home to spend some more time watching the snooker, and in between that blasting some of the new Prodigy album "The Day Is My Enemy". It's growing on me massively and I can tell that there's going to be several tunes which will be in the heads of a lot of people in the Summer. One particular favourite and tune of the day has to be "Destroy" which sounds very much like they sampled a Commodore 64 at the start of the tune, and then comes in with some banging beats as well, rather good stuff that.
I also saw Gogglebox, and it was quite fun how they were all having a bit of a giggle at some of the programmes that they were watching - notably that they didn't believe that woman who had her dog performing hypnosis, assuming like most of us did that even Ant and Dec were in on the act and just playing her up for the cameras. Still though it was also a very moving ending where they were seeing a programme where two sisters from Thailand were reunited, but the biggest surprise was that they had also been reunited with their Mum as well, and several of them were in genuinely emotional tears. I think that's the power of such a show like that: it shows people to be human as well as humorous.
So an early sleep for me and up early for my final visit to the 2015 World Snooker Championship tomorrow. It's been another great tournament it has to be said and I think also that the demand for next year's tickets, which go on sale on Monday, will be pretty big. I should add though that you may find a lot of returns nearer the time which will mean decent tickets (I've done it before) so don't panic too much if you find Monday a log jam. It's almost over this year but I do have two of the semi finals tomorrow, so should be good even if one of them looks like it's going to finish early...