Dear Diary... May 2016
Tuesday 31st May - Cracking On
So after the four days of concentration or so last week, back to the normality of the day job this week, and I had plenty to be getting on with. During the day I was spending time uploading the two new Windows 7 Zenworks images (one with Creative Cloud 2015 on, one without) to the satellite servers dotted all round. Oh, for distribution point availability a la SCCM, it'd be so much more easier to achieve. Still, I let that crack on and in the meantime I was able to get on with resolving a series of issues for the IT support staff, and also to prepare some stats for a problem group meeting for my senior manager too.
I also worked on a couple of things, but in the main was attempting to write the business case document for the Intel AMT implementation. As we had been knocked back effectively and had to go to another group to present the case at a future meeting and get it approved, and with no time last week, I spent some time writing up more of the document and making sense of all the case as required to be able to come to a point where I could do it. However, some of the documentation that it referred to appeared to be missing so I need to see some of the projects folks tomorrow.
It is overall a tad frustrating too in essence, because it feels like all the time spent testing and developing a solution which I know works, and which as a pilot also works, is going to run aground somewhat. I also maybe think that it shouldn't necessarily be me having to present this as a technical project to a different board, and that this should have been decided before I started as well so that it was already going to be known that the proposed plan would come for change approval at the right time. I also though do wonder whether I could have done more as well to make it clearer, but the staff normally tell me that mine is usually the most thorough of proposals, so I do wonder a little.
Still, I also managed a fair bit in terms of seeing how we were with investigating some slow boots with the Microsoft Boot X-Ray stuff, and the representative who had visited me last week had emailed the senior staff and informed them that I had learned and picked things up very quickly, so I am going to take that as a positive and a back handed compliment too. I maybe should have asked him about what possibilities there may have been to further my development with any internal courses that they could have offered my workplace as a discount and all, but I do have his contact details, so might just do that anyway!
Tune of the day on the other hand is the excellent "Give It To Me", composed by Pete Shelley of Buzzcocks fame, and the original hard pounding disco effort was remade and remixed by his band "Zip" in 1986 on the 12" single of "Your Love". In essence, it also then became the theme music for Channel 4's coverage of cycling back in the day, including the Tour de France. The old memories of when the likes of Bernard Hinault and Greg LeMond were legends of cycling, no doping or cheating, just pure riding at its finest, and with this in the background, happy memories too.
Monday 30th May - Anniversary
Eight years ago today I first met The Love In My Heart. And I can, hand on heart, say that it's easily been the best eight years of my life (and hopefully hers!) as we've shared so much and been able to enjoy our time together a lot too. We were discussing as we woke with a cuddle this morning how many of the places we went to on our first date have closed: Kro in Piccadilly, which used to be a meeting place for us both if meeting in the city centre together, and Felicini on Oxford Street which became Kitchenette and then went to the wall. In fact, only Ra!n Bar remains now. A sign of changing times around us, but also those memories with it. Still, lots of time for new ones!
We swapped cards and I have to say that The Love's card won. She had seen it ages ago and got it, and it was two cats paw in paw, viewed from the back. It takes pride of place in the front room now and certainly for me resembled in a way her two cats Jô and Brian, so that was nice too. We had some croissants and a coffee for breakfast, and had some chilled out time basically pottering around, seeing old episodes of the Sport Relief Bake Off in the days when Mel Giedroyc hosted every one instead of having guest presenters like Ed Byrne (Mr Mobili as The Love calls him!) and just being relaxed.
Later on we headed back to the centre of London, getting off at Warren Street tube (how apt!) and went to the Crown and Anchor for a well deserved anniversary lunch together. We decided that one of our favourite pubs would be a good relaxing way to celebrate, and so it proved, with a chilled out vibe, some lovely ale (yaay) and the food up to their usual fab standards. The Love had the rather good looking half Shropshire chicken, with red wine jus and some lovely shallots plus some rosemary and parmesan seasoned fries too. I had the chicken and ham hock pie, and as ever, it was a proper pie with lashings of mash, gravy and vegetables. And to be fair tons of chicken in the mash too, happy bunny all round!
We had a drink in there too before making the walk back to Euston and for The Love to head on the 1700 train back to Manchester Piccadilly. I did feel emotional but was attempting not to show it too much, as weekends like this make me realise how lucky I am to have such a wonderful, inspiring and gorgeous girlfriend, but that they go by way too quickly and the reality of work therefore sets in somewhat. I for one really enjoyed it all and the hugs and kisses we had before the text from Virgin announced the platform for The Love to board the train were just so loving really.
I decided to have a different route homeward and so took the 59 bus from Euston, and the roads up to Waterloo were dead, primarily because of the London 10000 taking place earlier and most people avoiding the centre and the traffic. It meant a nice journey via Waterloo, Kennington and then Brixton to Streatham Hill, and changed there for the 109 bus to Croydon via Streatham and Thornton Heath Pond. It didn't take too long all told and I was soon back at the flat and in time for an evening of chilled out telly, including The Great British Sewing Bee.
I have to say though that it was so nice seeing The Love In My Heart this whole weekend and having a lovely anniversary time of it together. The last eight years have been so wonderful and here's to many more together. So it only seems appropriate that I blast out some choons, including Shapeshifters' "Lola's Theme" (make that tune of the day folks) as the words of that really do sum up the changes in our lives wonderfully well. And add to that the original of Rozalla's "Everybody's Free (To Feel Good)" as the twee Boots piano advert version is just not very good.
Sunday 29th May - Hamming It Up
After a lovely sleep and a lie in of sorts this morning, I got up and prepared a nice full cooked breakfast for myself and The Love In My Heart, complete with fried egg, large mushrooms, sausages, bacon, toast and especially for The Love, some tinned tomatoes as well. She was especially pleased I'd made the effort and added to that some pink grapefruit juice and coffee, a really civilised way to start the day together. We had made some thoughts about what to do today, and as the weather was nice, and we had our National Trust membership, a visit to one of their properties would be cheaper, so we thought Ham House near Richmond was doable!
We took the train from East Croydon to Clapham Junction and noted a considerable number of people at Platform 6, all heading off to Twickenham to see England v Wales at rugby union. As a consequence the train was busy, but we got on fine and got off a few minutes later at Richmond. From there it was a nice walk along via Richmond Green, past some lovely little shops on paved narrow streets (to which The Love massively approved) and towards the River Thames, where we'd head under Richmond Bridge and follow the river along towards Petersham Meadows, and then follow the path of the river to the West for around a mile and a quarter.
We spotted the little bridge and once we crossed there we could see Ham House in the distance, and were soon arriving there safe and sound. It looked pretty relaxed and calm, and once we'd shown our membership, and with it being around 3pm, we thought it best to do the house first (it closes at 4pm) and then do the gardens as they were open till later on. The house had an imposing frontage and indeed going into the main entrance hall, the ceiling had been removed many many years ago to give it a more light and airy feel in the hall, and it certainly looked the part.
A nice walk around the house followed, with views of many Oriental items, especially vases and tapestries, and little hidden doors for the servants to come into rooms as needed to service the Duchess of Lauderdale as needed. In fact the below stairs section we went to later showed the scullery, the former beer cellar (where someone was serving beer today - be rude not to!) and best of all, the still room, where the Duchess created her own concotions of remedies using plants and herbs. The old Stuart era bathroom was also wonderfully preserved and we enjoyed seeing that too.
The gardens were next, and after admiring the eight square lawns known as "the Plats" it was then beyond to the Wilderness gardens. We loved this place, sixteen sections all converging into a central circle, and in the four corners, four nice small Summer houses hidden away by the bushes and trees, and a perfect little hiding place if doing hide and seek back in the day. The central circle had some lovely seating and holly bush trees and was a wonderful place for us both to sit and relax too.
We then headed around the vegetable garden and the dairy before The Love had a mooch in the second hand bookstore, and we finally went to the Cherry Garden, which was the private gardens of the Duchess. It now has mainly lavender and santolina, but also they are attempting to re-plant some cherry trees too. The statue of Bacchus sits in the centre and around the outside the paths around had bushes with square holes in, so you could frame the view of the garden nicely too. It was a really lovely place as the pictures will show, and I can highly recommend a visit if you're in the area.
We walked back along the river bank to Richmond, and stopped off at a lovely cupcake shop to pick up some little sweet treats to have with a coffee later. They weren't cheap, but we can highly recommend a stop at The Hummingbird Bakery if you get chance. They even put them in a box and in a nice cosy little bag which The Love undoubtedly was going to take home and use! We also stopped off at the Railway Tavern to allow for the rugby lot to get on the trains back to London, and once done we then headed off on the train ourselves via Clapham Junction back to Croydon.
Back at mine I put on the recording of the Monaco Grand Prix (with Fleetwood Mac's "The Chain" being tune of the day) and what a race that was! It had tons of drama, mainly caused by the rain, and a real sense of being able to judge when to switch tyres and to make the right call. Lewis Hamilton did, but the Red Bull team cocked up Daniel Ricciardo's stop badly, and so he ended up behind Lewis Hamilton for a fair while - he got close to passing but had the door shut, and that was it. The other notable performance was Sergio Pérez in third in the Force India, did really well I think.
We finished off the evening by The Love watching the British Soap Awards and I think she was most pleased to bits that for the first time ever Emmerdale won it, with a clutch of awards also going to Eastenders and Lacey Turner in particular for her post-baby stress storyline, which from what I saw had seen well acted by her. Even Doctors won an award, which I thought to be honest was a daytime thing that no one watched ever - apparently it has a cult following. Who knew that? The Love and I snuggled up later and it was another lovely and happy day together - more of the same would be fab!
Saturday 28th May - Don't Rain On Our Sunny Parade
I must admit I was pretty excited today as The Love In My Heart was coming down to see me and visit for the whole Spring Bank Holiday weekend, which would be made doubly nice by the fact it was an anniversary of sorts too - but more on that later on. I had got up reasonably early and made sure that the flat was all tidy, everything changed over in terms of bedding, towels etc, and also sort out any remaining things needed to be done. The Love was on the train down and let me know when she was leaving Victoria, and thankfully avoided leaving on the Gatwick Express instead!
It was so nice to see The Love and a huge hug was hers, followed by a few more hugs when we arrived back at mine whilst she sorted out what she needed to with the case. I had got showered and ready not long before I set off, and she freshened herself up and changed, and we were going to take advantage of the nice weather, head off into central London for a bit, and then see the show Funny Girl at the Savoy Theatre. I had managed to get us £25 tickets in the upper circle, and as we hadn't been to the theatre for a bit, thought it'd be a good way to start the weekend.
We took the train from East Croydon to London Blackfriars (almost mirroring part of my journey into work) and then followed the River Thames along the South Bank, past the Oxo Tower and all its nice little craft shops, and indeed seeing the ITV Studios, before stopping off at the bar at the ground floor of the National Theatre. In the absence of proper cask ale I decided to have the Meantime Brewery keg Yakima Red, which was very red indeed and surprisingly lovely too. It was good to people watch as the boats passed us along the river, and it was a nice view from there.
Even more so as we walked along under Waterloo Bridge and to the top of the Southbank Centre, where the outdoors bar was open. Not much in terms of beer at all, so a sparkling water for me, but this did allow The Love to have a Pimms, which had to be done with the sun out. In fact she really liked it and I tried a bit, and I could see why. The addition of the fresh fruit and mint which the bar staff mixed in helped a fair bit, and was definitely refreshing on a day like today. Again, nice to sit and relax and chatter too.
It was then over Waterloo Bridge, turning left to The Strand and around the back of parts of Covent Garden to the Porterhouse Brewing Co for some tea - and they had proper real ale, so yaay there. I had the pie, which was a dish with lid job (boo) but the chicken in there was massively plentiful, and some nice mash on the side too, so no complaints there. The Love had the fish and chips which also looked pretty good, and it was good to sit inside and relax and have something nice to eat before the show.
It was then back to the Strand and to the Savoy Theatre, and we made our way in the Grand Circle entrance. We walked down a little passageway and the seats were virtually at the same level in Row F. We were almost at the top of the theatre, with the stage and lower floors below us (there is quite a slope down to the Thames river bank behind the building which probably explains it.) We both adored the art deco look of the theatre, and the rail in front of our seats wasn't an issue, the rail beyond at the back of the previous row did occaisonally obscure things (although they did tell you this when ordering the tickets at least.) It didn't spoil any enjoyment though but at least the official website was spot on with its info.
So how was Funny Girl? Very, very good actually. I haven't seen the 1968 film version with Barbara Striesand, but had read up about the real life Fanny Brice beforehand so had some idea of what it'd be about. As Sheridan Smith is still off poorly, the understudy Natasha J Barnes was playing Fanny, and I have to say, probably did just as good if not better a job of it. The Love observed that her voice was really excellent during the long sustained notes especially and she brought character and charm in abundance to the role. She really worked the stage well and you could tell she was a seasoned theatre actress too. I must admit people had been returning tickets as they wanted to see Sheridan, but kind of more fool them really as they missed out in my view.
The other notable acting performance was from Darius Campbell as Nicky Arnstein. Yes, that same Darius who was Darius Danesh on the first series of Pop Idol. You wouldn't have thought it, but he's now a seasoned musicals veteran, including roles in Chicago previously. He had the voice, but also the suave and swagger to go with it, and really was a great foil to Natasha as well (they embraced with a massive hug after the applause, as he was really pleased for Natasha too, so nice to see) - and notable of all perhaps was his control in the voice too.
A few things notable in general: 1- bar prices in the West End theatres are ridiculous - a glass of wine and a half pint bottle of London Pride - £15! 2 - Natasha belting out the classic "Don't Rain On My Parade" was spellbindingly good (tune of the day for me), 3 - A huge standing ovation for the cast at the end and Natasha especially, 4 - The upper circle bar is so gorgeously art deco stylish, I could have had a coffee and chilled out there if it was open during the day, 5 - Go see it if you can get a ticket.
Friday 27th May - X-Ray, The Final
So onwards with the fourth and final day of the Microsoft Boot X Ray visit. And we dug deeper. A fair bit deeper. And found out some interesting stuff. For example, if you've got a solution for anti-virus or elevating rights such as Avecto Privelege Guard, they may hook on to the Windows kernel. You'll therefore see it as a service start up pretty early in the process, and be able to see what it's doing during that process is pretty nifty. Particularly more so if you see an advanced trace and get to dig a lot deeper as to what's going on.
What I didn't expect to do was have to give a presentation this afternoon with my other colleagues in tow, and indeed having the Microsoft representative there co-present with me. It worked out fine in the end and actually the rep told me that I'd done pretty well considering that I had to think on my feet to get a presentable demonstration sorted. As I walked him back to the tube station later he told me that I had picked it up really quickly and that I got the concept, so felt positive that I had something else added to the armoury and to be able to get all that sorted.
Anyway, with that all done and the weather set fair, I headed off home, and due to various different reasons, I ended up at Selhurst, and took the bus from there for the remainder of the journey to Croydon and back homeward. I did at least get home at a reasonable time too so that was positive, and it meant also that I could put my feet up and relax, with my online food shopping having arrived last night, so one less thing to have to get sorted. And the England game was on of course, so time to get to it.
And well, what a start that was! Two minutes in, the ball comes to Marcus Rashford, and he scores on debut, becoming the youngest ever England goalscorer an in international! Nicely done, and to be fair, he looked pretty menacing throughout and giving the Australian defence problems. If ever there was a case to get him on the plane to be in the squad for Euro 2016 in a couple of weeks time, he just made it. And with Wayne Rooney adding a second goal coming off the bench in the second half, England won 2-1 in the end and although dodgy defensively, at least we are scoring up front so that is something..
I saw Gogglebox, and that was good because they were watching Peaky Blinders, which has of course the excellent "Red Right Hand" by Nick Cave and the Bad Seeds as its title theme (make that tune of the day) - and in addition, Alex from the Michael family was singing along. Respect to her for that (and one of my friends would be rather happy if he saw that too!) - and also it meant more of Sewing Bee as the watchers commented on it. I must admit the little Moffatt daughter is also fab too - perhaps even outdoing elder daughter Scarlett with her comments!
Thursday 26th May - X-Ray III
The third day of myself using Microsoft Boot X Ray, and time to delve a little deeper into things. I had been able to observe various boot traces being recorded overnight and being able to see what was happening with those machines accordingly. It was also notable that a heavy trace had been taken on one machine, and using the Windows Performance Toolkit's rather good Windows Performance Analyzer (darn that Americanised "z" spelling!) it meant that you could delve deeper into all the processes and see exactly what was taking the time - and I had a template that was provided by the rep which helped hugely for this.
The good thing too was that when doing a manual trace on one of the PCs, we were able to spot something straight away - when the PC loaded up it appeared to have a couple of unsigned drivers attempting to load. This is bad, because it means that when you are booting up, the PC is looking all over the hard drive for a valid signature - and we found that even though the driver in section is actually signed, it's actually with an expired signature and so as such wouldn't play ball anyway. So, once we'd found out what that was, we were able to see it was part of MiniTool Partition Wizard, which some people use to repartition drives - and it has its own driver installed.
I checked that said offending driver wasn't called anywhere, and when I spotted it wasn't, I removed the registry entry. We then did a second manual trace to be able to see what was happening and that was pretty good all round, and immediately we were able to compare times between the start ups. We were talking a 30-40 second overall improvement, and that also meant that it was a good pointer that realistically you'd only want to have signed (use fltmc from an admin command prompt for a start, that helps.) You can also use sigverif to verify the signatures too and this outputs a really useful file too.
Everything appeared to be way ahead of schedule which meant hopefully an early finish tomorrow, perfect for the Microsoft rep in question as he was heading from Heathrow to Amsterdam tomorrow evening, and I'd worked out a way for him to get the tube to Heathrow, so all was good there. I think too that we were able to get a lot done, and so tomorrow we'll go a bit more freeform in terms of examining what else we can do, what patterns to look out for etc. I've also spotted a possible improvement straight away so will be hopefully attempting to try that out.
I got home later on and tuned in to Top of the Pops from 1981, and the first track up was the classic "Happy Birthday" by Altered Images. Needless to say that made me very happy indeed as I did adore Clare Grogan back in the day (and argubaly she is even better now to be perfectly honest) - and so that song is tune of the day. I must admit though I did quite like them initially when they were a bit more goth, and when you listen to the whole of the Happy Birthday album, you can see that influence. A lot.
Wednesday 25th May - X-Ray II
The second day of Microsoft Boot X Ray, and one that definitely felt like I made a considerable amount of progress in. We had at least now got the server operational and had installed the client on one machine, and eventually followed up with a few more target machines to get some data from. The clients were installed, the PC restarted and the users logged in. This then sent the information directly to the server for processing nicely, and we could then see the amount of data being transmitted and sent over nicely to the database, and we could query that.
In fact this was the really fascinating bit - the Excel spreadsheet needed the PowerPivot stuff running, and once that was operational it meant that it could do mass queries of the database and pull back lots of graphs and statistical information, which meant you could do lots of compare, contrast and be able to spot patterns and trends along the way, such as the delay in Group Policy Processing, speed of user login compared to machine booting up to a login prompt, and stuff like that.
As more traces came in, the configuration meant that occasionally it would do a medium trace and a heavy trace. The heavy trace had a shed load of more data, but that meant it showed things like disk input and output, what took up the massive amount of disk activity, all that sort of thing. It was also good to see different hardware come in and show that some models which allowed to boot appeared to work pretty nicely (for example those with solid state drives certainly appeared to perform a heck of a lot better.)
We did notice that with one test machine that there appeared to be plenty of disk activity, and so we started to do a manual trace on that so we could get some results appearing in the morning - the idea being that we could be able to see if the manual one would be able to give us lots more information for diagnostics as well. It was a pretty good day, and I stayed behind a fair bit later on to be able to get on with a few things I hadn't been able to do during the day.
I then took the bus out and over Waterloo Bridge to Aldwych, and headed to one of the theatres to collect some tickets I'd ordered online for Saturday, which was going to be a nice thing for The Love In My Heart and I to do. I then realised I could get the X68 bus to West Croydon, which was an express for a fair way of its journey. Once it got to Waterloo it turned right and towards Kennington Road, then crossed just near Oval station and took the A23 all the way to Brixton, before turning left and down to Tulse Hill, where it followed the 468 route and became regular stop after West Norwood station.
I arrived home a little late because of all that but it did mean that I still had plenty of time to get my online food shopping ordered, and be able to listen to some good music as well whilst taking things relatively slowly and chilling out. I therefore had various Dream Theater tracks blasting out including the rather excellent title track of "Octavarium" (one word: epic) and then following that the opener from their Train of Thought album "As I Am" which is particularly brilliant, so tune of the day.
Tuesday 24th May - X-Ray
It was the first day of four of having a Microsoft representative with us, and mainly spending the time with me as well as we were looking into the Microsoft Boot X Ray stuff, which should allow us to investigate any possible slow boots and the causes of them, using some specialised tools and some analysis as well. In view of this I'd already requested a server to do the processing work as well as space on our SQL server cluster for a SQL database in order for everything to work correctly.
Almost all the pre-requisites were done, and so it was good to see him arrive in good time for us to be able to make him a coffee and make him feel more at home too. I had sorted out the desk next to mine, and so was able to do some of the early pre-requisites, getting some stuff copied to the server, and then ensuring that the main Powershell script variables were all set, including the SQL server and the name of the database. I had to liaise with out main SQL person off site and that worked okay, but for some reason the script kept failing.
I had a late lunch and then thought "it's got to be something rights related" and so pored over what it could be - the failure was happening at a certain point. I did some investigation and then realised what it was. I was running the script as my admin user account, and that needed to be able to either see the database created on the SQL server, or instead as it turned out, the user account needed to be a sysadmin on that SQL server so it was allowed to create a fresh database. In fact, once my SQL admin had done that, we removed the database and I ran the script - and success! It all created perfectly. So it seemed that my hunch was correct but was just a bit gutted it took time to prove. Not complaining mind you...
So, with that done I was able to look at being able to provision a client and I used one of the test PCs to do so, and that worked well. With the PC also in an appropriate group, it meant I was then able to ensure that I was able to do a test, and so with the client installed, I restarted the PC, left it for a while and logged on. I could see the tasks it had generated and the tasks running as they needed, including one which would use BITS technology to send its reporting data to the processing server (and then on to the database) when it was idle. It worked as intended. Hurrah! Success, so far.
I headed home late because of that but it was nice to catch up with The Love In My Heart and have a good natter, and it seemed that one tabby cat was attempting to enter the decking at the front of The Love's place and try and scare her two cats Jô and Brian a bit, as they had their harnesses on and were playing out in the nice weather. It took some coaxing from The Love to sort them out eventually, but they gave each other a love and all was well with the world. I suspect that they're not yet streetwise dealing with mainly outdoor cats, but that will happen with time I hope.
So I then watched back something on iPlayer I had missed on Sunday due to the trains being late - the excellent David Jason presented documentary "Alfie's Boys" which chronicled the story of Sir Alf Ramsey and the 1966 England World Cup winning team. It was so good that those who were still around were interviewed including Jimmy Greaves, Sir Geoff Hurst, Ian Callaghan, Roger Hunt, Sir Bobby Charlton, Nobby Stiles' sons, Alan Ball's son, and Motty as well of course. It was just a really nice documentary, so well researched and with some good archive footage added in too. Tune of the day is the song for the mascot "World Cup Willie", somehow summed up the mood of the era!
Monday 23rd May - AMT and Sewing Bee
So back to work for the start of another week, and it seemed more delays on the trains as well. My usual 0658 train to Blackfriars was clearly delayed, in fact when I got to the station it was still in Gatwick Airport so I knew that was at least 15-20 minutes away, so it was on with the Plan B - train to Clapham Junction, back to Balham and Northern Line from there to work. That worked pretty well and it allowed me to get in well on time, so that was at least pleasing that my alternative routes come in use and actually do allow me to get to where I need to go - well worth noting for myself that.
Anyway, it was also a good day of sorts as I had been able to see that a fair number of PCs were being provisioned with the Intel AMT stuff, and I had been able to at least remotely see a fair few, be able to log in securely, and then see if it was booted up or not. I could of course have remotely done a boot, but thought better of it, but the fact I could see the web console with it switched off was a considerable bonus of course. And in addition, I could also note that the scheduling on the two devices I had done were all good to go as well, so I definitely considered that a bonus really.
I also had noticed that a few were unprovisioned but I was able to work out why: one particular type of PC which is prevalent around some places actually has two network cards: one of which was of course the Intel AMT enabled one, and the other not. For the remote provisioning to work, it of course needed to be plugged into the correct port, and if not, it failed. I actually got one of our staff to change the network port on one of the PCs, then did a re-provision, and it worked successfully without any issues whatsoever. I think that is a success story all round and definitely promising for me.
I had a quiet night in at home once I had got home, mainly spending some time sorting out a shed load of washing from the weekend and making sure it was all ironed and clean too. I definitely thought that it was well worth a good idea that I would iron the shirts when damp, the idea being that they could be hung to dry and then I didn't have to try and iron out creases formed then. It worked really well, so mental note to self to make sure I do that in future.
Naturally of course on was the Great British Sewing Bee on BBC2 later - I do of course adore Claudia Winkleman as host and when she was saying that little ones having a poo and throwing up was one good part of parenting, I had to giggle. The challenges were tough too: making a baby gro was hard, but then doing a cape that looked cool for a little child, not so easy either. The two best ones were by far Jamie's gentleman's cape and Angeline's red cape with gaudet, they had plenty of good thoughts going into them for definite. I also agreed that Ghislaine was the right choice to go too - shame, but two disasters out of three challenges are a little too much I guess. I always also adore the fact that there's little topical music pieces when the clothes are being shown, such as the original "Baby It's Cold Outside" as well so tune of the day there.
Sunday 22nd May - Sunday Steak And Ale
It was a nice sleep and a leisurely lie in before we both got up, and as I had got myself up and showered first, I fed Jô and Brian some Dreamies (they loved me for that!) and then had some breakfast together. The Great Manchester Run was on of course and so we spent some time watching that, and it was really good to see so many out there doing the run and raising so much for charity along the way. It's also good to see so many good stories of people taking up running and making the 10K a good first challenge on to perhaps a half marathon or full marathon next year. That might prove to be interesting!
We decided later to head out and head off to see my Mum, and she was more than happy to see us and make us a coffee. We had a chat about my house sale and indeed my brother and his girlfriend's house search, and that they were both at a reasonably good point. My brother admittedly was getting a tad frustrated at offers being good ones but not good enough on some houses, which is why I'm glad I'm not buying at the moment. It was also good to work out a suitable time for a possible visit for Mum down South too.
Later on The Love and I headed to The Beer Studio in Fallowfield, and as well as having two for one on the food, one of their cask ales was a mere £2 for a pint, which is what I call a result really. I had to try it (it was nice too) and The Love had the Sunday roast pork and me the steak and ale pie. What I didn't check beforehand was if it was a proper pie, so was initially disappointed to see the pastry case lid. However the dish inside did have a shed load of steak in a thick ale gravy, and it was rather nice - so nice in fact that I took my time with it and enjoyed it all hugely!
The Love and I headed off back to the train station later on and she dropped me off in good time for my 1735 departure back to London Euston, and I had my usual window seat and peace and quiet too. In fact with the iPod playing the whole 24 minutes of the title track of Dream Theater's "Octavarium" (make that tune of the day) it made the journey seem a lot less in time, and it was just good to be relatively chilled out as I headed to Euston and made the tube trip over to Victoria.
Of course then at Victoria, it had be on a go slow due to a lack of trains for some reason, and the supposed 2008 departure for East Croydon (and Brighton) was actually leaving a lot later, in fact at around 2030, and it was absolutely rammed as a result of people waiting for that and then not getting the one leaving a few minutes later which ironically was on time. It seems ironic that Southern as a railway company want to bring changes in for driver only trains which would mean a less safe train service when they can't even employ enough staff to have a train running on time to start with. The mind boggles...
Saturday 21st May - Talking Jamie's Italian
So a nice relaxing morning of sorts today, as I headed up and left The Love In My Heart to some quality sleep time, and I saw some of Saturday Kitchen with the Hairy Bikers as well as being able to see the rather good FA Cup Rewind showing the build up and indeed the 1990 FA Cup final highlights as Manchester United drew 3-3 with Crystal Palace, and a certain Ian Wright coming off the bench for Palace and scoring two goals, both of them good finishes and certainly made his name known on the big stage, where he'd later become a bit of a legend at Arsenal.
Later on we headed off to see The Love's father for a bit, and then back to her place to get ourselves changed and ready for an evening out. We'd decided that it would be nice to go to Jamie's Italian in the city centre, not least because we hadn't been there for a while but because I still had the birthday offer on via the Gold Card I have with them - which meant a bottle of prosecco and a dessert too for me, so that helped keep the cost down nicely all round for us both.
It was a little debatable weather wise as we set off and so The Love had her brolly with her just in case, and we got the tram, and then headed down Mosley Street and to Spring Gardens, and to the former HSBC branch at the top of King Street that is now Jamie's Italian. We were shown to the table downstairs and it was pretty busy, but we had plenty of room all round. The lovely waitress served us both (and she had the same name as The Love, which was rather nice!) and got us the bottle of prosecco so we could enjoy the bubbles together to share and be able to say cheers and enjoy the time there.
The food was spot on - the mushrooms I had were all breaded nicely and with a nice garlicky mayonnaise dip, and The Love's paté had chunks of it atop some bruschetta. For the main, The Love had the burger with some chilli fries, and the burger looked spot on, especially with pancetta and cheese too, and certainly that was nice. I had the wild sausge cascarecce, and that was plentiful on the pasta and the meat side, with a nice sauce there too. And then the little brownie came out with a candle on, and some ice cream too - and that was a nice way for us to finish the meal together. Awww.
We then headed to The Bank pub which was surprisingly quiet, but I wasn't complaining as this meant some decent ale, and had the Nicholsons Pale Ale (brewed by those fab St Austell Brewery people) and we were able to sit by the window to watch the world go by. The time went too quickly really and we'd had some lovely drink in there before heading home and snuggling up with some telly, and even Jô let me fuss over him a little after he had swiped at me earlier and scratched my hand, probably in a "time to stop fussing now" little hissy fit. Still, he's forgiven now.
Friday 20th May - Northward Bound
It was a productive day for me at work today: I got an application packaged and tested and that played ball happily, so just waiting user acceptance from the customer now, and also looked at setting up the new Windows Update internal server. It all seemed good from my perspective and had added a test group policy to tell the Windows update service to be able to talk to the new server, and indeed to be able to then use the group I specified on the server which corresponded to the AD group that I had added accordingly.
That AD group had just one workstation in (one of mine) and so after doing the necessary policy update and also an update check, it sure enough was pulling any updates it needed down from the new server, and was also recognising the server accordingly as well. That worked out nicely, and in fact it also showed after updates that they had been obtained from the new one (a registry check of the policy settings proved that.) In addition, I've also been able to approve updates an show that it was ready to take them - happy days indeed.
It was therefore also nice to have lunch in the local Wetherspoons with a few of my colleagues and just generally relax and chatter over a drink too - and the hot dog was on top form there. It was just enough to keep me going and indeed be ready to head up on the 68 bus later towards Euston, where a small walk to the Crown and Anchor pub was the right thing to do - not least as it meant I was able to have some lovely ale and listen to some great music including David Bowie's fab "Rebel Rebel" (make that tune of the day) before then walking back towards Euston.
It was nice to be able to literally get to the concourse, have a text to be told which platform I was going to be on, and then head off to Platform 4 for the 1820 departure to Manchester Piccadilly. It was good that I was spending some time with The Love In My Heart, and the train was its usual efficient self, and I had my window seat all sorted and with good views out - even as the weather was visibly changing from decently sunny to darker and rainy. The only good thing was it was still light by the time I headed to Stockport, so meant I wasn't meeting in the dark.
The Love was there, and we had a nice hug before we headed off back to her place, and in good time for a coffee and Gogglebox, as is our wont, and we enjoyed them commenting on the likes of Eurovision and indeed an infamous episode of Countdown earlier in the week where the longest word found in the round was "bumhole" which made plenty of them giggle (I did find humble for six and would have beaten both contestants by the way) and with the two cats Jô and Brian being their usually cute selves, it was a nice way to snuggle up and start a relaxing weekend all told.
Thursday 19th May - In Sync
I had had a busy day at work, so was good to be able to get home and relax and have some food, then have a coffee and just sit comfortably on the sofa with some telly for a bit. In truth it had been a tough day as one change that I wanted to get passed through the change advisory board got sort of passed, but in reality they want me to use the pilot period I was planning as a period of testing and also evaluation for another advisory later on, due to some security concerns that they had about the work I was doing.
I did understand those concerns and some of those I had indeed already addressed as part of the brief I had put together before the board anyway (I was ready for some of those questions as you need to be) but it did seem like it was a case of raising some awareness that actually we'd taken plenty of extra precautions, done some extra testing and indeed been available to show that in fact there was a solid business case for doing what we need to do. However, thought it best to bite the tongue a bit and be able to crack on with things as per usual anyway.
So in terms of being constructive, I thought it best to transfer the new albums to the iPod whilst also clearing out some of the albums to make space. I don't use iTunes because of the rubbish interface and the fact it slows down Windows to a crawl, and instead use Copy Trans Manager, which allows you to add music etc from wherever you like without having to have a whole library ready for synch every time. And in addition you can still get the album art on there too. It just works.
And really well, too. So I had already ripped to MP3 the new albums and so it was a case of selecting the folders with the albums in and adding them, and the album art, and it all just worked really nicely actually. I think for me it's always important when you're able to get things done easily, and certainly it took a lot less time than I thought it would, and all nicely added to the device with no issues. Sure enough the iPod mini was happy enough with around 1800 tracks on there and plenty for me to listen to on future train journeys.
To test it out, I plugged in the headphones and had a few random tracks on and one of them it picked was in fact the title track of "The Ghosts of Highway 20" by Lucinda Williams, a brilliant piece of blues / Americana rock and set the scene perfectly well for the whole of the second CD worth of the album, and I could imagine passing countryside on the train listening to it as I head up tomorrow, so a definite tune of the day for me there. I must admit I'm looking forward to seeing The Love In My Heart, I have missed her..
Wednesday 18th May - Safety In Numbers
So I'll be cheering on Liverpool later on in the Europa League final, and that should be an exciting watch. For me it's good that at least it will be on free to air telly, and in one desperate push, BT Sport did at least advertise that on the back page of the Metro free newspaper so that it might grab people's attention. It needs to - the BT Showcase channel is hidden away on Freeview Channel 59, so unless you know where it is you won't find it, and the schedule never updates till around the day before so you might forget to look on the day of a live game to see if your team's on as well... Naturally I'd like Liverpool to win but Sevilla are tough opponents it has to be said. Tune of the day is "You'll Never Walk Alone" for obvious reasons.
I finished off the testing I was doing yesterday too and it was good to be able to get all the testing documented and off to my colleague. In fact I had worked out that there were a few other fonts which ended up being substituted, and with good reason. The common denominator was that all three fonts (Elephant, Eras Light ITC and Forte) were all fonts which came with Office 2010. So far, so good. However those fonts aren't present in Office 2013 unless you've done an upgrade (ie: installed 2010 first, then 2013.) And the processing server for the print via email only has 2013 on, so there may be an answer - and indeed I can also extract the 2010 fonts from the CAB files so that may be of use.
It took absolutely forever to get to work though, not least due to the Southern train strike. I wasn't even going to attempt to try and board a train at East Croydon station this morning and instead took the 468 bus to work. The last two strikes I did this weren't bad, but today just took absolutely ages, mainly due to temporary traffic lights close to Tulse Hill station, then again not far from Denmark Hill and Camberwell Green also. I suspect the queueing traffic might have been a little less in those parts.
I must admit though I'm not fooled by Southern's media campaign to blame it on the unions and also claim that the role of the guard will be now onboard train crew. The guard has an important role to play - not just as he has a better line of vision to ensure doors are closed correctly (especially on 12 carriage trains) but also to answer queries on board etc. In fact it's a contrast that another operator South West Trains really do promote how proud they are of having a guard on every train and how many are so praised by customers. Southern have already axed on board catering and there's also a plan afoot to close manned ticket offices at many stations, which has already angered many.
In fact I'd urge the Government to look at the railway franchises awarded to Govia Thameslink Railway (GTR) and immediately withdraw them all. Thameslink are awful and Southern are not much better either to be honest, with constant delays, four carriage trains at peak times when eight are needed at least, and short notice cancellations or changes of times too. I'm also appalled that any operator isn't taking safety seriously and effectively hyping their "we won't be getting rid of anyone, just revising their roles" and "driver operated doors are proved to be safe". Really? On a one or two carriage train, maybe, but not a twelve with a mass of people attempting to get on to an already rammed train.
Tuesday 17th May - Testing Time
I had been doing some testing today of a potentially nice solution for people to be able to email in their print jobs and then be able to pick them up on the printers accordingly. I've trialled out other solutions before in previous roles, and admittedly each of them do have some limitations, but it's a case of being able to see what works best and offer advice that points them towards the best thing possible. My colleague had asked for people to give it a bit of a test, and with all the necessary documentation submitted to the change board for Thursday, I had some time devoted to doing so.
All appeared to be working when sending individual file attachments, so the likes of JPEG images, Word documents, PDF documents all worked fine. One thing I do like to do though is try different things to see what would break, and so thought "hmm.. wonder what would happen with a ZIP file attachment with images?" - so I prepared one with 50 images in, and emailed that. It accepted the file (which I thought it wouldn't do) and then attempted to decompress the file at the server end, then send each job to the printer within. It sort of worked, but stopped around half way through, and so had to then log on to the web portal for the remote print queue and activate them manually. But still...
My colleague and I were surprised by that as we didn't expect that to even be accepted, and multiple attachments appeared to also take effect. In fact I pushed it by adding 30 of those images in the zip file and attaching them all in one email, and... it got there and even processed them - although I suspect strongly this would be a limitation we'd have to watch carefully. There's still some font substution happening though when sending some Word documents with different fonts, compared to a saved as PDF version which works really well. Granted, saving as that is a good workaround and all, but still be good to get it more fixed I think.
I headed home later and spend a fair bit of the evening relaxing with some of the new CDs, including the rather excellent "Train of Thought" album by Dream Theater. There are many very lengthy tracks on this album but surprisingly all really epic and classic progressive metal in their style. One of the shorter tracks (still around eight minutes though) is the opener "As I Am" which lends itself to a gradually dramatic intro before then speeding up and massively rocking out, and it's bloody ace, so tune of the day it has to be.
I also saw the final of Bake Off: Crème de la Crème as well. I have to say I've not been that impressed with the series: nothing wrong with the host Tom Kerridge at all, but the format is just a little too... well, dull. At least with the amateurs on Bake Off, Mel and Sue inject that needed humour and even Paul Hollywood and Mary Berry do smile a fair bit. On MasterChef: The Professionals, it is serious, but Marcus and Monica always come across fair and supportive. The judges in Crème de la Crème are just too obnoxious and rude for my liking: Benoit Blin is about the only decent one, and Cherish Finden is thoroughly annoying. Claire Clark's a bit in the middle, but they don't seem to get it between them unfortunately, and it's a shame.
Monday 16th May - Reminiscing Reddish South
I watched again tonight, after seeing most of it last night, the Paul Merton Secret Stations programme on Channel 4. I had watched the previous two episodes and had been suitably impressed with the information and detail on some of the request stops and what was going on there, so the final one was going to be excellent I suspected. I wasn't wrong, with a fair number of said stations having a considerably small number of passengers.
None more so than a line which runs between Stockport and Stalybridge and has two stations there which have just one train a week, a Parliamentary type service which means the line cannot be closed down, so you just run the minimum possible. And so he had headed to one of those stations, Reddish South, to then take the train to the next stop, Denton. There were dedicated travellers at Reddish South, and then at Denton some people keeping an eye on the freight lines which come through.
Ironically, the line used to be a different route from Stockport to Manchester Victoria, so it'd stop at Reddish South, Denton and then take a line around the back of Guide Bridge and join the Ashton-under-Lyne to Victoria tracks. It would also possibly give some economic benefits to both communities - a direct train into the city centre meaning that it'd be a more desirable place. Granted, Denton station is a little close to the M67 and all, but also think this - people going to Stockport would have a good route too. It may even be useful in future as a Metrolink tram extension - the tracks are already there, so less work needed.
Paul also headed on the Caledonian Sleeper train and woke up on the West Highland line, getting off at the remote Corrour. Naturally I've seen Michael Portillo get off here too, but the story about the owner of the land getting his own station still was good to remember. And he also investigated about Burnley Barracks, and where the barracks were (answer: knocked down) and also visited the Welsh town of Pontarddulais, which these days has a considerable number of wedding shops - its proximity to Swansea means it's popular for many Welsh brides to be!
It was also time to get the new CDs into MP3 format for some transferring to the iPod at some point, but also meant I could play them tonight too, and so I definitely thought that was worthwhile. I had a good listen to Lucinda Williams' "The Ghosts of Highway 20", a capitvating listen across two CDs worth, fourteen tracks in all. For me the closing track to side one, "Louisiana Story" is simply gorgeous, and a real relaxed feel and yet sounding a tad edgy - tune of the day for me.
Sunday 15th May - Sunday of Sport
So with a nice walk yesterday, it was time to rest and relax (and therefore not spend money, always a good thing when you need to budget a bit) and instead settle in to watch an afternoon of sport, with the Spanish Grand Prix live on Channel 4 from Barcelona first, and then straight over to see Manchester City away at Swansea in the last game of the season and see if we could ensure that a Champions League slot and fourth place would indeed be ours to have.
Naturally, it was good to have the F1 on proper telly with "The Chain" from Fleetwood Mac blasting out as correctly intended (tune of the day obviously) and with the move of Max Verstappen from Toro Rosso to Red Bull, and an excellent qualifying, it was going to be interesting to see how he did overall. Of course it was always good to see the good coverage that Channel 4 are doing, with Alain Prost joining the team for this weekend. And his insight was really valuable, especially when you consider the events of the race..
So the race starts, Rosberg gets on the outside of Hamilton and takes the lead, fluffs turn 3 a bit and leaves a gap on the inside, Hamilton goes for it, Rosberg closes the door, Hamilton heads to the grass, spins and takes them both out. Ben Edwards was understandably going mental in the commentary box and to me it was definitely an incident to cause ructions at Mercedes later on, so that was going to be noteworthy too. It was also then allowing someone else to take the race by the scruff of the neck.
Daniel Ricciardo led Sebastian Vettel after a while, but both of them went for a three stop strategy which ultimately proved to be wrong - a two stopper was the right way to go which allowed Verstappen and Kimi Raikkonen to be ahead. Ricciardo did catch Vettel later but was attempting some banzai passes which Sebastian wasn't happy with - and it did also knacker the Australian's tyres, so he ended up having a puncture and just about holding off Valtteri Bottas for fourth.
In the end though, superb job from Max Verstappen and he well deserved the win, and the youngest ever F1 driver to win a race at that which has to be something special I reckon. I was also pleased that Carlos Sainz Jr on his home track got his best ever result, and Jenson Button finished in the points too, which is a good result considering how bobbins the McLaren still is at the moment. Two weeks is Monaco, shame it's not on proper telly, but always special to see I reckon.
Then it was Manchester City's game at Swansea, and even though Kelechi Iheanacho took the lead for City with five minutes gone, the lack of finishing prowess elsewhere meant that we didn't bury the game enough, and so Swansea equalised at half time for 1-1, and we were then desperate to hold on for a draw to ensure that unless Manchester United win 19-0 in their rearranged game against Bournemouth (which had been called off due to a security scare) then we should at least have to play a final qualifying round match to be in the Champions League next season. Top three equals group stage, which we could have possibly got had we finished the season better. Best to write it off and go again I think.
Saturday 14th May - Capital Ring and Eurovision Derision
It was a nice day and I was on my own without The Love In My Heart this weekend, so came up with a nice idea of taking on another section of the Capital Ring walk which takes you on a circular route around London. I had previously done a lengthy walk from Wimbledon Park to Richmond, but then wanted to do the next stage which was Richmond to Osterley Lock. I did check the train times to ensure that I could get to and from Richmond easily enough, and once I'd had some breakfast and cleaned up my comfortable trainers a bit, it was time to head off.
I got the train from East Croydon via Clapham Junction to Richmond, and that was particularly good as I'd timed it to ensure that the fast train from Clapham Junction would be caught (it stops at Richmond only.) Once in Richmond I made my way towards the Green and then to the River Thames, but noticed at the Green that their annual May Fair was on. I had a quick look round but spotted the many fairground rides and stalls, and thought it best to head back later when the walk was complete and everything in full swing.
I got to the River Thames and the signpost and so started the five miles or so. It was a walk along the river to Richmond Lock Footbridge, headed over there and admired the lock and temporary bridge from above, then along the other side of the river bank and diverting around some of the new developments in Isleworth and back to a wharf - but that was blocked off due to work going on. I headed back the way I came and followed the cycle path before spotting Old Isleworth Green, heading through there and along the streets to Church Street, Old Isleworth and back along the path.
It seemed very nice here actually - there was an artisan market on with plenty of stalls, and the local pub by the river was also doing some nice business from it too as people then had a drink there after perusing. Plenty of rowers in their boats by the Thames and lots of ducks and swans heading by too, being fed by many passers by. I thought it'd be nice to head back here, especially as just up the road to the left is the magnificent Syon Park, which is where the next part of the walk takes you.
Through the park I walked, and then to the house (which I would have gone in but it wasn't cheap - maybe save that for a trip with The Love next time round) and the gardens which also looked rather lovely. Once I'd exited the far end of the park is was a walk across the road to the centre of Brentford, and then following the canal locks with plenty of lovely flats opposite, and then walked along the towpath for a fair time. In fact it was notable that under the main bridges of the A4 and then the M4, plenty of graffiti was present.
I arrived at the final destination of Osterley Lock, and then walked back through a woodland path to arrive at a road which took me to Boston Manor tube station. It was then an easy way back to Richmond, via the Piccadilly Line to Acton Town and then District Line to Turnham Green and then on down to Richmond. It was so tempting to get off at Kew Gardens for the Tap on the Line pub, but resisted, and instead walked back through Richmond town centre on to the green and to peruse the May Fair.
Actually the fair was very good - lots of stuff for sale in various craft stalls, including food stalls for local concerns too. I got a hot dog from one of the Scout groups - and that was spot on and not expensive either, and all lovely! The fairground rides were very popular and indeed the carousel had an organ version of Cliff Richard's "Congratulations", quite apt considering it was Eurovision today as well. It was well worth a good mooch around and I headed back to the Railway Tavern in Richmond for a well earned pint of Tribute ale. Nice indeed!
So it was back to Croydon but a different way, Richmond to Putney on the local stopping train, Putney to Wimbledon on the number 93 bus, skirting past Wimbledon Common and Wimbledon Village, and then on the tram back to Croydon. The tram was busy mainly due to a scout group getting on at Phipps Bridge (they probably had been to Morden Hall Park) and it was good to walk back to the flat and relax a bit, make some food, and sort the pictures out before settling in to see Eurovision, as I knew that The Love In My Heart would be watching it and we could at least text each other as it unfolded.
It soon reminded me why I loathe the contest so much. The British entry was okay but not terrible and the Armenian entry afterwards had a woman who couldn't even sing in key. And yet we finished second to last and the Armenians did pretty well. Another change was that the jury votes were first (Malta gave us 12 points, woo!!) and then the public votes were all added together, and we did awfully there. No one likes us, but do we care? Probably not.
The only good thing was that the two hosts Petra Mede and Måns Zemerlöw, who were both very good at keeping things going and actually with the right amount of wit and humour too. Måns had won Eurovision last year with his song "Heroes" and that did superbly well, and Petra's hosted this before too. They were ace and even did a song together during the interval which was actually better than most of the entrants' ones, so "Love Love Peace Peace" is tune of the day - good fun that was. Unlike the contest, which we should do a Brexit on first before the EU vote!
Friday 13th May - Not Unlucky
I'm usually quite paranoid about any Friday 13th, but today went much better than expected all round. It started off well in the morning as I was able to present a progress report with some live demonstrations on one of the projects I've been working on. In effect it's actually working pretty well because it's meant that I've been able to show that a lot of the stuff has all come together nicely, and that indeed wse can get to the point of doing some more advanced features with Intel AMT.
In fact later on I had a dabble with one of the sample programs which was written in C#, so needed Visual C# 2008 Express to have a go at building it. It made an exectuable which allowed to send commands to the Intel AMT interface of a machine and effectively give it a schedule to say when the machine would wake up, so you could tell it for example to come on every day. You couldn't specify the time but it was promising to see that you could at least with a demo show off some useful stuff.
We headed to the local Wetherspoons for lunch as one of our contractors was having his final day with us today. He's a really good bloke all round, and knows his stuff, and I've got on pretty well with him overall, and so it was the Fish Friday deal for me to enjoy a nice end to the week, and it was good that we were all chattering away and stuff. I think although naturally I do miss The Love In My Heart a lot, the fact that there's a good bunch of people to work with helps massively to be honest.
Later on it was a case of supermarket shopping, mainly for cleaning products, but which one? I ended up doing a comparison and in the end Tesco won hands down, so it was off to the large Purley Extra to get all I needed, which included some rather good offers on Persil washing capsules (38 for a fiver, bargain!) as well as Comfort fabric conditioner, and lots of nice food too. Excellent stuff, and that certainly made the trip out there worthwhile. In fact nice Aberdeen Angus burgers with a brioche bun were mine later on!
And so for Gogglebox, the rather excellent show as ever tonight. Them watching the film Alien with the classic John Hurt moment was of course well worth noting and commenting on, but it was notable to see the car crash that was this weekend's Sunday Brunch also featuring too. I really liked the fact that the little Moffatt daughter is even stealing the show from Scarlett! And naturally also good to see that they're all full of good spirits, especially Graham, the husband of the Rev Kate Bottley, who sorted a fly in the house! Tune of the day is the excellent "In A Perfect World" by Kodaline, the theme tune.
Thursday 12th May - Sorting and Sweltering
It was admittedly pretty nice outside, so it was good to be on the 12th floor in an office where the window opening was at least letting some air and breeze in. In fact it was a case of getting a fair bit done today and being able to prioritise a few things along the way. In fact I had worked out a way of seeing what deployment stats showed some machines which hadn't as yet received a driver update that was required and so I could see where the efforts could be concentrated on.
It did get a tad warm in the afternoon though which did mean that heading from Elephant and Castle to Balham on the tube was very warm, and on the train from there to East Croydon it appeared that the old train didn't have any air conditioning and so every window was open. The sun was blazing in but I spotted a seat on the side where the shade was coming in, so it was a bit nicer all round. I must admit though that the roof garden in the apartment block I live in definitely seems more tempting in weather like this!
I also spent some time later when I got home from work and managing to get some cooler air into the flat to be able to sort out the pictures from the visit to Beningbrough Hall the other day. I had put up some from Masham the previous night and it's always good to be able to sort the pictures out and have a good overall view of the few days away. In fact it was pretty good to see that some of the ones from inside the hall had come out well despite the low light and the fact I was having to be pretty steady to do the shot handheld, so that pleased me immensely.
I also for some reason had some weird updating error with Office 2013 and the whole thing decided not to function with certain applications. A bit odd really, so I removed it and then remembered that of course I still have an active Office 365 subscription (my new workplace, like my old one, allows for up to five devices to have it) and so logged in, re-downloaded the 2013 version via the site and did the install there. I also remembered to do something I hadn't done for a while - re-recorded the macro which allows for me to effectively type up the letterhead parts when writing a letter that I need to be official. That worked out better than expected actually.
I did stop to watch the 60 years of Eurovision documentary on BBC Four which was a repeat of one shown a couple of years back and with the contest around the corner it did make sense to be able to remember the times when it was less political and more about the music, with the likes of Sandie Shaw taking glory back in 1967 and then of course the likes of Dana in 1970, before the classic Abba "Waterloo" single from 1974 (make that
tune of the day
) - and add to that you had Brotherhood of Man, Bucks Fizz, and Nicole (the German 1982 winner) and it wasn't too bad to reminisce. Also a bit sad as Sir Terry Wogan featured a lot and of course he's not with us anymore.
Wednesday 11th May - Ten
So back to work, and lots to be getting on with. It was nice when I had checked my work mobile and most of the team had wished me happy birthday yesterday and indeed when I got in this morning as well. That made me feel good and I set to work on getting the Windows updates released to the test groups, as the Patch Tuesday batch had come out the night before. I have it all calendared now so I know when to get the work done and when to get the patches released en masse.
We also had a meeting this morning to work out plenty with regards to Windows 10. In all it did go well and I was able to contribute a fair bit, and it does look like some of the things to do should be good exercises for us all. And that means some more work coming my way, which is a good thing - I do like to keep myself busy and for me it's always good that I've got something on the go. In fact one change I had released last week appears to be going rather well on the whole and so that feels positive.
I decided that the least I could do was get some biscuits and cakes for the team and all that so during lunch I headed to the local shops and got plenty, including Apple Danish pastries, Fox's biscuits, carrot cake, and all sorts. It was a nice idea and it seemed to go down well on the whole, so glad I did it really. In fact the day went well and had a lot of rain from last night and this morning which gave way to sunshine later on. That at least made the day one of contrast too!
In fact, I also noted on the way home that the RMT Union have yet again changed the strike day for the strike on Southern Railway trains to Wednesday 18th May, shifting it from the 20th as late as they're allowed so that the impact is on the passenger. Although Govia Thameslink Railway, who own Southern, have been putting the services downhill for a while (no catering on the London to Brighton route anymore, for example) there is some logic into having the conductor/guard do other things. However, the execs at Southern clearly haven't seen the need for them at peak times, where they preserve health and safety rather well and allow us all to travel without fear of injury. An impasse seems inevitable, but I put the blame on both sides - can we please just sort it out.
I played the Deep Purple 25th anniversary edition of "Fireball" before and it proved to be just as good as I remembered it on vinyl ages ago. In fact it was a sensible move to have the "Strange Kind of Woman" 1996 remastered single on there as an extra track, and it benefits from some good mixing to give it added oomph, so tune of the day it most certainly is. I am really pleased that my friend got me that - goes nicely with the "In Rock" and "Machine Head" reissues I have.
Tuesday 10th May - Forty Four
So it is my forty fourth birthday today, so happy birthday me. Woohoo! And being nice and snuggled next to The Love In My Heart was the sort of present that many years ago I would have wished for and not got, so all happiness there for sure. It was even nicer that I had plenty of presents to open from everyone too. The Love had already handed me one last week - some lovely little placemats with our names on which formed a little heart when put together. A really nice original gift too so that pleased me no end.
In fact I had some lovely gifts from both mine and The Love's family - gift cards for Debenhams (I already have my eye on some things from there), a Hammond and Co Patrick Grant leaf red long sleeved shirt, definitely a going out shirt for me, and some more CDs - Dream Theater's "Train of Thought", Suede's "Night Thoughts", plus two books: Mark Webber's autobiography "Aussie Grit" plus the Commodore 64 Visual Compendium from Bitmap Books also.
The Love had got me a really lovely present though: as well as paying for the brewery tour yesterday she had got me these rather nice Fred Perry brown leather ankle shoes, and they looked very smart, and even more so when I tried them on. Definitely going to be a going out pair of shoes when I wear them in a little bit, as they looked smart and casual at the same time. I was really pleased that she had got them me and was really happy to give her lots of hugs to say thank you too.
We headed down to breakfast, and the cooked breakfast was spot on, with most of the ingredients locally sourced. The Love isn't keen on black pudding so gave that to me, and that was rather nice all round, and it just felt nice with a cafitiere of coffee and really lovely fruit juice and toast too. I was so happy really, and we both didn't want to check out of the hotel either, but knew that we had to be out by 10.30am, so they could get it all lovely for the next guests.
We decided to head to a National Trust property on the way home: we were both members after all, and so meant that Beningborough Hall was top of the list and closest to us (we'd already been to Fountains Abbey so discounted that as much as it was ace) and so we worked out a route, back on to the A1(M), down to junction 47 and then on to the A59 towards York, then following the signs for RAF Linton-on-Ouse. On the way it took us to Aldwark Toll Bridge. 40p paid later and a slow crawl over perhaps one of the most rickety bridges we've ever been over, ever!
That behind us and skirting by the side of the aerodrome at Linton-on-Ouse, it was to the village of Newton and then the right turn to take us to the car entrance and we followed the road into Beningborough Hall and Gardens. As it turned out the car park was free regardless, but we paid the entrance and walked around the gardens, and very nice they were too, walled gardens with vegetables growing, a grass ha-ha at the back with a trail that led you to the lawn at the back of the Hall, complete with little rose gardens and blossom trees.
Once we'd been round there we headed to the Hall in time for it to open at 12 noon. It was a fascinating place, describing the history of the hall in a new exhibition for its 300th anniversary which really made it come to life. It explained one marriage where the wife stayed at home on her own and lonely whilst the husband headed to London a lot (I even saw a West Croydon old station ticket on one of the cases on display.) The house also has links to the Earl Grey and tea, and so one of the arrangements were 300 tea cups in a flowing line, utterly ace that was!
The Hall also has links with the National Portrait Gallery and so that was also good to see that some pictures had been loaned, including one of Alan Bennett, the two Brownlee triathlete brothers in training on the moors, and the co-founder of the National Trust. On the top floor it also gave you a chance to do some interactive stuff and make your own portraits based on character traits. I had a go (I simply had to!) and came up with the below - based on Percy Shelley and Thomas Gainsborough, no less!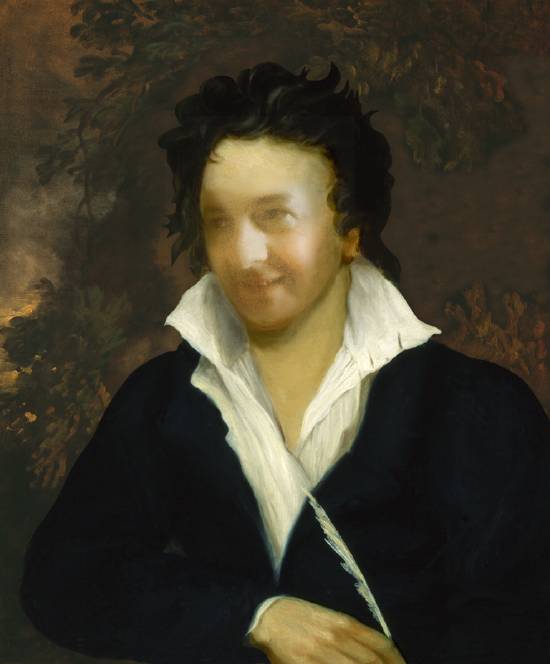 Woohoo indeed! It had started to rain when we entered the hall and on leaving it was still attempting to try and rain. We followed the exit and passed the nice farm shop that was close by, then followed the road back to the A19 and towards York, skirting around the ring road to the A64, following that back to the A1(M) and eventually arriving back in Manchester later on where coffee and catch up was order of the day in the late afternoon, and fussing over Jô and Brian - well we had missed them after all.
Later on The Love dropped me off at Manchester Piccadilly and lots of hugs were shared as I said farewell, it was so hard to leave to be honest. The only good thing was that I was going back on First Class with Virgin Trains, and despite the lounge being busy initially, people left to get their earlier trains and I could sit and relax with a latte before heading on the 1855 departure for London Euston. It was the last one of the day that does a fully cooked hot meal, but also cheaper, so that worked out nicely for me.
In fact it was good all round, I could watch the countryside whizz by, occasionally listen to tunes (so the wonderful "Pink Sunshine" by Fuzzbox is tune of the day - it's certainly a happy song and that cheered me up from the sadness a little. And of course, food. I had the hake fillet with potato rosti, crushed minted peas and a nice sauce, all gorgeous. And add to that if you will a rather good cheese and biscuits to follow, plus some Wreckless Ale beer also. Yaay to that.
I got to Euston and remarkably the tube and trains fell into line so I got to East Croydon quickly and was back home in good time for a well earned sleep. I'd like to thank The Love so much for making the two days together so special and it just meant that we were able to enjoy the time we had, and certainly for me it made me feel a little less lonesome when I got home as I could think about the nice times we'd had, and that will keep me going till I next see her in a week and a half (eeeeek!) - so there you go..
Monday 9th May - Magnificent Masham
The Love In My Heart and I were up early (ish) and getting ourselves ready, as we were heading off for a day or two away together. We had decided that it would be nice to spend my birthday together as we had spent The Love's birthday away together, and so it was off to North Yorkshire and the Dales and the town of Masham, where we were going to be staying at The White Bear. We'd stayed there four years ago and gone to the Black Sheep Brewery tour, and this time we were off to do the Theakstons one instead.
The Love and I sorted out some petrol and were soon off towards the M62, and heading between junctions 24 and 26 crawled through traffic. As it turned out there was an accident just after Hartshead Moor services, so four lanes down to two and this meant idiot drivers cutting in at the last minute. Once through that it was a relatively easy journey, M62 to M1, M1 to become A1(M) and to carry on past the likes of Wetherby towards junction 50 for the A6055, which follows the A1(M) nortbound to a roundabout for the B6267 to Masham. We got there in good time and with the sun out.
Close to the main market square was the King's Head Hotel, which happened to be serving a good lunch menu for not that much dosh either, so we took advantage of the beer garden in the sun at the back and had lunch alfresco (well why not?) The Love had a really nice looking Ploughman's type sandwich and me the fish and chips, also spot on. I even had some Black Sheep Golden Sheep too, which of course didn't exactly have to travel too far to get there. I still love the honesty box for the parking though, 50p in a little slot in the middle. Ace!
We checked in to The White Bear later and the room we had (Aysgarth, room 11) was lovely. Nice big bathroom with bath and shower over, separate walk in wardrobe room with space to put your cases too (and an ironing board and iron, plus lots of hangers) and all the usual tea and coffee, biscuits, telly and even a DVD player to boot. Still as gorgeous as we remember from last time and of course breakfast as well, so that would set us off nicely tomorrow.
So off to the 3pm tour of the Theakstons Brewery, and it looked like it was a good decision as those coming back from the 2pm tour were plentiful. As it turned out, there were four of us in all, us two, two Americans, one who lived in Harrogate and one who had come over to see his relation, and the guide Lynn, who was utterly ace. She was a proper Yorkshire woman with a sense of humour and really funny, explaining lots to us about the brewery itself, all the processes and was more than happy to answer questions too. In fact the tour was well recommended by us both, a nice insight into it all.
And of course, beer! In fact we each got three tokens for a pint in total, but you could have one pint, two halves or three thirds. In the end we took up Lynn's suggestion and went for all six different cask ales in a third pint glass each. The Love to be fair had some herself and liked some of them (good on her!) and so they were also arranged in terms of strength of beer too, so starting off with the Best Bitter, there was also the Black Bull, the seasonal Tour de Wot? (haha, I get it!), Lightfoot, XB and of course, Old Peculier, which had been cask brewed in a wooden cask and that particular one due to that was stunningly lovely. Happy bunny!
Not just that too, but the guide then said to us "pop back in and I'll let you try the keg beers too!" and so we did. In fact the Barista Stout was a revelation, it was simply gorgeous - and I vow to try and get some more of this sometime. The Peculier IPA was good too. But we weren't even finished there either. I had asked about a brand new thing that they had in bottled form, Distillers Cask - full bodied ale combined with Speyside Malt Whisky. It shouldn't work, but it does, and rather spectacularly! We all gave that a go, and The Love bought a couple of bottles as well. A great tour all round.
We relaxed later back at the hotel, and later on we headed down to the restaurant in the White Bear where we had an evening meal together. I noticed that the American Red ale was on, the previous seasonal ale, so had that, and The Love had some wine. The food for the meal was really good too, I had the fish pie, with tons of fish, a lovely creamy sauce and potatoes, and The Love had the chicken supreme, which was just that - sublime too. I even had a Barista Stout later as we relaxed in the lounge area of the hotel part, and that was just perfect to consume slowly and happily. And in the restaurant, some nice chilled out versions of songs, including Adele's "Hello" so that will be tune of the day for me.
We headed back and watched a bit of telly before snuggling up in one of the most comfortable beds ever, not just cos it was massive, but because it just felt the right amount of softness, lovely bedding and pillows, and best of all a really nice open window which allowed enough air through to be able to sleep soundly and quietly, with the pub closing and everyone heading off you did feel like you were on Escape to the Country, no bad thing in my book of course!
Sunday 8th May - Two Two With The Arsenal
It was nice to have a lie in with The Love In My Heart, and then fuss over the two cats Jô and Brian as they were all being cute. In fact Brian had the harness on and was outside for some time (and would be later when I got back from the football as well.) The Love was heading out to meet some of her family for one of the events organised by the children's hospice that they support, and had I not been going to watch Manchester City later I would have been going with them as well.
As it was, I spent some time with the cats generally being nice to them, and Brian in particular was loving having a stroke and fuss, and really curled up all cute. Jô was getting jealous though and when I went to fuss over him he decided to open his mouth wide and hiss at me - not very happy about that really. I suppose that also he tends to be a lot more protective over The Love too, and maybe because I'm sleeping where he normally might be also doesn't help either.
I headed off later to meet my friend and we headed to the Etihad, knowing that a win was essential to ensure we remained on course for a top four finish. Anything less and it was out of our hands, and for me we needed to give the fans a good send off especially as it was to be Manuel Pellegrini's last home game in charge. Hopes weren't that high though and certainly as I entered the ground with the sun beating down with glorious sunshine, it felt really warm and hot which might be a factor as the teams played.
The first half started off pretty quickly, the ball came in to Sergio Agüero who turned and shot low past Petr Cech in the Arsenal goal for 1-0 to City. However a defensive howler from Gael Clichy gave away an unnecessary corner which Olivier Giroud met for 1-1, just two minutes later. City pressed hard but the final ball and the final shot wasn't quite there, despite forcing a couple of saves. We had at least looked like a bit more of an attacking prowess and so at half time we esacped to the shade of the concourse to cool off.
The second half went okay, and as the half wore on and City went forward in numbers, eventually a brilliant solo run by Kevin de Bruyne resulted in a low shot in the botttom corner for 2-1. The City fans were happy with that and did the chant for him to the tune of the White Stripes' "Seven Nation Army" (make that tune of the day). All appeared to be well but City were still sloppy defensively, and one through ball found Alexis Sanchez in acres of space, and well you just can't do that... 2-2 it was.
And 2-2 it finished. So out of our hands then, and it meant we needed West Ham to do us a massive favour on Tuesday night and beat Manchester United so that the top four finish was still in our own hands. We weren't happy and didn't stay for the "lap of honour" by the players, as in my view they didn't deserve one. In fact, several of them I suspect will be saying goodbye at the end of the season as their time is most certainly up. Would I have sold off Edin Džeko for example? Not a chance? Would I have played Kelechi Iheanacho more? Absolutely!
And so later on The Love and I settled in and watched the BAFTA TV awards from the Royal Festival Hall. And a brilliant speech from the director of Wolf Hall, defending the BBC and Channel 4 against the culture secretary John Whittingdale who clearly does not get what either channel stands for and the excellent broadcasting work that they both do. The speech was uncut too which was ace, showing that the platform was there and needed to be heard. I was also pleased that Peter Kay's Car Share won two awards (one for Peter himself and one for the best comedy series) as well as Suranne Jones for Doctor Foster, one of my favourite things on the telly in recent years.
Saturday 7th May - Meetings and Meals
It was nice to be able to get myself up and ready and head from East Croydon to Euston in good time to board the 0900 departure to Manchester Piccadilly. Normally I would have got the 0840 one, but that wasn't running this weekend and so it was a little bit more of a lie in for me this morning, not necessarily a bad thing. I had arranged with The Love In My Heart to meet her at the station and she would collect my case and camera bag, and then I could head off into the city centre to get my hair cut, which needed doing to be honest.
With hair cut and all looking good, it was time to head back on the tram to The Love's place, where the two cats Jô and Brian were their usual selves. In fact The Love had sent me a picture message earlier as she had been trying the two cat harnesses on them, and Brian seemed more than happy to play out and be a good little cat, enjoying the space on the decking and taking in some of the sun as well, bless him. Jô seemed a little more reticent to move, and he did his usual crying miaow any time I tried to give him a love and a fuss, I'm sure he's got some form of complex with me!
We headed off to The Love's father's place and had a chat with him for a while, which was nice, and that meant I could also see Middlesbrough hold on for a 1-1 draw and claim promotion to the Premier League, in effect with two goals better goal difference than Brighton (whom they were playing against) and that was mighty close to say the least. The Love had also picked up some presents for me, one from her father, and so we headed off and then over to Mum's, as we said we'd head over for a coffee and a chat as well.
It was nice to see Mum actually, and she had some little cakes out as well as coffee which was nice. She had seemingly asked most of the family to bring round cards and presents for me so I could collect them all from hers, which was a good idea. She did insist on me opening the presents she had got me first of all, and they were good ones too - the new CD by The Wonder Stuff "30 Goes Around The Sun" and the new CD from The Last Shadow Puppets as well (which features Alex from the Arctic Monkeys no less.) The other presents and cards looked inviting but I was going to take them with us and open them on the day. We also then headed off to Stockport where The Love managed to get some nice trousers in Next for herself as well, using her gift cards from her birthday, good move!
After a restful early evening, we headed off to Cheadle and to The Ashlea pub, where we were meeting up with two of our friends. They had got there and got a seat, and we all remarked on the fact that the renovations recently really seemed nice - lots of comfortable chairs, a more rustic feel and a good menu at that. I even had the Pride of Cheadle ale, which was still rather good, and we all had an enjoyable meal. In fact my friend even had three courses with me (which he usually doesn't do) and The Love had asked me to print a voucher off which meant we got all the starters and desserts for free! Bonus.
I had the mushroom soup to start and that was spot on, as was the paté The Love had. The chicken and pancetta pie with mash for the main was a proper pie, so that met with my approval and tasted very good indeed, all good there. The Love had the pork belly, which is usually on top form (and it was today too, hurrah.) I had the sticky toffee pudding for dessert, and it was up to its usual fab standards, and my friend's apple pie also looked spot on (it's one of his favourites, so all good there.)
In fact my friends had got me some fab presents, the new Lucinda Williams album "The Ghosts of Highway 20", Natalie Merchant's reworking of her debut album "Tigerlily" and the rather excellent classic Deep Purple anniversary edition of "Fireball" as well. They had also got this really nice Ben Sherman watch as well which looked very smart and classy, definitely a "going out" watch now, with the Bench one I have being my everyday one in future. And add to that some good music all round being played this evening, with the rather nice background of some ace tunes. However, I adore the Natalie Merchant album and the fab "Carnival" from that is tune of the day - not least as it's felt like that with presents and meetings with lovely people.
Friday 6th May - The Heat Is On
So another warm day, but admittedly the breeze was blowing through the window slats and on the 12th floor, that is a very welcome breeze indeed. It does of course mean you need to make sure any paperwork you have is secured down as you'd imagine, but it did also allow me to get on with a few things and I did have a good plan afoot too. I had two changes approved yesterday both related to the same thing in terms of the Intel network drivers in some PCs, so updated the add-on driver images with the necessary files on all of the satellite servers, and that all went well.
Then it was a case of associating the appropriate Zenworks bundle to a dynamic group that I had made - which effectively was all the machines of two model types. I did have some checking so that it wouldn't run if the driver version was already correct, but as it was associated to machines on user log out, this meant that the next time an association was checked, it'd then report back as already done. And of course doing the install on log out of course meant no interruption to the users. By the end of the day I'd seen over 130 machines all sorted, and seamlessly. I call that a result.
I headed home later and it was nice to have some of the windows open and let some nice fresh air in for the evening. I did have plenty of ironing to do and got all that sorted, and decided then to play some classic vinyl on the turntable to chill out. First up was 12" singles - Pop Will Eat Itself's classic "Dance of the Mad", especially the Feet on Heat Mix, and New Order's original Factory Records release of "Confusion" complete with those spot on punctuated beats.
I also then placed on a classic album from 1973, Roxy Music's second album "For Your Pleasure". And pleasurable it most certainly is. In fact you'd be hard pushed to find a better side one of that era to be honest. Starting off with the single "Do The Strand" and also having the excellent "Editions of You" complete with its solo parts for guitar, synthesizer and saxophone, and then into the debauchery of "In Every Dream Home A Heartache" complete with killer lines about a relationship with a blow up doll. Tune of the day not least for the seminal line "I blew up your body.. but you blew my mind!"
It was also nice to kick back and watch the BBC Four documentary on the concept album, and so nice to see that effectively you've got the likes of "Pet Sounds" by the Beach Boys and then "Tommy" by The Who, both of them seminal for their time. Definitely for me good to see also that Marvin Gaye's "What's Going On?" got a mention too, and definitely captured the mood of the moment throughout, and naturally (and you couldn't not have it!) David Bowie's "The Rise and Fall of Ziggy Stardust and the Spiders from Mars" too. Ace stuff.
Thursday 5th May - Totally Acoustic
I was of course heading off into that central London for tonight's Totally Acoustic gig at the King and Queen, but before that, I headed home from work and with one mission in mind - get voting. I of course had ensured I had registered at the new address to vote, and there were no less than three ballot papers - who you wanted as London Mayor, which party you wanted to represent the region of London in the London Assembly, and then who you wanted as your local Councillor for Croydon Council. The staff were really friendly and explained it all (they must have got ad infinitum during the day doing that) and I did the bit and cast the votes needed. Democracy in action and all.
It was then from East Croydon to Clapham Junction, on to Vauxhall (which thankfully had re-opened after the fires of Platforms 3 and 4 this morning) and then from there on the number 88 bus, which takes you past Tate Britain, Westminster Abbey, Trafalgar Square, Piccadilly Circus and then Oxford Circus and towards Portland Place near to where the BBC film The One Show and other stuff. From there a short walk down New Cavendish Street and on to Foley Street, and arrived there pretty much dead on 7.30. Phew! I'd have got upstairs earlier of course had there not been people insisting on paying for their drinks by debit card and then complaining when they had to put a spend of £15 on!
So up I went and so nice to see everyone, and Mark (MJ) Hibbett got us all started with the normal Totally Acoustic little anthem and then on to a few songs, including the rather ace "The Girl Who.." before then paying tribute to Victoria Wood in the only way possible, doing a version of "The Ballad of Barry and Freda". Naturally there are a lot of lyrics in there so he had them typed out ready, and that was good fun. A lot of us joined in which made it enjoyable too - I know a fair bit of the words meself so it would have been remiss of me not to actually give it a go!
On came Pete Green, and it was great to see him of course, but also good that he was in wonderfully wistful mode with his songs. He did at least play "They Played My Song On Radio 1" which has long been a favourite of mine purely for the story behind it (and indeed the single in question was reviewed by yours truly many moons ago - fact) and "One Day We'll Find An Island" too. There was also a poem, an acapella song and some stuff from the forthcoming new album, which naturally may need to be purchased. It was a lovely set and a great start to the evening.
On next with the Popguns, whom I hadn't have heard much of before tonight, but more fool me to be honest. They did a lovely set and even a rather fun cover version of "Can I Kick It?" (and yes it did have audience participation before you ask!) along with lovely songs "Still Waiting For The Winter", the delightful "Leaning on the Backline" and the rather gorgeous "Bye Bye Baby". And they're from Hove, not Brighton, a very important distinction, hence one of their songs being the Hove postcode "BN3". Ace.
After enough time for people to get drinks, have a wee etc, last on were the Catenary Wires. I recognised the singer straight off, no less than Amelia Fletcher, formerly of Talulah Gosh, a reallly good indie band from the late 1980s. Her and partner Rob Pursey went through a good set including songs from their recent album "Red Red Skies". It was enjoyable indie acoustic fare at its finest, including the songs "Intravenous", "Throw Another Love Song On The Fire" (make that tune of the day for its title and the fact Amelia explained later the fire still doesn't work even now) and "Things I Love" which had things loved and not so loved in there. "When You Walk Away" was also rather beautiful too. I might have to look into getting the vinyl at some point.
I had a chat with Pete and Mark afterwards and explained the whole cult of Victoria Wood up North and how her death was even bigger news in Manchester as you'd expect, but we both remembered the classic "Kimberley" sketch of course. Pete was in fine fettle too and he had gone on the train towards Cleethorpes from Sheffield to then go down to London from Doncaster (twas cheaper) and despite Grimsby Town losing, all was well with him too. It was a late evening back due to trains being delayed at Clapham Junction, but an enjoyable night nonetheless.
Wednesday 4th May - Sunny Afternoon
And sunny day, so to speak as well. In fact I was pretty pleased that the train from Balham to East Croydon had air conditioning on, after being on a pretty packed Northern Line from Elephant and Castle to Balham. There were some train delays though which were having a knock on effect on the train journey, but nothing too untoward as I could see it. I must admit when it is nice weather being in work in a building that doesn't have air conditioning and seems to trap the sun from most angles isn't the nicest ever - almost makes me want to be in the old office which had it back in the day.
I did also have a nice surprise when I did arrive home from work too - a t-shirt that I had ordered, and no ordinary t-shirt at that, but a Darling Buds one! They had played some gigs in London whilst I was on holiday in Nice in April, and they had t-shirts for sale. As it turned out they had some left so I had tweeted the band and promoter to see what the chances were of getting one. One PayPal transaction later and a large one had been ordered. And now, it is mine!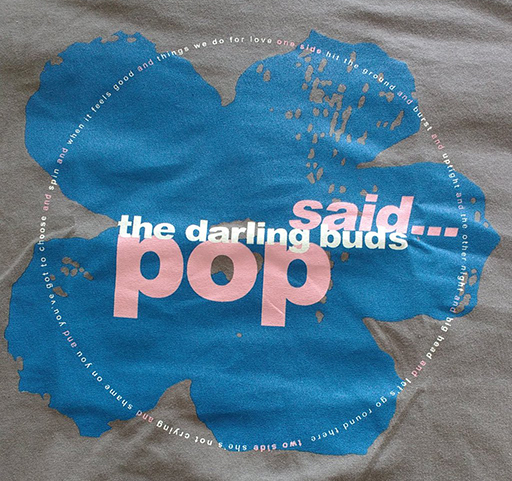 Note the track listing of the album around the outside, and the classic flower Darling Buds logo, plus the original font as on the said album too. Naturally of course I had to put the CD on of that, and with many classic tracks I grew up with, it was hard not to sing along, so I did. The likes of "Burst", "Hit The Ground" and "Let's Go Round There" are all joyous pieces of pop goodness, but for the short sharp sweetness of it, my preference is "You've Got To Choose" as tune of the day. Can't you hear the things they say?
Naturally as well I'm thinking that for the Summer weekends it might have to get an outing and be worn with some sense of pride to be honest. I really adore the fact that some of my t-shirts are of bands I like, and I'm spoilt for choice with some of the Pop Will Eat Itself ones (although the Reclaim The Game Funk FIFA one is pretty limited so I might keep that in nice nick) - especially the blue PWEI Product one and the black angry robot design. I just need the yellow "Watch The Bitch Blow" robot one at some point.
So later on then it's Manchester City at Real Madrid in the semi final second leg of the Champions League. If someone had said to me that City would actually be able to be competing at this level some fifteen years after being relegated back to the Championship with a defeat at Ipswich, I'd have probably had to have a pinch of salt really. I can only imagine what the Leicester City fans are feeling like looking forward to next season and indeed playing some good European sides at the King Power...
Tuesday 3rd May - Headhunter
Well, who would have thought it, but the weather has actually started to get a bit nicer. But isn't it just typical that the nice weather seems to have coincided with a return to work for me and mostly everyone else today? Well, I'd like to think so. It also seemed to have a knock on effect of some of the trains into work this morning as it transpired that some were awaiting a member of train crew or due to an incident the night before the trains were in the wrong place, and therefore not doing what they should do.
Still, I got into work and was testing out a potential way that we could deliver a network card driver update which we need to do on a fair number of PCs, due to issues with the old driver and the way it seems to be sending out various packets when asleep, thus causing knock on effects for people with IP phones attached and daisy chained. I had worked out a way that on log off, the appropriate Zenworks bundle would run, so it would copy the driver files to the machine, then perform the installation accordingly.
I had one of our support colleagues at another site be able to give me some IDs of a few of the PCs there, and that meant that we were able to test this out, and in every single case, it worked, and it was inobtrusive to the user as well, which was absolutely key. This also meant that I was able to effectively be able to propose a change for this week's advisory meeting and act from there, and generally it's also meant that I've managed to get a good solution that causes the least amount of hassle. I like it when stuff works!
Our design team had also sent me the new Windows desktop backgrounds, and these were applied to my work in progress revised Windows 7 build. It actually worked pretty well as it meant that I was able to test everything out nicely, and indeed for me it meant that it just looked nicer, a little more corporate and a real sense of getting it all together. Always a positive when that happens, and I was able to leave at least feeling like I knew the direction I was taking accordingly.
I had a good chat with The Love In My Heart later on, and it was nice to hear her voice and be able to have a good chat with her (I do miss her loads.) I also mentioned to her that I had had a phone call from a recruiter who had seen my LinkedIn profile and wanted to run a possible vacancy by me! In essence it is a Wednesday to Sunday position though, so a bit of a no go, but somewhat notable that there was someone looking to head hunt. With that in mind, "Headhunter" by Front 242, the classic Industrial dance anthem that it is, is tune of the day. Blast it out, and loud, what a bass line!
Monday 2nd May - Fond Farewells
The Love In My Heart and I had a lie in, and I had a bit of a chat to her about a few things. She was the voice of reason and in a way helped me make sense of it all and try to also make me feel a little less worried too, which was nice. We also had some breakfast and I made some sausages on toast which went down nicely, and with a fruit juice and a coffee to just relax. Even more relaxing was that Really seemed to be showing a whole series of Great British Bake Off in one day, and we noticed the series it was with the likes of John, James, Dani and Brendan showing off their wares.
We had a thought that it might be nice to head to one of our favourite pubs for lunch and a nice little thing to do before The Love was heading home back up to Manchester. In some ways of course I'd have liked to have been coming up with her, but I also know that I need to get back into the work spirit of things tomorrow and also that we'll have some more time together next weekend as well. It was actually reasonably nice weather and so we headed to East Croydon station to get the train to London Bridge and the tube to Euston from there.
It was nice to be able to stroll up to the Crown and Anchor and we got a table, no problem. In fact, not only was the food menu looking good, but also there was the fact that the Black Cat Special Reserve was still available on cask too. Naturally of course I had a pint of that and we decided on food for lunch: The Love had the pulled pork brioche bun with some lovely chips, and I saw a special at the bar and had that which was the wild boar tagliatelle, and that tasted gorgeous, so glad I had that.
We both had a good natter together and had many smiles too as we were just relaxed and chilled out, and that was lovely. The time was going too quickly though and soon we were heading back to Euston station and as she had booked through Virgin, she got a text to tell her which platform the train was on - and before everyone else, so that meant of course less people to rush with. It was a massive hug and a fond farewell but at least she's been to see me and complimented the fact that the flat looked all tidy and lovely and definitely now feels more me, so that was good.
I headed home and of course the World Snooker Championship final was on. Naturally being boosted was the fact that the Crucible has it until 2027 now and that the BBC deal has been extended till at least 2019, so all good. Shame then that the first few rows of tickets are now for premium ticket holders only and this means a doubling of the price tag. This may have been designed to out price some people (the usual season ticket holders for example won't be there possibly as their season tickets aren't valid next year either) but what use is the premium ticket with a goodie bag including a programme and radio - you'll want only one of those, right? Unless that's part of the ploy to have different people in the front rows..
At the time of writing, Mark Selby is 16-14 up against Ding Junhui. It was 16-11 but Ding made a comeback and took three frames without Selby potting a ball, and a superb century at that, equalling the tournament record of 86 overall and that was good to see. I do however wish BBC would bring back the proper snooker theme "Drag Racer" by the Doug Wood band - that needs to be tune of the day as for many of us it is after all the snooker theme. Simple really. I have incidentally got a half price ticket for the Masters in January next year as I may not be going to the Worlds after all...
Sunday 1st May - Greenwich Chill Out Time
After a nice lie in which I think we both fancied to have after a long week or so, it was good to be up and about, and I made us both a full English breakfast to set us off for the day, so mushrooms, fried egg, bacon, sausage and toast. That went down nicely along with the fresh pink grapefruit juice as well which was a change for us both to enjoy - we'd had some of that when in Nice and it certainly helped get you up for the day as well. That certainly helped a fair bit.
Once we'd settled in and got ourselves ready, it was off out, and we decided that a nice stroll around Greenwich including the market would be nice, especially with the nice weather as well. We walked to West Croydon station and got the London Overground train to Canada Water, changed there for the Jubilee Line tube to Canary Wharf, and headed out of there and up to Heron Quays for the DLR service and got off at Cutty Sark, and soon we were at Greenwich itself.
We had a good wander around the market and admired the many stalls selling their wares, especially one stall I had got The Love some scarves from before, and the hot food stalls have now been moved out to a new area to one side, and that made a lot of sense, as it kept all the art and craft and cold food stalls (cakes etc) in with the main market and not having the hot food aromas spoil it. It felt less packed because of it too and you had room to move around which was good.
We took a walk around the Cutty Sark and the Naval College and had a sit down overlooking the Thames at where the stage would be set up for the Greenwich Music Time gigs in the Summer. We then went towards the Maritime Museum and outside was a little coffee van which also sold cold drinks so we had a cold drink each and sat there with the park and the sun looking both lovely, and that was really nice. As indeed was walking through part of Greenwich Park, seeing the many people around, the boats on the small little lake, and the people picnicing too.
We did have a gift card for Café Rouge so thought it nice to use it and have a bit of lunch in there, and we both had the chicken escalope from the lunch rapide menu, which was pretty good. In fact the gift card covered those meals and even a little of the drinks, so that worked out pretty nicely on the whole and meant that we could also then head to the Greenwich Tavern close to the park for a drink afterwards. I had the Truman's Runner ale and that was rather lovely.
Later on, after some more shop browsing, we headed back on the DLR (which was pretty packed as most people were heading off after the shops had shut) and then the tube and train to West Croydon, and walked it back from there in good time for the evening's snooker and all that. However I did want to see the Paul Merton series on Channel 4 which was really good - all about the request stop stations in Britain. Some of them looked particularly lovely (especially Ferryside) and one we've been past, St Keyne Wishing Well Halt on the way down to Looe in Cornwall.
The Love headed to bed later as the snooker was dragging on a little with some long frames, and the session finished around half past midnight with the final frame being also an epic one. Mark Selby was three frames ahead at 10-7 and I thought that really Ding Junhui needed to be only 9-8 behind to keep it tight. That said, coming back from 6-0 down initially was pretty decent, and Mark's walk on music ("eez-eh" by Kasabian) is therefore tune of the day. I think a lie in might also be due tomorrow..