Dear Diary... November 2006
Tuesday 28th November - Nothing Else Matters
Well, I got a nice surprise when I got home from work yesterday. It was no less than the Metallica self-titled album (aka The Black Album) on DVD-Audio, all the way from the USA. It's quite good that you can use Amazon sellers to get stuff from abroad without any hassle, and often they're cheaper. Even better was that the product arrived shrinkwrapped in a packaged envelope, and when I eventually got through to the DVD-A itself, it was in mint condition, still with the sellophane around the package intact.
I had a fun couple of hours then listening to the album, and all I can say is.. it's a bit good. I'll probably review it more thoroughly at some point but just listening to it in advanced resolution surrounds just proves why MP3 copies of an album or a download are just not so now compared to listening in a proper environment. Having this on in full on mode with the surround being absolutely fantastic is an utter joy to behold. People often say that Metallica sold out with this album and the ones beyond it, but no one can deny that tracks like Nothing Else Matters, Enter Sandman and Wherever I May Roam are bona fide classic tracks - proven more so on their S&M double live CD with the Michael Kamen orchestra.
I did a quick browse of what's available out there on DVD-Audio and noted that Bonnie Prince Billy's new album "The Letting Go" is out on DVD-A release as well as normal CD. Of course if you want the limited 2CD set, it's long deleted (even though the album came out only in September) so I'll probably at some point try to get the DVD-A version. That's got to be so nicely done especially with today's equipment you could master it in advanced resolution to start with and then mix it down for CD (which really is as it should be to be honest). One day more indie labels will follow the example of Domino and give you a choice of advanced audio formats should you want them.
And I'm gonna make sure the next DVD player I get, as well as having HDMI out for future proofing, also supports both DVD-A and Super Audio CD. I've even seen my weapon of choice: the Denon DVD1930 - and you can get it in black. Also it upscales DVD images to the highest 1080p quality possible, so perfect for that high end display if you're going to hook it up to there. Everything about it is great, and that's why What Hi Fi gave it DVD product of the year. Okay, so you can spend £20-30 on a DVD player, and it'll work. But if you're like me, you want good sound and video quality in a complete package, and the Denon fits the bill. Who knows? If I have enough money left after Christmas a trip to the local Superfi might just have to be done - maybe even arrange a demo and hear and see it properly!
As I was coming into work this morning I spotted that the rap artist Chamillionaire had played the Academy last night. I kept thinking how funny it would have been if he'd have ditched his hit Ridin' and instead done the lyrics to Weird Al Yankovic's parody. Now that would have been top stuff, and no doubt confused the hell out of some people out there who just don't get it. In fact I just had to dig out my dualdisc of Straight Outta Lynwood and play some Weird Al, like now. He rocks.
Sunday 26th November - Kickapoo
Well, I had a really nice time yesterday with a couple of good friends of mine. I went round to their place to watch the Everton-Charlton game on PremPlus, which was a 1-1 draw. In reality though, Everton were really missing Tim Cahill and Andrew Johnson and it told in the way that they played. That said they still had enough chances to win the game big time and really they'll see it as two points dropped rather than a point gained. Had Nuno Valente not been mucking around in his own area with the ball rather than hit Row Z with it, then he might have managed to actually sort it out. Still it was a nice way to chill out and that definitely was good.
Then it was time to head out to the Parrs Wood leisure thingy and first off, see when the Tenacious D movie was on. The showing was 5.15pm and it was around 3.30pm, so a cunning plan was hatched. Get the tickets now while it was quiet, then go to munch and see the film. In truth it worked out really well: we went to Pizza Hut next door and I took full advantage of their meal for one deal: some lovely wedges, a small pan pizza with tuna and mushrooms (so thereby getting my Omega3 for the day, I love my fish you know) and then ice cream factory afterwards. I only had the ice cream with a little sauce and avoided the temptations of the Smarties and the Dolly Mixtures to keep the sugar content down (I'm good these days you know!)
And then back to the Cineworld and see the movie. £6.50 for a ticket at weekends is a bit on the dear side though, really they need to knock the prices down. Okay, so they've got the unlimited pass for around £11 a month, but you need to subscribe for a minimum of twelve months, and there could be some months when there's nothing on that you want to see. Surely doing it on a month by month basis could also be doable so that it'd be more tempting for me? Well, you'd think so wouldn't you? Anyway, gripe over. I was glad we'd got the tickets earlier as there was a large queue, mainly for Casino Royale, which was getting sold out pretty quickly despite it was on three separate screens.
So what of Tenacious D - The Pick of Destiny? Well, a lot of it is going to depend on how much you actually like the band in the first place, without question. There's some nice homages to some of their early TV show episodes for HBO, such as the club that thay occasionally play in and the fact that they play the song "The History of Tenacious D" is a neat touch. It's quite a little rock and roll journey, even homaging rock opera in places, especially the opening track Kickapoo, which features Meat Loaf as Jack Black's dad, and Ronnie James Dio, who comes to life from his poster and shows Jack the way. The song that accompanies it is currently getting repeat play at the moment here at the Towers, it's just fantastic!
Anyway, in terms of plot it's pretty simple: JB goes to LA, meets KG, KG trains JB in rock, they then form an alliance, visit a guitar shop (Ben Stiller is hilarious as the shop manager here) and then hear about the Pick of Destiny, they borrow their diehard fan Lee's car, and journey there and try to get it, and then get back in time for the open mic night. There's plenty of surreal moments along the way, accompanied by some great songs from the D, as you'd expect. The car chase scene near the end as they trash Lee's car while he's on the phone to them in the car and he can hear the action while watching it on his TV is utter madness but sheer fun, and the bit with Dave Grohl as the Devil is just wonderful stuff (not to mention some absolutely kick ass guitars in the track that plays here of course).
Favourite moments? Too many to mention as I was giggling for a fair bit of it, but the scene in the Museum where JB has to use a certain part of his anatomy to turn off the alarm, although purile, was hilarious, and the homage to A Clockwork Orange where JB gets beaten up actually works in the storyline really well. But I have to say that that bit with the Devil really works well and just revives that whole rock opera feel that the start had, and it really does well. That and Kickapoo are the two best songs on the soundtrack partially because of this too, and it's certainly great fun. If you're a fan, go and see it Like, now. If you're a fan of rock and metal, see it anyway. If you're not, you might enjoy it - especially if you're a fan of Jack Black anyway. If only School of Rock got the recognition that it so fully deserved too...
Anyway, managed to get some more Chistmas presents done. I've only now got five left to get, so it's very much getting there indeed. I managed to order a couple of them online at the Manchester City online store, especially as one of the sizes in the actual shop itself was out of stock, but in stock online. So, used my membership card and got the 10% discount they offered this weekend, and was able to use the £5 discount for spending a certain amount too, so that knocked down the price considerably. Imagine my surprise then when I had a knock at the door on Saturday morning with the postman delivering me a Special Delivery parcel. Wow! I only ordered the goods late Thursday night and so they would have sent it out next day - that's what I call customer service for you.
Today I ventured into Stockport as a man with a mission - to get my Mum's present. Which I managed to find, so that certainly made my day. I knew what she wanted, and it had to be a particular one that she was after (obviously not giving too much away in case she reads it of course!) As an extra bonus, I went into the Next clearance as well and came out with two really nice jumpers that I liked - and both of them in my size too, which was excellent stuff! And it wasn't expensive either which definitely was a bonus. I've pretty much got my winter wardrobe sorted now and it'll be nice to look nice for the cold weather :)
Friday 24th November - Toiling in Brisbane
Well, the end of what seemed a very long week, and if you're the England cricket team, it's going to be a long weekend just trying to avoid a heavy defeat at the hands of Australia. Most of our bowling just wasn't good enough, Steve Harmison was out of sorts in a big way, and the only man who came close to threatening was Andrew Flintoff, whose 4 for 99 was actually pretty good considering the Aussies racked up a massive 602 for 9 declared, mainly thanks to a superb 196 from their captain Ricky Ponting, who definitely led by example and gave their country a massive boost in the first blows in anger on early Thursday morning. I just hope that some of the England batsmen can discover some form, and if they do, and we manage to avoid the follow on (highly unlikely considering we're a mere 53 for 3 though) then we might be able to save the game, I realistically know that we don't have a cat in hell's chance of winning the Test so realistically it's a case of take what you can and then think about the next one. And that's all that can be done to be honest.
I did a bit of Christmas shopping on Wednesday evening, managing to get another three presents sorted out for people. I would have got a couple more done too but for Boots' insistence to close at 7pm rather than the 8pm everywhere else in Manchester closes these days. Shame that, cos some of their gifts would have been nice to get people in a good 3 for 2 offer (and I might go back there yet to be honest) but I am sure that when other people are open later that they just have to be losing business somehow, well you'd think so wouldn't you? Mind you, on their head be it I suppose, if they make enough at lunchtimes with their Meal Deal etc then I am sure that's plenty of profit.
I also saw this really nice jumper in Asda on the way home from work tonight, and I was so tempted to get it, but they only had extra extra large size. And I'm not that big! I did like it though, it's quite stripey but with some nice colours in that go well with me (and it's not loud either thankfully). I might have to venture to the one in Eastlands or Stockport to see if they have it, and it wasn't even that expensive either! The weather is getting a bit nippy out there and I want to have some nice things for going out in that aren't going to freeze me to death in the biting wind. Of course, you always end up with lots of stuff to do at Christmas so being able to have a good wardobe just has to be a positive thing for me - especially as I've lost a bit of weight too!
And joy of joys! Frank Sidebottom is back on the telly with a chat show on Channel M (which is Manchester's local channel). If you're on normal terrestrial, tune your telly into UHF channel 39 and you should get it. If you've got Sky, it's on Channel 203. I can remember his Shed Show from many years ago, and that was brilliant (and not bobbins). It's so good to see him back with a vengeance too - I had a fantastic time with my sister last month when we went to see him at the Dancehouse, and actually going on stage to meet him was just so wonderfully funny. Also, it's very Northern humour which I appreciate, lots. And to think these pesky Southerners think that Timperley is actually a made up place, bah! Well considering a good friend of mine lives there, I think not.
I was also pretty firm at work today in our technical group meeting. There's a few things not going according to plan and I'd even made a suggestion how to make something better, which I have a feeling some of the management might ignore. However I was determined to state my case clearly and fairly, and I think now the point has been taken and the hint dropped (hopefully). It was great though to see some of the folks from other sites, not least as one of them had brought in some Kitkats to go with the coffee (brilliant move - must remember to get the Twixes in the next time the meeting is at our place). Actually getting a few things done today was such a positive for me - the week had me a bit bogged down but I left today feeling quite upbeat and positive, which has to be a plus.
And for those of you who eat at Wagamama, I urge you to visit their web site and subscribe to become a member. If you do this week for example, you can eat two for the price of one on your main course at certain branches, thus saving you pennies but also giving you the chance to have some lovely food as well. I certainly enjoyed what I had last Friday and I'm definitely going to have to go there again soon because it was all so more-ish (not least the coconut ice cream with mango sauce, absolutely to die for). I subscribed myself today and it was nice to see some good offers pop up for me as well as some other exclusive content. And it's totally free - which in my eyes just has to be a good thing.
Listening to Kristin Hersh last night made me think about a couple of things. Firstly, how much I'd love to meet her, Billy and the kids and just have a general chat to her about all sorts and try so hard not to be a fanboy (you know what I mean: "I love you, I have all your records on limited edition etc etc") - admittedly I do fancy her as well but I'd keep that in check. But also when the new album comes out (which I might just have to get first day of purchase somehow!) I'll also want to play it loud and think of when she might be touring. I so hope she plays Manchester but if like last time it means I have to go down to London and go somewhere like the Scala to see her, so be it. There is a single solo date on January 11th, and that's tempting, but that means possibly heading back from London on a Friday, which is bad...
Tuesday 21st November - The Sun's Gone Dim and The Sky's Turned Black
I am hooked on the music of Jóhann Jóhansson, I've just decided tonight. I picked up the single from the "IBM 1401: A User's Manual" album on Saturday whilst in Vinyl Exchange, and the two tracks on there are just something completely different from what I'd listen to. It's sort of like the minimalism of Philip Glass but with the use of subtle electronics as well as orchestral movements, and it makes a very nice and peaceful soundscape to listen along with. As I put said album on my Christmas list, I didn't buy it even though I could have been very sorely tempted to. However, what I did manage to do late Saturday night whilst at home was to order one of his previous albums, which just so happened to have a DVD-Audio disc of the album, thereby increasing my collection of music on DVD-A!
Imagine my surprise then when I got home from work and said album arrived in the post. I ordered it straight from the indie label that released it, my view being that being a small label they need all the direct purchases that you can give them, and indeed their ordering was efficient, simple and effective. So well done to the people who run the Touch Records online store, I salute you! And indeed the album itself is a fine piece of work too, perfect to relax to whilst making myself a very nice pasta bake with some garlic bread. And why the hell not?
Sunday 19th November - Winter Has Well And Truly Set In
Well, the winter has come in leaps and bounds, especially during today. I met up with a friend for some catch up time and to chill out, and ended up watching the Blackburn Tottenham game in Varsity while munching food and enjoying their nice big cups of latte, which were rather nice to say the least. However, outside, the wind was howling furiously and when I got home tonight I could hear it outside being really horrible and cold. I am so glad that the fires in the house give off the right amount of heat and keep myself lovely and toasty without being too hot. I've got most of the upstairs little convector heaters on a timer too, so they come on just when I need them - so makes sense. Granted, it'd be nicer if I had central heating, but it's not a cheap job and I'd rather it be done while I was here to see how it all would work.
So, how was the weekend? It was very very nice actually. I met up with Dave and the rest of the people Friday evening, had a quick drink in Moon Under Water, which I have to say was really really busy, but not surprisingly so considering it's much cheaper for beer than probably everywhere else, and then a short walk down Deansgate to the Wagamama's that they've opened in the Spinningfields area, on the other side of the Royal Bank of Scotland. It's quite nicely laid out and all the coat hooks are right at the end so you can plonk them out of the way while you munch.
And munch I did. More than I expected to be honest, but that's because it was enjoyable and relaxing. I had the chicken udon noodles, which apart from the big slices of red onion which I conveniently placed to one side, was lovely, and had the ebi katsu to go with it - lots of yummy prawns in breadcrumbs with a nice dip. I did feel quite full after that, especially after the chicken udon's ginger had kicked in (wise move me ordering a sparkling water in there methinks) but as a few of us were going for dessert as well I thought I might as well, and so went for this lovely coconut ice cream with mango sauce. Cooled the throat down a treat and was delicious, I have to say. Shame really that the price of alcohol in there is so bloody dear compared to the food!
After that was a quick walk over to the Hogs Head for a drink. In truth, I didn't feel comfortable in there. The music was way too loud, so I couldn't hear myself talk (something I really dislike if you're making conversation), the clientele just wasn't the right sort for me, and the beer was off. I thought to myself "go for the Abbot Ale, nice hand pulled pint" and you know sometimes when pubs just don't look after the real ale properly and it tastes horrid? Well, that was one of them. I didn't feel 100%, and in truth, I wanted to have a good night's sleep for Saturday as I had a fair bit to do.
Saturday was busy - went to Stockport in the morning and was going to pick up my Audrey Hepburn canvas print, except it hadn't arrived as yet. I'll have to give the shop a ring next Thursday to see if they've had it delivered and then pick it up next Saturday morning. I did spend the Saturday afternoon with someone nice, did lunch in Felicini's (which I have to say was rather lovely - although be warned, the salmon calzone is massive!) and had a good walk round the Christmas markets and stuff, as well as chill with a nice big decaf latte in Costa, and ended up with a good CD purchase or two in Vinyl Exchange. All in all, it was a really nice day and I have to say it's even nicer when you have nice company to spend the day with.
So there you go, busy me, busy weekend. I'll actually be glad that work is coming up during the week so I can be a bit more relaxed, oddly enough!
Friday 17th November - Farewell Ferenc Friday
It's a strange day today. On the one hand my colleague Dave at work is the big three o today, so it'll be nice to go out tonight and eat lots of delicious food down at Wagamama - can't wait. I spotted a brilliant card in Tesco last night while doing my food shopping, and the humour was just spot on, so that had to be done. Anyway, I also got a nice bottle of French chardonnay as well, which seemed to have gone down pretty well. It will be good tonight though, I think because it's nice to be able to get home, get changed and then relax and be out and enjoy yourself a bit, the wind down to the weekend starts here.
On the second hand, it's been a bit manic at work to be honest, what with deadlines for students left right and centre and leaving them stressed little bunnies, and also because that a lot of them are using laptops with our wireless network, and don't realise they can't send anything to print unless they log on to the PCs in our dropin labs instead. And add to that lots of staff being quite demanding and needing stuff done there and then, and lots of little bitty jobs as well - plus I managed to work out why one of our new staff PCs was running like a dog.
Basically, if you have a PC motherboard with an ATI Crossfire chipset, a word of advice: don't use an IDE hard disk. At all. The two PCs we had delivered basically had a 40GB Maxtor hard disk, and having tested the hard disk in another PC there's nothing wrong with it. It turns out that ATI's south bridge controller is pretty rubbish in hardware and just isn't up to the job. To give you an idea, I brought down our academic staff PC image to this PC in question. First time, using the original IDE hard disk that came with it, it took 76 minutes. I then put in an 80GB Hitachi Serial ATA 1 hard disk and used that - and badabing! 15 minutes. The network speed was no different, but why the two different speeds (I mean Serial ATA 150 isn't that much quicker than ATA133 to be honest) is beyond me. Still, after imaging, I did a timed test from switch on to full logon with all Zenworks icons etc. With the IDE hard disk, 9 mins plus, with the SATA drive, 2 mins. So there you have it. Bearing in mind that the imaging software we use (Zenworks imaging) uses mainly Linux based commands, it was clear to see that the hardware just wasn't up to the job.
On the third hand, I read BBC News this morning and immediately felt a touch of sadness that has been with me for most of the day. The Hungarian football legend Ferenc Puskás died peacefully early this morning after fighting a long battle with an Alzheimers-like condition that he'd been suffering with. To say that this man was a football legend was an understatement indeed. He was one of the all time great footballers - of all time.
To give you an idea, England had never been beaten at Wembley for around thirty years since the stadium was built in 1923. England then played Hungary in 1953, and the game has been forever etched in football folklore. Not only did Hungary win 6-3, but their style, sportsmanship and skill, shown off the most by Puskás himself, endeared the Hungarian football team to a whole nation. The England goalkeeper of the day recalls that he probably kept the score down (something Puskás himself said to him after the game) and later that year in Budapest England would be beaten 7-1. No disgrace though, as the Hungarian team had ideas, movement, and lots of things we in football now take for granted. How the team didn't win the World Cup Final in 1954 was anyone's guess bar West Germany's.
He wasn't finished there though: after the break up of the Hungarian team in 1956 due to the revolution in the country at the time, Puskás went to Spain, where he was to form a lethal partnership with Alfredo Di Stefano at Real Madrid. And their crowning triumph together was at the 1960 European Cup Final at Hampden Park. Di Stefano scored three goals (no mean feat) but Puskás went one better and scored four as Real thrashed Eintracht Frankfurt 7-3, in one of the greatest games of football ever seen (I should add Frankfurt were no slouches themselves and were one of the best teams in Europe at that time). But the way Puskás played, added to his heroics at Wembley years earlier, endeared himself to the Scottish faithful.
Later in his career Puskás was part of an International eleven that played in Sir Stanley Matthews' testimonial game at Stoke City's Victoria Ground. Showing his skills and being a true gentleman, at the end of the game, he and Russian goalkeeper Lev Yashin both held Matthews aloft on their shoulders and carried him off the pitch in the manner befitting the Stoke legend. Sir Stanley himself had said that Puskás was one of the best of all time, and that's high praise coming from someone like him.
There's more I could recall right now, but the man truly was a legend and gentleman of the game of football. The sort of person that we could have needed right now in today's game to show these money-grabbing upstarts that representing your club and your country meant something. The statistics speak for themselves, as do the glowing tributes from all and sundry. My thoughts are with his family right now, rest in peace Ferenc, a true legend.
Wednesday 15th November - Oh Micah, You're So Fine!
Normally, I can give or take an England friendly, particularly after the national team's somewhat inept performance against Croatia last month. However, as the week wore on I did for once get excited about the friendly with Holland. And why? Well, Manchester City's excellent young defender Micah Richards had made the squad, but I didn't expect him to be named in the starting eleven. When it was announced that he was going to start I spun into action and asked a few members of the family over to come and watch the game with us in widescreen with the full surround stuff going on (as you do).
And how did he do? Rather excellent, it has to be said. Considering that he was up against the only good Dutch player on the night, Arjen Robben of Chelsea, he was a bit fazed earlier on, but soon had Robben in his pocket and every time Robben looked dangerous, Micah was there to sort it out. He did a couple of good clearing tackles and headers in the first half, but what I really enjoyed was the England goal. When Joe Cole burst forward, Micah ran outside Joe so he could be available for a through ball. By doing that though, he'd taken a defender with him, and so when Joe had put the cross in for Wayne Rooney to score off his studs (the sort of goal you'd see the legendary Shaun Goater score week in week out to be honest) the commentators reserved praise for Micah for his part in the goal too, which was brilliant to see.
Second half was more of the same, and Micah stuck to the task perfectly. I have to say that I thought that he would be substituted, but then Steve McLaren at least doesn't do a Sven and end up with millions of substitutes: he stuck to two or three, and Micah got the full ninety minutes. In fact his run down the right flank near the end only to be fouled had me purring with joy. It was just so good to see that his form for City was now translating at international level, and high praise from McLaren after the game too, who said that it felt like Micah was an established member of the squad and not the new guy. Even the likes of Alan Hansen and Alan Shearer in the BBC studio was talking him up and saying how well he did, and how he could be the future England right back. Shame that the Beeb didn't interview Micah afterwards, unless they thought he'd still be buzzing and give a repeat interview of that one he did against Villa in the FA Cup, which has gone down in City folklore. I mean: you've just scored with virtually the last kick of the game to keep your team alive in the cup, and it's your first City goal, course you're going to be buzzing and so pumped up - so I can excuse his swearing and enthusiasm - most of us would be the same to be honest.
I reflected a bit too about my trip down to the Peak District, and came to the conclusion that I really enjoyed myself and it was just the day out I needed. Actually, it was also lovely to be able to take myself away and just get some exercise, fresh air and be able to do what I wanted to do. I think I'm definitely going to make some more me time for myself, it's just what I need to do. Also, being able to walk and try and get the weight off is giving me an incentive to maybe even try the smaller clothes sizes. I'd be so happy if I could get into a smaller jeans size than I am now - but that might just not be too far off if I can shift another half stone or so...
Sunday 12th November - A Grand Peak Day Out
Well, I woke up this morning (in true Blues song style, obviously - not) and decided that I was going to take a nice long walk today. The only decision I had to make was to where I wanted to go, and as I'd got up early enough, I had my decision made - there's a bus that goes from Manchester all the way to Castleton via Glossop, and so that would be easy, meaning I'd get to spend a few hours in Castleton and take some nice walks before heading home later on in the day. It also meant I could sit back on the journey there and back and take in some spectactular views too.
So I had my breakfast and was out of the house before 8.30am and headed into the centre of Manchester, and right on time at 9am came the 373 bus to Castleton. And just over £6 return all the way there is not a bad fare whatsoever, particularly as I'd say the bus would do around 30 plus miles each way because of the route that it takes. So from Manchester it was along the main road to Hyde, then through Hatterseley, Broadbottom and Charlesworth before arriving at Glossop on schedule. From there it was all the way along Snake Pass (and the moorlands at the top looked as desolate and bleak as they always do) and then a detour along the side of Ladybower reservoir to Derwent Valley (Fairholmes I think it is) and the back along the same road the way it came and then over the reservoir bridge and on to Bamford before going to Hope and then ultimately Castleton. Considering it took an hour on the bus from Glossop, that's pretty good going. You can't drive like a loony on the Snake Pass even in decent weather, and the bus driver was very sensible and safe - he obviously didn't do his training at Finglands Manchester then!
Got into Castleton and had a walk through the village to the visitors centre. They've got a small exhibit on about the history of the place and it's well worth a quick look around if you go there, it certainly gave me an insight into how the place became what it is today and also a general historical view of the Peak District. I kept walking along the road and then saw the sign for the Peak Cavern - or, as it proclaims, home of the Devil's backside (it was actually another word for backside but there might be kids reading it, you know?) and that looked pretty busy with tourists piling in towards the entrance. But that wasn't what I was here for anyway. I carried on walking until I came to a junction with Speedwell Cavern on the left and the road to Treak Cliff Cavern on the right.
I'd done a bit of checking, and the way I was going to walk was up to Treak Cliff Cavern, and I stopped there and climbed the stairs and steep ramp to take in the view from the Cavern entrance. I wasn't going to go in (it was cold enough as it was without entering a freezing cavern to be honest) but the view from up there was pretty good, and I knew it would get even better. I kept following the road around until I noticed there was a turning circle for buses - this meant only one thing, I'd finally come to the closed off road that used to pass around Mam Tor, the old A625. And soon as you walked along, it wasn't difficult to see why.
The road had been closed from 1979 due to a lot of subsidence on the Tor, and that was pretty visible to see as you walked uphill. Not only had sections of the road dropped off completely into the bottoms of the hill, but some had dropped down by a couple of metres at least. After seeing Jeremy Clarkson try and mount an impossible hill on Top Gear last week, I kept thinking "Right Clarkson, let's see your Land Rover get up this!" and with obvious reasons. It really did show just how much natural forces can do, and a reminder to us all not to take everything for granted.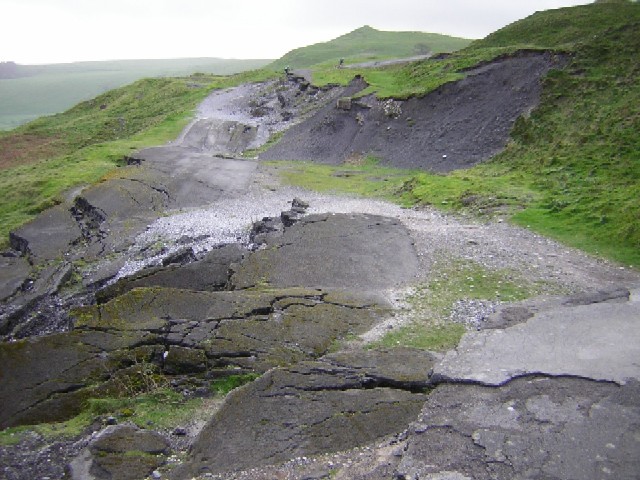 Desolate, eh? Anyway, after about a mile or so the "road" actually passes as a road again, and there's a turning circle for a bus, as it's very close to the entrance to the Blue John Cavern, but still quite nice to see that public transport rurally is improving too and so you can get to all the touristy places. I managed to get to the top of the road, and even though the summit of the Tor loomed large, it was far too muddy to even consider a climb up to the top, although I was tempted.
I'd had my route worked out and so it was a short walk along the road and to a left turn that would take me down the Winnets Pass. And wow, are the views spectacular here. This pass road was the original route out of Castleton before the Mam Tor road was built, and as such it cuts right through peaks either side of you, with a nice 20% gradient thrown in as well. Suffice to say I was quite pleased I was walking down the hill instead of up, but nonetheless it was a pleasant walk down just to see the steep hills either side and to feel so enclosed and yet so free at the same time was quite inspiring actually. I passed by the entrance to the Speedwell cavern, and that was quite busy too. No wonder though, you go down lots of steps and end up going around the cavern in a boat! I think next time I come here I'm going to have to do that, for sure.
Walked back into the centre of Castleton and had a look around a few of the shops - lots of gift places, even saw something which was a failed idea on Dragons' Den make an appearance in one of them - albeit at half price which did make me laugh I have to say. It's also interesting now that several shops have started selling more stone presumably from the Blue John Cavern - it reminded me of how many shops in Whitby sell jet, and how every time I go there there's more little shops sellling the stuff.
Was getting a bit peckish though (and no wonder, I reckon I did about four and a half miles of some terrain walking, felt quite tired but thoroughly satisfied with my days' walking) and so it was a case of deciding a nice pub to have dinner in. After a quick look in a few of them, I plumped on The Castle. It was pretty busy, always a good sign, and when I got to the bar, they were selling real ale on tap, something that always cheers me up to see. Of course what was even nicer for me was that they had Black Sheep as one of their ales. Well, of course I ordered a pint. And why not? I also ordered their Norfolk Turkey Sunday roast dinner, and all I can say is that I had trouble finishing it. Not because it wasn't nice, far from it, it was absolutely gorgeous, but because there was so much. You had lots of turkey breast that tasted succulent, stuffing slices, a sausage with a bit of that bacon stuff on the outside, some fresh carrots and peas, a big Yorkshire pudding, and creamy mash potato with cheddar topping that was absolutely to die for. Was it worth it? Without a doubt. I sat there by the window munching my dinner and having a rather good time of it. And the Black Sheep was also spot on - no complaints from me there, poured to perfection. Which is nice.
I was going to take another walk up Peveril Castle in the afternoon, as the entrance was quite close by the centre of Castleton, but then it decided to rain. And absolutely chuck it down. Heavily. Realising that walking up a steep bank in the rain was just asking for trouble, I decided that when the weather was warmer I'd make a return trip and visit that castle, as it did look rather dominant on top of the hill overlooking the village, so something I'd have to remember to do. As it was it was getting close to 2.30pm and I remembered that there was a 373 leaving at that time, albeit only to Glossop. But then I could use my Stagecoach weekly pass and get the 237 to Ashton then the 216/219 to Manchester and then head home, which is what I did. In hindsight I could have done that on the morning and just got the return bus ticket from Glossop, but I'd have had to leave home around 7.30am to get into town and then a bus to Ashton, so a no-brainer really. And indeed had the weather stayed okay, I'd have been getting the 5pm 373 all the way back to Manchester, so no problem really.
All in all though, a nice walk I had, and it was good to get out and to see more of the countryside that, believe it or not, I'd never been to. Shame on me! I'm going to have to come back once the weather starts getting nicer, and then I can really take in all the caves and all the other sights. I really enjoyed myself and I definitely feel a lot fitter for taking that walk on too. What a difference a day makes!
Saturday 11th November - Poll-Axed!
I have to wonder. This morning I decided to get up and get into Stockport, I had a cunning plan to get a few bits of shopping, and I also wanted to see if I could get everything done early so I could kick back and then watch the City game at 12.45. So I got up pretty early and headed around the likes of Asda so I could peruse their clothes section, primarily to get some Christmas present ideas. However, that and the big Tesco's selection was frankly rubbish (the one at Burnage has a better selection yet it's a smaller store - go figure) and so I decided to mooch on down the main shops to get some other present ideas, and thought of a few. But then I hit a brainwave, what if the Art Factory store had restocked the Audrey Hepburn picture I was after?
So I went in, asked at the counter and was informed that they'd got some in on the Thursday but had sold out, but he could reserve one for me when they next came in. What a star man eh? So I promptly paid my money up front to guarantee myself one, and that was that. It should come in at the end of this week and so finally, I'm going to have the divine Audrey Hepburn on my wall, with the print I want, and at a good price too, because he's going to honour the current sale discounted price even if the price goes up. You know what? That's what I call excellent customer service - he even rang the Manchester branch of Art for me to see if they had any and if they had, he was going to get them to keep it for me. But no worries, I know now it will be mine and I can't wait till it goes up on the bedroom wall. That will be brilliant.
Anyway, popped into Tesco Burnage on the way home to get some bits for lunch, and then it was time to crash out and watch the Man City v Newcastle game with me uncle in tow. And was it frustrating? It definitely was. It wasn't a great game by any stretch of the imagination, but we deserved to get something more than a draw out of it. And quite why the FA insist on having Graham Poll as a top class referee is beyond me. Poll made so many blunders, he didn't let the game flow and spoilt it with petty free kicks, and worst of all, he disallowed a perfectly legal City goal. The corner came over from Joey Barton, and Bernardo Corradi was tussling with a Newcastle defender, both of them doing a bit of shirt pulling as they jockeyed for position, 50/50 stuff. The ball came in, Richard Dunne headed it towards goal, and Georgios Samaras met it with a clean header into the roof of the net. 1-0, surely? But no. Poll sees that Corradi was causing an infringement of some sort and decides to chalk it off straight away.
If the people in the Sky Sports studio can call it correct after just one look at it, and indeed the commentators once they saw the replay, what the hell does Poll have to do? But no. He obviously doesn't have the skill to see any 50/50 challenges and will just try to make a name for himself in the Sunday press by making, yet again, another ludicrous decision. And in truth although we were firing blanks a lot of the game it just makes me wonder what teams have to do to get a right decision these days. I'm sure if Newcastle had scored that sort of goal and had it chalked off, they'd be pretty upset too to be honest, and rightly so.
Managed also to fix a PC problem tonight which was interesting to say the least. A friend of mine uses Napster (the legal, paid for one, before you ask) and the last few weeks or so every time you start up Napster, Windows decides to crash it out with an unknown error and lets you send the error report to Microsoft. After trying a couple of things, namely installing a non-critical update for Windows DRM-based media players, and indeed all the latest Microsoft .NET Framework patches (just incase the client uses it) I noted that IE7 was installed on the PC. Now although that had been installed lately, could there indeed be a coincidence? Only one way to find out - uninstalled IE7 so it went back to IE6SP2, and then fired up Napster. Badabing! Everything works, no crashes whatsoever, and cue one happy person who can now get their musical fix. Suffice to say that for users of said program, upgrading to IE7 is a complete no-no. Corporate customers (such as where I work) have been able to block automatic updates to IE7 with a program that simply sets a registry key. If any of you out there would like that registry key setting for yourselves, contact me, and I'll sort it out for you. Particularly if you might end up with the same problem.
Watched Strictly Come Dancing, and as soon as you saw Ray and Camilla dance below average, and dancing to an awful Scissor Sisters song (honestly, they're so rubbish, what's with all the hype about them?) you knew they were in trouble. Especially as all the Man U fans out there are going to vote for Peter Schmiechel (and he wasn't very good at all this week) then it makes it quite hard for the others to stay there. That said, the three I thought are going to be there still are, and Karen Hardy looked absolutely sumptuous and to die for. Mark Ramprakash (and indeed Karen's husband) is one lucky man! I have a feeling though that next week could see the end of Claire and Brendan, despite their improvements...
Thursday 9th November - No One Is Too Big To Walk
I watched with interest last night the final instalment of Channel 4's "Too Big To Walk" where eight rather large people started off from the Devon coast with one mission - to walk five hundred miles to Edinburgh over a period of a few weeks. The way that they were followed along by the cameras wasn't obtrusive, but it was pretty good to see how the people who kept going gelled nicely and managed to get each other going. In terms of a human feat, considering most of them were medically considered morbidly obese, I have to take my hat off to the four of them that did actually finish at make it to Edinburgh. As they were doing the last mile or two of the walk in the city centre, it reminded me of being there not so long ago, and where they finished was somewhere that I myself walked up to - and believe me it's quite a steep slope they got up right at the end. That said, when it told you at the end that medically the four of them had got much fitter, increased their life expectancy by a good few years and indeed had lost a fair bit of weight, the truth kicked in.
And that truth is that no one is too big to try and attempt a feat that if they set their mind to it, they can do. Often you see people on these rubbish chat shows on morning television complain that no matter what diet they try that they don't lose weight. What last night's show and the series proved was that it's not just about eating more sensibly - but by the need to burn off the calories with a good bit of exercise. I for one had a really good walk around Hollingworth Lake on Sunday and that definitely was a big plus point for me as it meant I could take time out to have a nice stroll and keep fit, and enjoy the view too. If I could, I'd be tempted to try and 40 mile walk in one day from my home to Sheffield via Glossop and the Snake Pass. I know it'd take me around eleven hours or so, so realistically it'd have to be in the Summer where the weather's actually light enough to do it, but I know it's a challenge that I might have to do to see if I could manage it without problems. Then there's that Isle of Man Parish Walk they have every year - a mere 85 miles, and you have to finish in under twenty four hours for your time to count. That's really hard, and kudos to anyone who does that to be honest.
Today was all about continuing the user support on the Help Desk and also trying my hardest to be nice to everyone. I think I managed as I had some very friendly and happy faces, which just really gives me that buzz of knowing the small measures are the ones that add up. Add to that when I got home tonight I managed to have another good game of Scrabble online. I played gleamed and soare for a massive 82 points as I'd used all my tiles, and that set me up nicely for a victory. Shame it wasn't a "rated" game so I could increase my player rating online, but nonetheless it was good fun and certainly something that I quite enjoy now, I'm also getting the hang of some of the clever tactics that you really do need to use to get far.
Word of the day (and quite useful in Scrabble actually) is cwm, which is Welsh meaning valley. It's actually in the official Chambers Dictionary Scrabble uses, so it does count, and of course it's very handy if you have no vowels at all to play. Mind you, that word also reminds me of the context it's used in for that rubbish soap opera on S4C Wales - "Pobol y Cwm", which translated means People of the Valley. It's been on telly for absolutely ages now, and it still doesn't manage to be any good. Yet it's survived a heck of a lot longer than other soaps that have been axed over the years. And that has to be something, I suppose. I wonder if any of the stars off there have made it big in English language shows?
Wednesday 8th November - Kicking It Like Oldskool (Well, Sort Of..)
Today felt like a trip back in time for me, actually. As our Help Desk person was off, I volunteered to cover - be doing that for the next couple of days, and it really felt like old times when I used to do that back in the day. In essence, not that much has changed over the years. Despite all the possibilities of resetting passwords online, students still come to you proclaiming that they have forgotten their password. You also still get the occasional enquiry about how to do this and how to do that, but also what pitfalls to avoid and so on. I did have one very friendly student with bright blue streaks in her hair who explained to me for some reason she ended up with two student numbers. A quick cross check and sort out and clean up later, and she went away a happy bunny.
I guess it's what I really enjoy in the job on the whole - human interaction and contact with people. I think when you see that these could be the next big thing in their chosen field or the fact that they want to try and work so hard, you don't mind assisting them and helping them on their way, because the small measures count the most in my view. I still treasure this very nice little Kermit The Frog card that a student got me many years ago as a small thank you for me helping her out with a problem that she thought in her eyes was one that was a major hassle. It wasn't the cost of the card or anything like that, but the fact that she had been thoughtful enough to know that I'd done a good job and to take the time out to let me know it meant something. That's what I mean by small things.
And to continue the old school theme, I dug out some CDs from my collection that I hadn't played for a bit. Some ended up in my updated current playlist, but amongst other things I decided to dig out the DVD-Audio disc of Barenaked Ladies' "Everything To Everyone". My colleague at work just bought himself this very nice little tiny system for his birthday present to himself, and it plays DVD and even DVD-Audio discs, so it made me realise when I got home just how wonderfully sounding DVD-A actually is. Anyway, listening to the likes of "Another Postcard", "Celebrity" and "Maybe Katie" in full advanced resolution surround at 96Khz just filled the room with luscious BNL at their finest. The intro to Maybe Katie just works really well on a surround rig because of the little silly bits before that great guitar comes in and gets the whole thing rocking.
I also realised that lots of DVD-A discs at Play were out of stock, and I have a feeling some of them are becoming increasingly hard to get hold of. Whether or not it's ignorance or the preference to the slightly inferior Super Audio CD, for some reason such a high end audio format hasn't really grasped the imagination as it should (despite some excellent REM reissue 2 disc sets with the second disc being fully DVD-A!) and they might even become limited items to get hold of, possibly. A lot depends on if Amazon decide to actually keep stocking them or not, and they do seem to have a decent selection - even if some of them are import. I'm sorely tempted to get myself the self-titled Metallica album on that format because I can imagine how much that would severely rock. Especially if it's as mastered as good as their S&M live DVD!
What is the world coming to though? One thing I read with hilarious giggles on BBC News is the fact that some company in their infinite wisdom are going to not only launch another brand of champagne - but, get this - charge a massive 1,000 Euros per bottle. Is someone taking the proverbial urine here or what? Champagne is expensive enough at around £20 for a decent bottle to be honest (probably why so many of us go for that Cava stuff - it's the next best thing and much cheaper) and at the 1K price, you'd either want to store it as a limited edition in the hope that you could sell it off on eBay, or that you'd have it nowhere near small children who would smash the bottle on you, not realising its value. Have a read here and then just exclaim "what the..?"
Monday 6th November - All The Way Around
I decided yesterday that I needed some time and space all to myself, primarily because I needed to get away for a bit but also because I just couldn't face the prospect of Bonfire Night - I have to admit I really don't like it because there's so many idiots who are able to buy fireworks from some dodgy seller and set them off in the street, and that's quite a scary prospect. I needed also to be alone with my thoughts for a while and to be able to take myself away. So I did.
Off I went on the train from Victoria to Smithy Bridge, and then up the hill (it's a bit of a climb too) up to Hollingworth Lake. I'd not been there for a while and I decided that I needed to be somewhere that I could just walk around at leisure and not think about anything but the sheer beautiful scenery and the stillness of the lake, even with plenty of sailing boats taking advantage of the prevailing wind. I walked around up to half way and just sat on one of the benches overlooking the lake, and just started to hum a couple of tunes to myself and just stare across the water and take in the fresh air and the view. It felt really nice to be able to do that, and feel that although I'm alone, I'm not lonely. Far from it. I have good friends and family, which is a great thing.
I walked a bit further around the lake and near the entrance on Rakewood Road at the far end, the ice cream van was doing a pretty good trade - even in this weather. I didn't feel brave enough to try that especially with my slightly sensitive teeth, but nonetheless I walked a bit further down to what used to be the Fisherman's Inn. I say used to be, because last time I went up there, that's what it was. Not any more. It's all changed inside too and looks a bit more upmarket, while retaining some of the original building's features. One down side - what happened to the real ale? It's press a button rubbish again. Bah. Ah well, I didn't feel like a beer anyway and just ventured in the Wine Press (what a rubbish name) and had a latte, which admittedly was lovely and I just sat there by the window and took it all in. It felt pretty good to be honest.
I then walked along Lake Bank, and half way along looked in one of the shops along there. It had lots of nice photographs and prints of the lake - and one of them which caught my eye straight away was a set of four canvas prints which showed the lake in the four seasons. What didn't catch my eye till I looked was the price - and I was so glad I didn't manhandle any of them. A mere £60 each or all four for £200.. ouch. I think they can stay on the shelves at that price, no matter how nice they looked, and indeed the whole set of four would be brilliant to have methinks in an arrangement on a wall somewhere. After that, time to stop off at the Millers pub at the end of Lake Bank and overlook the lake by the window while having some lunch and coffee. It was just the right thing to do and I then spent a bit of time just sat by the lake again, thinking about all sorts of things and letting my thoughts drift over the water - as I've tended to do.
But anyway, the big question is from Saturday night - how the hell did Claire and Brendan stay in Strictly Come Dancing? They were rubbish and for once (shock) I agreed with Craig - it was like a pole dance and just didn't work. There were notable boos as it was announced Jan and Anton were going home - they didn't deserve to leave and I think the two of them had such good fun together, even if they weren't the best dancer. Mind you, some routine from Mark and Karen that was, even with the false start. Lots of women want to be Karen as they tend to fancy Mark. Mind you, I wouldn't mind being Mark for a week if I got to dance with the sultry gorgeous Karen Hardy.. gosh she looked gorgeous didn't she? Her husband is one very very lucky man!
Saturday 4th November - We've Got A Handful of Songs To Sing You..
I decided to get up early this morning and do a bit of Christmas shopping, as I'd been given a few ideas yesterday in a flash of inspiration as to what to get people. As it was I arrived in the centre of Manchester at 9am, and no one was around. It's so much different to being there later in the day when it's absolutely heaving with people everywhere. Whilst I appreciate that it's probably because of many of you electing to have a lie in in the morning (and especially with all this cold weather, don't blame you) it means that I can just get on with what I need to do and then smile smugly in December when there's lots of people struggling with their shopping.
It was so easy, went into one store and immediately saw what I was after and purchased. The woman behind the counter was quite shocked that someone was up and about so early, but when I explained I had lots of presents to buy for, she did say I was being very sensible. I wonder if that's what people think of me generally - you know, sensible and methodical. Granted, they are quite Taurean traits (apparently) but still. Then next stop was to try and track down a limited edition item that I would buy myself, only I'm buying it for a relative instead. After a bit of hunting in the shelves I came across what I was after, and off to the counter and purchase straight away.
Went into Boots too , so I could have a peruse at some of the stuff they've got on offer, with a view to seeing if there's anything good enough to use their three for two offer (and save money as well, why not eh?). Unfortunately it looked like most of the stuff in there that I would purchase is the same as it's been for the last two years or so, and all the new stuff's all a bit too girly even for some of my female relatives. Still, I did manage to note that there was something that I would probably buy myself so I'll wait until it gets reduced in the January sales (knowing how Boots operate, it will) and go from there.
However what made my day was that on the way to Boots there's an art shop in the Arndale Centre. Now admittedly they have lots of limited edition prints which are just a bit too on the expensive side to be honest, but to my utter amazement they had prints by.. Rosina Wachtmeister! One of them I already have and that takes pride of place in the front room, but the other one I didn't have. Just a shame that the print and frame would have worked out to be almost £45 though, and considering I was spending money on other people, I didn't think that was fair to be honest.
Anyway, last night as I was sat relaxing and generally chilled out after visiting my Mum for her birthday and then doing the weekly shop (as has to be done), on the way home from Tesco I'd got a song in my head. Once I got home, I realised what the hell I'd been humming myself - the theme tune to an old children's series, A Handful of Songs. A quick bit of research on the web later and I found an excellent web site which not only remembers many old children's shows (Vicky The Viking too, wow) but has a nice feature on A Handful of Songs. It mentioned the presenters (although the first female was before my time, she seemed talented) and not least Maria, the second female presenter, who was a little sweetheart when singing the songs and with her long hair just looked lovely and perfect to sing songs to small children. And the site had the theme tune, so of course yours truly just had to have some of that. And the spooky thing? It was exactly as I remembered it all those years ago. Very simple really, just one acoustic guitar and Keith and Maria singing, and that was it. Even if the the tune was a cover of an old Tommy Steele song... it was just lovely.
You might want to pay a visit to the Little Gems site sometime - it's excellent. It has so many brilliant features on some classic shows that you'll think "bloody hell! I remember that one" and it's nice and simple to browse around. Okay, so it's not the most up to date web design ever, but the content above all else is the absolute key here, and there's so much good content it's like a good book, hard to put down. And thank you, whoever you are, for giving me an instant mood of nostalgia and "awww" factor. The days when kids telly was simple yet fun. Not like now, only Merlin The Magical Puppy could reasonably stand up as being good.
I also recorded the Jools Holland Later show from last night, simply because I was a bit tired after a hard week at work and wanted to mellow out and sleep. Watched it now, and, could someone please kill whoever did the mixing of the sound for Muse's set? Muse played really well and you could tell that they were really getting into it, but compared to their recent TOTP gig, which was brilliant soundwise, someone decided in their infinite wisdom to turn down the volume of Mat Bellamy's mic somewhat, so his vocals were drowned out by the wall of sound from the guitars. It just didn't sound as good as it should have done, cos the band were putting maximum effort in and I'm sure when they tour very soon there'll be a lot of people going mental (as they rightly should too) so it might be something to keep an eye and ear on if you see them.
The nicest surprise on the show was the absolute brilliance of the two songs by Duke Special, especially the second, No Cover Up, which was raw and emotional and passionate (and no disguising of the singer's Belfast accent either) - I might have to try and track down their recent CD "Songs From The Deep Forest" sometime, because if it's as good as those two tracks played, it could be an excellent move. It's hard to explain when the lead singer plays the piano where the top bit is open so you can see all the keys being pressed and the rest of the band around him with some more obscure instruments, but the sound works really well and it's a bit different from what's out there. In essence it's what I like about Later.. it's always an intriguing mix of music that usually works well. Could have done without Amy Winehouse though... Isn't that Winehouse with another silent "h" in there?
Wednesday 1st November - New Month And New Me
I think with all the things I did last month it's really felt like October 2006 was a defining month in my life and it's given me the impetus to get on with myself and do the things I'd like to do. I think too that sometimes you don't always appreciate that being the person you are is the most wonderful thing - and I found that out about myself too. I reckon that over the next few months I'm going to set out to achieve all I set out to do, and indeed try and be nice and be there for the people that matter (that is, family and friends). I also know having that time away in Edinburgh did me the absolute world of good, and the fact that I won a pub quiz there, chilled out most of the time, and then at the weekend actually won a raffle at the Frank Sidebottom gig back in Manchester too made me feel so much more confident and contented, although realistically too I know that not everything's going to be that good.
I've even felt the difference at work, I just feel more human, more approachable and indeed I feel inside that I can get things done and I'm sure that the staff image rollout for the small number of new PCs we've got will be a success because time will have been spent on it getting it right, and that's what matters. Sometimes you can't be an instant success with whatever you do, these things take time. And I'm also trying something else out too: being not so loud. I know that sometimes people find it offputting that I can be quite vocal so I'm attempting to turn down the volume control a bit and see how things go from there.
So now I've found myself again big time, what next? Well, I might just have to see how it goes until Christmas and then go from there. I still haven't ruled out the really big decisions, such as either emigrating or even maybe changing job either, or even if I ended up with a nice woman that would be good too, but all of those can happen if they happen - and what I've got right now is pretty good, actually. I have a nice house (especially now the spare room's looking very cosy for anyone that stays here), I have a good family and some friends who are very special to me - just hope that they all realise it, you know who you all are. And as such that's a good foundation for anything so in reality that's also making me more settled.
Anyway, I also thought that I needed to do something in terms of the Christmas shopping - doesn't look that I've got too many presents yet. One of my friends did send me their Christmas list over (see, I start these habits don't I?, hehe) and it was a simple job of picking the stuff I wanted to get and then getting it ordered. Actually I really want to get the Shaun Goater autobiography that he's released, but that would be something I'll buy for myself. Although if Waterstone's have any signed copies, I might just see if any of my relations who are City fans would want it.
You know what happens if you feed the goat don't you - he will score. Judging from the City fans on some messageboards it seems quite clear from those that have read the book is that Kevin Keegan didn't rate him that highly as a player and wanted to offload him to Wolves. Well, thank heavens that didn't happen, otherwise we wouldn't have seen The Goat put the fear up Man U twice during the 2002-03 season (believe me when he left City Man U fans I know at work were like saying to me "Thank heavens he's gone, he can't score against us next season the little ****") and of course generally become the legend that he is these days. He still has a lot of time for us and definitely judging by how packed the signing session was at City's ground the other week, he's still so highly regarded. The book's supposed to be a great read - I'll definitely have to get it sometime.