Dear Diary... September 2016
Friday 30th September - 100 Months
So, one hundred months ago today (and when we met, it was also on a Friday too) I met my intelligent, gorgeous and inspiring girlfriend. I can remember the first night we met so well, and that it was the best moment and highlight of my whole life really. It wasn't just the feeling of meeting someone new, but actually getting on really well with her, and having a connection that's been solid ever since. Sometimes you hear people ask if there was a spark between you, and for me it wasn't just sparks, or fireworks, it was the whole fireworks display. It really was.
As it transpired, my 10,000th tweet was to commemaorate that, and it was nice to see that some relatives from The Love In My Heart's family favourited it (two nieces and a nephew) and appreciated the sentiment. It really does feel special. Even though I know we live miles away from each other due to me pursuing a new career adventure, the time we have if anything is even more special. As much as I am going to enjoy the all day festival at Indie Daze at Kentish Town Forum tomorrow, I also know that I will be missing The Love a heck of a lot. The music tomorrow isn't her thing, and I wouldn't expect her to put up with it all day (most notably me pogoing a fair bit...)
I do know though that last weekend when she was here, it just felt really nice and chilled to be out on the South Bank, taking in the nice weather and having a drink or two together. I for one appreciate the effort for her to come down, and know that we can spend many more lovely times down here as well as me returning to my spiritual home of Manchester (always in my heart) and being together too. In fact next week's the Food and Drink Festival there so there may be an opportunity to peruse around Albert Square and sit outside in the (hopefully) sunshine with a drink too.
It's hard to put into words really but being with someone for over eight years, by far my longest relationship, puts a lot of things into perspective. I know for me that it's important to feel loved and to have that feeling for someone, as it makes me feel very much less alone. I also know that it's good to have someone else around who takes the same common sense no nonsense approach as I do, who's also very good at her job and works really hard (instant bond there: being hard workers immediately makes for a common grounding) and who yet has a really caring side as well.
Tune of the day is one of my favourite Beth Rowley songs (and it's one of The Love's too I think), "So Sublime" from her Little Dreamer album. In a nice twist of fate we'll be seeing her along with Jools Holland's Rhythm and Blues Orchestra in a few weeks time and that for us both will be lovely: seeing Beth was one of the first gigs we went to together as well so there's a nice full circle in that. And who can't love anyone who ends up performing a duet with the brilliant Duke Special either?
Thursday 29th September - Hunted Down
It was good to watch the second episode of Channel 4's Hunted tonight. It was left on a bit of a cliff hanger from last week with the two former Royal Marines blokes in a restaurant in Blackpool, only for the owner to help them out by driving from the place in a van from the service yard and with the two of them in the back hidden away. Whilst they may have got away for a little bit, it wasn't long before they realised that they were over at a friend of a friend's place in Fleetwood, and two extra hunters had spotted them leaving the place via a roundabout, cue epic car chase and then getting them caught at a motorway services.
Crucially of course they broke the main golden rule of Hunted, which was to not use a mobile phone in any circumstances. They used a friend's phone whom the hunters knew they might call on for help, and it was that triangulation of signal that helped locate them in Blackpool in the first place. Naturally of course it was then a case of realising their mistake but it was too late to do anything else. I'd discussed this last Friday with a couple of guys I used to work with, and we all agreed that we'd get the money out ASAP from the nearest cashpoint to the start location so it would be more difficult to track down, and so on.
The search focussed on a more posh couple who seemed to try and rely on their posh friends to help them out - but unfortunately the woman in the couple seemed to not want to crash out in a tent and seek somewhere a bit nicer to stay. Someone spotted them in a pub in Wiltshire and rang the helpline for the Hunters because they didn't like the look of them - and sure enough the next morning it was a fairly easy swoop on them as they became the third and fourth capture of ten overall.
I did wonder what happened to the two twenty odd year old ladies, especially after the woman who had driven them to a village in the Outer Hebrides then agreed to turn in their location and grass them up - only for the two of them to have at least managed to leave before the hunters got there. I suspect though they'll be heading down South and keeping as far out of the way as possible, but the fact that they were scared was something to note - they might break, although if they did what the two female friends did last series and split up half way along to meet near the end, that might be a cunning tactic.
Still though it's mighty impressive how it's all put together: I remember four of them making it to the extraction point at the end of the first series but I have a feeling that one or maybe two at maximum will get to the last week and attempt to escape. It reminded me of the old 1990s early classic Gary Clail track "Escape" which for me was just as good as "Human Nature" but in a different way,so tune of the day for me there. Escape, there's no escape.. and it had a killer bassline too - maybe it should have been the theme tune..
Wednesday 28th September - Secrets and Lies
It was a delayed start to getting in to work with everything attempting to delay me with signals left right and centre going to red. It was stop start, stop start all the way towards Blackfriars and whilst it attempted to make some time up by the time I got to Farringdon, it was a mere fourteen minutes late. Good job then that I always make sure I get the 0658 train so that in effect if it is delayed I'll still get to work on time - thankfully. And that allowed me to crack on with a fair few tests.
In fact one of them today was investigating how to be able to see if I could do some test deployments using App-V for a piece of software, and what would happen if you attempted to update. As I thought, the deployment was fine, the app launched, and once you serialised it, the serialisation infomation was stored in the user account of who did so (although if done during the packaging it would be there ready to go, a point to note) but updates as I expected wouldn't play ball as it wouldn't write to the file system (sort of expected that to happen really)
I also did some user assistance with the first batch of users who were taking part in the Business Pilot for Windows 10. The good thing is that it allowed me to really construct some useful information. One was looking for how to be able to book the rooms using the calendar and meetings in Outlook 2016, so did that, and also answered another question about where the Lync meeting was - answer: it's the Skype for Business meeting of course and has been for some time (the old version liked to keep calling itself Lync though..) so all good to help people out there too.
So that was also positive, but what was less positive in a way was the fact that yet more of the lies from Govia Thameslink Railway have been exposed, and by a current employee of the franchise at that. Said employee has revealed that the main reason for reinstating some of the lines is that some of the managers have had to take part in being trained as a guard, to effectively fill the staff shortage. This was what us passengers knew all along that GTR didn't employ enough people to safely run their trains, so they've had to take these measures. The "unprecedented levels of sickness" is also a lie further compounded that the "shortage of train crew" has been ensuring GTR have had the highest level of train cancellations for the last three years, way before any industrial action was taken. Tune of the day is "Liar" by The Sex Pistols for that reason (and because it's anarchy in the UK, which it may need to topple GTR)
So, it's well worth noting when you next board one of their trains (as I do, Thameslink one from Farringdon to East Croydon on the way home for example) that the management of the franchise are clearly lying and attempting to paint some of their employees in a bad light, when in fact their move to further cost cut (having already axed all their catering services) is to now make their trains driver only operation, which in the light of the recent Watford landslip crash and the effectiveness of the guards on both trains, plus the effective barring of people with a disability being able to turn up and go like they should be able to, shows just how out of touch the management of GTR are. If you haven't already, help fund the judicial review. And if you're anywhere near Victoria Station tomorrow night it could get rather interesting...
Tuesday 27th September - Allardyce All Gone
Well, well, well. From what started as a damning report in the Daily Telegraph this morning and what looked like a rather suspicious meeting where Sam Allardyce was effectively informing those reporters how to break FA and FIFA rules and broker deals for third party ownership of players, and the furore that followed during the day, it was no surprise that as I was watching the Champions League game on BT Sport Showcase (the free to air one) between CSKA Moscow and Tottenham that Allardyce had had his contract terminated as England manager, thus becoming the shortest reign on record.
Whilst no one really wants to have the media have a say in forcing any England manager out of the job, I would hope that if the FA have seen all of the footage filmed in full and have been able to make their own minds up, complete with Allardyce's admission that he basically messed up, that they at least acted as swiftly as possible in order to prevent any further damage. Allardyce didn't help himself by then going on to say that the HMRC is possibly the most corrupt organisation out there - hmm.. I wonder if Customs and Excise are now going to investigate into Allardyce's tax affairs then with even more purpose?
I for one wasn't surprised, just rather disappointed at how it's all turned out. It's almost as if there was an award to be had for shooting yourself in the foot considerably, and that's how it's been. I certainly know that in my line of work, there are things you say, and there are things you don't, same with the way you act too. Surely anyone with a modicum of common sense would have realised that actually there's a real sense of being able to keep your mouth shut? In fact tune of the day is "World Shut Your Mouth" by Julian Cope for that reason.
Although possibly too early to suggest a replacement, notably with Gareth Southgate taking charge for the next four games, a word to the FA's ear: Roberto Mancini is available. Without sounding too biased, he got Manchester City winning trophies and was the manager in that unforgettable Agüerooooo moment in 2012. He's passionate, he'll wear a scarf of the team's colours, and most of all, he's worked with English players and knows the English game well. Plus he's also a disciplinarian and not afraid to make tough decisions. And he's also a cup specialist too, so perfect for those sort of tournaments.
If the FA on the other hand wanted to look internally, then I'd add Mark Sampson into the mix. He's moved the England women's team on to the next level, getting them to third in the 2015 World Cup (the highest finish by any England football team since the 1966 World Cup win - fact) and has the respect and backing of the players, not afraid to make bold tactical decisions and also isn't afraid to drop anyone either if they're not performing. Add to that he's got a spot on attitude and would be in my view a very good fit. I know some will say that the women's game can't compare, but the women's team are currently doing everything right, the men's team everything wrong. A change of angle might not be a bad idea you know.
Monday 26th September - All Go
Well definitely all go for various reasons today, well apart from the train this morning. For some reason on the way into work it decided to stay at City Thameslink station for a mere ten minutes or so, effectively delaying everyone onboard. No explanation, but it sounded like it was attempting to re-establish the power as it has to switch the way it gets power between there and Farringdon (it becomes overhead with pantograph instead of a third rail for power you see) so something went AWOL. Wouldn't mind so much but this is one of the new shiny trains too.
Nonetheless though it was notable during today that things seemed to fit nicely into place. I checked and monitored some recent deployments of applications - all going rather well. I also looked at packaging a few more specialist applications via App-V, and thus far that seemed to work well. I was also able to put some useful ideas forward at the Windows 10 project meeting too, so I think on the whole it's good that my views are taken the right way and not just for the sake of it either, which is a positive thing I think.
The journey home thankfully was much less hassle and actually arrived early into East Croydon for once (well I never) so something must have been going on there. In fact I got home just after 5pm which is possibly a record since I started the new job two months ago. Maybe they realised it was pay day for some people like myself.. well maybe not. Still, one thing is with being paid today is that at least I've got an idea of what my normal month is going to be like, so I can get organising some finances a tad more too - always useful that.
After seeing Gladiators last night, I was also reminsicing about the old series and a fair chunk of the episodes appears to be online too, especially from the first two or three series, including celebrity specials, International editions (where contestants from Europe take on the UK) and all that. Naturally of course I remember most of the events, and possibly when they changed the Eliminator from Series 2 onwards to have the over and under hurdles plus the balance beam that made it a tougher proposition..
And of course, Only Connect tonight, always well worth a watch that, with the wonderfully witty warmth of Victoria Coren-Mitchell as well. Having all four clues in the musical sequences round being Unchained Melody wasn't that tough actually, I was shouting the correct answer of Gareth Gates out at the telly, as you do. I must admit though as well that the connecting wall can be a tad fiendish, and I managed to get both today - plus blitzed the missing vowels round. I rock, me, as does the theme tune - tune of the day.
Sunday 25th September - Down In The Park
It was nice for The Love In My Heart and me to have a lie in, and we both needed one I reckoned after a long week at work for us both, for different reasons. I have to admit that I didn't realise how much sleep I needed till I got up and saw the time and thought "ooooh, best head out of bed then!" - it was nice though to be up and to make some nice breakfast for The Love and I, with all the ingredients from Lidl, so mushrooms, bacon, sausages and free range eggs, complete with muffins. It was actually rather lovely all round it has to be said.
We got ourselves ready and headed out to West Croydon station and got on the train towards Penge West, and we were delayed a little bit at Norwood Junction due to the fact a lot of the trains were waiting for a platform due to the diversions going on. Once at Penge West we exited and headed to Crystal Palace Park for a nice walk, with us walking along The Avenue, heading past the memorial bell, past the site of the maze and then the old Crystal Palace. It was good to be able to see that as well as the little café at the front of Crystal Palace station before heading back on the train to West Croydon.
We've also made a mental note that if we do the journey again, go via Penge West both ways - as it's cheaper for Pay as you Go users such as The Love. Why? Well, West Croydon to Penge West is via London Overground, and TfL charge you £1.50 (in fact this is a flat rate for any Overground journey between Zones 2 and 6) - however Crystal Palace to West Croydon is via Southern Rail (or should that be Southern Fail) so you get charged at the NR1 rail rate between Zones 4 and 5, which is £2.00. Why the hell TfL can't effectively say to the rail companies "if travelling within the TfL fare areas, charge the same as we do" is a mystery to this day..
Later on we got everything packed and ready and headed off on the train to London Bridge (Southeastern train for a change too as their ones from Hastings were being diverted) and once there, we headed out of the station and to the Barrowboy and Banker pub for a well earned Sunday lunch. The Love had the roast pork which by all accounts was lovely, and I had the fish and chips which was also really good too. It was nice being sat by the window and watching the world go by, and after the tube trip to Euston, we had time for a quick drink the Euston Tap as well before a hug and a kiss goodbye. It'll be some time till we see each other again, but we had a lovely time.
I got home later and what was on on Challenge but Gladiators, and in fact the first ever UK final from 1992 no less! It of course had the over the top John Fashanu and the flirty as anything Ulrika Jonsson, but what it did have were classic rounds such as Hang Tough (Diane Youdale aka Jet was unstoppable in that) as well as Duel, The Wall and so on. In fact whenever someone was taken down on Hang Tough it was always a case of Queen's classic "Another One Bites The Dust" being belted out, so definitely tune of the day for that one.
Saturday 24th September - Down By The River
I spent a fair bit of time this morning cleaning the flat, making sure it was all tidy, neat and with everything all clean and spick and span, as I knew that I wanted to be all good for when The Love In My Heart arrived later on. She had suggested we meet at Euston and head into central London for a bit first, as the weather was nice, as she was only bringing an overnight bag and travelling lighter than usual. I didn't mind that and due to engineering works it was a case of me heading from East Croydon to London Bridge,and then on the tube to Euston after that.
The Love's train arrived on time and so hugs and kisses were hers (naturellement) and once her Oyster card was topped up, it was on the 59 bus towards Waterloo and getting off close to Somerset House, where there is a nice outside bar in the Summer that overlooks the River Thames. It was still there, and so we had a very leisurely drink and catch up in there, and I had this different ale made in Kent with a hint of champagne in it. It was surprisingly nice actually it has to be said.
After that we crossed Waterloo Bridge and headed down to the South Bank, and stopped in the Understudy Bar which is part of the National Theatre. We love the fact we can sit outside by the river there, and also they had an early Oktoberfest on with all German beers as well as a little van which was serving hot dogs with bratwurst sausages, so we had one each for lunch, and I had a nice German beer which reminded me a little of an IPA, it was actually not too bad. It was lovely to watch the world go by though it has to be said.
We then headed along the South Bank to Blackfriars station and took the train from there to East Croydon, which was busy because of the cancellations Thameslink had decided to do on the day (yet again, part of Govia Thameslink Failway, why am I surprised?) but we got there eventually, and headed back to mine, for much relaxation and general chatter. In fact we even snuck in a game of Scrabble in there (first time in absolutely ages and the first since I moved down here) and there were only a mere fifteen points in it - The Love playing some superb moves using the Q and Z especially.
I made us some nice food for tea thanks to M&S Dine in for Two, and The Love and I watched Pointless Celebrities (a Strictly special, with Brendan Cole and Sophie-Ellis Bextor winning) followed by the second night of Strictly following last night's efforts. I have to say Daisy Lowe's waltz was superb and she really felt the emotion of that one wonderfully well, and The Love and I were quite surprised by how well also that Danny Mac did his dance with Oti Mabuse, he went for it better than we thought. Incidentally, tune of the day is the ace "Murder on the Dancefloor" by Sophie Ellis-Bextor (as Ed Balls was pretty much that, even though he wasn't as bad as you'd think..)
I indulged The Love later with The X Factor. I have to say that the more I have to see this show, the more I loathe it. It was a case of a lot of the singers singing the same type of song in attempt to get a chair seat in the "six chair challenge" but also one of the boy singers decided to do his own song, which was, to put it mildly, absolutely awful. Car crash telly at its finest I reckon, and if your own song is half decent, I see the point (although argubaly if you wanted to write your own stuff you didn't want to go on the show anyway) but dear me. Talk about writing off your chances in one fell swoop!
The song went something like.. "Ooh, I, oooh, Iiiiiiii think I'm falling in love.." and it was pretty bad. His name was Will Rush, and I think as The Love said, he will rush to the exit straight away after that. It was a pretty dull rendition as well which didn't engage with the crowd, and perhaps it showed a little bit of immaturity too. Play the game a bit, get to a point where you're more recognisable, and then think about your own stuff, but actually have someone check to see if the song's actually any good first, you know?
Friday 23rd September - Memories and Portherhouse
It was twenty seven years ago today that I went to my first ever Manchester derby, and I was a season ticket holder in the Kippax for the very first time, and at seventeen considered old enough to go on my own without anyone else accompanying me (although of course if my uncle was up for an away trip, we'd have a great time together as you can imagine) - and so I can distinctly remember the day too. I had started my first ever job and had to do every other Saturday as part of that, and I was allowed to leave at 2pm to go straight to Maine Road and watch the game.
So, I left work in Chorlton, got the bus to Yew Tree Road and walked down there to the end of the road and to the Kippax stand, and took my place in with the diehards in the standing. I can remember the wall of noise around me as the teams came out and looking on a tad unhappy at the Man U fans who had infiltrated the North Stand and were being ejected from the ground. Back then it should be noted City normally attacked that end in the second half but this time around it was the first half, and I had a glance through the masses of people at what was going on.
Looking back too, I can remember the first two goals as if it was a one minute blur of "did we just do that?" and then as the ball came across for Ian Bishop to wonderfully head home a third, delirium erupted. We all thought that there was no coming back from this and City, with their mix of youth and experience and having a fair number of the 1986 FA Cup Youth winning side doing the business, were bossing the game. Mark Hughes scored a bicycle kick to pull it back to 3-1 shortly after the restart, only for Paul Lake to head forward and square it for David Oldfield to get his second and make it 4-1.
The final goal to make it "the 5-1" (which City fans still refer to it as today) was one of the best goals I've ever seen City score. Ian Bishop swept a gorgeous ball to find David White down the right, and his cross was met perfectly with a bullet header by Andy Hinchcliffe to power it home. He held up his hand with the "5" right in the direction of the Man U fans in celebration (note: City fans love him forever for doing this) and you could tell on the faces of the likes of Paul Lake, David White, Steve Redmond, Ian Brightwell et al what it meant to them and how much they cared about playing for City. And that meant something to me too.
It was nice to pause and remember those moments as I left work and headed on the 243 bus towards Aldwych, and then walking over to Covent Garden and having a mooch around there, which was really nice actually. I paused at Costa New Row and had an americano there watching the world going by, with no less than the classic "Secret Smile" by Semisonic playing in the background, tune of the day there I think. It was soon time to head to the Porterhouse pub to meet up with my former work colleagues at UAL as their senior manager had left and gone to UCL and we were having drinks.
I must admit it was really good to see them all again actually, and were soon chatting about football, technology, music and so on. The one thing I can say about that team is that their teamwork and cameraderie were right up there amongst the best teams I've worked with, and they've made one new starter feel particularly welcome as his role develops. They've got a replacement for my old post too, and was explaining some of the nuances of that, and it was just really nice as the time went by and the Oyster Stout just had to be done (it was on form and all good.)
I had a good chat with two of them about Hunted on Channel 4 last night and what you'd do under the circumstances. If you have a bank account with £250 in, wouldn't you draw it out at the nearest cashpoint to the start location so if CCTV had you, it'd be close to where you originally were. One of them said they'd destroy their mobile phone and throw it in the river, or load it into the back of a lorry without them in it and then get their friends to ring the mobile deliberately in order to put the hunters off the scent, hehe, classic. And of course, the golden rule: do not use your mobile phone!
It was an enjoyable evening and I walked back later to Charing Cross to get the train to London Bridge and swap there for one to East Croydon, and got back home in good time for part of tonight's Strictly Come Dancing (Claudia and her fringe looked gorgeous) - and it was notable that Ore Oduba gave a good effort, as did Greg Rutherford. I must admit I did like Ore's wife, she was very pretty and also very supportive too. It'll be a shame when Len leaves as he doesn't take no mucking about lightly..
Thursday 22nd September - A Lidl Cheaper
I had decided to go all out for a nice bit of food shopping after work, primarily as The Love In My Heart was coming down for the weekend, but also because I needed to stock up on various items. The Love had mentioned to me last night that it was Dine in For Two for £10 at Marks and Spencer, so I couldn't really argue with that and so went to the one in the Whitgift Centre in central Croydon on the way home, and stocked up nicely. In fact they had some really nice white wine as part of the deal which would suit The Love down to the ground, and also managed to get a nice and different main too.
I got home, dropped off the shopping, changed the washing in the machine, grabbed some bags for life and it was on to the short walk to Lidl in Church Street. I had been there a couple of weeks back and stocked up nicely, and thought it'd be good to get some other bits, so all the nice ingredients for a Sunday breakfast (bacon, sausage, egg (free range at that!), mushrooms and some muffins. And not too expensive either really. In fact I got quite a bit overall, including some decent Hardys wine for The Love at a not too expensive rate, and even some rather gorgeous Scotch steak burgers (I had one for tea later, rather stunningly nice actually.)
In fact though my best bargains were in the real ale department, with all three ones I got as part of their specials aisle. I got the Leeds Brewery's excellent "Midnight Bell" which is a dark ale for £1.29, and the Shepherd Neame "Autumn Blaze" for 99p, all good there. I also picked up the "Ace Ale", very tennis themed with a hint of strawberry, and it said it was 79p. Imagine my surprise when I got to the till and found out that in fact it was only 49p for a bottle. If I wasn't already carrying three bags full of shopping home with me I'd have been tempted to get some more to be perfectly honest.
Anyway, it was notable later once I had spoken to The Love In My Heart and swapped stories of our respective work days (for different reasons, both of them not so easy) that BBC Four were again showing Top of the Pops episodes from 1982 and it's an 80s era I do admittedly like a heck of a lot. And what an opener, the classic Pigbag tune "Papa's Got a Brand New Pigbag" which had been reissued in 1982 after being a minor indie hit the year before, and so tune of the day. The episode had Bananarama with Fun Boy Three (they were really saying something, don't you know) too.
Not just that, but also the likes of Kim Wilde, looking as classically 80s as ever singing "View From A Bridge" (massively under-rated in my view), Haircut 100 having a Fantastic Day (see what I did there), and of course as prevalent a lot back then, Shakin' Stevens too. Number one was Paul McCartney and Stevie Wonder with Ebony and Ivory too, and that wasn't too bad I guess. A decent showing all round, although the later 1am showing always has the full episode which is worth a watch on iPlayer. And at number 11, the 1982 England World Cup Squad with "(This Time) We'll Get It Right" - well we almost did had Kevin Keegan not missed a header in the second round...
Wednesday 21st September - Flushed With Success and Failure
So another day, and this time a fair bit of testing as well to make sure all the App-V packages I had created yesterday were all robust and worked as they should. Inevitably, testing takes time and it is always very very useful to have a record of all the testing done, complete with comments, any spurious behaviour encountered and what the easiest way to resolve any issues might be. In essence, it's very handy to also look at one of the CCM logs, namely appenforce.log, as this has any application installs in it, including App-V ones delivered via SCCM (and this is what is being done where I work)
The difficulty is that there's a requirement to deliver to users, and as my manager had set up the KMS server with the licencing for enough licences for Project and Visio (both standard and pro flavours at that) it meant that we could deliver to users and in theory it would see the server for licencing (which it did.) However, it's also worth noting that for each installation, if you choose to download and run locally, you not only have the content eventually in the App-V package cache, but it'll go in the CCM cache first to be extracted and installed to the App-V cache, then published to the user accordingly, which does work. Amazingly as it was, installs for a user worked, so it was a case of testing all the variants possible as Microsoft state only one type of Office 2016 App-V deployment should be for a machine (ie: Project and Visio separate, not together) really..
Still, I got home later on and spent some time catching up on telly I'd missed the night before, so watched the first of the new series of Great Continental Railway Journeys with Michael Portillo. It was very enjoyable indeed, especially the fact he went to the castle that was the inspiration for Bram Stoker's Dracula, and the book even mentioning him having a Bradshaw's guide (manna from heaven for Michael.) It was also notable to peek around Bucharest and end up in a massive port on the black sea with a load of grain being transferred from a great height (it did look pretty scary I have to say.)
I had also had to call out the maintenance people for my apartment block as late last night the push button to flush the toilet had failed, and some research online said it was normally an air tube which blows into the cistern to make it flush was probably duff and not working - and the button spring itself I think had also come loose. So whilst at work the plumber had come in (and I'd informed the concierge so he could be let in) and the work was done, but when I got home I wasn't pleased to see what had happened.
Yes, the button worked. But the panel that the button sits in had to be loosened to get behind it and access the pipe, and put back but not secured as tightly as it should. In addition, there's a white plastic housing on the wall which you can open to access the pipe behind. Rather than opening the housing the correct way the plumber decided to pull the whole housing from the wall and expose the hole and take some of the plaster off with it. Not too happy about that as you can see below.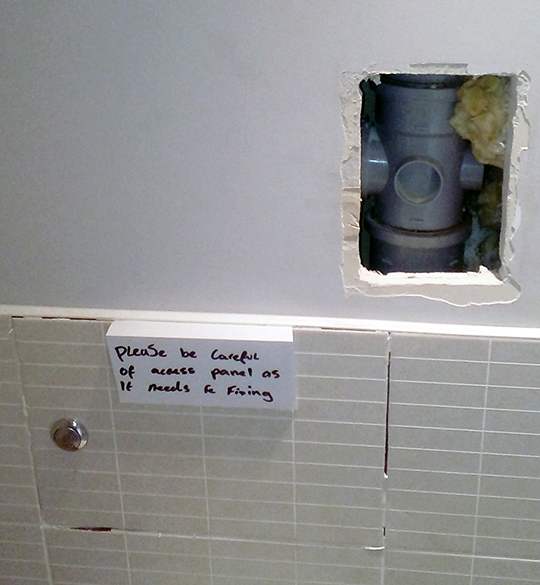 I've already emailed the maintenance people concerned and asked them what is going to happen about that - as obviously with renting, any damage would go against any possible deposit refund at the end of the tenancy, and as it's damage not caused by myself, I don't want to have any issues. We shall see what happens tomorrow. In the meantime tune of the day is the mightily still brilliant "Pacific State" by 808 State, a late 1980s Manchester classic and one which certainly made me feel a little bit calmer in the evening after seeing the sight I did when I got home.
Tuesday 20th September - Packages of Eight
Yes, I know yesterday was (apparently) Talk Like a Pirate Day and all, but considering I had to end up doing eight packages today, it was very much in the style of pieces of eight and all that, but more on that later. Late last night I watched Go 8 Bit, and I've decided that I know it's not going to feature classic 8-bit games, and so just to see them enjoy the games and play against each other in a light hearted way. I have to admit that it was probably less hassle to do that and actually, and ironically, there was the music from the game Sanxion playing in the background when Ellie Gibson was informing the viewers about Galaxian, but.. it was not the classic Commodore 64 Rob Hubbard version, but the Atari 8-bit one (still by Rob, but from the game Extirpator). Aaaaaaargh. In fact the classic original is tune of the day just to re-emphasise that.
Anyway, the rest of the show was okay I guess, it did at least have some weird mobile flick to kick football game that Holly Walsh was supposed to be good at, but wasn't so hot, and then there was the modern game which was effectively car football (sort of reminded me of Pitball in Full Metal Challenge which was proper hard and had Henry Rollins yelling out "LET'S PLAY PITBALLLLL!" in his own inimitable style) - and the final arcade game did at least have four players at once. Yet again though I was hankering for some classic old school gaming, even the Resident Evil series isn't that old really.
So today it was on to repackaging all the Project and Visio variants for App-V deployment. In effect and according to Microsoft, you can only really have one App-V version of Office 2016 on at once. However, it could be that a user is licenced for a variety of versions, so Project Standard, Project Pro, Visio Standard, Visio Pro or a combination of Project and Visio together. This in effect means eight different packages so that you can deploy the correct one to the user that requires it. Needless to say that it is a case of keeping a tight rein.
As we've got a KMS licencing server operational, my manager had to add the necessary licence keys for Office 2016 which we're licenced for which included the flavours of Project and Visio as well. Once that was done and we'd performed five installations (a good test of the App-V package) the fifth one sprang into life and was working correctly, so pretty pleased about that really. So it's just a case of now testing all the other ones as well and making sure that when all eight are called as required, that it all works correctly and as intended. Could be a bit of fun to organsie but we shall see.
I also spent some time sending off for the application form for the Wimbledon tennis for 2017. The Love In My Heart and I would love to go again, especially after being there in 2013 and seeing Andy Murray in his third round match on Centre Court, and indeed on his way to his first Wimbledon title as well. That was pretty good because the rain was a tad icky, and so having the roof there meant we were guaranteed play. Naturally we'd like it to be a bit warmer next time (and I think The Love would rather like to see Novak Djokovic playing) but we shall see how we get on.
Monday 19th September - Feeling Different
It felt a little strange this morning not being at a University campus and seeing lots of students everywhere wondering where they needed to go for enrolment and such like. It was the yearly start of term chaos that everything had to be ready for and was my deadline between 2000 and 2015, so a long time spent really. I have to say though that it's a much different atmosphere where I am at work, maybe just as much pressured, but in a different way, and also a very different surrounding too.
So with that in mind, time to get some updated core build applications packaged, mainly Firefox and Adobe Flash Player 23. (yes, another version, sheesh.) In any case, where I work normally use the FrontMotion Firefox MSI installers, and have some settings around that and some preference defaults too. I think it was more because of the fact that FrontMotion had their own Firefox Group Policy object which you could configure pretty well too, so a different approach really. I have to say though that I'd personally rather use the ESR (extended support release) of which FrontMotion do have an MSI for, but that's just my view.
Flash Player isn't too bad to do, especially as there's still vendor MSIs out there to make the job easier. There's also a very handy uninstaller to force the old versions out, which works well and so it's a case of run that, get rid, then install the new one. All is then well. Generally speaking too it may well be that in the future there may end up being not much of a need, as Firefox plans to drop support for old school Netscape NPAPI plugins within the next year (in fact for Windows 10 this is the only Flash Player we add, as Microsoft have built in updates for its browsers, and Chrome has its own API for it)
I got to the bottom of an issue with an operating system deployment where it looked like applications wouldn't distribute. This is actually due to certificates: in effect there are laptops which won't join the Active Directory domain, so because of that, even when the Configuration Manager client installs, it still won't necessarily handshake with the certificate - even if as suggested you specify explicitly the management point within the ConfigMgr client install step. Some articles I read are primarily based on the fact that HTTPS handshaking with the PKI certificate may not have the intermediate certification authorities (normally in your secure web cert) in the right place. Different, but good to know anyway.
I headed home later and spotted that Govia Thameslink Railway are having a passenger consultation with regards to the 2018 timetable when London Bridge is fully reopen and services will go through there again on the way to Croydon. Of course isn't this convenient when they're still cancelling services and can't run a full service at the moment due to their lack of staffing (which has been inherent since 2013) so how they're going to run more trains with the same numbers of staff is anyone's guess. Unless of course driver only operation is the smokescreen for less jobs of course..
I had to giggle too as someone I know from Manchester had spotted a printer discarded and basically smashed to bits in the city centre, and had taken a picture, very inspired by the film Office Space as he had observed. And rightfully so too, I definitely reckon someone had a case of the Mondays with that one. In tribute to said classic film and the legendary printer scene, "Still" by Geto Boys is tune of the day. Needless to say don't play that song at work though, just a few swear words in it and all..
Sunday 18th September - Sunday Lunch and Sorting Out
The Love In My Heart and I had a well deserved lie in, and once we had woken up and had breakfast, we then were relaxing with a bit of Sunday morning telly. I'd also sorted out tickets for the two of us to see Jools Holland's Rhythm and Blues Orchestra at the Royal Albert Hall (she's going to be down with me that same weekend) and as Beth Rowley is supporting, that's going to be a rather nice thing. In fact I've never been to a gig in the main arena itself yet (the Clint Mansell talk the other month was in the Elgar Room near the top) and so it's going to be an enjoyable time I think!
We had located the spare O2 Wireless Box V router that I had given The Love when I moved, and we were going to take it to Mum's. She had been having some broadband issues and was on O2 like The Love before their broadband was taken over by Sky. Sky had sent a new microfilter anyway, and so once we headed to Mum's I set about sorting that, so I had to connect all the cables up, add the microfilter in, and then reset the router back to factory defaults so the original wireless name and password was there. Once done, connected my phone to it to test it, then added the configuration to Mum's laptop and all was good.
In fact once it was all connected and Mum tried it out, she said that the speed appeared to be faster overall which was a positive. I spotted around an 8 Mb/s download speed, and the distance from the exchange coupled with the package she was on probably meant that was about right to be honest. I do think it may have been a microfilter issue though too as well as a possibly dodgy line (she had mentioned that since yesterday it'd been a lot better which makes me wonder whether BT were playing around with the green box on the corner.) Still, all was appearing to be well.
Mum made us both a lovely Sunday dinner, and my brother joined us too - in fact he had saved me a St Ives Brewery Knill By Mouth ale for me to have with it, which you just cannot get unless you are in Cornwall, so that made me lots happier too. The roast beef was stunningly nice, along with some roasties, Yorkshire puddings, carrots, peas and gravy. Ace. In fact the apple pie and custard for afters was all good too, so one very happy and full bunny when we left later.
As The Love drove me towards Piccadilly, we spotted lots of cars with students all unpacking their stuff ready for the new University term starting. That's one thing with education generally, it's in massive cycles such as this one and it's the first time in a long time I won't be thinking about that either. At Piccadilly the platform was packed because of the 1615 departure being cancelled, so my 1635 was very busy. I got my reserved seat and had a window view and didn't want to move from the seat in case I lost it, but it was only a nine minute delay into Euston which wasn't so bad.
I made my way across London and headed to East Croydon and was soon back at home, but maybe too soon to be honest, and then spent some time watching the highlights of the Singapore Grand Prix. It got exciting near the end as Nico Rosberg was holding out on old tyres whilst Daniel Ricciardo was catching him on fresher ones, and he almost made it - I think if the race had gone on another lap he'd have done it. Tune of the day has therefore got to be "The Chase" from the film Midnight Express by the ace Giorgio Moroder - definitely one to be pacing along to at speed..
Saturday 17th September - Winning
Well it was a day of winning all round - well, after the train delays anyway. I knew that it was going to be busy because the planned 0900 departure was cancelled, so when I arrived at Euston I was expecting the station to be busy (and it was) and I was also expecting the train to be busy (and it was too) but I got a seat right near where I normally would have sat anyway, and it was mainly delayed due to signalling issues rather than the landslip the day before. I had been keeping The Love In My Heart posted anyway, but the delay eventually probably meant that there may be some Delay Repay kicking in - we shall see.
The Love came to collect me and we headed back to hers, where she very kindly made us both bacon on toast for a late but well earned breakfast - and meanwhile the two cats Jô and Brian were out to play and generally being nosey at what was going on. Jô still meows at me a lot though, even more so if I try to stroke him and be nice to him, he seems to want to lash out. The Love reckons it's jealousy becuase I end up sleeping in the spot where he would normally be most evenings, but yet Brian loves lots of fuss and cuddles, so it's a strange one really.
Later on The Love went to see her father and I met up with my friend as Manchester City were taking on Bournemouth at the Etihad. Of course I was hoping City would do the business and make it five league wins out of five, but I know also that it's been a week of three games (this being the third) so wasn't taking anything for granted. My friend and I had a brew and all was well with the world, and indeed the sun was out too which was rather nice it has to be said.
So on went City, and they weren't taking any prisoners, with a shot from Kevin de Bruyne after ten seconds which set the tone. Later on he had a free kick, and rather than float it over the wall, he hit it low under the wall as they all jumped. Straight in it went - and 1-0. Excellent. Even more excellent was the break from a Bournemouth free kick - which went to Raheem Sterling, he pegged it forward and laid it alongside for Kelechi Iheanacho to make it 2-0. Nice move all round.
In fact Sterling was on fire, honestly. His run in the second half which led to him hitting the post after taking on five players would have been goal of the month (and the season) had it gone in, which reminded my friend and I when Dennis Bergkamp would win goal of the month, every month, and have around three nominations per month at that (it was our little in joke too.) However, Sterling had already been laid in with a return favour from Iheanacho to make it 3-0. Later on it was another killer pass from Kevin de Bruyne and on Premier League debut, Ilkay Gündoğan slotted it home suprerbly. 4-0, but it could have easily been ten or eleven!
Later on I got back to The Love's place and got myself showered, changed and ready as we were heading out for a meal tonight. We'd not been to the Midland in Marple Bridge for ages, and thought it'd be nice to have a lovely meal there by the River Goyt. I had worked out the train times, made sure I brought the Two Together Railcard for discount, and we were all set to go. We got the tram into the city centre and then I made sure I sorted the train tickets out, and we were soon at platform 3 waiting for the train (which is actually the one to Sheffield via New Mills Central.)
And it reminded me just how much of a North-South divide that there is with trains. Southern Rail passengers might whinge about the old Class 455 trains, but at least they're actually electric and actually also have reasonably decent seats. Oh no, up North we still have to contend with the Class 142 Pacer trains. Yes we do. And they are horrid. It's basically a bus on a train track, I kid you not. That said, it did at least whizz through Reddish North, Brinnington, Bredbury and Romiley before arriving at Marple on time (and a lot of people got off which indicates the station is popular)
We headed down the hill and to the Midland, and we had a table by the window overlooking the river, which was nice as the sun was setting over Marple Bridge village. The Love had some wine and I noted Black Sheep Best on cask, happy little me. In fact the meal was lovely all round - the mushrooms I had for starter in a gorgeous sauce and on bread was lovely, and The Love's chicken with barbecue sauce main looked stunningly nice. And, they had a proper pie, so chicken, ham leek and creme fraiche it was for me, with some gorgeous mash and superbly done carrots. Win all round.
In fact the sticky toffee pudding I had for dessert was lovely too, but nothing was as lovely as The Love looked tonight - she looked stunning. She had on a gorgeous top from Coast, some nice trousers with a satin line down the sides, and some killer black heels. Classy and beautiful and feminine, and I have to say that feminine = sexy, so I was rather in awe all round. In fact she'd sensibly brought her Butterfly Twists flats for walking back up to the station later.
We got the train back (it was actually the same Pacer that we had come on no less) and that stopped at more stops on the way back but still arrived well on time, and a quick tram trip and we were back at The Love's place - I saw the City game on Match of the Day and indulged her with The X Factor on ITV Hub, and it was no surprise to see some awful auditions, and that made me giggle that they were so delusional really. Tune of the day though has to be "You're Gorgeous" by Baby Bird, because well, that's what The Love always looks like, but especially tonight. Wow!!
Friday 16th September - Through The Rain
The rainy weather wasn't the most pleasant to leave for work this morning, and taking the 0702 into London Bridge was actually quieter than normal, with lots of seats. In fact once I'd got there and took the bus to Moorgate, followed by the Metropolitan line to Farringdon and to work, I got in on time with no issues, and had battled through the bad weather. However it looked like people were a lot worse off elsewhere, the rain had come down massively, and also caused a landslip not far from Watford Junction, which may mean massive delays for me coming up on the train to Manchester tomorrow.
Indeed when I checked later on, plenty of delays tonight (good job I wasn't battling through that I suspect!!) and a reduced timetable tomorrow, which means that my planned 0900 departure is cancelled, so I'll be on the 0920 instead (can't get the earlier 0840 one unfortunately or else I'd have done) - but I've allowed myself more than enough time for the delays, so fingers crossed I'll be heading up to see Manchester City playing and doing the business against Bournemouth.
Today I was troubleshooting a boot image driver issue, and had soon worked it out. My colleague had planned to add some network drivers to the boot image so that the network card (Intel I219-V) would be recognised. However, even though the drivers appeared to be added in the list of the boot image, it looked like the distribution point hadn't been updated, so when making your boot media it was still using the older one stored there. I checked all the drivers included against those in the drivers store, and found that one of them didn't have the driver in its source location, so wouldn't be able to locate it and add to the image.
Once I removed that, surprise surprise, the image was nicely integrated without issues, and all the drivers in. I then made the task sequence boot media and was able to boot to the environment needed and off to image. Happy days all round really. It was also a good opportunity to test and troubleshoot some more application deployments, and despite the rain outside there seemed to be some rather odd people hanging out by the office window, somewhat drunk as well. Thankfully the way I take out of the office meant I avoided all that.
Mind you, the train I normally get home was cancelled, so off to Liverpool Street, bus to London Bridge and got on the fast train to Caterham via East Croydon there, so all good. Even better was I got to see a fair bit of the epic match with Andy Murray and Juan Martin del Potro in the Davis Cup, which was a massively long buit epic encounter. Five hours and seven minutes in all, with Murray losing (and a rarity at that). Tune of the day is "Light and Tuneful" by Keith Mansfield, the proper tennis theme too..
Thursday 15th September - Testing Time
I spent a fair bit of time today with our test system (which has a test domain, test computers and a test SCCM server and admin console too) to further test out some functionality of App-V, and demonstrate the proof of concept with distributing applications to users. As I eventually had found out in several places and thanks to this particular Technet thread, you can't use a HTTPS SCCM distribution point if streaming the App-V application to users due to certificate authentication requirements (and this should really be documented by Microsoft as a limitation, incidentally.)
Anyway, part of my testing was to demonstrate that even by changing some of the IIS settings for the distribution point shares (notably SMS_DP_SMSPKG$) by amending the SSL configuration, the SCCM configuration for IIS sets it back not long afterwards, so not really a viable change. As the thread suggested, the best way to sort this is to ensure that you have a HTTP distribution point available, and stream from that. Unsurprisingly, when I did that, it worked. Every single time.
It's worth noting that if you have set your site setting for client communication to be over HTTPS only, you can't change the distribution point configuration to HTTP, so you have got to set the site one to be either mode, then set the distribution points as required. Nice. Once I'd done that at site level, and set the point accordingly, streaming worked as intended. It's also worth noting that the download and run locally option actually does work over HTTPS (and incidentally that's also the default option when adding an App-V deployment type in SCCM) so there you go.
Of course that does mean making a decision moving forward, whether to stream or not to stream. Granted there's less overhead on initial delivery, but there's also the ultimate aim of having the program stored in the App-V package cache so it's available offline as well as online. And it looks like both methods do that anyway, it just depends on what the preference is. I think as well that also then should allow for things to work nicely as intended too.
Later on I watched the England Women's football team do the business against Estonia, with Danielle Carter scoring a hat trick, Jill Scott heading home and Karen Carney getting a penalty late on. England had of course already qualified for Euro 2017, but it was good to see that some of the players had a good run out tonight, and Jordan Nobbs was also particularly impressive. As I mentioned a few months back, I am not supporting the men's team anymore - they just don't seem to care about their side in the same way that the women show all the pride and passion. And I'm half tempted to head over to the Netherlands next year to see the Euros live, and in the meantime "Harder Than You Think" by Public Enemy is tune of the day as those Paralympians go for it again!
Wednesday 14th September - Southern Fail and City Glory
Another morning having to endure the whole incompetence of Southern Rail was enough to really set me off for the day in the wrong way. Normally I'd be on the 0658 departure from East Croydon and heading to Farringdon, and the signage kept saying it was due a minute later, and another minute later. In the meantime the 0702 departure to London Bridge had come, and I could have got on that, but thought no cos the train was coming that I wanted to get. Then just after the 0702 had left, a notice over the tannoy that the 0658 was cancelled. Terrible service. So I ended up having to go across and get the 0706 to Victoria, go across on the tube to Blackfriars and head up to Farringdon, only just making it in on time. Meh.
It was not as bad heading home thankfully as I wasn't taking one of their appallingly bad services or anything else owned by Govia Thameslink Railway. I instead took the tube to Edgware Road and from there the District Line onwards to Wimbledon Park, as it was time to have my hair cut. I really needed to have it done and the staff in the barbers I go to are top notch, a proper Northerner and Liverpool fan at that with a proper mod style cut, and he does a cracking job. It's one of the things I've been glad to find down here, something reliable like that.
I then headed to Wimbledon for the tram and got off at Waddon Marsh on the way home and to the big Sainsburys. For a while my cordless DECT phone at home has been a bit icky in terms of the signal not being clear for calls, and so thought that I could use some of my Nectar points to get a new one. In fact a BT single handset with answer machine one, all in black, looked the part and it was £30 dead. I paid with the Nectar points, took it home and set up the phone later. It allows for names and numbers to be displayed which is pretty ace, and works well.
I of course was also keeping my eye on the Manchester City v Borussia Mönchengladbach game, especially after the fact that the game had been called off last night. Naturally it was superb to see Sergio Agüero back on form after suspension in the league and scoring well, and then getting a penalty and tucking it away, and then later on finishing off a superb hat trick. Ilkay Gündogan also played very well on debut as well and that had to be noticed, and really the way that the team played was cool and classy all day long. I hope my friend was suitably impressed because I definitely was.
In fact after the match and before the shed load of Paralympic medals last night, I dug out the old classic Bachman Turner Overdrive album "Not Fragile" and played side one, track four. For those of you who don't know what track that is, let's just say it was a favourite of a very famous Harry Enfield and Paul Whitehouse character duo - yes, you've guessed the song now haven't you? "You Ain't Seen Nothing Yet" is what I'm talking about, and tune of the day as the Paralympic athletes smashed it tonight with ten medals in an hour. Absolutely brilliant.
Tuesday 13th September - Heatwave and Flooding
Two different extremes of weather for sure today - in Croydon and central London, nothing but intense heat, and with massive humidity too. As I'm writing this with the windows open it's around 27 degrees in the apartment, and that's still very warm indeed. It hit the early to mid 30s earlier, and that's when you are really pleased to have air conditioning on and working successfully in the office, so you're not feeling the heat so much. That said, having a fire alarm go off at 10am wasn't the ideal start either!
I would have normally had a reasonably comfortable journey home. Tonight that didn't happen. The train in front of us broke down close to Tulse Hill station, and so we were behind that and stuck. It also meant that the electric third rail was turned off, meaning no power to the train and therefore no air conditioning. And no windows to open either, so it was a case of just attempting to keep still, grin and bear it and see what would happen.
Eventually the train set off but it meant that we arrived in East Croydon some forty minutes late, so after checking with Transport for London, I've put a Delay Repay claim in to Thameslink, complete with proof of receipt of my monthly Zone 1-5 Travelcard purchase. In essence the delay repay part might not be that big, but in effect it's the principle of it all - if you're stuck and you qualify, you should claim - simple as that really. I'm surprised that not everyone knows you can do that actually.
Anyway, I was going to tune in to watch Manchester City play their Champions League game tonight. The Love In My Heart had said it was sticky throughout the day but was chucking it down, and so it proved. In fact Market Street by the Metrolink station was pretty much flooded with the volume of rain, all around the Etihad was thunder and lightning, and eventually not due to the pitch but due to safety concerns and the fact that the trains and trams were all not running so well, the match was rightfully called off - not before my friend and his wife had got to the ground and had a brew though.
Even though the weather looked appalling and I hope everyone managed to stay safe, I do miss Manchester I have to say. My heart will always be in Manchester I suspect, as it's a big part of who I am in terms of the music, the football, my lovely and wonderful girlfriend, and so on. Tune of the day is the quite apt "Why Does It Always Rain On Me?" by Travis - just seemed right for seeing the evening's bad weather. I must admit though I'd have a bit less humidity here right now..
Monday 12th September - Frustrated and Going 8-Bit
And so another start to the week, and one which wasn't the easiest. I think both The Love In My Heart and me both had long and difficult days at work where not everything was going according to plan, and sometimes that's just frustrating when it's not necessarily all in your control either. I do think though that I've got a good reason for a few things not playing ball and will do some research later to find out why exactly what was happening is happening.
After watching the Paralympics on Channel 4 for a bit and seeing yet more excellence from the British team, and there would be gold medals later, I had to try and balance the evening's viewing with Only Connect on BBC Two where of course the excellent Victoria Coren Mitchell oversaw the quizzing. There was one contestant who was just a whizz on the missing vowels round and I pretty much got the same answers as her too, but nonetheless that won the round and the match pretty well.
So on to Dave at 10pm for the second episode of Go 8-Bit with Dara O'Briain. Whilst I do appreciate that there's a pun on words there for "go ape s**t" nonetheless I found it even more of a let down than last week, and that really disappoints me. The concept of celebrities and some gamers playing together in various challenges, nothing wrong with that. But... that revolving of the stage every time before the game is just time filler, and more time could have been spent playing the games.
I still have an issue with the title too. Obviously if they just called it "Go Gaming" or something similar, that'd be fine, but as a 8-bit gamer of old myself who still owns and plays plenty on the likes of the Commodore 64, Commodore Plus/4, Atari 2600 etc, it's a bit off really in terms of the fact that nothing that old was played. I mean, Portal 2? Come on. And although playing Sonic 2 seemed a good idea, it was clearly played on the Wii which meant it wasn't the original Megadrive version - surely it wasn't that hard to source that and a couple of controllers - especially as the Megadrive ones are normally rock solid?
I guess to that for me the disappointment also stems from the fact that Dara is a fan of gaming himself, so you'd have expected him to have a bit more say into things. It just doesn't seem as good as it could have been and had me harking for old episodes of Gamesmaster. The title theme to that is a classic too by Julian Walstall, and that is tune of the day - sure it had its flaws, but at least it was about the games and playing them and not having some stupid rotating stage every few minutes.
Sunday 11th September - Following The River
It was a gloriously sunny day, and with the trains not proving to be so kind to head up to Elstree and Borehamwood to watch Manchester City Women take on Arsenal Ladies, I decided instead to take on another section of the Capital Ring. Now I've done the first seven, I'm going to take the remaining eight in order, so section eight is from Osterley Lock to Greenford. After making a full breakfast including sausages, egg, bacon and mushrooms complete with muffins (all thanks to Lidl) I felt charged and ready to go, so it was on the train to Victoria, then tube to South Kensington, changing there for the Piccadilly line to Boston Manor.
Once off at Boston Manor it was following the path back to the Grand Union Canal that I had come back from some time ago at the end of section seven, and once I recognised the way it was at Osterley Lock, with plenty of canal boats heading up the canal. In fact I followed one for almost a mile as it made its way Northwards, and then stopped off by the side at a mooring and was all set nicely to take in the gorgeous afternoon sunshine. It was also good to be able to see the Hanwell flight of locks also being well used too.
The path veers off to the right here and after going under the Uxbridge Road, the impressive railway viaduct that is an Isambard Kingdom Brunel built one (and still there) that is Wharncliffe Viaduct, and walking under this showed how impressive it was. It was then along through a recreational ground and off to Brent Lodge Park, complete with hedge based maze, lovely café and ice cream, and full of families, which was nice to see. The sign posts weren't that clear to take you alongside the River Brent, but I found my way and then followed that - and through the middle of the West Middlesex Golf Course too.
Once past that, it was then across a road, over to Perivale Park and it was a nice walk through there. In fact from the rugby pitch that was in the middle of the park, the open space meant I was able to see the arch of Wembley Stadium no less. It was a nice walk through there and then off on to the footbridge to cross the busy A40. Once across, it was following a path around a rugby club's playing field, then down another road and on to Greenford centre and its tube station, situated on the Central Line. Another section done, and seven more to go.
I headed back on the Central Line to Notting Hill Gate, and got off here and had a good mooch around Music and Video Exchange, surveying the vinyl and CDs on offer and being tempted by quite a few items - although the collectors' items I saw were priced at a really fair price, they weren't cheap either! It was a case of resisting temptation and heading on the District Line tube to Wimbledon, and crossed to the platform for the tram back to Croydon. And the sun was still shining too, so "Lovely Day" by Bill Withers seemed sort of appropriate to be tune of the day really.
Saturday 10th September - Capital Ring and Blue Manchester
I got up reasonably early today as I wanted to take on another section of the Capital Ring series of walks, and with the Manchester derby being on at 12.30 plus the weather not looking so good later on, I wanted to be able to take a good walk and then relax later seeing football and the Paralympics. So it was off on the 0848 train to London Bridge, changing there for the 0916 to Grove Park, where the start of the walk was. In fact the rain came down on the way to London Bridge but had stopped by the time I reached Hither Green.
So it was down to Marvels Lane, and then a walk along Railway Children Walk over the railway line I had just come on, with the station one way and Central London facing the other, and then following some urban streets towards Downham Woodland Walk. This section was really enjoyable - lots of woodland and trees, and sections along each part which had a wooden carving with a number giving you information or picture carvings of what you would see, such as birds, foxes and the like. It was also good to see that the local schools had access to the park from little gates so they could have a a wildlife encounter and get to know their surroundings more - a real positive.
A walk across the shops of Ravensbourne and then to Beckenham Place Park, crossing over the railway line and following the woodland around the back of the park, avoiding the golf course and steering around the back of what is the 15th green, before a path then takes you down and alongside the holes of the course, reaching a really lovely sculpture of a squirrel with his nuts and then to the clubhouse which was formerly the mansion at Beckenham Place Park.
The remainder of the walk was parts I'd done before as part of the Green Chain Walk, so through Cator Park, along to Alexandra Recreation Ground, and seeing people playing football, and then past Penge East station, past the mural that used to be the Park Tavern pub, and on towards Crystal Palace Park. This time I took the actual route of the Capital Ring these days, rather than go around the dinasour park. This takes you Northwards past the fishing lake and then towards the maze (had to stop and have a walk in there of course) and then on towards the Terrace and the site of the former Crystal Palace itself.
It was a good way to see more of the park and I eventually ended up at Crystal Palace Park, in good time to take the train to West Croydon and then onwards to home from there. In fact I got home just after kick off in the Manchester derby, and so was able to watch most of it online. And to say that the result made me a very happy bunny would be the master of the understatement, as City were on fire and really showing just how well they could play - and I should add this was without the suspended Sergio Agüero.
Kevin de Bruyne was inspirational throughout and it was no surprise then that he opened the scoring after being laid off nicely by Kelechi Iheanacho. And it was the Nigerian international who reacted first to de Bruyne's shot hitting the post and scoring the rebound. 2-0 to City then. The only black mark was the new keeper Claudio Bravo comitting an absolute howler to let in Zlatan Ibrahimovic in just before half time and so 2-1 it was, and that's how it ended up despite some second half pressure from United.
For me, if I was a United fan, I'd be asking why Marcus Rashford isn't starting. He did last season and scored the winner at the Etihad, and had scored a hat trick for England's Under-21s midweek. He came on second half and certainly helped them improve, although it was a superb display from Fernandinho which kept most of the United attack in check - he was possibly man of the match for me. And of course Nicolas Otamendi ended up with a headband after one challenge - definitely the sort of thing Pablo Zabaleta would normally do! And it was ace. So 2-1 to City and Manchester, as it always is, is blue. Simple as that. Time to play Supra's ace version of "Blue Moon" really loud - tune of the day obviously...
Friday 9th September - Three in Ten
It was another good night to watch the Paralympics on Channel 4, that was for sure. Of course this does mean a daily showing of The Last Leg as well, which was really good. The three of them were having a really good time with Jonnie Peacock, notably when he took on Adam Hills in a 100m and pasted him as you'd expect. Also Johnny Vegas was on and had visited the wheelchair basketball, and may have gone a little bit too mental when he scored - although fair dos for painting his chest with the colours of the Union flag and all that.
The action then went to the cycling, the swimming and the athletics track and that was inspirational stuff to watch. Great Britain had already won some gold medals on earlier in the day, but nothing could prepare for what was to happen later on. The team got three gold medals in the space of just under ten minutes, which was compulsive viewing and really excellent stuff all round. Jody Cundy on the track wanted to right his wrong from London 2012 and he did so in the C4 1000m sprint, not just by any margin either, but by a considerable margin - well done him!
Next off, it was the T37 100m final with Georgie Hermitage, and she didn't just win either - she smashed the world record at the same time. Sensational stuff. Not just that, but we had three finalists in the next event on the track - the T38 100 metres final. Sophie Hahn was favourite to take the win and she did so, and posted an excellent time, with Kadeena Cox also getting bronze, so that was all good (she's doing cycling tomorrow so her schedule is mental I suspect!) - so all good there.
The gold medals of course didn't end there either - and a bit later on we had the Northampton teenager Ellie Robinson in the S8 50m butterfly. Her dive was a little slow into the water, but then her pace and power took over, and she overtook everyone to claim the gold medal in a Paralympic record. Her entrance was very Darth Vader-ish and may have scared her opponents - good one Ellie! Add to that then Libby Clegg and her guide runner Chris Clarke getting a win in the T11 100m by two hundredths of a second, dramatic stuff all round and really good for her too.
The last event I watched was just before midnight and it was perhaps one of the showpiece events of the whole games, the T44 100m final. The talk before was of Jonnie Peacock against the American Jarryd Wallace, but in the end Peacock got in front, and absolutely smashed it, finishing a good three metres or so ahead of everyone - Wallace didn't even medal in the end. I think the experience of winning at London 2012 for Peacock meant he had the big game temprament, and that showed hugely, so well done him. Tune of the day is "Harder Than You Think" by Public Enemy, the theme tune for both the Paralympics and The Last Leg, and just fits superbly well. Yes they bloody well can!!
Thursday 8th September - Solving Puzzles
I do like a bit of problem solving, and the first one of the day was first thing in the morning - how do you best effectively beat the Southern Rail strike? Previously I've taken the London Overground line from West Croydon to Whitechapel and then the Hammersmith and City line to Farringdon, all good there. However it was a tad slow yesterday so I got to West Croydon a few minutes earlier and spotted the 0650 departure to London Bridge via Norwood Junction, which despite being a Southern train, was a) running and b) pretty empty! Naturally that was an easy decision, and took the 17 bus from London Bridge to Snow Hill and a walk to work from there.
The next puzzle was working out a plan to look at adding another update to System Centre 2012 Configuration Manager. I'd carried out the 1606 upgrade and the KB update after that, but already there is an Update Rollup 1 available from Microsoft, which says to me that they spotted a few things after release and then needed to fix them. Thankfully as updates are delivered via the console, it should in effect be pretty easy to do, but will of course be following all the necessary change procedures to get all of that done (as you do.)
I then resolved another one too, which was a good way of using the Applications feature to ensure that when an admin based application is installed, any pre-requisites are installed first. Say for example you have VMWare vSphere client. Uncompressed you note that it uses both Visual C++ and Visual J# as well. On our builds at work all versions of Visual C++ are included (as so many applications use them) so in effect I just made a dependency rule so that if deploying the MSI for vSphere that the Visual J# application gets installed first - and even better you don't have to deploy this separately - the main deployment takes care of it all. It's a really good feature and one well worth using if you don't already do so.
In fact the day went well I thought, and so it was then on the train home, and the 1629 to Three Bridges was busier than usual (primarily because of people diverting to the likes of City Thameslink and Blackfriars due to Southern's strike) but I had already got a seat so I felt good really. It was nice too that when I got home, it was all a case of the weather was still warm but with a fresh breeze, which is nicely coming through and giving me some welcome air in the flat as well.
Tune of the day in the meantime is the ace "Harder Than You Think" by Public Enemy, which of course is being used by Channel 4 for their excellent Paralympics coverage. I have to say it really did strike a chord with people during 2012, and of course is the theme to The Last Leg as well (still one of my favourite things on telly). And naturally that's on every night at the moment - in fact Josh and Alex even took part in the opening ceremony in Rio last night!
Wednesday 7th September - Baking Bad Bread and Paralympic Starts
Tonight was a quality filled time on the telly, and just the thing to wind down after a day at work too. So it was on with The Great British Bake Off and the dreaded baking week, with Paul Hollywood being the über-judge of this with his bread background especially. I suspect that the contestants were a bit cautious about this and so were doing their best to prepare as much as they could - although the chocolate flavoured bread really did put some people off - notably putting too much chilli in to combine, or having too large a loaf and the dough becoming raw. Ewww, don't want to eat that!
The technical challenge made me smile - it was a German steamed bread called dampfnüdel, which has been a traditional recipe for ages. Of course because it's steamed, it has to be done just right so there's still some moisture there but not underdone so that there is still raw dough in the middle (the bottom of the pan of course would be really hot and most people's undersides were rather on the dark side.) Again, it was a tough test though, and add to that the platted bread showstopper later, and it was pretty hard going. I thought Candice was going to go (she even thought that herself) but in the end she didn't, with Tom being consistent all the way through and being star baker. Yaay him.
It was then over to Channel 4 and on to the build up for the 2016 Paralympic Games. I've actually looked forward to this just as much as the Olympic Games, primarily because of the fact that I know that there's some superb athletes here who will be doing their best to nail lots of medals for Great Britain. The Love In My Heart and I went to London 2012 and saw the athletics, including the then at the time icon Oscar Pistorius (not so any more of course) but the sporting achievements were superb, and really did stand out massively due to Channel 4 even increasing the amount of coverage during the games itself.
So with Adam Hills and Clare Balding introducing the presenting team, and with a real sense of pride and passion, the opening ceremony started. It had a spectacular stunt at the start as a wheelchair stunt rider came down a very steep ramp, jumped through a hoop in a somersault and landed into a huge cushion - and that was superb stuff. In fact the whole sense of a party was there, with the sand and sea together being used on a giant screen with the people being out and about and enjoying themselves, clapping as the sun went down.
Perhaps the most moving moment of the night was a Brazilian pianist João Carlos Martins who played the national anthem. He had lost almost all movement in one of his hands apart from one finger, but still was able to perform a superb rendition, at a slow pace, but with just the piano it was really moving. Definitely tune of the day and the massive round of applause afterwards showed it was just the right thing before then getting all the athletes out en masse, which took some time.
I stayed up to have Krishnan Guru-Murthy and Rob Walker commentate as the nations came out (and as the names were in Portugese, the likes of the USA and Spain came out much earlier.) It was great to see so many of the British athletes out when they came in, and the flag bearer Lee Pearson looked mightily pleased as he led them all too. I'm hoping for lots of medals and inspiring performances, because folks, yes they can. And then some. I suspect Channel 4 is going to be watched a lot over the next week and a half!
Tuesday 6th September - The Ugly Influence
I was going to write about how successful a day I've had, but then I spotted something which made me feel a little narked. But let's get the good stuff sorted first, and after managing to diagnose a few failed installations yesterday I had worked out why the installations were failing. It transpired that a previous version of the software installation, with the same MSI filename, had failed, but the remnants of the old installer and commands were kept in the SCCM client cache, together with a registry entry to refer all that.
So, it was a case of knowing what key it was, then removing it and carrying out the fresh install. And it worked. First go. With the command lines that we knew actually worked in the first place. In a word, excellent (cue Burns character from The Simpsons rubbing hands in glee). Not just that, but I'd also worked out just why some drivers wouldn't inject themselves into the boot image, and it was primarily down to the way that the Dell Command Centre decided to inject themselves in as a driver package, not leaving any source of the original driver behind, a bit bobbins really. But we got there and all appears to be well.
Anyway, it transpired later that several clubs including Stevenage have spoken about the revamped Football League Trophy which was the Johnstone's Paint Trophy till this season, and it's now the Checkatrade Trophy. Unfortunately this is the idea of having Premier League B-Teams in it, with the view that they'll get some experience playing in it. Universally, it's loathed by fans of football in general, and some clubs have reiterated the fact that they were put under pressure by the Premier League to take it on with a view of this eventually allowing the "Whole Game Solution" to restructure the leagues and allow B-Teams in..
It's scandalous, it really is. For me, I appreciate football at all levels, and the pyramid system does work and allows for clubs who work hard to gain success and results and progress through. It happened to AFC Wimbledon who are now in League One, and the likes of FC United of Manchester and Salford City are progressing nicely too (both in Conference North this season, two leagues away from League Two). Adding B-Teams where players won't necessarily be English or eligible for the National team is surely just a massive own goal of some degree?
What I didn't like was the quote which said that "rejection would not be looked on favourably by the Premier League and it might have repercussions elsewhere." It leaves a sour taste in the mouth to be honest. Surely this only proves that the Premier League has too much money and too much say in the English men's game, and the fact we've not had a good men's national team for years actually indicates that too much money is around and there's not enough motivation for clubs to develop home grown players either - just buy from abroad and get them playing for the so-called best league in the world rubbish.
Isn't it notable how much different the England women's national team are regarded, no prima donnas, they all work for each other, and they all have heart and desire. And then you have the Great Britain Olympic team, who all performed way beyond what anyone expected them to do and showed heart, passion, determination and producing your best when it matters (case in point: Sophie Hitchon smashing her own British record on the final throw to get bronze in the hammer throw). So for me, tune of the day is Pop Will Eat Itself's "Reclaim The Game (Funk FIFA)" which really we should have a sung change in the chorus to "Funk Harvey" instead, referring to Shaun Harvey of the EFL, a man clearly not fit to run that organisation...
Monday 5th September - Go (Not) 8-Bit
I decided tonight to watch the opening episode of Dara O'Briain's "Go 8-Bit" on Dave, which was where some gamers are teamed up with celebrities to play a series of gaming challenges (five in all) and to see who would come out champion. It was the first serious game show featuring gaming since GamesMaster and the likes of First Class, where Debbie Greenwood would be the host and the schools would play the likes of the skeet shooting and vault on Hyper Sports and the downhill race on 720° as well - and that was pretty good.
The two gamers were indeed those who've been involved in other events, and Steve McNeil is the self-confessed gaming geek, whilst Sam Pamphilon is the more cynical gamer who helped come up with the idea of the show. Assisting Dara is Ellie Gibson, who gives you an overview of each of the games before they play them, with normally a one versus one situation on each team. The audience then predict who will win, and that percentage is turned into points for whichever team wins, and double points on the last game, so still a chance to snatch it at the end really.
First up was Tetris - and here's me thinking - easy win, Gameboy version every time right? Wrong. It was a version much later on the Wii. Sheesh. Not a good start. You'd think that if you're going to start with an iconic game you'd play it on the intended platform wouldn't you? Nope. Anyway, after that went on, it was then on to Chuckie Egg, nominated by comedienne Susan Calman, and she confessed to liking it as a wee lass. It was good fun although she kept going round and round the same ladder allowing David James to nail it.
The third challenge was nominated by the former England goalkeeper, and it was Tekken. Err.. okay, so when was Tekken an 8-bit game again? Surely the title is already a little misleading, I thought to myself. Nonetheless it was the best of five, and two all after some epic bouts, but then a perfect in the final round from Steve nailed the win, and that helped them come back overall. We then had the two celebrities on Star Wars Battlefront - another modern game. Okay, so no Empire Strikes Back on the Atari 2600, or even the vector graphic arcade game would have been nice, right?
The final game involved the use of the more recent Makey Makey kits and they were set up in such a way so that you had to press someone's body to go left or right, and tap the gamer on the head for the fire button, and using a version of Bust A Move, that worked out as a sudden death shootout with Susan Calman winning and therefore her and Steve winning overall. That at least provided some additional comedy value, but the rotating of the stage 90 degrees before every round was fine to start with, but by the fifth time that little interlude was clearly becoming an excuse to use up some of the alloted time slot.
So what did I think overall? Yes, I am an old school gamer, so therefore if you're going to go all out and have 8-Bit in the title, keep it that way. The five rounds were fine, and the last round using different style controllers was at least novel, but I'd think there should have been more of an emphasis on the old classics and bringing them home to a new generation who would be inspired to play them. And let's have a little more from Ellie as well, her witty remarks about the games were certainly enjoyable. It's promising, but needs a little work and tweaking to get it spot on.
In the meantime I then indulged myself online with an old episode of First Class on BBC1 and enjoyed some of the old school Hyper Sports on there. The vault is always one that if you get it right, you score well, but if you fluff the landing and roll over on the floor, pure comedy element there it has to be said. And the theme tune was class too, no less than "Airborn" by Mike Oldfield, so that's definitely tune of the day as well - so now, where is the local arcade to smash Track and Field?
Sunday 4th September - Wombling Free
It was nice to be able to wake up relatively relaxed, although The Love In My Heart had been woken up last night by the sounds of what was going on outside, as it appeared that a rather drunken argument appeared to have happened on the roads outside, and that kept her awake. It didn't look so good by all accounts, but this could be a Saturday late night anywhere, I thought to myself, and we did spot where there could have been a couple of broken bottles on one of the streets when we left later and headed out.
We decided after breakfast with the weather holding off the rain that a trip to Wimbledon would be nice, and so we headed on the tram to Wimbledon, and had a good walk around the shops in the centre, such as the ones in Centre Court and also the nice little independent market stalls on the piazza close to the Morrisons and the Odeon cinema. In fact these had a variety of really nice items for sale and it was tempting to buy quite a few things from there it has to be said.
We took the journey on the 93 bus up the hill and to the far end of Wimbledon Village, and had a good mooch around a lot of the very nice shops there. In fact The Love got a book from one of the shops in there, and we also had a good peek around a few other nice independent places. We of course remembered walking through here on the way to the tennis (you know, some tournament that Andy Murray now wins) and observed the Prince rackets shop as well as the general theme of homewares with their Wimbledon SW19 cushions in grey and white too.
It was a lovely little mooch and we walked down the hill back towards the centre of Wimbledon and onwards to the tram back to mine, where we settled in for a bit and a little bit of telly before then heading on the train and tube back towads Euston, where Sunday lunch at the Crown and Anchor just had to be done. The Love had the roast pork which looked gorgeous, and I had the fish and chips which was also spot on, as per usual. And the St Austell Tribute ale was on cask too so that made me a very happy little bunny.
It was a sad face when The Love headed to then platform for her train back to Manchester, it had been a lovely relaxing weekend with her and I know I'll miss her terribly over the next week or so. I do know though that it's good that we are still very strong in our relationship, and we've thought about getting some time together to do some Christmas shopping later in the year too (I've got some leave to take, so may as well make use of it I reckon!) - and so should be good there. Tune of the day in the meantime is the rather gorgeous "Glove" by The Floe, the lyrics in the chorus could have been written for The Love and myself.
Saturday 3rd September - Windy Windsor
After a nice full breakfast, The Love In My Heart and I decided it would be nice to head to Windsor for the day, despite the fact that there could be rain in the late afternoon. We hadn't been there for a while and it would be nice to have a walk around, just take it easy, and maybe walk along the Great Park too. In fact I had also printed off a voucher for The Carpenters Arms pub there (we went there a fair bit when we stayed in Windsor over a long weekend a few years ago) and so all was going to be good.
We headed off from East Croydon to Clapham Junction with an Oyster journey, and touched out at the far end of the station, got our tickets with Two Together Railcard discount and re-entered the station and headed to Platform 6 for the train to Windsor and Eton Riverside, and due to the rugby taking place at Twickenham, the station was pretty busy and so was the train, which went slowly all the way to Richmond as it was stuck behind a slow train. Once we got to Twickenham and the train emptied, it was so much nicer and we sped through the countryside and to Windsor and Eton Riverside station.
We had a walk up the hill alongside the castle and then diverted along to the shopping centres, one by the Central train station and that looked like it had been done up, with more nice shops all along there. We also then went down and around to the main street, where plenty of activity was around with people, tourists and shoppers alike. We spotted the castle was packed with visitors and that the weather was a little grey, but by this time it was a good time to have lunch, and so off to the Carpenters Arms, where a nice pint of the Dark Island was mine to be had.
I had the steak and ale pie, and my, it was gorgeous! The Love had the fish and chips and that looked spot on too, and it was good to be able to watch the world go by (notably plenty with cameras outside) - and after a well earned lunch we walked down the cobbled streets, past the Guild Hall and noticed that one of the art galleries had an exhibition, and all Formula 1 related. Some excellent canvas prints of the likes of the Belgian Grand Prix at Spa and an iconic Monaco moment with Senna holding off Mansell from 1992, epic stuff, and surprisingly, not a cheap canvas art piece to buy either. As it turned out, this tied in with a motor show, which all became clear as we entered Windsor Great Park.
Indeed, plenty of Aston Martin, Jaguar and other cars on display by the side of the Long Walk path in the Great Park. The walkway that's normally towards the castle and fenced off from the public normally was open for extra exhibition space, but unlike the park bit which was free, this carried a hefty £40 price tag, so we said no to that. As it turned out, The Concours of Elegance event also uses part of the quadrangle gardens inside the castle to show off the exhibits too, so I can imagine that must have been pretty special.
The rain was starting to hit, so we walked back along through the town centre, spotted a bride going into the Guild Hall to get married (she looked very elegant in her dress) and we walked over the bridge over the River Thames to Eton, where The Love saw a very nice pet shop and spoiled the two cats Jô and Brian with some really nice cat food, and we walked in a few more lovely shops before taking a coffee in Costa as the rain lashed it down massively. We then got to the train station in good time for the train back to Clapham Junction and then onwards back to East Croydon, stopping off for a bottle of prosecco in Tesco and then relaxing for the evening.
In fact I indulged The Love as I was making the tea and she was watching The X Factor whilst I was sorting out the main course. We had watched Strictly Come Dancing's launch show beforehand which of course meant more Claudia Winkleman on the telly (yaay of course) and a few choice dance moves by Ed Balls (ahem, not!) The Love and I correctly predicted that Lesley Joseph would be partnered with Anton du Beke and that Greg Rutherford would get Natalie Lowe too. In fact, we also got Anastacia and Brendan Cole too - we suspected that it would be fireworks there!
Much later on we also saw that ITV had delved into its musical archives for a show they called "Pop Gold" with various TV appearances on ITV shows during the 70s including David Bowie's performance of Heroes on the Marc Bolan show, so tune of the day there - especially as it was the week before Marc was killed in a road accident and the last show, so somehow befitting that his good friend Bowie was there performing. Lots of intriguing stuff on too such as early Chris Rea, Bay City Rollers at their screaming fans peak, and Steve Harley and Cockney Rebel too.
Friday 2nd September - The Edge of Reason
It was a good day for me today, primarily as I got to the bottom of why for some reason the SCCM 2012 admin console was crashing when attempting to see if any drivers could be added to the boot image. I checked the test server - all working there. And I had a feeling that one of the driver packages or sets of drivers were to blame, especially as when some of them appeared to import, they appeared to not show a single name but yet did so when you looked at the properties of said driver. Still not convinced though, so..
When adding drivers to the boot image, it always looks at the root of your drivers folder of any drivers you've brought in as part of a driver package. So in essence, if you are able to view that whole folder when attempting an import, all should be good. What I did was therefore was to disable all the drivers at root folder level, and then that would allow me to see the subfolders and see whatever drivers were being picked up there as I accessed each one. I did so till I hit one folder for a HP EliteDesk 705 G2, and that crashed - every single time. So it was a case of removing those, and then re-enabling at root level, and .. all sorted. Happy bunny.
I headed home later and spent a fair bit of time getting the flat sorted, it's usually very tidy anyway but I like to give everywhere a bit of an extra clean down, as The Love In My Heart was coming down for the weekend. For me it was good to because it meant that I could get all the bedding changed, washing sorted and at least not have to think too much about the housework for the weekend, and once all sorted, and showered, I headed off in good time to meet The Love as he was heading to East Croydon station.
The train to London had arrived a little late but she was soon on a train from Victoria, and that train she was on then got a little delayed. It was a little windy but at least dry when she arrived, although rain was threatening any minute and it did come down a little bit. We got back to mine, and The Love unpacked and we settled down in front of the telly for some relaxing time together, and The Love had a glass of wine (only appeared to be the right thing to do!) - and I had a Firkin Fox beer, and we watched the Best of Gogglebox from a recent series which was good fun.
We turned the telly over and Bridget Jones: The Edge of Reason was on, which we ended up watching till the early hours. It was more of a chick flick and more her thing than mine of course, and I do remember bits of it from seeing it years ago, such as when she was in a Thai prison and chatting to Pui Fan Lee (aka Po from Teletubbies and CBBC presenter) about the conditions, boyfriends etc. Naturally of course there was some good humour, but it's always the soundtrack that helps films like this along. For me, having Primal Scream's "Loaded" on whilst Bridget and co are somewhat drugged up in Thailand was spot on (and the Primal Scream song is a classic, so tune of the day.) And of course as The Love explained, the sequel film, Bridget Jones' Baby, is out soon, most likely whilst ITV1 put it on...
Thursday 1st September - Inductions and Instructions
Most of my day at work today was spent on a full day induction, getting to know the place I work for a lot more, and indeed getting to meet different people in departments who had also joined around the same time as me. It's certainly been a productive first few weeks or so, and I think for me it's important that you get all the proper inductions done and then get to know how everyone works and how you fit in as part of the overall bigger picture.
The day had the usual introductions (always get nervous doing that really) and then had some background into the history, and certain key moments were shown and you had to creatively look at those and do something with them. The group I was in had the foundation of who we work for and we decided to do a silent protest, recreating the fact that the founder was arrested for one such protest, and that the silence was perhaps a more deafening thing, which certainly had its effect on everyone.
We also got to do some other workshops on the values, how they fit in with what you do, and also an appreciation of the training and support available and how you can actually access so much, for example the online learning, internal courses, stuff like that. We did have an intense final session which dealt with some issues that everyone needs to be aware of, and that meant that it was a case of being able to apply some knowledge passed on to me by The Love In My Heart (and she knows her stuff) and so that meant I could contribute nicely - so felt positive after that!
It was then on the train home, but the train looked like it was going to be delayed, so I hopped on the first train to Blackfriars, tube to Victoria, and then the express train to East Croydon, and got there quicker than planned, so made up some time and then headed home nicely. The online delivery from Sainsburys arrived so I didn't have to faff around during the weekend, and I also sorted out some trains with Mum so she is all set for her trip to Birmingham in mid-November to go to the Christmas markets, which I know she is excited about.
I did watch the second part of Class of 92: Still Out of Their League as well, and that was drama all the way to the end. Of course having looked up the football results from last season and keeping an eye on them, I knew what had happened, but the behind the scenes stuff was still really good - Gareth Seddon getting lots of support from his girlfriend, Gary Neville heading back after being fired as Valencia manager, and chairman Karen Baird holding it all together ever so well, but even she was moved once Salford City got their late late winner to seal promotion - epic stuff that was. And at the end, REM's "Shiny Happy People" too (make that tune of the day) so all good there too.