Love Crime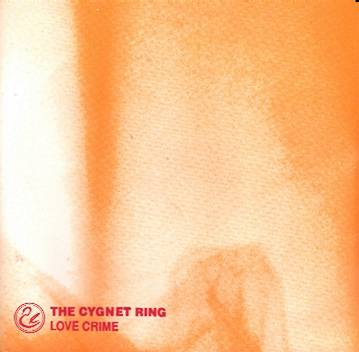 Format: 7" Released: 1991 (Protocol PTCL 2 - sleeve shown above) (NorthSouth NS002)
Track listing: Love Crime / Néhal
Love Crime was (and still is!) a superb, brilliant tune (and that's why it's in my top 10 singles of all time) which really did make you feel uplifted and at the same time have the wit and intelligence to go with it: "If God made love for all mankind, he should have sent instructions" and the opening salvo of "It happened on a Tuesday, the day I take a rest" really did do the job nicely. Even now I have to give this original mix a blast because it's just such a perfect little song. And you don't get many of those. Oh, and Néhal was the B-side. Heard that before already, but it was nicely cleaned up.
It's well worth tracking this down if you can, primarily because it's the original (and in my view) the best version of the song.
It's now come to light that there were actually two releases of this tune in 1991, with possibly the NorthSouth release coming first. The NorthSouth copy that I have in my possession doesn't have a picture sleeve, but looking carefully at both pieces of vinyl there's a lot of similarities. Take a look at the below to see what I mean: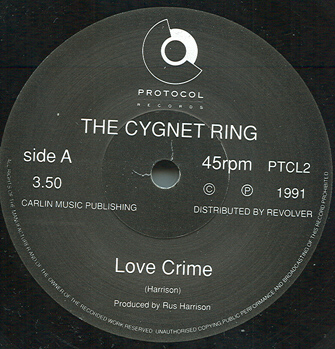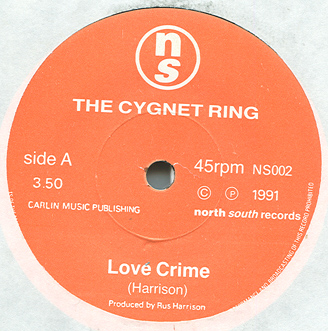 The left is the Protocol issue, the right the NorthSouth issue. As you will see, the layout of the centre is prety similar, with only the record label names and catalogue numbers changing, with the song and wrting credits shown clearly.
Both issues also have the same phrase carved into the run off groove of Side A, "To Jill - My Inspiration". However, the NorthSouth issue has the matrix number NS002-A on its Side A, and on the Protocol issue, this has been clearly etched out (but still visible) but with the PTCL2-A matrix number on the side of it. Whether or not that the Protocol issue used any remaining stock of the NorthSouth issue remains a mystery, but nonetheless it's definitely of interest.
Estimated Value: The Protocol version with sleeve around £6, the sleeveless NorthSouth one around £4.