Format: 3CD Released: 2004 (Excellent Records EXCD014)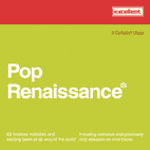 In Janaury 2004, I was contacted by someone in Japan who had heard of The Cygnet Ring and wanted to licence one of their tracks on a forthcoming CD compilation of pop songs that would be made available in Japan. That person just so happened to be working for the Japanese label Excellent Records. I forwarded their email to John Smylie, who for a time was the band's roadie/tour manager, and he got in contact with Rus Harrison and arranged everything, so that the CD compilation could indeed feature the re-release version of "Love Crime" on there.
The compilation has sold out of its print run now, and it was three CDs of plenty of pop songs. Love Crime was on disc three. Unfortunately I was never sent the CD compilation myself, which was a shame, as I'd have loved to have owned a copy.
Estimated Value - Difficult to call, because the CD is out of print and therefore is really difficult to get hold of. The going rate now seems to be around £50 plus, which is expensive considering the fact it's a track you can easily get hold of on CD via the CD single.