Shaker
So, after The Cygnet Ring disbanded, what was the next project for Rus Harrison? No less than the band Shaker, who were around circa 1995-96.
Effectively the band produced one single and then one album, both of which were on One Little Indian Records, who at the time had the likes of Bjørk, Skunk Anansie and The Shamen on their roster, so they were a pretty good indie label to be on. Their artists weren't as such Britpop, and the end trails of which were still being felt post the Blur versus Oasis single war of the Summer of 1995, and so it was an interesting move by the label to sign an artist in Rus and a band whom with Rus' track history produced good independent pop songs.
There was a two track single in a card sleeve, "The Gate To My Bedsitter" released first, which had a 7" edited version of the title track, and also "Carpenter Carpenter" which would be the same as the forthcoming album version. Almost every single I've seen has effectively been a promotional copy given to radio stations and such like, making me wonder if there was a proper CD single relase (indeed mine has a 1995 date on the CD and a January 1996 promo sticker from the plugger Intermedia on the back.)
Following on from that in 1996 was the ten track album "Kiss Me". The album featured some quality songs, which the song writing was on a par with Rus' output, and there were certainly a lot more guitars involved this time around, and some bigger drums, with the driving beat and bass line that underpinned "Where Do You Go" being an example of the direction that the band were taking. The dramatic "Carpenter Carpenter" really starts off big and ends big, with a soaring chorus which I'm sure would have made a good single by itself too.
The band though were probably not helped by another band coming to fruition about the same time, and with a similar name, Kula Shaker. Their singles "Tattva" and "Hey Dude" amongst others became big hits, and the band became an established force on the alternative music scene. Meanwhile Shaker, despite producing a good album, seemed to vanish as quickly as the album did, a real shame, and another blow to those who were hoping to hear more excellent songs.
Of interest is the fact that for the Shaker project, Rus adopted the pseudonym of "McGregor" and all songs were written by this pseudonym. The address to send mail to was the same place in Guildford as you'd once be sending mail to The Cygnet Ring though, so that was a bit of a giveaway, and indeed the people thanked on the CD inlay were some who had played in that band, such as Geoff Donkin for one. The other band members of Shaker were Yul Desai on guitar, Peter Coombs on bass guitar and John Miller on drums. There were also credits to Space Doubt (possibly another pseudonym) for guitar on two tracks, Martha Brown for extra bass guitar, Hussein Boon for guitar on three songs, Jolian Dixon for a solo on "Watching You Fall" and the co-producer Mark "Tufty" Evans for extra programming no less.
Discography
The Gate To My Bedsitter
Format: CD single (possibly promo only) Released: 1995 (One Little Indian 106TP7CD)
Track listing: The Gate To My Bedsitter (edit) / Carpenter Carpenter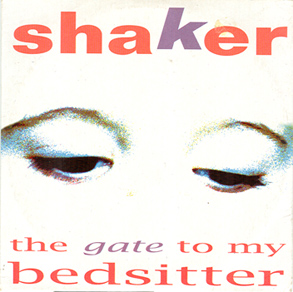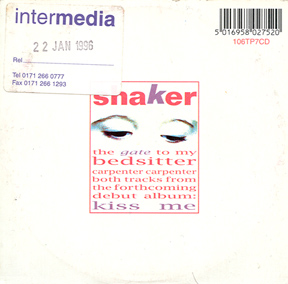 Kiss Me
Format: CD album Released: 1996 (One Little Indian TPLP70CD)
Track listing: The Gate To My Bedsitter / Where Do You Go? / Stepfather Alex / I Think I'll Lose My Nerve / God In Your Face / Watching You Fall / Incinerator / Carpenter Carpenter / Luvva / Hole In The Road