18 Daze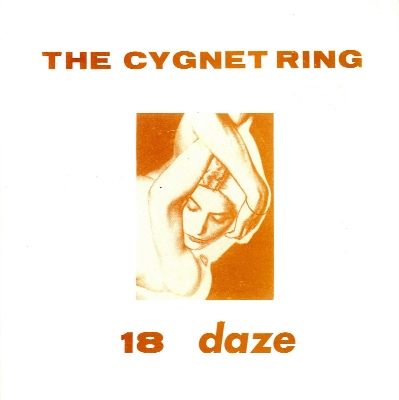 Format: 7" Released: 1990 (NorthSouth NS001)
Track listing: 18 Daze / Do You Know
Around a year and a half ago I was browsing various Internet web music sellers and came across one that was selling The Cygnet Ring single "18 Daze". As you can imagine, I went to order it pretty quickly only to be told that it had already been sold to someone else. It was the only time I'd ever seen it for sale and as you can well imagine, I was gutted that I wasn't able to purchase it.
However, upon browsing various music blogs recently, I stumbled upon Pece Rizankovski's excellent Madchester Rave On blog, which happened to have a few Cygnet Ring entries, and most excitedly of all, proof that the 18 Daze single does actually exist! As you can see from the front sleeve above, the picture is the very same one as used on the Higher demo tape. The back sleeve shows a picture of the band at the time in the same orange colours and also denotes Do You Know as the B-side as well, which Rus himself seems to have produced. In case you wondered, Rus is the one with the hat. Excellent, eh?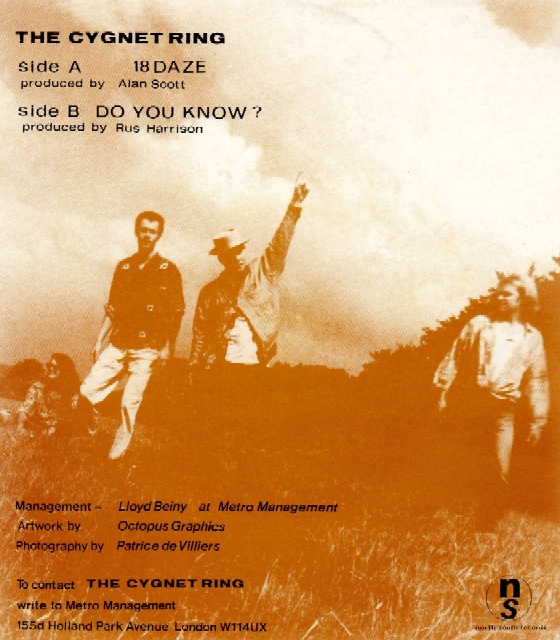 Pece's blog entry for the single also has a download link to the two tracks on there, and listening to them, they're pretty much the same as they are on the Higher demo tape, which is indicative of the fact that they would have been recorded at the same session. The sleeves here appear from his blog with his permission.
Update, 19 Aug 2009: Thanks to Rick Bowden, I now have my own copy - he very kindly spotted an eBay auction recently for the single and alerted me to the fact it was available.
The catalogue number isn't mentioned on the inner sleeves to the single but is listed as the matrix number in the runoff grooves as NS001. Considering the NorthSouth release of "Love Crime" is NS002, this would be a sensible and correct numbering for its time. Here's the centres of the single, A and B side: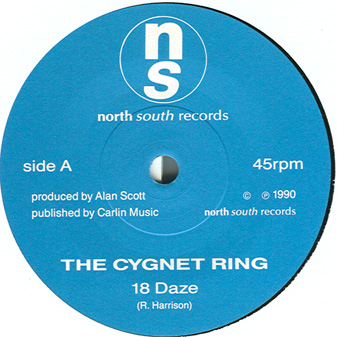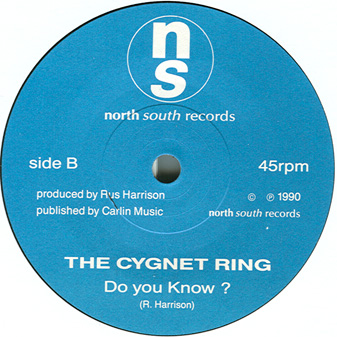 As you can see, Rus Harrison produced side B himself as well. Note too the bright blue of the NorthSouth centre, this was to change to a yellow-orange one later one. It also confirms the release date to be 1990, which was around the same time as the Higher Demo tape.
Estimated Value: The average I've seen copies of this single go for currently is around the £30 mark.