Higher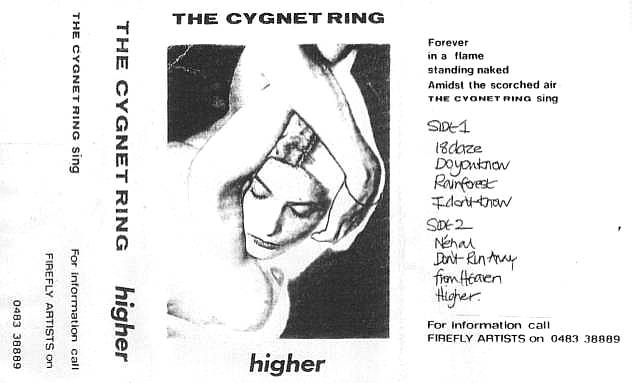 Format: demo tape (no catalogue number) Released: 1990 (7 tracks)
Track listing: 18 Daze / Do You Know / Rainforest / I Don't Know / Néhal / Don't Run Away From Heaven / Higher
Format: demo tape (no catalogue number) Released: 1990 (3 tracks)
Track listing: 18 Daze / Néhal / Do You Know
The Higher demo tape was the first indication to me just how good The Cygnet Ring were. Seven tracks of brilliance that really showed you their repertoire. 18 Daze would soon be a live favourite as it had that a beautiful summery melody with infectiously catchy lyrics that just drew you in (as it did in the single). I Don't Know was also very poptastic, especially at the end where Rus would just go "Do you know? I don't know" in almost spoken word style. Don't Run Away from Heaven was also a highlight too as that really got your foot tapping. Oh, and there was Néhal. A track that I would hear a lot of over the next few years for one reason or another as it was released on quite a few future efforts.
It's recently been spotted that the was also a 3 track version of the demo cassette, with the same name. On the 3 track version the track listing is typed rather than hand written, and on the back cassette spine, the track listing appears, it'd be to at the top left of the scanned inlay here. The cassette doesn't have "Dolby B" typed on the printed label and only has a label on one side of the tape as opposed to both. It may well be that the 3 track version was released first, followed later on by a 7 track (maybe using the same inlay but altered and hand written with the track listing.) Thanks to Martin Morgan for unearthing that and putting it up for auction.
"18 Daze" was a song formerly by Rus' former band, Playing At Trains, and they even released a video for it. This is now in the video section. Further to this, 18 Daze was also released as a single.
Estimated Value: The 3 track cassette is selling for around £100 currently, and the 7 track would probably be around the same value. Not many of either were made which probably explains it.