My Own Recollections
The Cygnet Ring was the brainchild of Rus Harrison, a singer-songwriter who lived in Manchester and Guildford and more than often commuted between both. Previously he had been involved in a band called Playing At Trains. Anyhow, he used to be a customer at a shop in Chorlton that I used to work at when I was younger, and I got talking to him about music and stuff. He told me that he was in a band and during 1990 I found out more about them and how they were recording a demo tape. Imagine my utter joy late in 1990 when Rus himself gave me the tape. Seven songs of pure indie-pop perfection that was "Higher". Rus actually wrote the track titles in his own handwriting, and there were seven tracks.
Anyway, not long after I got the demo tape, I got a new job, but did manage to mention to Rus when I saw the Cygnet Ring live in Checkers in Chorlton in 1990 (a most excellent time was had by all, too. Superb gig) that I'd send him along some lyrics and see what he made of them. Like the fool I was I didn't keep the lyrics I wrote, but nonetheless he found the time to reply to me, which was really appreciated. The reason he asked me if I could drive was probably as he knew I was looking for work at the time, and I might have ended up being on the road with them, driving around. It never happened due to me being environmentally friendly and not wishing to drive (and also, I failed my test three times). Anyway, here's what he wrote: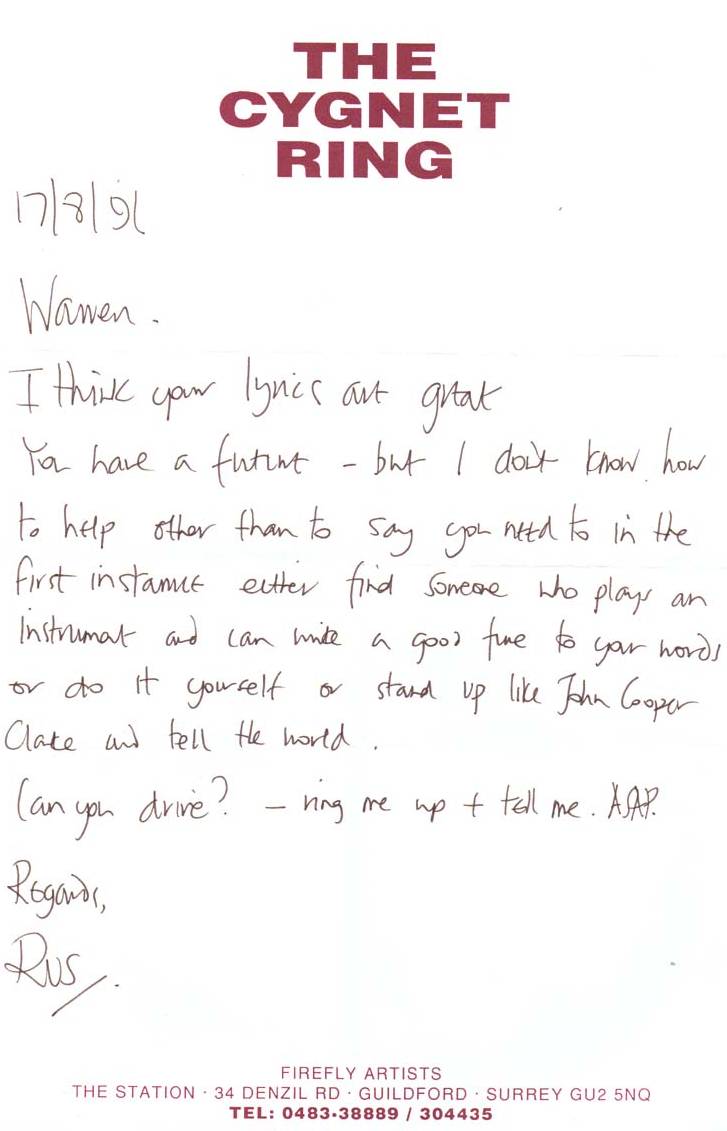 Oh, and if you haven't heard of John Cooper Clarke, then you really do need to find out. I really understood his sentiments, as I'd often sing "Suspended Sentence" when I was a bit younger. Anyway, the handwriting is the same as the demo tape which nicely proves its authenticity as well at the same time.
In fact, this letter I got was just after they released their first "proper" single: Love Crime. I was in Compact (long lost music store in the Manchester Arndale, how I miss it) and they had the 7" single of it. Immediately it was purchased, and playing it only proved that Rus was a genius. If you ever see this single, get it, you won't regret it!
Pale Guru followed as a single in late 1991 followed by their big break - a major record company had taken notice of the band and had signed them up. Not just that, but someone (maybe even Rus himself) also managed to wangle somehow to keep the North South Productions bit (including the logo) on all the packaging as well. What a bonus. So a deal with East West (part of Warner) was struck, and lo and behold, 1992 was to be a watershed in the band's career.
Love Crime was re-released, with incessant Radio 1 airplay and DJs like Bruno Brookes at the time playing it constantly actually praising it. Despite all that, it failed to chart. What a complete travesty in most people's eyes.But what was this on the inlay? An album coming out Spring 1992! Oh, absolute joy. I couldn't wait.
Unfortunately, I had to. After the release of the next single Banjos in Bengal, which dive bombed due to no airplay and publicity, and the band were dropped by Warner Bros, and ended up releasing their album Hopeful Monsters on their own.
I did hear that Rus Harrison did undergo another musical project around 1995-96 called Shaker, and there's more information about them on this page. Note that Rus had a pseudonym of "McGregor" at this time, but listening to the music it is his voice and very much his trademark in terms of making some quality tunes.
These days Rus Harrison is in property development, but the good news is that he's now picked up the music bug again and is currently working on the project The God Adrenalin. The guitarist of Playing At Trains is now married to Tori Amos, no less.